Kevin Love's wife, Kate Bock, is a Canadian model and famous socialite known for her appearances in the Sports Illustrated Swimsuit Issue since 2013.
She started her modeling career at age 12 after her agent discovered her at a local swimming pool. Kate appeared on the cover of the 2020 issue alongside Jasmine Sanders and Oliva Culpo.
In addition, Kate has worked for prestigious style wear, Victoria's Secret. As of 2023, Kate was featured on the covers of Ocean Drive, Fitness, Elle Canada, and Maxim.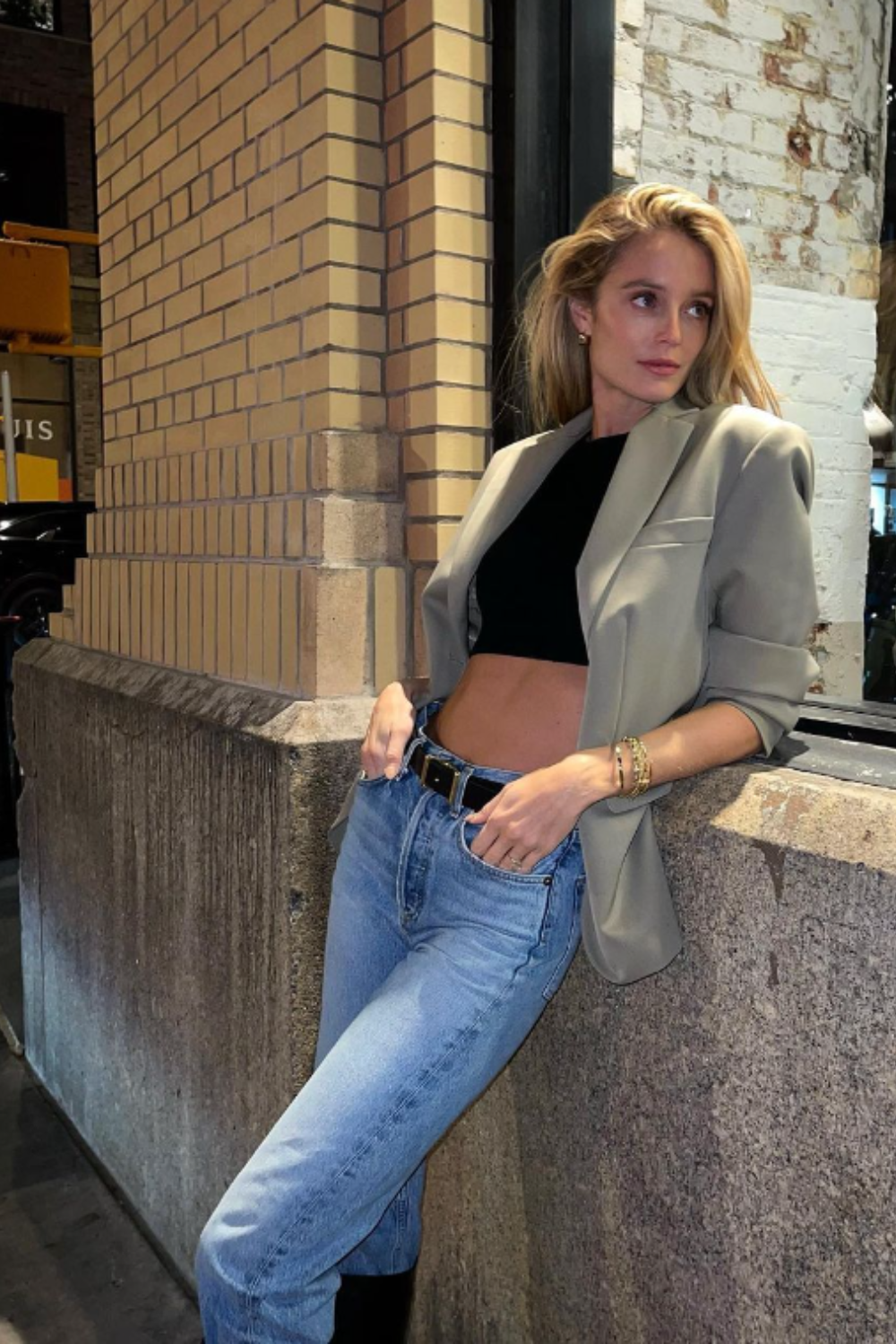 Bock appeared in the music video for the song Jack Sparrow by the comedy troupe The Lonely Island.
Here in this article, we have summed up all about the NBA player's wife, from her early days to her professional career.
Before that, let's take a glance at quick facts.
Quick Facts
| | |
| --- | --- |
| Full Name | Kate Bock |
| Nickname | Kate |
| Residency | Cleveland, Ohio |
| Birth Date | January 30, 1988 |
| Birth Place | Vancouver, British Columbia, Canada |
| Age | 35 Years Old |
| Religion | Jewish |
| Nationality | Canadian |
| Ethnicity | White |
| High School | West Vancouver Secondary School, French Immersion School |
| Horoscope | Aquarius |
| Father's Name | Doug Bock |
| Mother's Name | Laura Bock |
| Siblings | Anna Bock (Sister), Ian Bock (Brother) |
| Sexual Preference | Straight |
| Height | 5'11″/1.80 m/180 cm |
| Weight | 54 kg/119 lb |
| Eye Color | Blue |
| Hair Color | Blonde |
| Profession | Model |
| Marital Status | Married |
| Spouse | Kevin Love |
| Children | N/A |
| Worked At | Vogue, Sports Illustrated Magazine |
| Hobbies | Traveling, Shopping |
| Net Worth | $2 Million |
| Husband Profession | Basketball Player |
| Social Media | Instagram, Twitter |
| Merch of Kevin Love | Jersey |
| Last Update | November 2023 |
Physical Appearance
Kate is a beautiful blonde who has millions of fan followers worldwide. She has an attractive figure and has all the qualities to be a model; that's why she is on the top list.
Bock stands 5'11″/1.80 m tall and weighs 54 kg/119 lb. She has blue eyes and blonde hair that compliments her beauty.
Kate does exercises and yoga to maintain her figure. Besides, she sleeps a lot for peace of her mind and eats a balanced diet.
Early Life & Education
Kate was born on January 30, 1988, in Vancouver, British Columbia, Canada, to parents Doug Bock and Laura Bock.
Her father, Dough, attended the University of British Columbia and worked as the VP of Ecofab Maintenance Ltd. And even in 2023, he still works at Ecofab.
Bock's mother, Laura, is a homemaker who used to drive Kate to school every day and even sacrificed her own career to take care of the family.
Bock completed her primary education at West Vancouver Secondary School.
Bock was discovered by her agent while she was swimming at the pool. She was captivated by the modeling field and later on moved to Paris after her graduation.
While in Paris, she studied in a French Immersion school to speak French fluently.
Career
Favored with a genuinely excellent face and flawless body, Kate Bock, a Canadian model, is respected as one of her country's best stars in the business.
Having begun modeling at a very young age, she became the public's top choice and impressed individuals by gracing the pages of significant magazines.
The Fascinating Story Of How Kate Was Discovered
Kate Bock had characteristics that effortlessly made for an extraordinary profession as a model;
During a meeting with Hamptons, Bock uncovered that she was the tallest individual in her group as a youngster. Reasoning the same, it was highly uncomfortable for her at that point.
Kate was found in a genuinely fascinating and somewhat surprising way. At some point, when Kate was only 12 years of age, she went to a pool in her old neighborhood of West Vancouver to swim.
While at the pool, a displaying scout called Liz Bell, who was present at the scene, spotted her and was impressed by Kevin Love's wife's figure.
Liz immediately connected with Bock and acquainted her with modeling demonstration. Only a multi-week, Kate Bock began working with Abercrombie Kids, a clothing brand and mall fashion shows.
Growth In Modeling
Kate Bock has worked with multiple magazines, publications, and fashion brands.
Some of them are Ocean Drive, Editorialist, Hamptons, Modeliste, Sports Illustrated Swimsuit, Elle Canada, Woman Madame Figaro Spain, Vanity Fair Italy, Clin d'oeil, and Love Cat.
The Canadian model is endorsed by Elite Model Management NY in 2023.
Notwithstanding Kate's modeling profession, Kate is additionally a gems designer with the brand name Cattura Jewelry.
What Was It Like Being 18 In Paris
When Kate moved to Paris, she lived in a small storage area with two small beds and three flatmates.
She didn't have a cell phone and used to wander around the city from one projection to another with a little train map.
Husband
On September 7, 1988, Kevin Love was born to Stan and Karen Love in Santa Monica, California. He grew up with two siblings; sister Anna and brother Ian.
His father, Stan, was a former basketball player. Without a doubt, his basketball abilities assisted Kevin with developing external shooting and ballhandling abilities.
Kevin averaged 25.3 points, 15.4 rebounds, and 3.7 assists per game, leading the lakers to the 2005 state championship game but lost to Jesuit High School.
He finished his high school career with 2,628 points as the all-time leading scorer in Oregon's young men's basketball history.
Career
In July 2006, Kevin chose to play school ball at UCLA for North Carolina. After his few game time at UCLA, Love chose to go for the NBA Draft in 2008.
Fortunately, the Grizzlies picked him in the fifth round. Following the draft, he was traded to the Minnesota Timberwolves. He went to play in the 2008 NBA Summer League and led all the players in rebounding.
He made his debut on October 29 against Sacramento Kings, where he scored 12 points and 9 rebounds. Despite his improved performance, he was not selected for the NBA All-Star Weekend Rookie Challenge.
On October 17, 2012, he suffered an injury that kept him away for six to eight weeks. He returned against the Wolves on November 2012, just after five weeks.
Love recorded his first career triple-double with 37 points, 12 rebounds, and 10 assists in a 121-104 win against the Utah Jazz on February 22, 2014. With his impressive performance, he was named to the All-NBA Second Team.
Kevin was tarded to Cleveland Cavaliers in 2014. He helped the Cavaliers to win 34 out of their 43 games to finish the season with a 53-29 record.
Unfortunately, he experienced a separate shoulder injury and couldn't perform until the end of the season.
Further
Kevin signed an agreement with the Cavaliers in 2015. He scored 15 points against the Raptors, which advanced them to the NBA finals against Golden State Warriors.
Unfortunately, the Calivers fell behind 3-1 in the series.
Above all, Love experienced a toe injury during the 2018-19 season after signing a four-year contract with the Cavaliers worth $120 million.
In the 2021-2022 season, he became a reserve for the first time in his career. His highest score in the four seasons came against Atlanta Hawks on December 2021, where he had 35 points.
| | | | | |
| --- | --- | --- | --- | --- |
| Season | PTS | REB | AST | FG% |
| 2022-2023 | 8.5 | 6.8 | 1.9 | 38.9 |
| Career Stat | 17.2 | 10.5 | 2.3 | 43.9 |
Kevin made his return on the roster list against Maimi Heat on February 1, 2023, after missing three games with back spasms. Unfortunately, he wasn't featured in the game.
Social Media
Kevin Love is very active on social media platforms like Instagram and Twitter and mostly posts about his professional and personal life.
Instagram: 3.3m followers
Twitter: 3.1m followers
How Did Kate & Kevin Meet?
For Kate, basketball was an outsider area. Kevin was playing as a power forward in New York, and his photographer, Allan Zepeda, who had worked with Kate, helped them meet in 2016.
Kevin & Kate's first date was an early afternoon espresso get-together at the St. Regis Hotel. Everything has gone flawlessly following that.
Engagement & Marriage
The NBA player Kevin Love was engaged to Kate Bock on January 31, 2021, at her birthday celebration.
After the proposal, the Canadian model shared an Instagram post, writing, "Well, this was the best birthday surprise I could have ever imagined. I couldn't be happier to have been asked to be a Love. Heart bursting all day & night."
The couple tied the knot on June 25, 2022, at the flagship location of the New York Public Library.
What's The Ambition Of Kate Bock?
Bock is well-known for her modeling career. She began as a child and spent her whole grown-up life, currently working with Elite Model management.
Kate's career is significant to her, and there is certainly not a single moment that she is not thinking about making her career bigger.
She is an ambitious woman who is on the verge of breaking the record held by Irina Shayk, Elle Macpherson, and Anne V for the most back-to-back yearly appearances in Sports Illustrated.
Net Worth
The Canadian model has an estimated net worth of $2 million in 2023.
Kate primarily earns from her modeling career. She has worked with different brands and magazines like Ocean Drive, Fitness, Elle Canada, and Vogue.
Social Media Presence
Being a Canadian model, Kate has acquired name and notoriety in her profession.
Kate has a gigantic fan following on her social media account like Instagram and Twitter.
Instagram: 944k followers
View this post on Instagram
Twitter: 68.1k followers
Her social media post primarily includes modeling with top fashion brands. She also shares pictures with her husband and family.
Frequently Asked Questions (FAQS)
What does Kate do to maintain her physique?
Kate revealed that she eats a balanced diet and does yoga every day to maintain her physique.