Khalil Rountree is a new sensation in American Mixed Martial Arts and made his debut on July 9, 2016. He is just 13 professional fights inside the cage and currently competes in the light heavyweight division of the Ultimate Fighting Championship (UFC).
Although his physical appearance gives a danger zone vibe, he wants to prove himself as a warm-hearted person. Khalil stands with a southpaw stance and has a reach of 76 1⁄2 in (194 cm).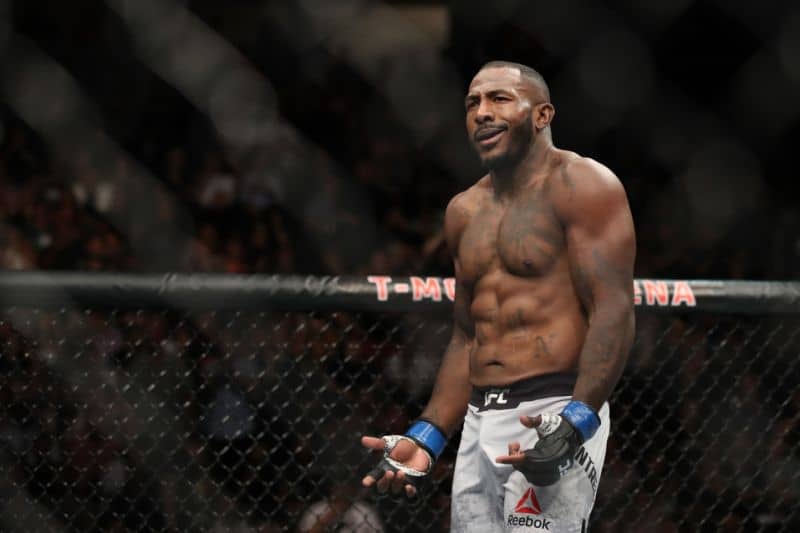 Koutree is paving his way all in all this controversial world. Some of the common get-to-go facts are highlighted below.
Quick Facts
Full Name
Khalil Ibn Rountree Jr.
Date of Birth
February 6, 1990
Birth Place
Los Angeles, California, United States
Nick Name
The War Horse, Fruit Pastille
Religion
Christianity
Nationality
American
Ethnicity
Black
Education
N/A
Horoscope
Aquarius
Father's Name
Roderick Rountree
Mother's Name
N/A
Siblings
Donavon Frelow
Age
33 Years Old
Height
6 ft 1 in (1.85 m)
Weight
205 lb (93 kg; 14 st 9 lb)
Hair Color
Black
Eye Color
Black
Build
Athletic
Profession
Mixed Martial Art(MMA) fighter
Division
Light Heavyweight, Middleweight
Affiliations
Syndicate MMA (until 2019)
Tiger Muay Thai (2019–present)
Active Years
2010–present
Marital Status
Unmarried
Wife
No
Kids
No
Net Worth
Under Review
Social Media
Instagram, Twitter
Last Update
March, 2023
Appearance
Khalil is an MMA fighter with a heavy athletic build. He has a massive shoulder with a dark skin tone. He towers at the height of 6 ft 1 in (1.85 m), weighing 205 lb (93 kg; 14 st 9 lb).
His black hair is near to diminishing, and he has big black eyes with big lips. He has tons of tattoos near his arms and shoulders.
Khalil Rountree | Early Life
Khalil,s full birth name was Khalil Ibn Rountree Jr., and he was born on February 6, 1990, in Los Angeles, California, United States. Rountree didn't have his childhood days as all glitters and gold as he lost his father when he was just a two-year-old baby.
Mr. Roderick Rountree was shot and killed in an attempted robbery while working as the American R&B vocal group tour manager, Boyz II Men. Hence, Khalil was raised by his single mother, along with his siblings.
Consequently, not having a father, Khalil had a difficult time growing up as a man. In addition, he grew up to be an overweight child and also engaged himself in a band traveling across the country.
They were like a confused teenager due to lack of guidance, hence, eating unhealthy foods and smoking cigars.
However, at the age of 20, after watching The Ultimate Fighter with his brother, Khalil thought of bringing a change in his life.
Back then, he weighed 300 lbs when he first joined Las Vegas' Wand Fight Team gym in an attempt to lose weight.
Initial Career
After one year of MMA training, Rountree started his MMA amateur career in 2011. Firstly, Khalil Rountree competed in the middleweight category under the Tuff-N-Uff and King of the Cage (KOTC) banners and earned a record of 6-1.
Before entering the UFC, he found the passion amassing a perfect record of 4-0 in his professional career fighting in Resurrection Fighting Alliance (RFA) even as an amateur.
The Ultimate Fighter
In April 2016, on The Ultimate Fighter: Team Joanna vs. Team Cláudia, Rountree competed against Muhammed DeReese. He knocked DeReese in the very first round via knockout thus, winning the match.
However, during the elimination round, he faced his foremost loss from Cory Hendricks in the very first round by submission.
Fortunately or unfortunately, Hendricks came across a neck injury; hence, the UFC president, Dana White, decided to bring back Rountree.
Therefore, Rountree replaced Hendricks in the semi-final round. In the semi-final, Rountree faced Josh Stansbury, and after winning the round through knockout, Khalil advanced to the finale.
At that time, he faced Andrew Sanchez at UFC The Ultimate Fighter 23 Finale for the TUF 23 Light Heavyweight title and was taken down.
However, as an amateur, his fight was quite an explosion that has defined his career to date.
Ultimate Fighting Championship & Fight Record
On November 27, 2016, at UFC Fight Night: Whittaker vs. Brunson, Khalil Rountree faced Tyson Pedro and, in the first round, lost by submission due to Tyson's rear-naked choke.
Following it, at UFC Fight Night: Bermudez vs. Korean Zombie, on February 4, 2017, Rountree faced Daniel Jolly. Herewith, he won the match via knockout in the first round.
Later, Rountress faced Paul Craig at UFC Fight Night: Nelson vs. Ponzinibbio on July 16, 2017. He also won the match with a knockout in the foremost round.
On December 30, 2017, at UFC 219, Khalil Rountree was to face Gökhan Saki. However, Gokhan couldn't attend the match due to his knee injury; thus, Rountree had to face Michał Oleksiejczuk, and he lost the match by unanimous decision.
However, it was disclosed that Oleksiejczuk tested positive for clomiphene(an anti-estrogenic substance); hence, the Nevada Athletic Commission (NAC) officially changed the result to no contest.
With all these turns of events, Khalil Rountree showcased his promising talent, and in addition to that, he started to sharpen it with some changes. Truly, he struggled to balance his personality and career choice.
Learn more about the fighter's career and news on Tapology.
Rumors of retirement
With his return on November 17, 2018, at UFC Fight Night 140, Rountree faced a new promotional face, Johnny Walker, and lost the fight via knockout in the first round.
Right after it, Khalil faced Eryk Anders on April 13, 2019, at UFC 236, where he won via unanimous decision.
After the interval of five months, on September 28, 2019, at UFC on ESPN+ 18, Rountree faced Ion Cuțelaba and lost in TKO in the first round.
Khalil' fought with Sam Alvey on March 28, 2020, at UFC on ESPN: Ngannou vs. Rozenstruik. However, due to COVID-19, the match was postponed.
On September 4, 2021, Khalil's last fight against Modestas Bukauskas was at UFC Fight Night 191, which he won. But he had lost the fight with Marcin Prachnio held the same year in January.
Khalil Rountree Take On
Alexander Gustafsson
Khalil always believes in 'growing and glowing.' Being a relatively amateur in the sport, Rountree was interested in facing the number one light heavyweight contender, Alexander Gustafsson, on three weeks' notice; instead, he took it as a golden opportunity to build up himself.
Roderick Rountree
Khalil Rountree was unknown of his father's death until the age of 13. At first, the true revelation for Rountree didn't come as shocking as it would usually have. But as he dug further into the incident, he was filled with rage.
Therefore, Rountree collected information about his father through many people's witnesses. He got more insight and inspiration running through him.
However, Khalil managed to help himself on the path of self-discovery and taught himself to be a man.
Positivity
Khalil Ibn Rountree Jr. is one of the most disciplined, maintained, and positive athletes. His positivity can be immensely infectious. He describes how growing up with his single mother helped him to acquire this mindset at a young age.
During the Ultimate Fighter's match, when Helen Harper(English strawweight) broke down and fell to the ground shaking, Rountree helped her stand up and calmed her down.
Likewise, during the training show, Harper was unable to train due to her injury; hence, Rountree helped her to check on the doctors.
Even during the time when Saki made negative comments about him, Rountree kept a level head and waited patiently until he finished it.
You may like Marcelo Vieira >>
Khalil Rountree | Weight loss
In all of Rountree's childhood and teenage days, he was an obese child, and his maxed weight was 305 lb. From any angle, he did not look like he would end up in the Prizewinning Athletic business.
Khalil was in the company of the music industry, always traveling. He used to earn day-to-day bread by selling merchandise on tour with metal bands such as Impending Doom, The Acacia Strain, and August Burns Red.
As he crossed the path with MMA, his brother encouraged him to go for it together.
However, as he announced his plans with his music industry associates, they laughed at him. They even commented that he would end up looking like Bob Sapp.
Despite the jokes, he trained hard for about 11 months and lost 100 lbs. Afterward, he was captured by one of the coaches who helped him debut in MMA.
"Life can sometimes feel like it's beating us up, but you've got to rise up and realize who we are."

– Khalil Rountree
Ongoing Process MMA
As a complete transformation from an unathletic body to an athletic one, Rountree states Muay Thai drills were the most effective and helpful one. Though his conditioning training was fierce, he had his brother's back and motivation.
Herewith, after his commencement in MMA, he changed his numbers to avoid distractions and gave his entire self to the purest form of combat sports.
He isolated himself from everyone he knew from the past for the sake of his new lifestyle, a whole new body, and everything.
Back in the day, Khalil Rountree wasn't a confrontational or aggressive guy; hence, he faced bullying due to his appearance. Currently, he is in a state to answer all the bullies; therefore, he is quite rigid in terms of it.
Currently, the American professional fighter has come a long way; however, he has yet to reach his destination and make a mark. He believes he needs a ton of internal work to better himself.
Khalil Rountree | Martial Arts Record
| | |
| --- | --- |
| Total | 13 |
| Wins | 8 |
| By knockout | 5 |
| By decision | 3 |
| Losses | 4 |
| By knockout | 2 |
| By submission | 1 |
| By decision | 1 |
| No contests | 1 |
Khalil Rountree | Social Media
Although how fierce Khalil may look in his matches, he is a warm person with righteous behavior. To illustrate, his social media outlook will give a different and real perspective of the fighter.
Khalil Rountree | FAQs
What are Khalil Rountree's likes?
Rountree enjoys dancing and listening to music. He is a fan of the Village People.
What was Khalil's recent UFC ranking?
The fighter's recent ranking put him in the #44 position.
Does Khalil Rountree have a match with Greg Hardy?
As per the source, there is no possibility of the match as it was just a rumor back then.
Who is Khalil Rountree's next fight?
The War Horse's next fight is Lithuanian-British mixed martial, Modestas Bukauskas.
Has Khalil Rountree retired?
Khalil Rountree has talked about retiring, but despite that, he signed a contract extension with UFC back in October 2020.
Is it true Khalil Rountree knocked Anderson Silva?
Khalil Rountree, who used to be Anderson Silva, once knocked out the fighter unconscious during his training for Diaz.