Kyrie Irving's father, Drederick Irving, holds an exceptional place in his life. One may feel odd reading the first sentence, as that is usually the case with every parent and their kid. However, Kyrie's childhood was not ordinary.
After losing his mother at a young age, his father raised him alone for eight years.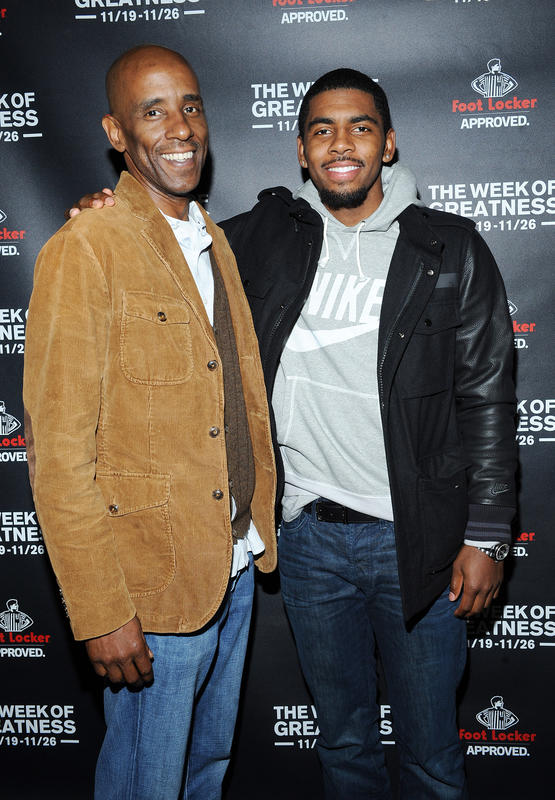 Although Drederick never reached Kyrie's level in his time, he was a professional basketball player and had so much to do with Kyrie's development as a basketball prodigy. Drederick helped him with everything he could so he could see his son playing in the NBA.
In the article below, let's explore more about Drederick Irving's life, struggles, and relationship with his son. But before we begin, here are some quick facts.
Quick Facts
Full Name
Drederick Rubin Irving
Known As
Drederick Irving
Date of Birth
January 11, 1966
Birth Place
Bronx, New York, the USA
Nick Name
Not available
Religion
Christianity
Nationality
American
Ethnicity
African-American
Zodiac Sign
Capricorn
Age

57

years old
Height
1.95 m (6 feet 4 inches)
Weight
198 lb (90 kg)
Eye Color
Dark brown
Build
Athletic
Father's Name
Lillian Irving
Mother's Name
Not available
Siblings
Five
Education

Stevenson High School (Bronx, New York)
Boston University (Boston, Massachusetts)

Marital Status
Married
Sexual Orientation
Straight
Wife's Name
Shetellia Riley
Kids
Kyrie Irving, Asia Irving, London Irving
Former Profession
Basketball player
Position
Shooting guard
League
South East Australian Basketball League (SEABL)
Currently Plays For
None / Retired
Social Media
Not available
Merch of Kyrie Irving
Paperback, Basketball Trading Card
Last Update

November, 2023
Kyrie Irving Father | Early Life, Family & Education
Drederick Rubin Irving, also known as Dred Irving, was born on January 11, 1966, in Bronx, New York, United States. Besides him, there were five siblings for his parents to raise.
Sadly, their financial condition was not so good, and both his parents used to work as a kid. But when he was around six, his father, Lillian, left the family and never contacted them again.
Dred's mother was left with no choice but to raise her children all by herself. So, she raised Dred and his other siblings by working various jobs.
Although her earnings were quite insufficient for the family of seven even to eat, Dred and his siblings got chances to attend school. He was a brilliant student and always brought good results.
Maybe because he was aware of his mother's hardships, Dred knew he had to get a decent job in the future to secure a good life for his family, so he never neglected his classes. Besides that, he was also an excellent athlete and trained frequently.
After middle school, Dreg attended the Stevenson High School in the Bronx, New York, continuing his studies and sports career. He later enrolled at Boston University and obtained a degree in Economics.
Click here to learn about Kendrick Perkins, a former NBA player who works as a sports analyst on ESPN TV!
Kyrie Irving Father | Career
Basketball Career
Drederick Irving was widely in his high school famous for his scoring abilities. Soo after he graduated from Stevenson, he started playing college basketball for the Boston Terriers. He played for them from 1984 to 1988.
Irving was the most reliable scorer on the Terriers' team during his time. Although his start was weak, Dred had outstanding performances in his last three college seasons. He had averaged just 6.4 points and 1.4 rebounds per game.
However, he picked up his game from his sophomore season and averaged 18.0 points per game in the season. After that, he never looked back during the rest of his college career.
Dred was his college captain and helped the Terriers to lift the NAC title in 1998. He finished his senior season with an average of 19.9 points and 3.4 rebounds per game. He had scored 1931 career points for the Boston Terriers when he graduated in 1988.
Unfortunately, Dred could not get an opportunity to play in the NBA. He had tried to get a place in the Boston Celtics, but he could not make it. Following that failure, he went to Australia and played for the Bulleen Boomers in the SEABL.
Career Outside Basketball
As an Economics graduate, Dred has a long work experience as a financial expert for various companies. Dred first started working as a credit manager in the late 80s after failing to pursue a basketball career upon graduation.
Since then, he has worked as a part of various real estate agencies and companies in New York and other parts of America, including Newark.
Dred is currently working as a Bond Broker at a media company named Thomson Reuters. He has been working for the same company for around twenty-two years.
Kyrie Irving Father | Age, Weight & Height
As of 2023, Drederick Irving is 57 years old.
About his physical stats, he stands 1.95 meters (6 feet 4 inches) tall and weighs around 198 lb (90 kg).
Kyrie Irving Father | Personal Life
Drederick Irving married twice in his life. His first wife was Kyrie's mother, Elizabeth Larson, whom he had married in 1990.
Born in St.Paul, Minnesota, Elizabeth spent most of her childhood life in South Dakota and Washington. She was separated from her biological family at an early age and considered her adoptive parents, George and Norma Larson, as her own parents.
Larson later attended Boston University for her higher education, where she met Kyrie's father, Drederick. At that time, Dred was in his sophomore year, and he liked her at first sight.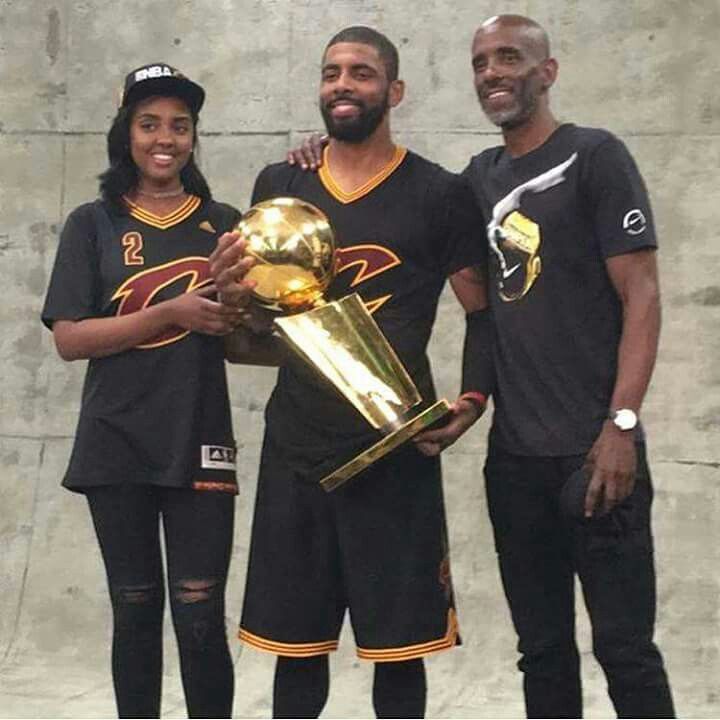 Like Irving, she was interested in sports and played volleyball for their college team.
The two dated each other for more than three years and tied knots a year after Larson graduated in 1989.
When Drederick got an opportunity to play for the Australian club, Bulleen Boomers, in 1992, they migrated to Melbourne from Seattle. Soon after, she gave birth to their son, Kyrie Irving, on March 23, 1992.
Their first child, Asia Irving, was born a year earlier than Kyrie.
However, after his stint with the Boomers ended sooner than expected, Dred joined his wife in New York, who had already returned when Kyrie was not even a year old. Just when they were starting to have a stable life after so long, Elizabeth passed away at age 29.
Kyrie was just four years old when his mother died.
You may also like to read about Anansa Sims, an American plus-size model who has been in a relationship with American professional basketball player Matt Barnes since 2017!
Dred's Second Marriage
Kyrie's father initially decided to remain unmarried after Elizabeth's untimely demise and raised two small kids on his own. Luckily, he had his sisters around, so they helped raise them.
In addition, his father-in-law, George, loved his grandkids very much and frequently came to their residence to see them. Kyrie and Asia often spent their vacation in their grandparents' residence in Washington.
But after, around eight years of Larson's death, Dred found his second love. He married Shetellia Riley in 2004, but he still has a good relationship with his previous in-laws. Their daughter, London, was born in 2008.
Kyrie's stepmom, Riley, is currently working as his agent as well.
Kyrie's Life & Career
Born in Melbourne, Australia, Kyrie is the second child and only son of a former professional basketball player, Drederick Irving, and his wife, Elizabeth Irving. However, he spent his childhood in New Jersey.
He had seen his father play in adult-league games, so he was interested in basketball at a young age. As his father had a very short professional career, he dedicated his life to training young Kyrie.
A child prodigy, Kyrie's game impressed the then Boston University's head coach Dennis Wolff so much that he offered him a scholarship offer when he was just a fifth-grader. However, he played college basketball for Duke University in North Carolina.
After having an outstanding first season with the Duke Blue Devils, Kyrie declared for the NBA draft in 2011. Fortunately, he became that year's draft's first pick as the Cleveland Cavaliers immediately recognized his talent.
He showcased his magical gameplay right from his rookie season which he finished with an average of 18.5 points and 3.7 rebounds. Consequently, he became the NBA Rookie of the Year for his outstanding performance in 2012.
Similarly, he won the NBA championship with the Cavaliers in 2016. It has already been around eleven years since his NBA debut, but his performance has always remained consistent.
Apart from basketball, Irving is interested in singing, dancing, acting, and almost all art forms. He has appeared in some tv shows and movies, including the 2018 sports comedy film Uncle Drew.
Furthermore, Kyrie is in a relationship with an American model named Marlene Wilkerson. He has a daughter, Azurie Elizabeth Irving, from his previous relationship.
Irving is a Muslim.
Kyrie Irving Father | Surviving 9/11 Attack
Kyrie's father worked on Wall Street in New York for several years as a financial expert.
Just some years before the September 11 Attacks, Dred used to work in one of the World Trade Center (WTC) buildings, the same structure where the terrorist attacks took place.
He had initially worked as a financial broker on the 105th floor of that building. Similarly, he had a job in another company named Garvan Securities in that same building, but he left the place after he got a job at Thomson Reuters, some distance away from the WTC.
On September 11, 2001, Dred was passing by those buildings when he heard a big explosion, and he immediately felt dizzy. Soon he heard people crying and shouting and saw big blocks of destroyed buildings and planes everywhere.
He recalls that it was a horrible scene with so many burned people lying all around. Some were even jumping off the twin towers to avoid being burnt alive, and he saw that with his own eyes.
He admits all he thought about at that time were his little children, and he made his way through crumbled structures and smoke to reach them as soon as possible.
Kyrie, who was in school during the incident, remembers that he was extremely worried about his father. Even his school teachers were crying so loud.
However, he felt relieved when his father eventually showed up after around six hours of the incident and embraced them. Now that Dred has survived the attack and has already been more than two decades, he still feels numb whenever he remembers it.
Kyrie Irving Father | Net Worth
According to sites on Internet, Drederick has a net worth somewhere between $1 million to $5 million. However, it has never been disclosed officially.
But, his son, Kyrie, is one of the wealthiest active professional basketball players and has a net worth of over $90 million.
Matt Thomas is an American professional basketball player who currently plays as a guard for the NBA club Chicago Bulls. Learn more here!
Frequently Asked Questions
Who is Drederick's son, Kyrie's Godfather?
Rod Strickland is Kyrie's Godfather. Strickland is a former NBA player who played in the league from 1988 to 2005.
How tall is Kyrie Irving?
Kyrie Irving is around 6 feet 2 inches tall.