Life is too short to be not doing what you love. We have been confined into this standard timeline where you should graduate by 25 and be married and settle by 30.
But, life can start after 30 as well. Lauren Gibbs is a prime example of this. She is an Olympic athlete who started her bobsledding career at thirty, the age where most of the athletes retire.
However, despite starting late, she found her true calling, and that's how she became one of the most popular and decorated bobsledders.
Why did Lauren quit her corporate life for a sport she had no idea about and how she got into Bobsledding? Make sure to read to the end to find the answers.
Also, the article will take you to the journey of Lauren Gibbs from the boardroom to the bobsledding.
But, before diving into the details, let's quickly glance at her quick facts.
Quick Facts
Name
Lauren Gibbs
Nick Name
Lauren
Date of Birth
March 2, 1984
Age
39 years old
Birth Place
Los Angeles, California
Residence
Los Angeles, California
Nationality
American
Ethnicity
Black
Zodiac Sign
Pisces
Height
5 feet 10 inches (178 cm)
Weight
170 lb (77 kg)
Hair Color
Black
Eye Color
Black
Father's Name
Not available
Mother's Name
Not available
Siblings
Not available
Education
Masters in Business Administration.
School
Westridge School
University
Brown University, Pepperdine University
Marital Status
Unmarried
Boyfriend
Not Available
Children
None
Former Profession
Sales manager
Profession
Bobsledder
Position
Brakewomen
Olympics wins
1 Silver (2018)
Event
Two – Women
Debut Year
2014
Status
Active
Major Achievement

Silver medal in 2018 Olympics
2020 Bobsledding World Champion

Net Worth
$1- $5 million
Social Media

Instagram,

Twitter

,

Facebook

Affiliation

Parity Organization

Merch
Bobsledding Women's T-shirt
Last Update
March, 2023
Lauren Gibbs | Early Life and Childhood
On March 2, 1984, Lauren Gibbs was born in Los Angeles, California. There is not much information about Lauren's family and siblings, but Lauren has mentioned that her father worked in the navy in an interview.
Lauren has always been active and athletic since she was a child. She attended Westridge School and played various sports, including soccer, volleyball, and track and field.
She then received her bachelor's degree in arts from Brown University. Lauren was a member of the Brown volleyball team for four years.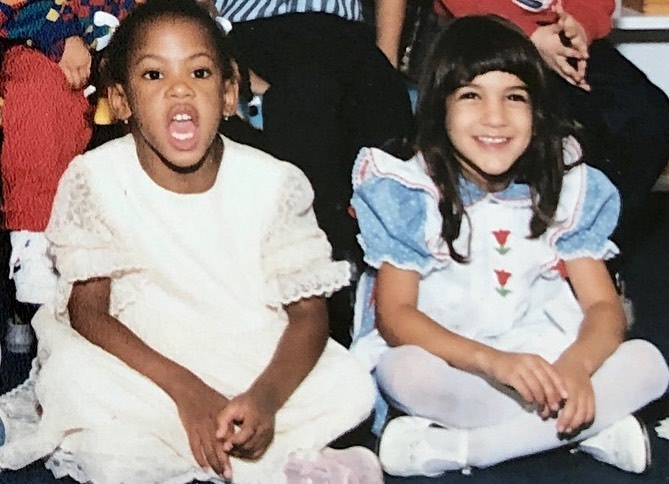 Lauren was a standout volleyball player during her college career. She was named All-Ivy League Academic, Second Team All-Ivy League, and team captain after amassing more than 1,000 kills in her collegiate career.
She eventually completed her post-graduate studies at Pepperdine University, where she earned a Master's in Business Administration.
After graduating, she pursued a career in sales, eventually earning six figures.
Read about Meghan Duggan Bio: Beijing Olympics, Wife & NJ Devils>>>
Lauren Gibbs | Age and Body Measurements
The Olympian Lauren Gibbs was born in 1984. So, she is 39 years old.
Talking about physical appearance, the bobsledder has an athlete-type body. Lauren stands at 5 feet 10 inches and weighs around 77 kg.
Lauren works out frequently, which is why she has impressive abs. She follows a strict diet and works routines to stay fit and healthy.
Also, Lauren is African- American with black eyes and curly hair. What stands out the most in her is the freckles on her face which make her more beautiful and unique.
Furthermore, Lauren's zodiac sign is Pisces. Pisceans are strong-headed and will do whatever it takes to get what they want. Lauren is no different.
Lauren Gibbs |
Professional Career
Getting Into Bobsled
Lauren was all settled and happy with her sales career. She was 30, the age when people tend to settle down with jobs or businesses.
However, Lauren took a risk to change her career to pursue a career in a sport she had never heard of before.
Lauren's friend told her about recruitment at the Olympic Training Center for bobsledding.
Lauren had no idea what bobsledding was, but she wanted to try it as she had never been to the Olympic training center.
In the center, Gibbs was required to complete three tasks: a sprint, a two-handed shotput toss, and a broad jump, and was invited to a week-long rookie camp to learn bobsledding technique based on her performance.
She said it was terrifying but exciting when she first tried the bobsled. But, she could not wait to do it again. Ultimately, she fell in love with sports.
It was a hard decision for Gibbs to leave a company that pays well and tries something that had an uncertain future. She felt she needed to take that chance and decided to pursue a career in bobsled.
Gibbs took first place in the rookie competition at the end of camp, and it was the beginning of her bobsledding career.
Becoming Bobsled Champion
However, Lauren's bobsledding skills weren't good enough at the beginning. She was well aware that she would not even be able to qualify for alternate Olympian status with her current skills.
As a result, she put out her best efforts to polish her abilities and become the best at her sport in order to qualify for the Olympics.
After three years, finally, Lauren was selected to represent Team USA as a rookie member of the 2015 Women's National Bobsled Team.
In under four years, Lauren went from being a novice bobsledder to an elite-level competitor.
The Olympic Win
Lauren was chosen to her first Olympic Team in January 2018 for the 2018 PyeongChang Winter Olympics. She was teamed up with pilot Elana Meyers Taylor.
The duo participated in two women's categories and made it to the finale. The USA team competed for the gold medal with Team Germany and Team Canada.
The duo was able to bring a silver medal with 3:22.52. Team Germany won the gold medal whereas Team Canada won the bronze medal.
It was a historical moment in Winter Olympics as it was the first time that black athletes had won gold, silver, and a bronze medal in the same event.
Go through: Mary Lou Retton Bio: Olympics, Gold Medal, Net Worth & Kids>>>
Lauren Gibbs | Other Ventures
Apart from bobsledding, Lauren is currently employed as a spokesperson for the Parity organization.
It is an online marketplace and community where professional female athletes can interact with sponsors and execute real and productive social media campaigns.
In addition, she serves as the director of external sales for the Evolution of Sports company.
Lauren Gibbs |
Awards and Achievement
Gold in 2019-2020 Women's Bobsled World Cup

Silver in the 2018 Winter Olympic Games.

Bronze in 2018-2019 Women's Bobsled North American Cup

Gold in 2017-2018 Women's Bobsled World Cup

Bronze in 2016-2017 Women's Bobsled World Cup

Gold in 2015-2016 Women's Bobsled World Cup

Bronze in 2015-2016 Women's Bobsled World Cup

Bronze in 2014-2015 Women's Bobsled World Cup

Gold in 2014-2015 Women's Bobsled North American Cup
Lauren Gibbs |
Boyfriend
Lauren Gibbs does not work according to the typical timeline, based on the belief that people should marry before the age of thirty.
Gibbs is currently single and has no interest in dating anyone. Lauren is wholly dedicated to her bobsledding career and intends to devote her full attention to it for the time being.
However, keep an eye out for more updates.
Dwell over: Scotty James: Family, Olympics, Girlfriend & Net Worth>>>
Lauren Gibbs |
Net Worth
The net worth of Lauren Gibbs is estimated to be anywhere between $ 1 million – $ 5 million.
Lauren resigned from her well-paying job, which earned her six figures. It was a risky financial decision as she left a high-paying stable position for an uncertain sports career.
But, Lauren is making six figures as a bobsledder. The Olympian has earned the net worth from her primary career as a bobsledder.
The USA usually pays $22,500 for the Olympic silver medal. Apart from the Olympics, Lauren has won several other nations and international tournaments.
Apart from this, she earns a good fortune from endorsements, investments, and business.
Social Media Presence
Bobsled star Lauren Gibbs loves connecting with her fans and admirers through social media. As a result, Gibbs is active on various social media platforms.
Furthermore, Lauren has verified social media accounts and frequently posts about her exercises and travels.
Also, scrolling down her Insta posts, you can find several pictures of her nephew, whom she adores more than anything else.
Follow her on social media platforms to find out more about her professional and personal life.
Frequently Asked Questions (
FAQs)
Did Lauren Gibbs have freckles since her birth?
She didn't have freckles when she was born. They started appearing when she was eight years old. Also, her freckles are natural.
What was Lauren Gibbs's job before bobsledding?
Lauren Gibbs had a rewarding sales career. She joined as a sales representative in Vector Marketing, where she worked for seven years.
With experience, Lauren was promoted as district manager of sales. She later worked as an area sales manager at ADT Security Services before leaving her corporate career.
Did Lauren Gibbs participate in the 2022 Beijing Olympics?
No, Lauren was initially in the team with Elena Meyers Taylor. But, she had to drop off the Olympics due to her recent hip surgery.
Lauren needed to rest and thus, watched her partner win the silver medal in the 2022 Beijing Olympics.