Li Jingliang is a professional mixed martial artist from China who competes in the Ultimate Fighting Champion. Moreover, he fights in the Welterweight division.
Currently, the fighter falls in the 13th position in the UFC's welterweight rankings. Furthermore, he is best known as The Leech.
Besides that, Li is a Black belt in Brazilian Jiu-Jitsu. The Chinese fighter's last fight was against Swedish mixed martial artist Khamzat Chimaev.
Not to mention, Jingliang has won Legend Fighting Championship's Welterweight Championship. Likewise, he has received Fight of the Night and Performance of the Night honors in UFC.
On top of that, he also knows Brazilian jiu-jitsu and has competed in the China Open Jiu-jitsu Tournament. Aside from that, Leech has fought 24 matches in his career and has won 18 of them.
Although there are rumors that his next fight might be against Geoff Neal, who is ranked 11, UFC hasn't confirmed the news yet. The Chinese fighter worked very hard to rise through the ranks.
Similarly, he has earned everything he has achieved. People who train and work with him admire his work ethic and dedication to MMA and UFC.
Before getting into details about the Chinese MMA fighter's life and career, here are some quick facts about him.
Quick Facts
| | |
| --- | --- |
| Full Name | Li Jingliang |
| Birth Date | March 20, 1988 |
| Birth Place | Tacheng, Xinjiang, China |
| Nick Name | The Leech |
| Religion | Not Available |
| Nationality | Chinese |
| Ethnicity | Asian |
| Division | Welterweight |
| Horoscope | Aries |
| Father's Name | Not Available |
| Mother's Name | Not Available |
| Siblings | Not Available |
| Age | 35 years old |
| Height | 6 feet |
| Weight | 170 lb (77 kg) |
| Hair Color | Black |
| Eye Color | Brown |
| Build | Athletic |
| Profession | MMA Fighter |
| Current Team | China Top Team and Team Alpha Male |
| Welterweight Rankings | 13 |
| Fighting Style | Striker |
| Active Years | 2007 – Present |
| Marital Status | Married |
| Wife | Not Available |
| Kids | Two; A Daughter and A Son |
| Net Worth | $25 million |
| Social Media | Instagram, Twitter |
| Merchandise | UFC Gloves |
| Reach | 72 in (183 cm) |
| Last Updated | April, 2023 |
Li Jingliang | Early Life, Family, and Education
Li Jingliang was born in Tacheng, Xinjiang, China. Jingliang grew up in a small town near Tacheng called the Xinjiang Province.
His parents worked very hard to provide for him in the remote city. However, their work details and names are kept private.
Nevertheless, many sources speculate that his parents might've been farmers, as Li jokes that he would've been a farmer if not a fighter.
Moreover, his parents encouraged him to join the amateur sports school that offered him a chance to train.
Since Jingliang knew nothing about wrestling and athletics, he contemplated declining the offer. Nonetheless, his mother and father had talked to the sports school's coach, who had recognized The Leech's potential.
Hence, the UFC fighter's mom and dad eventually convinced him to take up the offer. Little did he know that the small offer would open doors of the UFC and MMA for him.
Shortly after, he started practicing freestyle wrestling and even trained under Bao Li Gao, a National Sanda Champion known as the "Muay Thai Killer." Furthermore, Bao introduced him to MMA.
Likewise, he showed Li the way to the Art of War Fighting Championship and Legend Fighting Championship.
Thereafter, the Chinese fighter moved to Beijing as a 20-year-old to pursue a professional career in MMA.
Learning And Inspiration
In Beijing, UFC Lightweight Fighter Zhang Tiequan, who is also the coach of The Ultimate Fighter: China, trained him. As a kid, Jingliang watched Bruce Lee and was inspired by him a lot.
But, Li could only identify himself with Bruce Lee, his principles, and his discipline when he started his professional career. In a 2018 interview, the fighter said,
"The only challenge I face inside the octagon is how to smash the opponent and win."
The mixed martial artist is also known as the King of Octagon and is very famous for his Knockouts.
Don't Forget To Check Out American MMA Fighter Johny Hendricks Bio: Career, MMA, Wife, Kids & Net Worth >>
Li Jingliang | Age, Height, And Weight
Since the Chinese wrestler was born on March 20, 1988, he is 35 years old. Besides that, Li talked about great care for his health and diet.
Hence, Li is very fit and has a toned physique. Furthermore, the Welterweight fighter is 6 feet tall and weighs 170 lb, i.e., 77 kg.
Li Jingliang | MMA Career
Early Career
The Leech started his career by becoming a renowned MMA fighter when he was 19 years old. In 2007, he made his debut at the AOW 8: Worlds Collide.
He fought against Makhach Gadzhiev and won his professional debut by a technical knockout.
Similarly, Jingliang won his next two matches against Liu Jin Wen at the Ultimate Martial Arts Combat and Yun Tao Gong at the AOW 15: Ueyama vs. Aohailin via submission.
The MMA fighter faced his first professional loss against Pat Crawley while debuting at the Legend Fighting Championship.
Thereafter, he went on a three-match winning streak where he fought against Andrei Liu, Tony Rossini, and Alex Niu.
Li's next loss came at the Legend FC 7 against Myung Ho Bae via a unanimous decision. After that, he won his last two LFC matches against Dan Pauling and Luke Jumeau by unanimous decision and submission.
Learn More About Japanese Mixed Martial Artist, Takanori Gomi- UFC, MMA, Record, Tapology & Wife >>
Career In The UFC
UFC Debut, First Loss, and Winning Streak
The fighter made his first appearance in the Ultimate Fighting Championship in a match against David Michaud. The fight took place in Las Vegas, Nevada, at the UFC 173.
Li won the match via a split decision in the third round. Moreover, it was Michaud's first defeat in his career.
Thereafter, the Leech faced French-Canadian professional mixed martial artist Nordine Taleb in his second UFC fight.
Although Jingliang had a strong start and took down Nordine numerous times, Taleb ended up defeating Li.
The Chinese mixed martial artist's next fight was against Brazilian mixed martial artist Dhiego Lima. He won the fight in the first round via a Knockout.
After that, he fought against Keita Nakamura at UFC Fight Night: Barnett vs. Nelson. However, Li lost the fight by technical submission in the third round.
Then The LFC Welterweight Champion had a winning streak of four matches. He won those four matches against Anton Zafir, Bobby Nash, Frank Camacho, and Zak Ottow by knockouts and decision.
Eye Gouging, Recent Career, Jingliang vs. Magny & Ponzinibbio
Li's first loss after the winning streak came against Australian mixed martial artist Jake Matthews at UFC 221. In the fight against Matthews, Jingliang was heavily criticized for gouging Jake's eyes.
Furthermore, fans were furious that The Leech's deed went unpunished by UFC. Moreover, he was awarded Fight of the Night honors.
Nevertheless, Jake held no hard feelings against his opponent, who poked his eye sockets until they bled.
In an interview, Matthews said,
"In the heat of the fight, you don't realize that stuff. There was a couple of fingers in the glove, but in the heat of the fight, you'll do anything to win/ I can't fault that. No hard feelings at all."
Besides that, Li had another winning streak at three matches against Daichi Abe at UFC Fight Night 132, David Zawada at UFC Fight Night: Blaydes vs. Ngannou 2, and Elizeu Zaleski dos Santos at UFC Fight Night: Andrade vs. Zhang.
His last fight of 2020 was against Neil Magny at UFC 228. Jingliang lost the fight by a unanimous decision in the third round.
Finally, he faced Argentine mixed martial artist Santiago Ponzinibbio on January 16, 2021. The Chinese fighter won the match in the first round by knockout.
As a result, Li was the recipient of the Performance of the Night award.
You Might Be Interested In Irish Fighter, aka, The Irish Dragon, Paul Felder Bio: Net Worth, Wife, MMA & Next Fight >>
Fight Records and Stats
| | | |
| --- | --- | --- |
| Matches | Wins | Losses |
| Knockout (KO) | 9 | 0 |
| Submission | 4 | 2 |
| Decision | 5 | 5 |
Highlights And Achievements
Legend FC Welterweight Championship

Two-time Fight of the Night

Four-time Performance of the Night

First Place At The China Open Jiu-jitsu Tournament in 2013

2013 First Place At The China Open Jiu-jitsu Tournament in the 92 kg category
Li Jingliang | Wife, Marriage, and Kids
Li Jingliang is married. However, details regarding his wife, her name, education, and profession are currently unknown.
Nevertheless, many sources report that she is a full-time mom. On top of looking after her kids, she is a very supportive wife.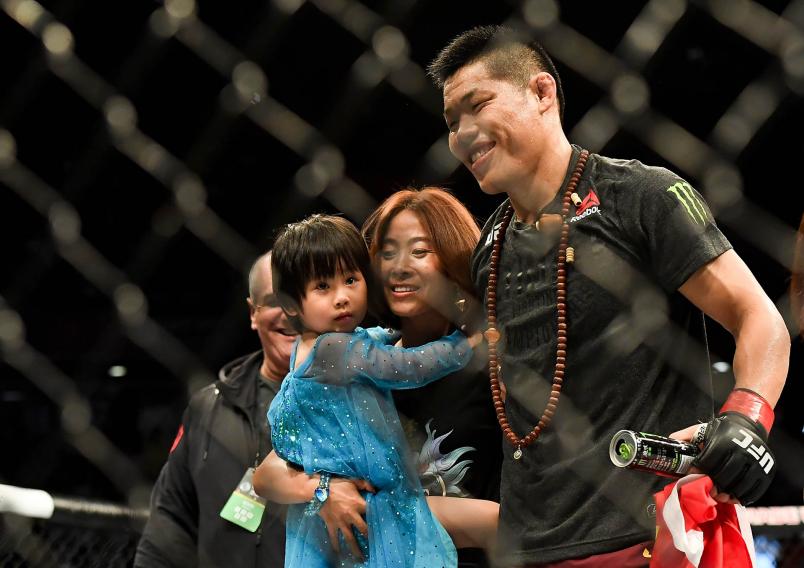 She can be seen at many of Li's matches cheering him on. At UFC Fight Night 122, Jingliang jumped out of the cage to hug his wife after winning against Zak Ottow in Shanghai, China.
Besides that, the couple has two children. The Leech has a daughter named Tian Tian and a son who was born recently.
Furthermore, his children's names and other details are not disclosed to the public for their safety and privacy.
Li Jingliang | Net Worth, Salary, and Career Earnings
The MMA fighter has earned most of his wealth through his professional career and career in the Ultimate Fighting Championship. His net worth estimation is $25 million as of 2023.
Li worked really hard and fought for his wife and kids. Moreover, he was the only breadwinner in his family.
Likewise, he also took care of his parents. Hence, Jingliang dedicated his entire career to his family.
Although his first match in the UFC earned him only $8 thousand, he gradually started making more and built a net worth of $25 million.
Currently, the fighter is one of the most well-known Chinese MMA fighters.
In his recent loss to American MMA fighter Neil Magny, he earned $64 thousand. Similarly, in his impressive win against Santiago Ponzinibbio, his overall earnings amounted to $225,000.
The Leech also earns a good amount through bonuses and endorsements.
>> Saeideh Aletaha Bio: Death, Brain Injury, MMA & Early Life <<
Li Jingliang | Social Media Presence
The Chinese fighter is quite active on various social media platforms. Hence, he is on Instagram with 19 thousand followers.
The Leech usually shares his life as a professional MMA fighter in his handle. As a result, he has several pictures in the ring and the gym.
Similarly, Li has also posted snippets of his training sessions and workout routine. Besides that, the father of two loves sharing adorable photos of his children.
Furthermore, he is active on Twitter with over 5.8 thousand followers. The LFC Welterweight Champion mostly shares MMA, and UFC-related highlights, events, and news to his Twitter handle.
Recently, Jingliang pinned a video of Connor McGregor where the Notorious congratulated Li on his win against Santiago Ponzinibbio. Aside from that, he has tweeted and retweeted a lot of his fights.
Li Jingliang | FAQs
What is Li Jingliang's ranking?
Currently, the Chinese MMA fighter's UFC's welterweight ranking is at 13th position.
Did Li Jingliang win his last fight?
No, The Leech did not win his last fight, which was against Khamzat Chimaev at UFC 267 on October 30, 2021. He lost the fight via technical submission.
Who won Li Jingliang vs. Neil Magny?
Neil won the fight against Li at the UFC 248.