Paul Felder is a professional mixed martial artist who fights in the Ultimate Fighting Championship. Moreover, he fights in the lightweight division.
Likewise, he is best known for his nickname, "The Irish Dragon." Paul earned the nickname as he has a profound Karate background.
Besides that, he is also a color commentator for the ESPN channel. The fighter has fought against renowned MMA fighters like Mike Perry, Danny Castillo, Charles Oliviera, Dan Hooker, etc.
Furthermore, he is Irish fighter Conor McGregor's favorite person to pick on. Recently, McGregor said that Felder's last name sounds like he's German rather than Irish.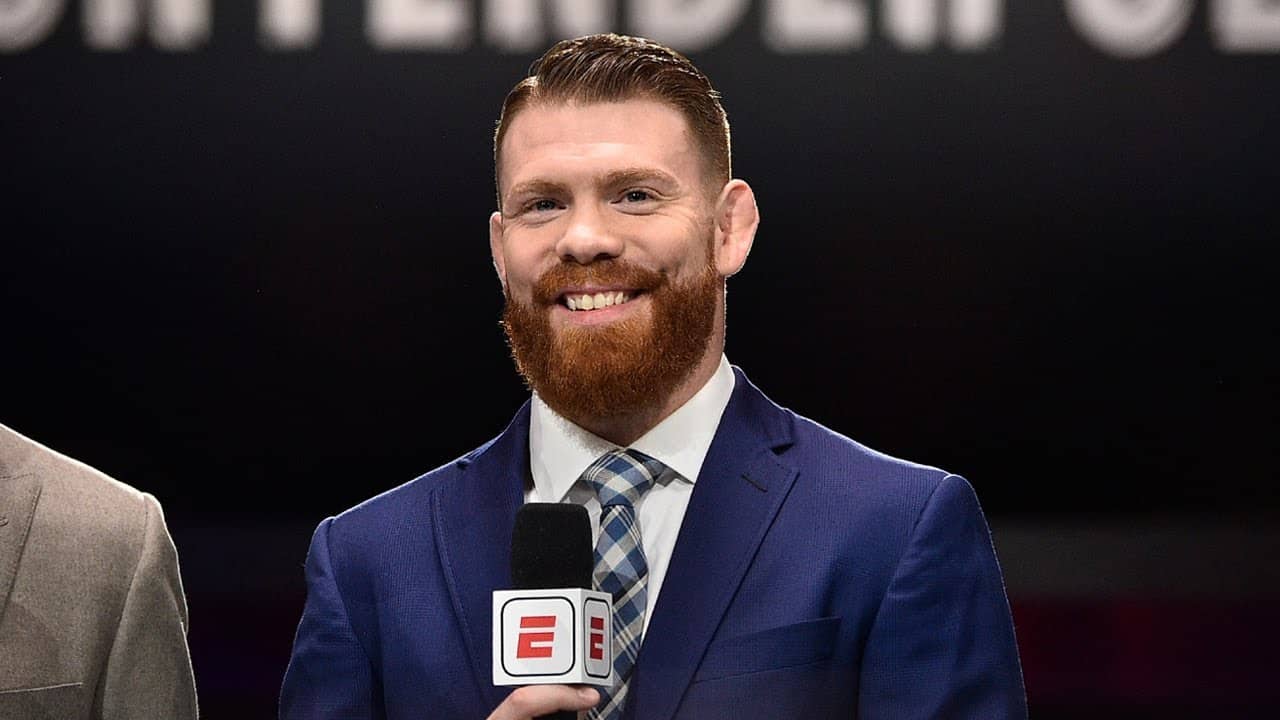 Instead of taking offense, the commentator joked that he would change his nickname to "The German Dragon" if he ever fought McGregor. UFC Champion Connor again fired back at Felder, tweeting that he has a mental illness called Witzelsucht.
McGregor's tweet garnered many negative reactions from fans and media for making fun of a mental condition. Hence, he deleted the tweet shortly after.
Before getting into details about the MMA fighter's life and career, here are some quick facts about him.
Quick Facts
Full Name
Paul Robert Felder
Birth Date
April 25, 1984
Birth Place
Philadelphia, Pennsylvania, United States
Nick Name
The Irish Dragon
Religion
Christian
Nationality
American
Ethnicity
Irish American
Education
University of the Arts
Horoscope
Taurus
Father's Name
Not Available
Mother's Name
Marian Felder
Siblings
Tommy Felder
Age
39 years old
Height
5 feet 10 inches
Weight
156 lb (71 kg)
Hair Color
Black
Eye Color
Brown
Build
Athletic
Profession
MMA Fighter, Color Commentator
Current Team
Roufusport
Division
Lightweight and Welterweight
Active Years
2011 – Present
Marital Status
Unmarried
Girlfriend
Not Available
Kids
Daughter; Aisling Felder
Net Worth
over $2.5 million
Social Media
Instagram, Twitter
UFC Merchandise
Gloves, Shorts
Reach
70

1⁄2 in
Last Updated
May, 2023
Paul Felder | Early Life, Family, And Education
Paul Felder was born in Philadelphia, Pennsylvania, the United States. His parents were Irish Americans.
Although there isn't much information about them, some sources report that his dad had pancreatic cancer.
Furthermore, he lost his battle while Felder was preparing for UFC Fight Night 113. The analyst wears his dad's ashes around his neck.
Nevertheless, he and his brother Tommy was raised by good parents. They loved their children dearly and were very supportive of their individual career choice.
Likewise, Tommy and Paul were very athletic and grew up playing sports. Moreover, they fought with each other, which served as practice for the UFC fighter.
As a kid, the MMA fighter played different sports like baseball and football. However, he was always very much drawn to Karate and Kung-fu.
He credited Ninja Turtles and Jackie Chan for introducing him to Karate and the MMA world in an interview. Hence, as a Christmas gift, Paul asked his parents to join him in a Karate and Tae Kwon Do class.
Initially, his parents were skeptical, thinking it must be a childish wish. Nonetheless, their mind changed after seeing the expert commentator's seriousness towards Karate.
So, the fighter started his journey towards becoming a professional mixed martial artist when he was only 12 years old.
Besides that, he attended Ridley High School in Pennsylvania. The ESPN commentator completed his high school education from there. After that, he went on to study at the University of Arts, where he graduated from acting in 2008.
Paul Felder | Age, Height, And Weight
Since the fighter was born on April 25, 1984, he is 39 years old as of now. As a professional athlete and MMA fighter, he takes excellent care of his health and diet.
Furthermore, the Irish commentator is quite fit and has a toned physique. Besides that, the UFC champ is 5 feet 10 inches tall and weighs 156 lb.
Don't Forget To Check Out Brazilian-American MMA Fighter Vicente Luque Bio: MMA Career, Family & Net worth >>
Paul Felder | MMA Career
Early Career
Paul began his actual journey towards becoming a mixed martial artist when he was very young. Similarly, his parents put him in Karate, and Tae Kwon Do classes to develop his skills.
The analyst started his professional MMA career in 2011. Moreover, he had an amateur MMA record of 3–1.
Initially, he fought most of his fight in the Cage Fury Fighting Championships. Furthermore, he won the Cage Fury's Lightweight Championship.
Likewise, he defended the title once more in a match against Craig Jhonson. Thereafter, he received offers from UFC and signed with them.
UFC
The color commentator made his debut in the UFC at UFC Fight Night 54, where he fought against Jason Saggo. Moreover, Paul won his first match in the new promotion via a split decision.
Thereafter, he went up against Danny Castillo at UFC 182, where he replaced Russian fighter Rustam Khabilov. The Irish-American's second match ended in victory for him.
After that, The Irish Dragon faced his first loss in a match against Edson Barboza at the UFC on Fox 16. Barboza defeated him by a unanimous decision. Nonetheless, he received Fight of the Night honors despite his loss.
The fighter's subsequent loss came at UFC 191, where he faced English MMA fighter Ross Pearson.
Following two losses, the analyst bounced back with a win against Daron Cruickshank and Josh Burkman via submission and unanimous decision, respectively.
At UFC Fight Night 95, the CFFC Lightweight Champion came face-to-face against Brazilian fighter Francisco Trinaldo. Unfortunately, Paul had a devastating loss. During the fight, Francisco caused a large, bloody cut on Felder's face.
As a result, the ringside doctor stopped the match, and Trinaldo won via a Technical Knock Out. For his next fight, he faced Alessandro Ricci at the UFC Fight Night 105.
The Irish fighter won the match against Ricci by a Technical Knockout that had a mixture of elbows and punches.
Learn More About MMA Fighter, Al Iaquinta Bio: Early Life, Career, Injury & Net Worth >>
Recent Fights and Next Fight
Felder won his next two consecutive fights against Stevie Ray and Charles Oliveira. Furthermore, he defeated Ray after dropping him with a knee strike.
Likewise, he won his fight against Oliviera by a Technical Knockout at the UFC 218. Moreover, the Irish Dragon earned his victory in the second round.
After that, the ESPN analyst faced Welterweight Division Fighter Mike Perry at UFC 226. Perry defeated him in the third round by a split decision.
In his next two fights, he fought against James Vick and Edson Barboza. He won both of those fights in the third round by unanimous and split decisions.
Last Fight And Retirement Rumors
Thereafter, the Irish-American went up against New Zealand MMA fighter Dan Hooker at UFC Fight Night: Felder vs. Hooker. The match was held in Auckland, New Zealand.
Although Hooker defeated Felder, many media journalists scored the fight for Paul. Hence, many consider Dan's win a controversial one.
Nonetheless, the color commentator received a Fight of the Night award for putting up a good show. Shortly after that, he said in an interview that it could be his last fight.
Not to mention, it caused unrest among his fans. However, he later guaranteed that he was not retiring but was looking for more enticing fights.
In his last match of 2020, he faced Rafael dos Anjos, a Brazilian-American mixed martial artist who is also a UFC Lightweight Champion. At UFC Fight Night: Felder vs. dos Anjos, the analyst lost the match by a split decision.
Nevertheless, he was honored by the UFC with a third Fight of the Night honors. Paul also signed a new, multi-fight contract with the promotion.
You Might Be Interested In Welterweight Division Fighter In UFC, Kamaru Usman Bio: Family, Career, Net Worth & Social Media >>
Retirement
Although the commentator confirmed to his fans that he wasn't retiring, he recently announced his retirement at the UFC Fight Night 188's broadcast. He upset many of his fans by announcing his retirement from MMA and UFC.
Moreover, many well-known players and athletes praised him for his career and wished him a good retirement. Felder's retirement was not much of a surprise as he was hinting at it for quite a while now.
Nevertheless, many fans are still shocked that he went in and announced it that early. Finally, however, Paul said that it was time and he felt it and that he didn't want to fight past his expiration date.
Likewise, the broadcaster revealed that he hasn't felt the spark he once used to feel. Furthermore, he was grateful for the UFC promotion for being patient towards him while he made his mind about retirement.
The former Top 10 UFC Lightweight fighter also cited his health concerns as a reason for his retirement. He said,
"I don't want to get hit in the head anymore. I don't have any major health concerns right now, but I've been in some battles.
… [I] want to be able to do sports and do other things and do activities with my daughter and play with my dog and do stuff like that."
Olympics Career
Before his professional career, Felder participated in the AAU Junior Olympic Games. It is held every year by the US Amateur Athletic Union.
The MMA artist participated in the Tae Kwon Do category. He went to the Junior Olympics with his cousin Niko Portillo.
Portillo is one of the main reasons behind Paul's love and appreciation for his fighting career. Felder's cousin inspired and encouraged him to pursue a professional fighting career and always strive to be better.
Besides that, he hasn't participated in the Olympics since then, and this year isn't any different either. On top of that, the ESPN analyst has retired, so he won't be anywhere near at the Toko 2020 Olympics.
Highlights And Achievements
CFFC Lightweight Championship

Successful title defense against Craig Jhonson

Three-time Performance of the Night

Three-time Fight of the Night

2015 January Knockout of the Month

2019 September Fight of the Month

2020 February Fight of the Month

2018 Broadcast Analyst of the Year
Paul Felder | Girlfriend, Wife, And Kids
As of now, the ESPN commentator has not been linked with anyone. Although there are rumors that he is married, Fleder himself has not confirmed this news.
Hence, he is a single guy as of now. Besides that, he is the father of an adorable little girl named Aisling Felder.
Paul is very close with his daughter and calls her his little peanut. Furthermore, she was born on May 9, 2015.
As of 2021, she is five years old and is the apple of her father's eyes. Moreover, Paul considers himself lucky to have the opportunity to raise her.
Paul Felder | Net Worth And Salary
Paul has earned most of his wealth through his career in the Ultimate Fighting Championship. However, his exact net worth estimation is under review.
Nevertheless, many sources report his net worth to be over $2.5 million. Besides that, he has earned a tremendous amount from all of his fights.
On top of that, he earns through sponsorship and bonus in every fight. Likewise, many well-known brands and companies like Reebok, Hotsuit, etc., endorse The Irish Dragon.
Felder has earned the most in his fight against Stevie Ray, where he acquired $109,000. Moreover, he won the match via a knockout.
Furthermore, he earns a good amount by serving his analyst skills to the ESPN channel. Not to mention, Paul was the winner of Broadcast Analyst of the Year in 2018.
>> Alan Jouban Bio: UFC, Model, Awards, Family & Net Worth <<
Paul Felder | Social Media Presence
The MMA/UFC fighter is quite active on social media platforms. Hence, he has an Instagram account with 253 thousand followers.
Paul has mostly shared his life as an MMA fighter and ESPN color commentator on his handle. Likewise, he has posted bits of his workout routines and training sessions.
The analyst is shirtless in most of his Instagram photos, where he has shown his fit body. Likewise, he can also be seen fighting in most of the videos he's posted.
Furthermore, he has posted several pictures of his mother, late father, and adorable daughter on his account. The Irish-American fighter shares a friendly and close relationship with his daughter.
The father-daughter duo is usually giggly and bond over their love for doughnuts. Besides that, he has a Twitter account with 126.6 thousand followers.
The Irish Dragon usually shares MMA-related news, events, and highlights on his Twitter handle. Similarly, he also tweets as an ESPN commentator.
Recently, Felder retweeted a video of Khabib Nurmagomedov with a caption saying, "enjoy some family time @TeamKhabib you earned it."
Paul Felder | FAQs
How much is Paul Felder worth?
The MMA fighter is worth over $2.5 million as of 2023.
Who did Paul Felder fill in for?
In the fight against Rafael dos Anjos, Felder filled in for Russian MMA fighter Islam Makhachev.
Is Paul Felder retiring?
No, the ESPN commentator is nowhere near retiring. He even assured his fans, saying, "I can tell you guys with certainty: I'm not going anywhere right now."
Is Paul Felder married?
The Irish American is most likely not married as he is not linked with anyone. Nevertheless, he has a daughter named Aisling Felder outside of wedlock.