Popularly known for his Ring of Honor (2016), Lionel Gerard Green is a professional wrestler and musician. Widely known for his ring name, Lio Rush's wrestling career started back in 2014 and has escalated since then.
With his amazing passion for wrestling, he has won many titles and has also been sponsored by many brands.
Apart from wrestling, Lio is also a well-recognized musician. Some of his most famous songs include "Feel the Pain," "Scenic lullaby," and "I wonder."
Moreover, he has also successfully released two studio albums, i.e., Even After and The Final Match.
This article will go through some of his personal details like his wife, kids, career, music, net worth, and social media.
Firstly, let us quickly go through his quick facts like height, hometown, siblings, and many more.
Lio Rush: Quick Facts
| | |
| --- | --- |
| Full Name | Lionel Gerald Green |
| Birth Date | November 11, 1994 |
| Birth Place | Lanham, Maryland, U.S |
| Nick Name | Lio Rush |
| Religion | Christianity |
| Nationality | American |
| Ethnicity | Unknown |
| Education | Unknown |
| Horoscope | Scorpio |
| Father's Name | Lionel Aaronette |
| Mother's Name | Leslie Aaronette |
| Siblings | Sisters |
| Age | 29 years old |
| Height | 5 feet 6 inches (168 cm) |
| Weight | 73 kg (160 lbs) |
| Shoe Size | Unknown |
| Hair Color | Blue |
| Eye Color | Black |
| Body Measurement | 73kg-168cm |
| Build | Athletic |
| Married | Yes |
| Wife | Sarah Green |
| Children | Yes |
| Profession | Wrestler, Musician |
| Net Worth | $1 million |
| Salary | Unknown |
| Currently Works As | Wrestler, Musician |
| Affiliations | WWE, MCW |
| Active Since | 2014-present |
| Social Media | Instagram: @thelionelgreen Twitter: @thelionelgreen |
| Last Update | November, 2023 |
Lio Rush: Early Life, Family, and Education
Lio is an American citizen born on November 11, 1994, in the beautiful city of Lanham, Maryland, United States.
His full name is Lionel Gerald Green. He is a Christian and is the son of Lionel and Leslie Aaronette. Rush celebrates his birthday every year on November 11, and his star sign is Scorpio. Currently, he resides in Washington, DC.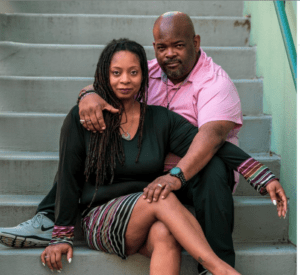 His parents are gospel singers and run their own music channels on music platforms like iTunes, Spotify, and amazon music.
The couples have successfully accomplished great recognition in the world through their music. Together, they have received the Faith Award, the National Gospel Award, and the Stellar Awards.
Moving on to his siblings, Lio was raised with his sisters. The post below shows a throwback picture of young Lio with his sisters.
He has not yet shared the names of his siblings to date. Maybe, later we will get to know more about his siblings.
Well, about his education, Lionel has not yet shared much information about his school or college details.
However, what we do know is that it was during high school that Lionel's love for wrestling grew. This is the time during which he started wrestling.
Lio Rush: Height and Body Measurements
The young wrestler has an athletic body covered with tattoos on his arms and chest. His height is 5 ft 6 inches, and he weighs 73kg.
Despite his height, he is a strong competitor and often pulls up a tough fight, even on wrestlers twice his size.
Moving on, Lio has dyed his hair blue, which matches his black eyes perfectly. On the other hand, his other measurements, like his biceps and so on, are missing.
Lio Rush: Early Career
Lio entered the world of wrestling in 2014. He learned wrestling from MCW Training Centre. His first debut was at Tribute to the Legends, where he won the Shane Shamrock Memorial Cup XV.
This was an elimination match where he eliminated quite a good number of wrestlers like Matt Cross, Shane Strickland, and Eddie Edwards.
Moreover, he also participated in other competitions like Evolve Wrestling (won), Pro Wrestling Guerrilla (defeated), Elite World Championship (defeated) HOG Crown Jewel Championship (defeated).
Later, Green also made his debut on Combat Zone Wrestling.
During CZW, he competed with Slugger Clark, and together they were known as Sudden Impact. Later, he even also wrestled with Caleb Konley, Joey Janela, and also Trevor Lee.
On CZW Seventeen, he was defeated by Joey Janela. However, on the 2016 ground CZW Wired Championship, he defeated Joey Janela, David Starr, and Dave Christ.
Later, he gradually won titles and participated in CZW World Heavyweight Championship as well. The match was a close one, and lastly, eliminating Joe Gacy, he won the title.
Ring of Honor
After competing in Independent Wrestling competitions, Lio also took part in Ring of Honor Wrestling Entertainment, also known as Ring of Honor. After training for the required period, he was qualified to participate.
In 2015, he made his debut and beat Vinny Marseglia. Later, he matched with Jason Kincaid and also defeated Brian Fury.
At last, he was the winner of the tournament. Later, he challenged Jay Lethal for ROH World Championship. This was taken as an unsuccessful challenge, and the ROH was disappointed with his decision.
At Final Battle 2016, Lio and his six-man team were defeated by The Kingdom team.
WWE
After his successful fights, Rush was signed up by NXT, who offered a contract to him. After his signing, he made his first appearance on Television on October 4.
However, this appearance was short-lived, as Velveteen Dream attacked him. In the next episode, he was defeated by him.
After the defeat, Lio tweeted a joke about Emma, a wrestler, and her reason for leaving WWE.
This made WWE pretty upset, thus resulting in pulling Rush from all NXT events for a whole month. Later, he was back on television in 2018.
Afterward, he won several matches and defeated Akira Tozawa and also Noam Dar.
NXT Cruiserweight Championship
On the NXT episodes to become the top Contender for Cruiserweight Championship, Rush defeated Oney Lorcan.
He claimed the title on October 9. Later, he also entered the Interbrand Triple Threat match at the Survivor Series featuring Akira Tozawa and Kalisto.
Afterward, after 63 days, he lost his title to Angel Garza. Again, in December, he defeated him and claimed the title again.
Similarly, he later faced his other competitor Jordan Devlin for the title of NXT Cruiserweight Championship. Here, on this February episode, he failed to keep the title, which was passed on to Jordan.
More Wrestling Matches
On July 25, 2020, Rush wrestled his longtime rival, Joey Janela, at Game Changer Wrestling.
Later, on November 2, 2020, Lio was announced to be a part of a new wrestling tournament, known as the New Japan Pro- Wrestling's Super J-Cup tournament. Moreover, Major League Wrestling also signed Lio in the same month.
Lio Rush and Bobby Lashley
Initially, Bobby Lashley appeared in 205 Live to serve as Lashley's mouthpiece and facilitate his heel turn. Now, they have had a partnership for along time.
Ashley was there to support Rush to get him to gain the craze from the audience. However, his cocky attitude as heel got less interesting in the middle.
Therewith, they did have him change in the pace, standing him to have a pep talk with Lashley. Additionally, he also introduced Lashley for his game which indeed came better.
Music Career And Beyond
"Like parents, Like son" Lio is also a musician and shares a great passion for music, something that he inherits from his parents. His first release was Scenic Lullaby in July 2019.
Later, followed by I Wonder, 11:11. Do you remember is his latest song, which was released on December 22, 2020.
Later, the same year he also released his studio albums, Ever After and The Final Match.
As a featured artist, he has released albums Money Money(2018), Feel the Rush(2020), and also Shine (2020).
Not to mention, Lio Rush had also joined the power rangers' casts inspired by the Legend of The White Dragon.
Retirement And Greg's Controversy
Well, back on June 8, 2021, Lio Rush announced his retirement from the ring and later had signed a deal with New Japan Pro-Wrestling. Right after it, Greg Hamilton Stood up to comment on the news on his retirement.
Indeed, the following comment made a huge controversy for Greg.
"Wow..unreal if we didn't have our own lives and families to take care of, I might just pretend to give a F***. On to the gym."
– Greg Hamilton
However, he later deleted his post and uploaded an apology.
"I can admit when I'm wrong..and I was wrong. We don't have to see eye to eye backstage, but Lionel Green (Lio Rush) is an incredible father as well as a talent. I have all the respect in the world for that. No one made me type this. Just owning my mistakes. He'll be missed."
– Greg Hamilton
Accomplishments
Combat World Heavyweight Championship(1)
Combat Wired Championship (2)
House of Glory Crown Jewel Championship (1)
Ironman Heavyweight Championship (1)
Pro Wrestling ( Ranked no 99 under Top 500 singles wrestlers in 2020)
Maryland Championship Wrestling Rage Championship (1)
Maryland Championship Tag Team Championship (1)
Ring of Honor Top Prospect Tournament (2016)
Shane Shamrock Memorial Cup (2015,2016,)
WWE NXT Cruiserweight Championship (1)
WWE United Kingdom Championship Invitational (2018)
Lio Rush: Bug Mask
As we all know, Lio Rush has a unique blend of his dressing style. Previously, he had also shared his orange and black colored bug mask that he wanted to wear in NXT.
However, Triple H didn't want him to wear it. There were, he put it up for sale with his old gears, including a plethora of jackets, tights, vests, and more.
Lio Rush: Backstage Problem
According to the sources, most don't like Lio Rush backstage, not only due to his attitude but also because he refuses to do menial tasks often assigned to the juniors.
Some of those tasks include carrying bags for the seniors, bringing water, carrying coolers, and so on.
However, Rush has denied in the face to do such take for anyone which the others label as 'disrespectful.'
Indeed, this news was widely distributed where some stood with him, and some went against it. Following it, Rush released his statement stating that there would always be people with internal heat.
"The fact of the matter is no matter what you do you do in life, no matter what route you take, you'll always have people out there that'll try to tear you down." -Lio Rush
Lio Rush: Wife and Kids
Professional Wrestler Lio Rush is a husband and a father. His wife's name is Sarah Green. She owns her own business of handmade incense.
If you want to know more about her, you can check her Instagram account, @sarahlaiwah. She has almost 19.1k followers and has 660 posts in total.
Looking into their love story, it dates back many years back. The couple dated each other for many years and finally put a ring on that relationship. Yes, they got married on December 21, 2018.
They have an amazing relationship and is married together till now.
In the post above, lionel mentions his wife as " his absolute best friend ".
Moving on to the other members, a new baby boy is on the way. Yes, Lio and Sarah are expecting their baby very soon.
They announced the baby's gender via an Instagram post on December 10, 2020. While posting her picture revealing the gender of the baby on her Instagram post, she captioned,
"I gotta get a girl dog or something, I'm really outnumbered now"
This is not Lio's first child, as he already has two sons already. Yes, he is a father of two boys, Dakari Lorenzo Green (June 12, 2013) and Dakai Liam Green (February 15, 2018).
The children live with him and are well-loved by Sarah. He often shares pictures of the family, and it seems like they all live happily together despite her being a stepmother.
Lio Rush: Net Worth
Looking at his career history, we can assume that Lio has had a successful career so far. He has been sponsored, offered many contracts, and has also boomed in his musical field.
Moreover, Rush also owns a Youtube channel which has around 18.4k subscribers. Thus, being a gateway for another source of income.
We researched deeply and found out that as of 2021, his net worth is $1 million. He earned his income through his wrestling career, music, and also contracts.
Lio Rush: Social Media
As a Rapper and wrestler, Lio is an active person on social media platforms like Instagram, Twitter, and also Youtube.
He often posts pictures with his wife, music videos, songs, and wrestling pictures on his Instagram. Till now, he has a total of 6,349 pictures.
Next, on Twitter, almost 72.2k people follow him and reads his tweets. Recently, he retweeted a tweet of MLW Fusion. The tweet was about World Middleweight Title Fight, which is taking place on January 6.
Following up, Lio also has his own Youtube channel. It has around 18.4k subscribers, and its videos include genres like wrestling and music.
His latest video, Do Your Remember crossed 2k views within 6 days. Moreover, his most viewed video is I Wonder, which has over 122k views, followed by Feel the Rush with 94k views.
This is all for Lio Rush's Social Media.
Instagram: 339k followers
Twitter: 72.2k followers
Get Lio Rush's moth customer with the given link!
Lio Rush: FAQs
What is Lio Rush's finisher?
Recently, Lio Rush debuted his new finisher, which was better known as Bruiser. Also, it was named after Meyer.
What is Lio Rush's AEW record?
Well, Lio Rush maintains the AEW record of five games, among which he has three wins and two losses.
Is Lio Rush injured?
Recently in February 2022, Lio Rush sustained an injury during Pro Wrestling Guerrilla's Battle of Los Angeles tournament. Well, he dislocated his left shoulder; however, he did not have any severe ligament tear or damage.
This injury took place during a match against Buddy Matthews on night 2 of BOLA. He was then immediately rushed to the hospital, where he had an MRI scan.