When a celebrity comes into the spotlight, knowingly and unknowingly, they also pull all their personal life into the eye of the public. Here we are today discussing the NBA athlete Lonzo Ball's daughter.
It has been pretty much like a fairy tale about Lonzo's personal love life. To get married to the love of his life from his college days and to have a little daughter as a blessing.
In this article, we will talk about Lonzo Ball's daughter, Zoey Christina Ball. Moreover, we will also cover some life aspects of Lonzo Ball's private space. However, let us first get through a quick of the general facts.
Lonzo Ball's Daughter: Quick Facts
Full Name
Zoey Christina Ball
Date of Birth
July 22, 2018
Birth Place
Chino Hills, California
Nick Name
Religion
Christianity
Nationality
American
Ethnicity
African-American
Zodiac Sign
Cancer
Age
3 Years Old (As of June 2022)
Father's Name
Lonzo Ball
Mother's Name
Denise Garcia
Siblings
None
Education
Paternal Grandparents' Names
Grandmother Tina Ball and grandfather LaVar Ball
Maternal Grandparents' Names
Grandmother Patricia Garcia and Grandfather Gary Garcia
Paternal Uncles' Names
LaMelo Ball and LiAngelo Ball
Maternal Uncle and Aunt's Name
Aunt Dayana Garcia and Uncle Gary Garcia
Professions
Denise Garcia (Model and soccer player)

Lonzo Ball (NBA point guard player)

Net Worth
Social Media
Instagram: @denisereann, @zo

Twitter: @ZO2

Last Update
June 2022
Lonzo Ball's Daughter: Early Life
Zoey Christina Ball was born on July 22, 2018, under the star sign Cancer in Chino Hills, California. She is the only child of her mother, Denise Garcia, and her father, Lonzo Ball.
Zoey was born into an athletic household, as almost all the members are involved in the sports industry. Alongside her family, Zoey appears in their reality television show, Ball In The Family!
Even at a bit, Zoey travels almost everywhere with her parents. In 2019, with her father, she was gifted a red carpet experience at the Kids' Choice Sports Awards.
Kaliyah Leonard: The Daughter of NBA Star Kawhi Leonard >>
Family Background
Zoey Christina Ball comes from an African-American ethnic background holding the American nationality. Well, her maternal grandparents are grandmother Patricia Garcia and grandfather Gary Garcia.
Though not much is known from her maternal side, her paternal side has an athletic history. Her paternal grandparents are grandmother Tina Ball and grandfather LaVar Ball.
Talking about them, Zoey's grandfather Lamar Ball used to play college football for Cal State Los Angeles. He is the creator and owner of the company Big Baller Brand.
Likewise, her grandmother Tina Ball (Slatinsky) also used to play college basketball at Cal State Los Angeles. Moving on, both of her uncles are also into basketball.
Her elder uncle LiAngelo Ball plays shooting guard for the Charlotte Hornets summer league squad. Similarly, Zoey's most aged uncle LaMelo Ball plays point guard for the Charlotte Hornets.
Mother Denise Garcia
According to the sources, Zoey's mother, Denise Garcia, is a full-time Instagram model and posts regular content about being a young mother and various beauty and fitness routines.
Regarding her background, Denise was born on April 14, 1996, in West Covina, California. She accomplished her early education at Chino Hills High School in Chino Hills, California.
Not to mention, she also used to be a star athlete. She played three years of varsity soccer during her tenure, split between Seattle University and the University of California, Riverside.
Follow her social media sites if you want more personal posts and uploads from Denise Garcia. She is on Instagram as Denise Garcia (@denisereann) with 412k followers.
Father Lonzo Ball
Lonzo Ball is a successful NBA point guard playing for the Chicago Bulls. He first entered the NBA through the 2017 NBA draft as the second overall pick in the first round.
From the start, Lonzo has played and appeared in multiple games and teams. Among various titles, he also carries Wayman Tisdale Award under his name.
For further details, you can check out Lonzo Ball's social media sites for personal uploads and posts. He is on Instagram as Lonzo Ball (@zo), with 14.1 million followers.
Likewise, he is on Twitter as Lonzo Ball (@ZO2) with 1.3 million followers.
Andre Drummond is not only a committed basketball player but also a tremendous father to his kids. Excavate everything about his life stint as a father of two!
A Bit on Zoey's Parents
Zoey's parents, Denise and Lonzo, first met at Chino Hills High, where she was a junior while Lonzo was a freshman.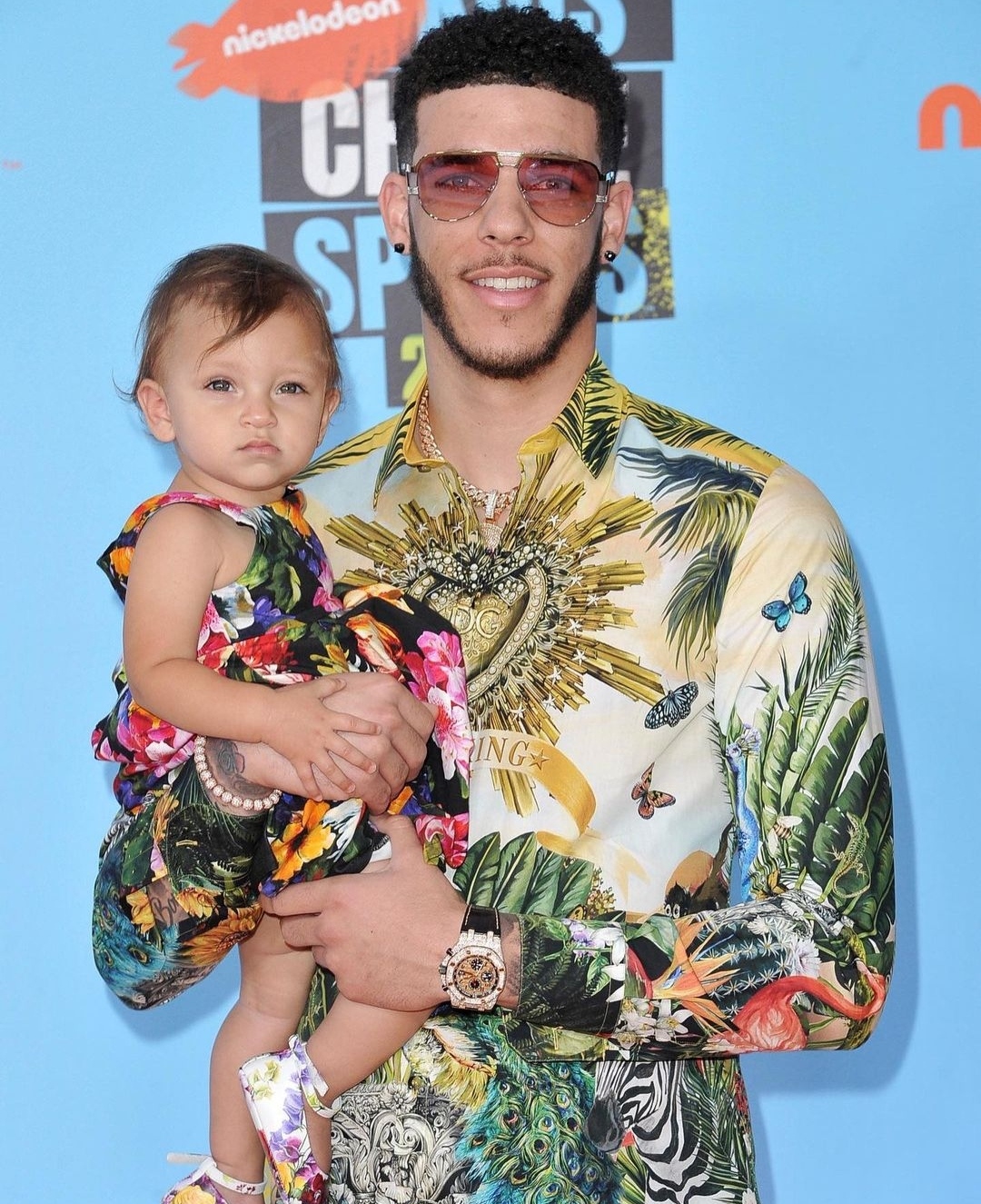 "From the first moment I saw him, I knew he was special. Without knowing his name or watching him play, all I cared about was that he caught my eye and had my attention." – Denise Garcia.
Right after their meeting, the duo did not have a smooth sail as they dated on and off. By Denise's senior year in college, Lonzo stepped into the NBA as a rookie.
It was the same year when the duo got pregnant and later gave birth in 2018. Many rumors surfaced on the internet during that time that their baby was unplanned.
Even with their baby, the duo had a messy breakup in 2020. However, with the family show, the team made up for their division.
"I think time, for one, and just being more mature about the stuff that went on between us. I think over time, you learn to forgive people and see the other side of things, and I think that's what we've both done. We're going to try to make it work again." – said Lonzo Ball.
Net Worth
Zoey Christina Ball leads her life luxuriously with the fulfillment of all her needs. As per the sources, her father, Alonzo Ball, maintains a net worth of $35 million with a salary of $9 million.
Besides his career earnings and basketball career, he earns some money from brand endorsement deals. Some deals include Big Baller Brand, Marvel, Footlocker, and C4 Energy.
Likewise, her mother, Denise Garcia, maintains a net worth of $1.5 million as the Instagram sensation.
LeBron James is remarkably respected for his on-court mission and is coequally a committed father. Disclose everything about his fatherhood on LeBron James Kids: Net Worth, Fame & More!
Lonzo Ball's Daughter | FAQs
Where Does Lonzo Ball's daughter Zoey live?
Zoey Christina Ball lives with her parents in the 16,000-square-foot residence in Chino Hills.