Lorena Ochoa is a Mexican professional golfer who dominated the golf world with exceptional skills. Lorena is Mexico's first golfer and youngest athlete to win Mexico's National Sports Award. She also won the Mexican 44 Juniors events.
Most people start progressing in their 20s but do not consider retiring during their best years.
As most people set their feet in their career at 28, Lorena Ochoa decided to retire.
She was ranked number one among female golfers in early 2000. Likewise, before her retirement, she was the number-one female golfer in the world.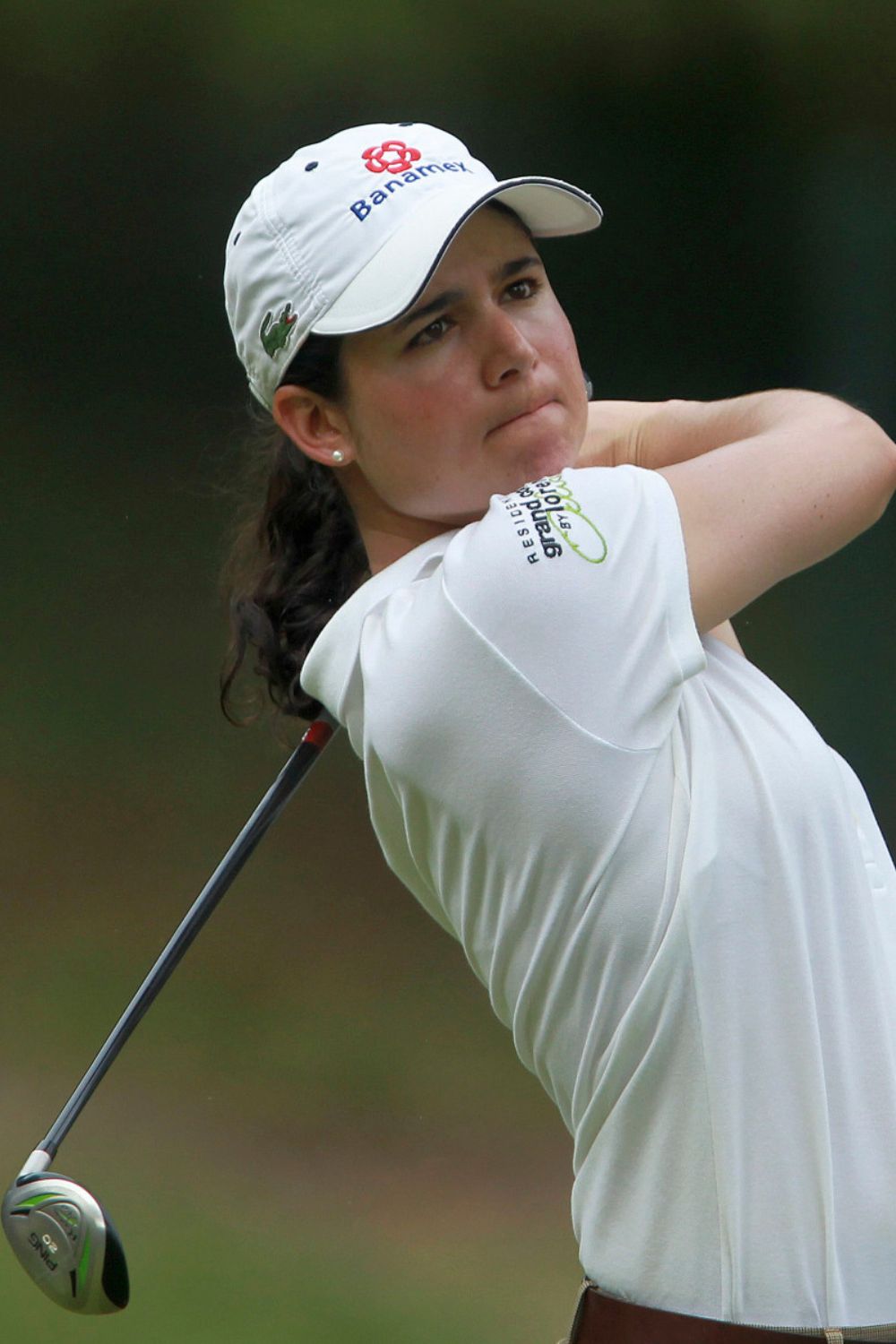 Did you know the National Red Cross honored Lorena with a Medal of Merit on 6 November 2022 for her contribution to the organization?
Moreover, she holds the record for being the top-ranked female golfer for 158 weeks.
One of her most significant achievements was her induction into the "World Golf Hall of Fame" in 2017. Not to mention, the golfer is well-known for her excellent swing vision.
As we get to know Lorena Ochoa, let's look at some quick facts about her.
Lorena Ochoa | Quick Facts
Full Name
Lorena Ochoa Reyes
Birth Date
November 15, 1981
Birth Place
Guadalajara, Mexico
Known As
Lorena Ochoa
Nickname
La Tigresa
Nationality
Mexican
Ethnicity
Hispanic / Latino
Education
University of Arizona
Horoscope
Scorpio
Father's Name
Javier Ochoa
Mother's Name
Marcella Ochoa
Siblings
Alejandro Ochoa
Age
41 Years Old
Height
5 ft 6 in / 1.70 m/ 170 cm
Hair Color
Black
Eye Color
Black
Build
Fit
Married
Married
Spouse
Andres Conesa Labastida
Children
Pedro Ochoa, Julia Ochoa, and Diego Ochoa
Profession
Professional Golfer
Awards & Recognition

Golf Writers Association of America – Female Player of the Year (2008)
Best International Athlete ESPY Award (2006 – 2008)
Mexico National Sports Award (2006)
LPGA Rolex Player of the Year (2006 – 2008)
AP Female Athlete of the Year (2006 and 2007)

Net Worth
$15 Million
Turned Pro
2002
Social Media
Twitter
Merch
After a Bunker Shot: Laminated Poster, Trading Card
Last Update
June 2023
Lorena Ochoa | Early Life, Education & Family
Lorena Ochoa was born Lorena Ochoa Reyes on November 15, 1981. She was born to her parents, Javier Ochoa and Marcela Ochoa, in Guadalajara, Mexico.
Talking about the Ochoa family, Javier and Marcela had four children. Also, she was the third sibling out of the four. She has two older brothers and a younger sister.
Ochoa's father, Javier, works as a real estate agent. Similarly, her mother is a talented artist.
The Ochoa family lived in a middle-class neighborhood near the Guadalajara County Club.
Similarly, Ochoa became interested in the sport due to her fascination with seeing people playing golf. Moreover, Lorena started her relationship with golf at the age of five.
Due to her natural skills and abilities, she won a stage event at six. Furthermore, to enhance her golfing skills, she started taking golf lessons in 1987.
Lorena looked for University scholarships vastly, and finally, in 2000, she got admission to the University of Arizona, where she was given a scholarship to play golf for the team.
Age, And Height
Lorena Ochoa is currently 39 years old. As Ochoa was born on the 15th of November, her zodiac sign is Scorpio.
Regarding Ochoa's physical appearance, she stands at a perfect height of 1.70 meters.
Likewise, Ochoa has beautiful black hair and eyes. Also, Golf fans regard her as beautiful from the inside and outside.
You might be interested in reading about: Tiger Woods Bio – Net Worth, Girlfriend, Wife, Golf & Score >>
Lorena Ochoa | Career
How did Lorena Ochoa Start Playing Golf?
Ochoa formed a deep attachment with golf from the age of five. Lorena frequently saw people playing golf because her family lived near a golf club.
Her father also played golf and used to take her to golf clubs.
One interesting story about Lorena is that she broke both of her wrists in an accident, which was falling from a tree.
If she hadn't recovered well, we would not know about the greatness of Lorena.
Similarly, Lorena showed great potential as a golf player in her youth. Lorena started playing golf when she was five. Ochoa had already won state and national tournaments at ages six and seven.
Small Steps Towards Success
Ochoa improved her abilities day by day. Likewise, she began competing in international events at the age of eight. Besides golf, Ochoa also played tennis; she was excellent in both Tennis and Golf.
The first award won by Lorena came at the age of nine. Ochoa won the Junior World Golf Championships that took place in San Diego.
Moreover, she received praise and recognition for her win.
At this point, Lorena was at crossroads regarding choosing golf or tennis. After much consideration, she decided to golf. Professional golfer Rafael Alarcon also trained Lorena.
In total, Lorena won 22 state events as a junior in Guadalajara. Also, she won 44 national events all over Mexico during her junior years.
University of Arizona
Lorena had searched deeply for scholarships in universities. Finally, the golfer was admitted to the University of Arizona in 2000. She received a scholarship to play golf for the team.
As a college golf player, Ochoa became successful. She won the NCAA Player of the Year award in 2001 and 2002. Likewise, she won the Pac-10 Women's Golf Championships.
She was also named Pac-10 Newcomer/Freshman of the Year. As a University student, Lorena won several titles and championships. She won the Golfstat Cup in 2001 and 2002.
Due to her impressive accolades, Mexico's president Vicente Fox awarded her the National Sports Award.
Professional Golf Career
In pursuit of her professional career, Lorena left college after completing her second year.
Likewise, she continued improving and enhancing her golfing skills. As a result, she saw success after success.
Lorena Ochoa earned membership on the LPGA tour for the 2003 season.
Likewise, she won her first two LPGA titles in 2004. The titles were Franklin American Mortgage Championship and the Wachovia LPGA Classic.
Ochoa continued winning many LPGA Tour titles. Consequently, Associated Press awarded her the Female Athlete of the Year award in 2006.
Claiming The Number 1 Spot
After several LPGA tournament victories, Ochoa reached the top. Lorena was able to fulfill her dream of ranking first in the world. Ochoa ranked as the number one female golfer in April 2007.
Likewise, Ochoa skipped past Annika Sorenstam to reach the summit.
After ranking number one, Ochoa didn't slow down. Further, she won the Women's British Open, CN Canadian Women's Open, and the Safeway Classic.
Likewise, Ochoa set a historical record in 2007 by earning more than $4,000,000 in one season. The previous record was held by Sorenstam, who had earned $2,863,904.
Lorena won the Kraft Nabisco Championship in April 2008. As a result, she became the first female golfer to win consecutive LPGA majors.
Why did Lorena Ochoa retire? | Retirement
Ochoa had the plan to play professional golf for only ten years. She wanted to give her best in the ten years and enjoy the rest of her life.
As a result, Ochoa released a statement regarding her retirement in April 2010.
At that time, Ochoa was upset that she wasn't giving enough time to her family. Ochoa revealed that she would play her last tournament, 'The Tres Marias Championship' in 2010.
However, although she planned to retire, she still wanted to remain connected with golf.
Ochoa's desire to retire arises from the competitive nature of golf. Although she was the best player, she had to remain away for long periods to train and practice.
As a result, she missed out on family and life. Moreover, the pressure from playing competitive golf is highly stressful.
She retired from professional golf in 2010 at the young age of 28.
National Team
Lorena has also played for the Mexico National Team. She represented Mexico in the 2005 Golf World Cup.
Post-Golf Career
Ochoa continues to remain connected with golf. Likewise, she hosts an annual LPGA event, the Lorena Ochoa Invitational.
Moreover, she also supports the Lorena Ochoa Foundation.
Awards and Accolades
Ochoa had a successful career from a young age. Moreover, she began winning state and national level tournaments at seven. At a young age, she had tons of awards to her name.
Likewise, after turning professional, she continued her impressive performances. Ochoa has 30 professional wins to her name.
Among those 30 wins, two come from LPGA Tour Major Championships. Moreover, she has 25 LPGA tour wins to her name.
Likewise, the press and media are full of praise for Lorena Ochoa. As a result, they have recognized her outstanding abilities by giving her many awards. Some of the awards are listed below.
Golf Writers Association of America – Female Player of the Year (2008)
Best International Athlete ESPY Award (2006 – 2008)
Mexico National Sports Award (2006)
LPGA Rolex Player of the Year (2006 – 2008)
AP Female Athlete of the Year (2006 and 2007)
As of 2022, she is associated with National Red Cross and has received the medal of merit.
On November 2022, she thanked all the participants in one of her tweets for their participation in the 7th Red Cross Golf Cup in Rancho Avandaro.
She announced one of her audiobooks was released through bookio platform and thanked the team for making it possible through Twitter.
Muchas gracias a la Cruz Roja Nacional por la medalla al mérito. Qué honor !!! Prometo seguir ayudando con todo el entusiasmo y cariño.
.
.
.@CruzRoja_MX @JorgeForastieri #AyudarNosUne#AyudarEsPosible pic.twitter.com/3PgItRlcj0

— Lorena Ochoa Reyes (@LorenaOchoaR) November 6, 2022
Lorena Ochoa | Net Worth & Salary
Ochoa is one of the most successful female golfers of her generation. Moreover, she has won several LPGA tours and championships.
She has 30 tour wins, and two major championship wins. As a result, Ochoa has gathered a lot of prize money.
In the 2017 season alone, she earned $4,000,000. The $4 million was the highest won by any female golfer in a single year.
According to various online sources, Lorena Ochoa's net worth is $15 million.
Who Is Lorena Ochoa's Husband? Husband & Children
Well, Lorena Ochoa's marriage was a hot topic. There were a lot of people asking the same question. Lorena had a high-profile relationship with one of the most successful people in Mexico.
Ochoa has had one long-term relationship. Likewise, she was engaged to her boyfriend, Andres Conesa Labastida. Andres is the CEO of Aeromexico, an airline Company in Mexico.
Similarly, the two of them tied the knot in December 2009. Likewise, Lorena was pregnant with her first child in April 2011. As of date, the couple has three children altogether.
Likewise, her three children are Pedro, Julia, and Diego. According to Ochoa, her two oldest children are interested in golf.
However, none of them want to turn professional. One of the reasons Ochoa retired from golf is to spend more time with her children.
You might be interested to know about Paige Mackenzie Bio: Golf, Salary, Wedding, Baby & Husband >>
Lorena Ochoa | Personal Life
Lorena Ochoa Golf Academy
Ochoa is an icon in Mexico. Moreover, she is highly respected for putting the name of Mexico in the world of golf. Similarly, to help others rise in golf, she has opened a golf academy in California.
The name of the academy is 'Lorena Ochoa Golf Academy.' Moreover, the academy is located at Goose Creek Golf Club. The academy focuses on helping golf enthusiasts improve their playing style.
Lorena Ochoa Foundation
Lorena is the founder of the Lorena Ochoa Foundation. Similarly, the foundation works with children and families. The foundation aims to provide good health, education, and opportunities through golf activities.
The foundation helps a primary school in Guadalajara. Similarly, the school consists of 250 underprivileged students.
Likewise, Ochoa also serves the community through donating and serving. She is very kind-hearted.
People Person
Lorena is a genuine person inside and out. Likewise, she is admired by millions of her fans. Moreover, the famous Nancy Lopez praised Lorena for remembering people and their names.
As most famous people forget the names of others, Nancy expressed that Lorena can remember people well.
This fact shows how Lorena has a caring and curious heart. Likewise, she can draw people towards her.
Lorena Ochoa | Social Media Presence
Yes, Lorena Ochoa is a popular figure in social media. The former golfer has a Twitter account.
Likewise, Ochoa tweets about golf and her family on her Twitter account. Moreover, Ochoa also tweets her opinion about various topics.
Hoy estamos celebrando la 7ma Copa de Golf de la Cruz Roja en Rancho Avándaro, gracias a todos los participantes. Sigamos sumando y trabajando en equipo para ayudar a esta gran causa. #AyudarEsPosible pic.twitter.com/jk4NBfhBm7

— Lorena Ochoa Reyes (@LorenaOchoaR) November 5, 2022
You can follow Lorena Ochoa on @LorenaOchoaR. Moreover, the famous golfer has 58.6K followers on her Twitter account.
Popularity Graph
Lorena Ochoa an exceptional achiever popularity graph.
She is a retired professional golfer, who is highly searched on google for top women golfers worldwide.
Frequently Asked Questions(FAQs)
What is Lorena Ochoa's net worth?
Various online sources have revealed that Ochoa has a net worth of $15 million.
She was the number one women golfer of her time, and most of her net worth accumulated during that period.
Who is Lorena Ochoa's husband?
Ochoa is married to the CEO of Aeromexico airline Company, Andres Conesa Labastida. Hence, she often carried Aeromexico's golf bag on the golf course.
What was Ochoa's result at the 2008 ANA Inspiration?
Like many other championships, the golfer won the 2008 ANA Inspiration.
Who made the best shots at the 2015 Lorena Ochoa Invitational?
Some of the best shots at the 2015 Lorena Ochoa Invitational were made by Angela Stanford, Christina Kim, Lexi Thompson, etc.
You might be interested in reading about Emma Lavy Bradford: Family, Married, Husband, Golf & Net Worth >>