Following in the footsteps of our predecessors is as equally gruelling as it is to live up to their legacy, but Mick Schumacher is doing just that and much more.
Already a prominent face in the race car driving, the German is rising the ranks and one day hopes to surpass his father, Michael Schumacher.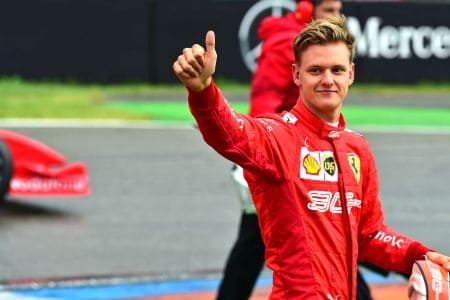 Still a young boy, the German driver has a long way to reach his father's heights. However, channeling determination and drawing inspiration from the sports legends, Mick is making substantial progress.
We have an interesting article prepared that discusses the life, blooming career, and nascent net worth of the soon-to-be star!
Quick Facts
| | |
| --- | --- |
| Full name | Mick Schumacher |
| Birthdate | 22 March 1999 |
| Birthplace | Vufflens-le-Château, Switzerland |
| Nickname | Mick |
| Current Residence | Unknown |
| Religion | Christian |
| Nationality | German |
| Ethnicity | Mixed |
| Horoscope | Aries |
| Age | 24 years old |
| Father's name | Michael Schumacher |
| Mother's name | Corinna Schumacher |
| Sibling | Yes (1 sister) |
| Education | Unknown |
| Marital status | Unmarried |
| Relationship status | Single |
| Kids | No |
| Height | 5'9″ (1.76 m) |
| Weight | 60 kg (121 lbs) |
| Body type | Athletic |
| Eye Color | Blue |
| Hair Color | Bright Blonde |
| Build | Athletic |
| Professional | Racing Driver |
| Current Affiliations | PREMA, MRF, Mercedes, Ferrari |
| Salary | Under review |
| Net worth | $5 million |
| Social media | Facebook, Instagram & Twitter |
| Merch | T-Shirt |
| Last Update | November, 2023 |
Mick Schumacher | Parents, Early Life & Passion | Who is Mick Schumacher's father?
Born to an activist mother, Corinna Schumacher, and a former formula racing legend father, Michael Schumacher, Mick Schumacher celebrates his birthday on 22 March 1999.
Even though the racer claimed German nationality, he was actually born in a municipality named Vufflens-le-Château, located in Switzerland. Also, the Swiss-born has a sister named Gina-Maria Schumacher.
Already developing passion at a very young age, the German wanted to follow his father's footsteps, and at nine years of age, he enrolled as a kart driver.
Being a child of a celebrity comes with heavy baggage, hence to work under the radar, Mick adopted his mother's maiden name, "Betsch."
Thus, he started training and honing his skills as Mick Betsch.
Mick Schumacher | Age, Height, Measurements, & Other Stats | How old is Mick Schumacher?
At present, Mick is 24 years old and is looking at a lifetime ahead of him. Unlike his father, the young racer stands at a modest 5'9″ (1.76 m), but with plenty of room to grow without a doubt.
Likewise, Mick weighs a proper 60 kg (121 lbs) and has an athletic build. Evidently, to keep physically fit and mentally alert at all times, Schumacher hired a trainer.
With a dashing look inherited from his parents, the German has blue eyes and bright blond hair. Undoubtedly, crediting both his looks and skills, Mick amassed a large fan-following since his rise to prominence.
This man, however, is not only limited to aesthetics. For instance, Mick is an aspiring racer who has a knack for racing like his father.
Mick already bagged numerous accolades from karting at a surprisingly young age to racing in Formula 4 championship. Moving up the ranks to Formula 3 and Formula 1, he now has affiliations with Ferrari as an academy student.
Unfortunately, the information regarding Mick's body measurement, shoe size, and tattoos (if any) is missing at the moment. If found the readers will be updated soon.
Talking about his nationality be belongs to German nationality with mixed ethnicity and also follows Christian religion by birth.
Rick Hendrick Bio: Career, Net Worth, Plane Crash, Motorsports Bio >>
Mick Schumacher | Career: Following Legendary Footsteps
Schumacher had to hide his identity initially to prevent him from popping into the limelight with permission to be a kart driver. In the years 2011 and 2012, Mick drove ADAC Kart Masters' KF3 Class car.
During this time, he managed 9th, 7th, and 3rd place finish simultaneously. Whereas in the 2013 German Junior Kart Championship, Mick secured 3rd place.
Moreover, Mick was highly successful as a kart racer. After entering the International Junior Kart Championship, the German finished second in the competition.
Due to his domestic and international performance, the press began to show a lot of interest in the young racer.
Let's move onto his Formula 4 career. Jenzer Motorsport asked Schumacher for a test drive of one of their cars. Subsequently, in 2015 Van Amersfoort Racing signed Mick to race for the formula class for the first time.
Although he kept racing in the F4 category, the German decided to switch teams and moved onto Prema Powerteam due to connections in the Ferrari Academy.
As such, he participated in Italian F4 Championship, finishing as a runner-up twice in a row. Further, in 2016, an Indian-based championship called MRF Challenge saw Mick drive in Formula 3.
In that year, the German close behind future Formula 3 and 2 competitors Harrison Newey and Felipe Drugovich.
Rising Career
Despite finishing 12th on one occasion in FIA Formula 3 Championship, Mick became the third-best-performing rookie in the competition.
Also, Schumacher's venture continued with Prema Powerteam during the 2018 Championship. In the beginning, his performance was not up to the mark.
For instance, the young racer started the year with one win out of 15th at Spa-Francorchamps, 10th overall finish, and 67 points behind the winner.
Nonetheless, the remainder season was fruitful for him as he won the competition in a first-place finish, recording 57-point clear-off Dan Ticktum, eight wins, seven pole positions, four fastest laps, and fourteen total podiums.
Finally, the champ-in-the-making was able to move up the class. FIA Formula 2 Championship, along with collaborators, Prema Racing Team, awaited him.
With a 10th place start in Bahrain, Mick eventually finished 8th upon overtaking Nobuharu Matsushita, which changed his pole-position, granting him 6th place.
Unfortunately, the German had to withdraw in back-to-back races due to collision and puncture from Circuit Paul Ricard.
In the same way, Formula 2 racing had a mixed result for him that year. After stalling considerably on the grid, Mick recorded an 18th place finish.
Formula 2 Driver & Ferrari
Charging ahead in a sprint propelled him to 4th. When in Hungary, a reverse-grid pole gave him his first-ever win as Formula 2 driver. In sum, the result was 12th place in aggregate.
While there is still time for him to make the first formula class, for the time being, Mick continued his venture with Prema for the upcoming 2021 championships with Ferrari Academy member Robert Schwartzman.
One of the most glorious moments in Schumacher's career was when Ferrari made him their academy driver.
The German will soon follow his history-maker father's footsteps and regularly mentioned Ferrari's influence on his life. As a test driver, Mick recorded 1:32:552 lap time for a 30 lap race.
Although he still needs sufficient practice before competing against the pros, at the moment, Schumacher is cherishing his time at Scuderia Ferrari.
For 2021, Mick signed with Haas alongside Nikita Mazepin, one of the professional Russian racing drivers. He made his Hass debut in Abu Dhabi.
After that, he went to drive the VF-20 in the young driver test at the same circuit. One one of the interview he spoke about the happiness after he collaborated with the Haas team:
I would like to thank Haas F1 Team, Scuderia Ferrari and the Ferrari Driver Academy for placing their trust in me.
And of course, Mick did not forget to thank his supportive family while at it.
"Also, I want to acknowledge and extend my love to my parents – I know that I owe them everything. I have always believed that I would realize my dream of Formula 1."
Mick Schumacher | Net Worth, Salary & Income
A few years before the rise of popularity for racing sports, drivers earned relatively less compared to any other sports.
Eventually, racers began making a hefty sum with the passing time, which we feel is even heavy for their bank accounts to handle.
Joking aside, Mick Schumacher, a budding racer, is already aiming to be a higher-level professional.
With his stints as Formula 4, Formula 3, and Formula 2 driver, the German garnered a whopping $5 million by age 22.
As of now, he signed with Haas and, undoubtedly, the soon-to-be racing star as a mouth-watering deal in his current contract. All we can hope Mick manages to build a legacy of his own.
Michael Schumacher Net Worth: Cars, Earnings & Lifestyle >>
Mick Schumacher | Relationship Status
Currently, there are no sources that confirm Mick's relationship status. Presumably, he is single. To corroborate this fact, we can look at all the fame and attention he is garnering, yet there isn't a partner on sight in his moments of triumphs.
As such, we must understand that a man as committed as Schumacher is dead-set on building his future first, and directing attention to having a relationship is a secondary choice for him.
At the moment, let's respect his private life, and whenever he decides to open up, we will update this section.
Social Media Presence
The Racing driver is active on different social media platforms. He shares the most important events of his life through these platforms. At present Mark is available on Instagram, Facebook, and Twitter.
On Instagram, he is available as @mickschumacher making 1.7 Million followers. He has shared around 678 posts on Instagram. Most of his Instagram posts are related to his professional career.
Schumacher is also active on Twitter as @SchumacherMick with 334.5k followers. He joined Twitter in August 2017 and has made 991 tweets.
His Twitter bio says: "F1 Driver for @HaasF1Team, F2 and F3 Champion with @Prema_Team, Member of @insideFDA, Racing is a state of mind."
On Facebook, he is available as Mick Schumacher with 571k followers. The link will direct you to Mick's social media account. If you were previously unaware of his presence, now you do. Be a fan or not; why not show support for this talented young man.
Some FAQs
1.What happened to Michael Schumacher?
Michael, the father of Mick Schumacher suffered from brain damage when he was skiing in the prestigious French Alps resort of Meribel seven with his son Mick.
2. For which series Mick'll play for the 2021 championship?
Mick'll play for FIA Formula 1 2021 Championship for the year 2021.
David Goggins Bio: Career, Athlete, Wife, Net Worth, Instagram Wiki >>