Mike Conley is an American professional basketball player playing for the Minnesota Timberwolves of the NBA.
The Memphis Grizzlies selected him fourth overall in the first round of the 2007 NBA Draft.
Before being traded to the Utah Jazz (2019), Mike spent 12 seasons in Memphis and became the team's all-time leading scorer.
Mike Conley is one of the leading figures in the world of the NBA. So, if you do not know about Mike and want to know more about him, stick with us and read the article until the end.
We have summed up everything you need to know about Conley and his contributions to basketball.
However, before diving deep into Conley's personal and professional life, look at some quick facts.
Quick Facts
Full Name
Michael Alex Conley Jr.
Birth Date
October 11, 1987
Birth Place
Fayetteville, Arkansas, U.S.
Nick Name
Mike
Religion
Christianity
Nationality
American
Ethnicity
Black
High School
Lawrence North, Indianapolis, Indiana
College
Ohio State
Playing Career
2007- Present
Zodiac
Libra
Father's Name
Michael Alex Conley Sr.
Mother's Name
René Corbin Conley
Siblings
Jordan Conley, Sydney Conley, and Jon Conley
Age
35 Years Old
Height
6 ft 1 in / 1.85 m / 185 cm
Weight
175 lb / 79 kg
NBA Draft
2007, 1st Round (4th Pick Overall)
Hair Color
Black
Eye Color
Black
Career Highlights & Awards

NBA All-Star (2021)
First-team All-Big Ten (2007)
NBA All-Defensive Second Team (2013)
NBA Teammate of the Year (2019)
3× NBA Sportsmanship Award (2014, 2016, 2016)
McDonald's All-American (2006)
Third-team Parade All-American (2006)

Build
Athletic
Marital Status
Married
Wife
Mary Conley
Position
Point Guard
Profession
Professional Basketball Player
Net Worth
$70 Million
Salary
$30 Million Annually
Currently Plays For
Minnesota Timberwolves
League
NBA
Active Since
2007
Social Media
Instagram, Twitter
Merch
Posters
Last Update
June 2023
Early Life & Family
Mike was born Michael Alex Conley Jr. on October 11, 1987, in Fayetteville, Arkansas, to his mother, René Corbin Conley, and father, Michael Alex Conley Sr.
The basketball player was born into an athletic family. Mike Conley Sr., his father, was a two-time Olympic gold and silver medallist in the triple jump.
His uncle, Steve Conley, is also an American former football linebacker.
Conley was interested in sports early on and played football and basketball with his siblings; Jordan Conley, Sydney Conley, and Jon Conley.
A Brief Bio About Mike Conley's Father, Mike Conley Sr.
Michael Alex Conley Sr. is an American retired track and field athlete who mainly participated in the triple jump and long jump.
He earned an Olympic gold medal in the triple jump in 1992, a silver medal in 1984, and a gold medal in the 1993 World Championship.
Conley Sr. won nine NCAA long jump and triple jump titles during his collegiate career.
Mike's father is also the former world indoor triple jump champion, maintaining the American indoor triple leap record of 17.76 meters.
During his career, Conley Sr. was rated number one in the world six times in the triple jump and eighth in the United States in the 200-meter dash in 1985.
Similarly, Conley Sr. won the USATF Jim Thorpe Award for best field events athlete in the United States in 1986 and 1992.
The American player was inducted into the National Track & Field Hall of Fame of the United States in 2004.
High School
Mike Conley went to Lawrence North High School in Indianapolis.
During his four years as the starting point guard at Lawrence, Mike led the basketball team to three straight state titles and an overall record of 103–7.
Mike had a total of 123 assists during his senior year.
He stood second in the voting for the Indiana Mr. Basketball award, just behind teammate Greg Oden.
In 2006, Mike was awarded to the McDonald's All-American Team and the Third-team Parade All-American.
In the same year, Mike was ranked as the No. 3 point guard and No. 18 player in the country.
College Career
Mike averaged 11.3 points per game as a freshman at Ohio State, with 6.1 assists; he also led the Big Ten Conference.
The point guard and his fellow rookie standout Greg Oden led the Buckeyes to a Big Ten conference championship and an NCAA tournament and finished as a runner-up.
Buckeyes lost in the championship to defending champions Florida after defeating Xavier, Tennessee, Central Connecticut State, Georgetown, and Memphis, on the way to the championship.
The game against Xavier was Mike's best performance in the tournament. As Ohio State upset the Musketeers in OT, Mike had 21 points, four assists, two steals, and three blocks.
Mike scored 11 of his 21 points in the extra quarter to lead the Buckeyes to win after Greg Oden fouled out in regulation.
He finished the season with 441 points and 238 assists. As a result, he was chosen to the All-Big Ten First Team.
After their freshman seasons, Mike and Greg declared their plans to declare for the 2007 NBA Draft.
Mike didn't sign with an agency to save his draft eligibility. However, he signed with his father a few weeks before the draft.
Professional Career
Memphis Grizzlies
Mike Conley declared for the 2007 draft, along with Daequan Cook and Greg Oden; his father represented both Conley and Oden.
Memphis Grizzlies selected Mike Greg Oden, Kevin Durant, and Al Horford.
In January 2008, Mike made his first significant appearance; after that, he scored a season-high 20 points and seven assists in a 134–124 defeat against the Cleveland Cavaliers.
Conley averaged 9.4 points and 4.2 assists per game in his rookie season.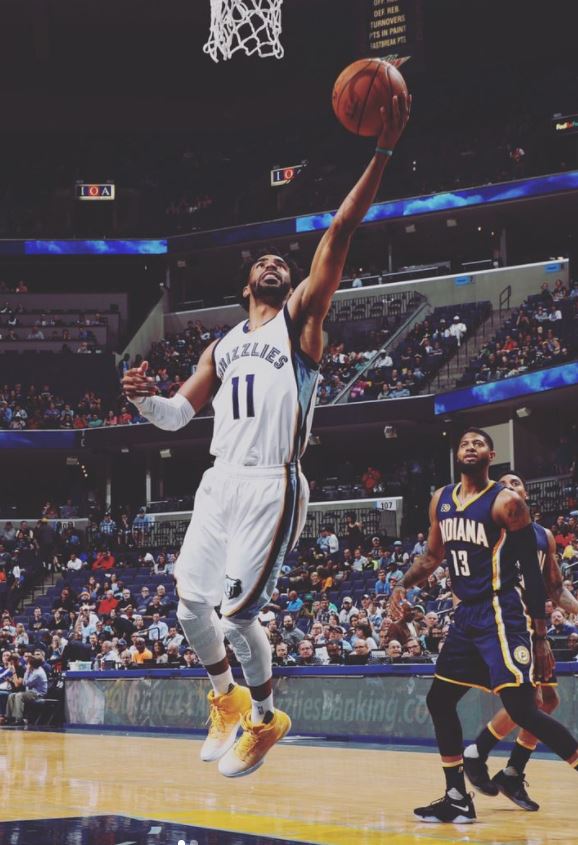 Mike played for Memphis from 2007 to 2019.
The Grizzlies advanced to the playoffs for the fourth consecutive season in the 2013-2014 season, while Mike set a career-high with 17.2 points, 2.9 rebounds, and 6.0 assists per game.
Unfortunately, in the seven-game series, they were ousted in the first round by the Oklahoma City Thunder. He received the NBA Sportsmanship Award in 2014.
Mike set a career-best with 36 points in December 2014, helping the Grizzlies beat the 76ers 120–115 in overtime.
The Grizzlies concluded the season as the Western Conference's fifth seed, again qualifying for the playoffs.
Injuries & Surgeries
Conley suffered a face fracture at the end of Game 3 of the series; as a result, he missed the rest of the first round and could not play in Game 1 of the semifinals against the Golden State Warriors.
He surpassed Shareef Abdur-Rahim (7,801) for third on the Grizzlies' career scoring list on October 31, 2015.
On April 23, 2016, Mike was again awarded the NBA Sportsmanship Award for the second time.
Before suffering a left Achilles injury, Conley played in 12 of the Grizzlies' first 13 games of the 2017–18 season.
However, he was ruled out for the remainder of the season on January 27, 2018, after undergoing surgery to smooth a tiny bone protrusion in his left heel.
First Career Player Of The Week Award
Mike set a career-best with 40 points in the Grizzlies' 120–111 win over the Portland Trail Blazers on March 5, 2019.
He also scored 19 of his career-high 40 points in the fourth quarter after going scoreless in the first.
As a result of Mike's extraordinary performance, he was selected Western Conference Player of the Week on March 11 for games played between March 4 and March 10.
It was his first Player of the Week title in his professional career.
Similarly, Mike also passed Marc Gasol and became the Grizzlies' all-time leading scorer in career points on March 27 in a 118–103 defeat to the Warriors.
Utah Jazz
The Grizzlies announced Mike's trade to the Utah Jazz on July 6, 2019, in exchange for Jared Crowder, Grayson Allen, Kyle Korver, Darius Bazley's draft rights, and a protected first-round selection.
Mike declined to use his contract's early termination option after the 2019–20 season. Because of it, he was owed $34.5 million in the fifth and final year of his deal in 2020-21.
In 2020, the NBA season was halted due to the COVID-19 pandemic. Therefore, the league staged a televised event in which NBA and WNBA players competed in a virtual H–O–R–S–E competition while quarantined at their respective houses.
Mike of the Jazz won the first virtual NBA H–O–R–S–E Competition, becoming the first "H.O.R.S.E Champion."
On January 1, 2021, Mike's team won the match against the Clippers, where he had 33 points, 7 assists, 2 rebounds, and 1 steal.
Mike was also chosen an All-Star for the first time in his 14th NBA season. Mike's 14-year wait is the longest for a first-time All-Star in league history.
It was also revealed that Mike would be a reserve for the 2021 NBA All-Star Game, replacing the injured Devin Booker.
Mike was named as Booker's substitute in the Three-Point Contest.
He missed the first five games in the Jazz's second-round series against LAC because of a strained right hamstring.
The basketball player signed a three-year $68-72.5 million extension with the Jazz.
Conley expected to be moved from the team like other stars Donovan Mitchell and Rudy Gobert as Jazz retooled; however, he remained in the team.
He made his 2022-23 season debut against Denver Nuggets, winning on October 19, scoring 13 points, 8 assists, and two steals.
Minnesota Timberwolves
Conley was traded to the Minnesota Timberwolves in a three-team trade involving the LAL reuniting with his former Grizzlies teammate Kyle Anderson and Jazz teammate Rudy Gobert on February 9, 2023.
On 10 February 2023, he debuted against the Grizzlies, which they lost.
Wife & Kids
Mike and his long-time girlfriend, Mary Peluso, are happily married. They met each other for the first time at Ohio State and have been together ever since.
On July 5, 2014, Mike and Mary tied the knot and exchanged their vows. Two years after their marriage, the couple welcomed their first kid, Myles Alex Conley, into the world on August 4, 2016.
Likewise, On May 12, 2018, the pair welcomed their second child, Noah, into the family.
Similarly, Mike's wife gave birth to their third kid, Elijah, on August 16, 2020.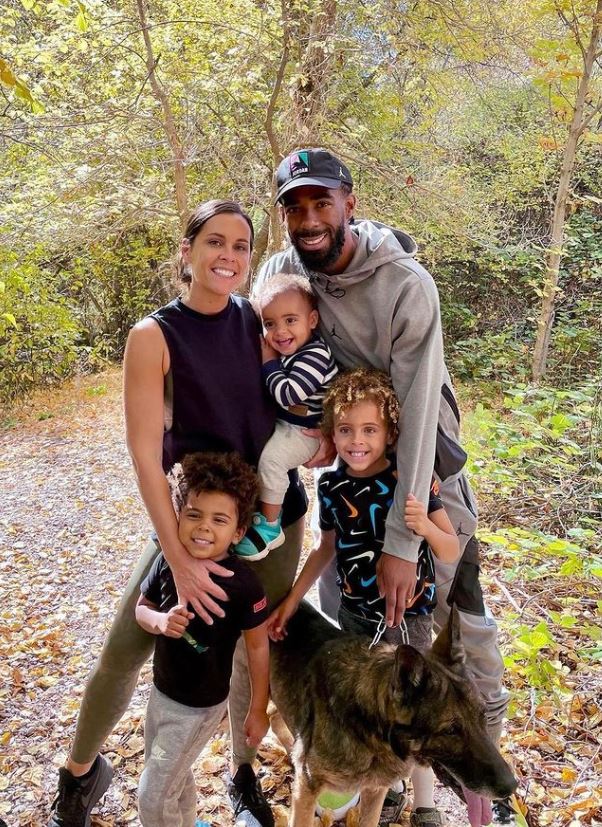 The pair never hesitate to showcase their love for each other on social media.
On the occasion of Mike's birthday, his wife Mary posted with the caption:
"Happy Birthday to the love of my life!! Wishing you get a long uninterrupted nap today (Myles and Noah both slept in our bed with us last night 😳🥱), and I can't wait to cheer you on tonight! 🏀"
The Conley family is one of the most adored families in the NBA.
Mary Peluso graduated in 2010, earning a Bachelor's degree in biology. She defines herself as a model and fashion blogger in her Instagram bio.
She even has a fashion website and is active on social platforms. Peluso appeared on the Memphis Health & Fitness magazine cover in August 2015.
Net Worth
Mike Conley earns an annual salary of $30 million and has an admirable net worth of approximately $70 million as of 2023.
The player hit the headlines in 2016, signing the richest deal in NBA history worth $153 million.
Mike earns nearly $1 million from sponsorships and endorsements with companies such as Toyota Motor, Nike's Jordan, and Vivint Smart Home.
The basketball player also adds to his wealth through equity stakes or bonds.
Social Media Presence
The 35-year-old is very active on social media. Mike has around 567k followers on his Instagram (@mac11).
Mike occasionally posts pictures with his adorable children, wife, parents, and siblings. The player also shares quite a bit about his regular practices, games, and playoffs.
He also has a Twitter (@mconley11) with more than 541.4k followers and Facebook with 469k followers.
Popularity Graph
Mike Conley is an NBA player who plays for the Minnesota Timberwolves as of this writing.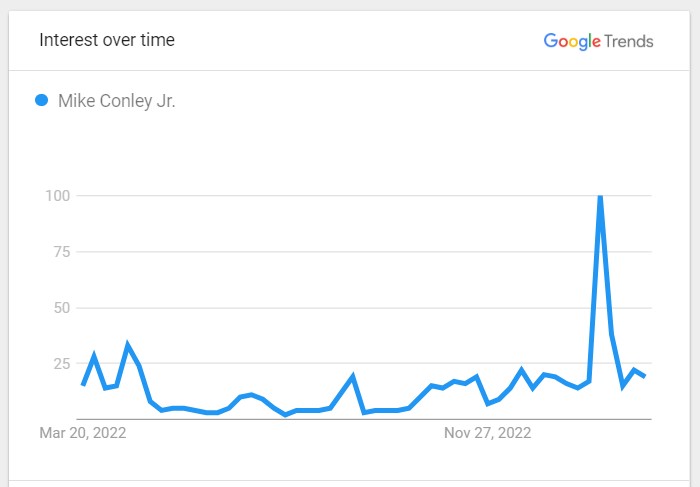 The popularity graph shows the wavelength from the last twelve months.
Frequently Asked Questions (FAQS)
When did Forbes list Mike Conley as highest earning athlete?
In 2020, Forbes listed Mike Conley at number 71 as one of the World's Highest-Paid Athletes.
What does Mike Conley's father, Conley Sr., do now?
Mike's father, Conley Sr., is now the head of the USATF High-Performance Committee. Conley Sr. also serves as the CEO of MMG Sports Management Group and HTWO, a hydrogen-infused water startup. Similarly, Conley Sr. is a licensed NBA agent who has represented his son, Mike Conley Jr., and Dallas Mavericks guard, Josh McRoberts.
For which team did Mike Conley play the longest?
Mike Conley played almost a decade for Memphis Grizzlies from 2007 to 2019, after his debut in professional basketball.