Rabab and Nasr Salah, siblings of Mohamed Salah, are regular visitors at Anfield Stadium supporting his brother.
The 2019 Premier League winner, Mohamed Salah, didn't have the smoothest sailing in Premier League.
And during those turbulent times, his family members, including his siblings, were his constant support and motivation.
Salah has come a long way since his Chelsea days, from breaking major Premier League records and winning the Champions League.
He formed a remarkable partnership with Sadio Mane and Roberto Firmino in Liverpool. Mohamed Salah has already established himself as one of the top forward in soccer history.
Despite Jurgen Klopp's men not having the best PL this season, Mo has managed to score 16 goals.
Mohamed Salah Siblings: Rabab And Nasr Salah
Mohamed Salah grew up alongside two siblings, Rabab and Nasr Salah, in Nagrig, Egypt.
The three-time Golden Boot winner, Salah, keeps fans updated about his family through his Instagram. He has previously shared photos with his wife, kids, and his mom.
Similarly, his siblings, Nasr and Rabab, are constantly seen on his social media handle. There isn't any doubt that both of them are proud of their brother's achievement on the soccer pitch.
Rabab Salah Is The Founder Of The Apparel Brand R.S Veil
Rabab Salah is the older sister of Mohamed Salah and runs an online clothing store, R.S. Veil.
She promotes her clothing brand through her Instagram, where she promotes her designer clothes. Earlier this year, in February, Rabab Salah was featured on the Instagram page theLady.com_ar.
In the video, Rabab can be seen showing her latest designs to the audience.
The older sister of Mohamed Salah is also a mum. She has two kids but has never shared any posts about her husband.
Her two daughters are constantly featured on her social media page and are also seen attending soccer matches with their mother.
Rabab Salah Is One Of The Biggest Cheerleaders Of Mohamed Salah
One of the most recent posts of Mohamed Salah with his sister Rabab is from October 2022. The two can be seen striking a pose outside the streets of the UK.
Previously, Rabab posted a picture of her visiting Madame Tussauds Museum in London, and she made sure to take a snap with her brother's life-size wax statue.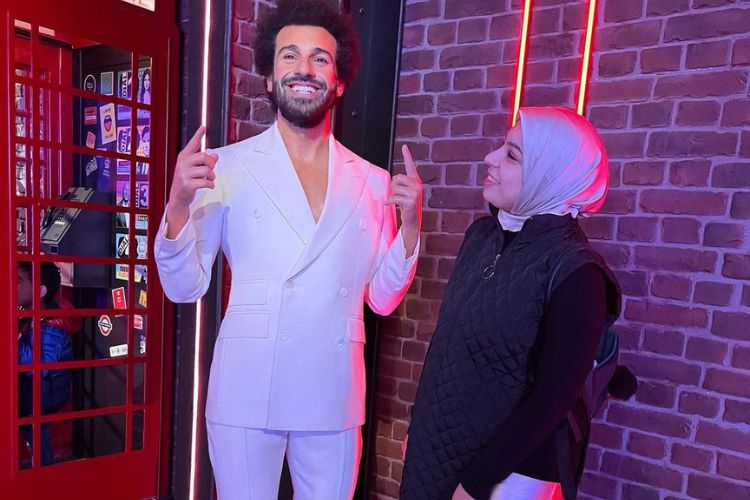 The museum honored the Liverpool striker with the figure in 2021 as he joined the likes of Cristiano Ronaldo and Muhammad Ali.
In 2021, Rabab shared a photo of her brother meeting the Prince and Princess of Wales, William and Kate Middleton. She captioned the post, calling her brother "The Egyptian King."
Nasr Salah Has Been By His Brother's Side Since Day One
Nasr Salah is one of the few people who is always seen beside Mohamed Salah.
On his Instagram bio, Nasr Salah has listed himself as a public figure and boasts a following of 89.8k followers. But this past year, he has stayed away from the public limelight.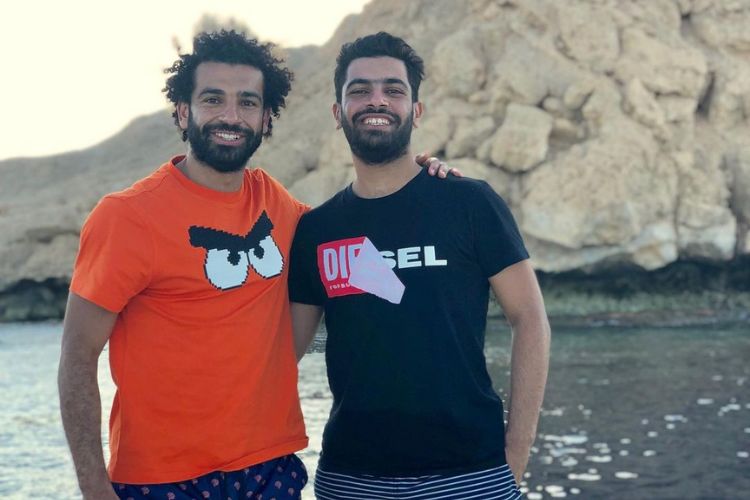 Nasr Salah tied the knot with lifestyle blogger Alaa Nasr on November 5, 2020. Nasr is a blogger and a fashion icon who own a clothing brand, 'Shein Boutique.'
During the wedding ceremony, Nasr's other brother Mo was also present to bless his brother and sister-in-law.
Nasr and Alaa welcomed a child, with whom Nasr was seen enjoying at a beach in 2022.