Monta Ellis is a free agent American basketball player. He entered the NBA straight out of high school, being selected by the Golden State Warriors with the 40th overall choice in the 2005 NBA draft.
Likewise, during his stint with the Warriors, Ellis was one of the league's top scorers, scoring over 25 points per game on two occasions.
In March 2012, he was traded to the Milwaukee Bucks after six and a half seasons with the Golden State Warriors.
After spending a season and a half with the Bucks, he spent two seasons with the Dallas Mavericks. Likewise, he also spent two seasons with the Indiana Pacers.
Inspired by basketball icons such as Michael Jordan and Kobe Bryant, Ellis modeled his playing style after them.
The player's scores have mostly come from dunks, layups, and wide-open shots. However, his one-on-one talents are among the finest in the NBA.
Likewise, his ability to create a tiny gap before leaping over the opponent to take his shot makes him a lethal weapon.
We have included all of the information on Ellis, including his career and personal life, in this section. So, please read the entire article!
Before we get started, here are some quick facts about Monta Ellis.
Quick Facts
Full Name
Monta Ellis
Birth Date
October 26, 1985
Birth Place
Jackson, Mississippi
Nick Name
The Mississippi Missile
Religion
Christianity
Nationality
American
Ethnicity
Black
High School
Lanier High School
College
Not available
Playing Career
2005 – 2017
Zodiac
Libra
Chinese Zodiac
Ox
Father's Name
Marcella Singleton
Mother's Name
Rosa Ellis
Siblings
Two older brothers
Age
38 years old
Height
6 feet 3 inch
Weight
94 kg
Chest Size
Not available
Biceps Size
Not available
Waist Size
Not available
Shoe Size
Not known
Food Habits
Non-veg
NBA Draft
Round: 2, Pick: 40th overall (2005)
Hair Color
Black
Eye Color
Black
Career Highlights and Awards

2007 NBA Most Improved Player
2005 Mr. Basketball USA, etc.

Build
Athletic
Marital Status
Married
Wife
Juanika Amos Ellis
Children
Two; Monta Ellis Jr. (son) and Maila Jai Ellis (daughter)
Position
Shooting Guard
Profession
Basketball player
Net Worth
$35 Million
Salary
Under Review
League
NBA
Social Media
Instagram
Merch
Paperback
Last Update
December 2023
Monta Ellis: Early Life & Family
Monta was born on October 26, 1985, in Jackson, Mississippi. His father's name is Marcella Singleton, and his mother's name is Rosa Ellis. He also had two older brothers.
His mother, Rosa Ellis, was a standout at Lanier High School before transferring to Texas to play junior college basketball.
However, she had to give up specific goals to become a single mother raising her three sons in her fled country.
Hence, basketball is Ellis' innate talent. The player used to tear the bottoms of milk crates outside his grandparents' home on Horseshoe Circle Lane in Jackson and connect them to wooden poles as a child.
His baskets for basketball games used to get ready like that. Games with his best friend were so popular that lads from the neighborhood requested to join them.
When the milk crates were too torn, there was always Grandma's rubbish can. His basketball idol, Antawain, used to tell him that basketball was fantastic.
Moreover, Antawain used to encourage him to keep playing no matter what. Monta was attentive to what his brother said.
Monta Ellis: Childhood Struggle
As mentioned earlier, Monta's older brother, Antwain Ellis, was his basketball icon growing up. Antwain was a person whom Monta could always look up to.
However, an event turned Antwain's life upside down which subsequently turned Monta's life upside down. Antwain's high school closest buddy was shot and stabbed to death.
He had been the rock for his two younger brothers for a long time. However, after the incident, he was adrift. Antwain dropped out of basketball after the incident and struggled to regain his feet.
Monta's brother started to smoke pot. At that time, Monta was 11 or 12 and was terrified by his brother.
Seeing his brother, Monta would often burst into tears and break down completely. The player grieved many nights over what his brother was going through.
Seeing everyone turning their back on his brother changed Monta's perspective on life. It was a difficult time for him. It made the player feel like a shell.
Monta says that he didn't have a childhood at the time because he had completely shut off the outside world.
Monta Ellis: Education
Ellis attended Rowan Middle School and Lanier High School. Since his childhood, he took a keen interest in sports and played a wide range of them.
He was the No. 1 tennis player at Rowan Middle School. Moreover, the player never lost a match.
Similarly, he was the secret weapon in football on two-point conversions; he threw the fade because no one could outjump Monta. He was also the finest soccer goalkeeper ever.
However, above all, Monta was a basketball genius. After graduating from high school, the player was committed to Mississippi State University.
However, he changed his mind and entered the NBA draft.
Stanley Johnson, the NBA player, has a tattoo with the words "Taylor made," a tribute to his mother's surname, on his left wrist. Click here to know more!
High School Career
Ellis led Lanier to its second state championship in four years as a senior in 2004–05.
Ellis was selected as 2005 EA SPORTS National Player of the Year and Parade co-Player of the Year with Greg Oden for his accomplishments.
Professional Basketball Career
During the second round of the 2005 NBA Draft, the Golden State Warriors selected Ellis with the 40th overall choice.
The player spent most of his career with the Warriors, from 2005 to 2012, until being moved to the Milwaukee Bucks alongside Kwame Brown and Ekpe Udoh.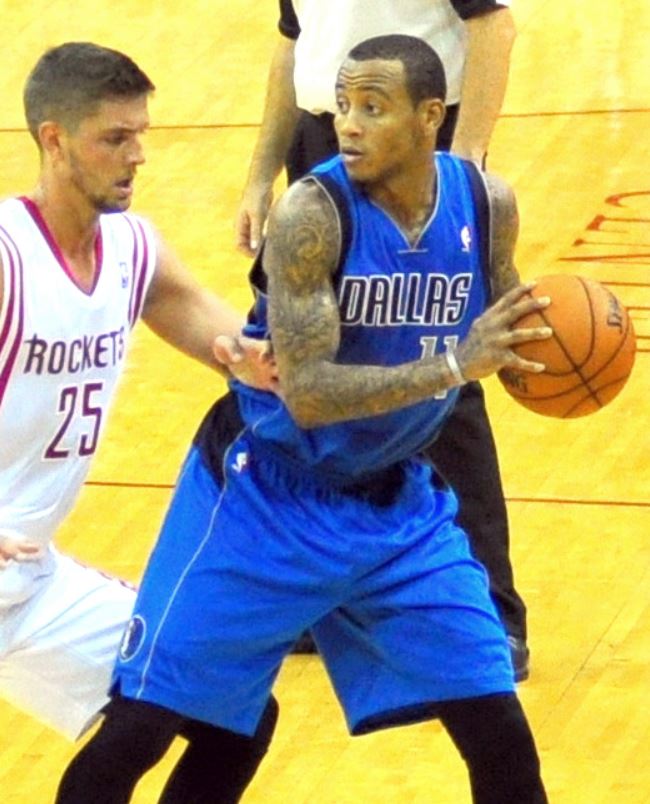 Similarly, Monta also spent one season with the Milwaukee Bucks before signing a free-agent deal with the Dallas Mavericks in 2013.
Likewise, Ellis was a member of the Mavericks until 2015, when he was traded to the Pacers.
Awards
2007 NBA Most Improved Player
2005 Mr. Basketball USA
2005 McDonald's All-American
2004 Third-team Parade All-American
2005 Mississippi Mr. Basketball
2005 First-team Parade All-American
No. 11 retired by Lanier Bulldogs
Injuries and Setbacks
Like many other professional basketball players, injuries did not leave Monta Ellis.
The player was sidelined for three months or more in August 2008 after sustaining a Grade 3 high ankle sprain, a ruptured deltoid ligament, and a syndesmosis dislocation of his left ankle.
All of these Monta's injuries necessitated surgery. The injuries were sustained in a motorized scooter accident.
However, he compounded his error by telling the Warriors he hurt himself playing pickup basketball in his hometown of Mississippi, only to come clean about the event some days later.
As a result, he was suspended by the Warriors for 30 games without pay—the number of games he was scheduled to miss anyway due to the injury.
Similarly, Ellis missed six straight games due to a back issue from late February to early March 2010. Then, from late March to early April, he missed seven consecutive games due to the virus.
Further, the player strained his groin in the first half of the Indiana Pacers' comeback win over the Portland Trail Blazers on December 10.
He then missed the following eight games due to a strained right groin.
Ryan Anderson is a retired American professional basketball player. In college, he played basketball for the California Golden Bears. For more information on the player, click here!
Monta Ellies: Off the court
Singing
Apart from playing basketball, Monta is also good at singing. During his Pacers practices, he used to have the loudest voice, which he utilized to joke, laugh, and sing!
Many of you might not know that, but yep, Monta Ellis can carry a tune. His granddad was a member of the gospel group The Bright Stars.
Likewise, Ellis and his cousins carried on the family heritage by forming the Junior Bright Stars, who sang spirituals in tuxedos.
"These lads weren't any rudy poo any longer. "They could sing," recalls Jonas James, Monta's middle and high school coach.
James further adds that "The spirit would get moving once they started singing 'His Eye Is On The Sparrow.'"
Fishing
Ellis considers every day to be a good day for fishing. Ellis found serenity on the water as a young lad growing up in a chaotic environment.
During those days when Monta kept people at bay to maintain his tranquillity and built tall walls around him, fishing was the only thing that comforted him.
Now, he's over 30 years old, yet fishing still comforts his soul. According to Monta, Fishing was – fishing is quiet to him.
Monta Ellies: Controversies
Ellis was involved in a scandal after a former Golder State Warriors employee, Erika Ross Smith, filed a sexual harassment complaint against the team and him in Alameda County.
She said Ellis sent her inappropriate communications, which included sexual encounter proposals and vulgar photos.
He was also embroiled in another scandal after being suspended for being involved in a moped accident.
Furthermore, Monta Ellies was in the press after violating the league's anti-drug policy. He was suspended because he tested positive for marijuana use.
Monta Ellis: Body Measurements
Monta was born in 1985, so he is currently [calculate years datestring="10/26/1985″] years old.
When it comes to Ellis's physical appearance, the basketball star has a strong and well-kept physique that makes him appear appealing.
Monta also works out regularly to preserve his athletic lifestyle.
In addition, the American player is 6 feet 3 inches tall and weighs around 84 kg. On the other hand, Monta's other body measurements are still unknown.
Similarly, the player is covered with tattoos all over his body. Monta is a black man with black hair and black eyes.
Tattoos
Ellis is a tattoo enthusiast. His body is covered in tattoos that each have a particular significance. Ellis's tattoos also represent his passion for his family and basketball job.
Monta Ellis's chest is adorned with a large tree tattoo. The slogan "Family First" is engraved on the leaves across the top of his breast, indicating that this is a tribute to Monta's family tree.
This tattoo has roots, bark, branches, and leaves. It's adorned in the style of a Christmas tree, with decorations such as a baby's face, Chinese calligraphy, an angel, and the Star of David.
Similarly, Ellis has a tattoo depicting flames, a demon playing the flute, and a huge "BOYZ" in ancient English writing on his right arm.
The player also has the capital letters "GEORGETOWN" etched on his right arm.
Moreover, Ellis' back has the Golden State Warriors logo, a dove, the number 72, a diamond, his initials, a box, and a palm, all beneath the cursive word "Faith."
This particular body art is a tribute to the Golden State Warriors, with whom he spent his first six NBA seasons.
Monta Ellis: Marital Life
Monta Ellis is a husband and father. Juanika Amos Ellis is his wife. She works as a police officer in Memphis.
Juanika is six years his senior. The couple initially met in 2006 in Juanika's hometown, Memphis, Tennessee.
They chose to marry after four years. In 2010, the wedding ceremony was held at the Memphis Boulevard Christian Church.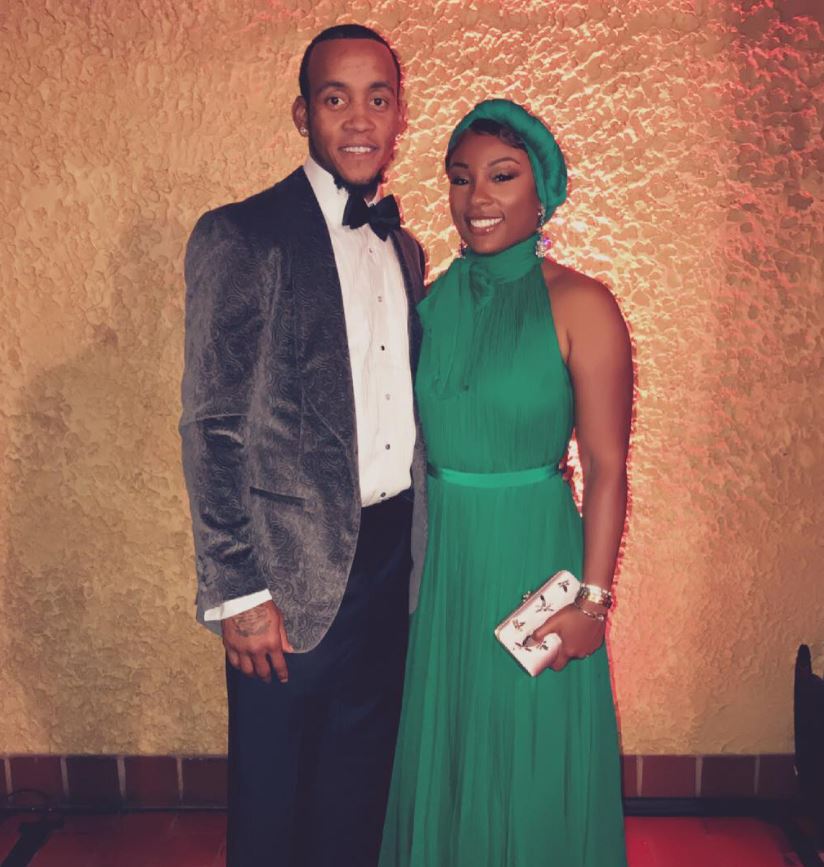 More than a decade after their marriage, their love for each other is still equally strong.
On Juanika's birthday, Monta posted on Instagram and expressed his love and gratitude towards his wife.
The player wrote:
"Thank you, God, for blessing me with a beautiful, kind, and loving wife and a first-class mother to our kids. I can't imagine life without you in it. I'm thankful to God that our paths crossed in Memphis. This journey has been worth the ride and here we are today three kids later. Happy Birthday baby and I'm here to celebrate many more. Love you, Mrs. Ellis!"
Additionally, the pair has two children from their marriage: Monta Ellis Jr., a boy, and Maila Jai Ellis, a daughter.
Social Media Presence
Monta Ellis: Net Worth
Моntа Еlliѕ hаѕ hаd аn аmаzіng bаѕkеtbаll career. Because of his hard work and determination, the player could secure his position in the league.
The player ѕіgnеd ѕоmе big соntrасtѕ wіth ѕоmе оf thе tеаmѕ іn thе NВА. Тhrоugh thеѕе соntrасtѕ wіth thеѕе tеаmѕ, the player has been able to garner a massive net worth of $35 million.
Frequently Asked Questions
Is Monta Ellis still being paid?
Although Monta Ellis has not played in the league since the 2017-18 season, the Indiana Pacers continue to pay Monta Ellis.
When the Pacers waived him, they agreed to a five-year contract extension. As a result, the Pacers will be paying Ellis for this season's final time (2021-22).