In the rich history of the NFL, some legendary teams dominated leagues like no others.
You will find an incredible collection of undefeated teams, Super Bowl winners, teams leading in boh defense/ offense, and teams that defined generations.
However, like other sports, there are always controversies in ranking the most incredible football ever.
Although comparing different football eras may cause a debate but breaking down title runs and records, some things cannot be rebuffed.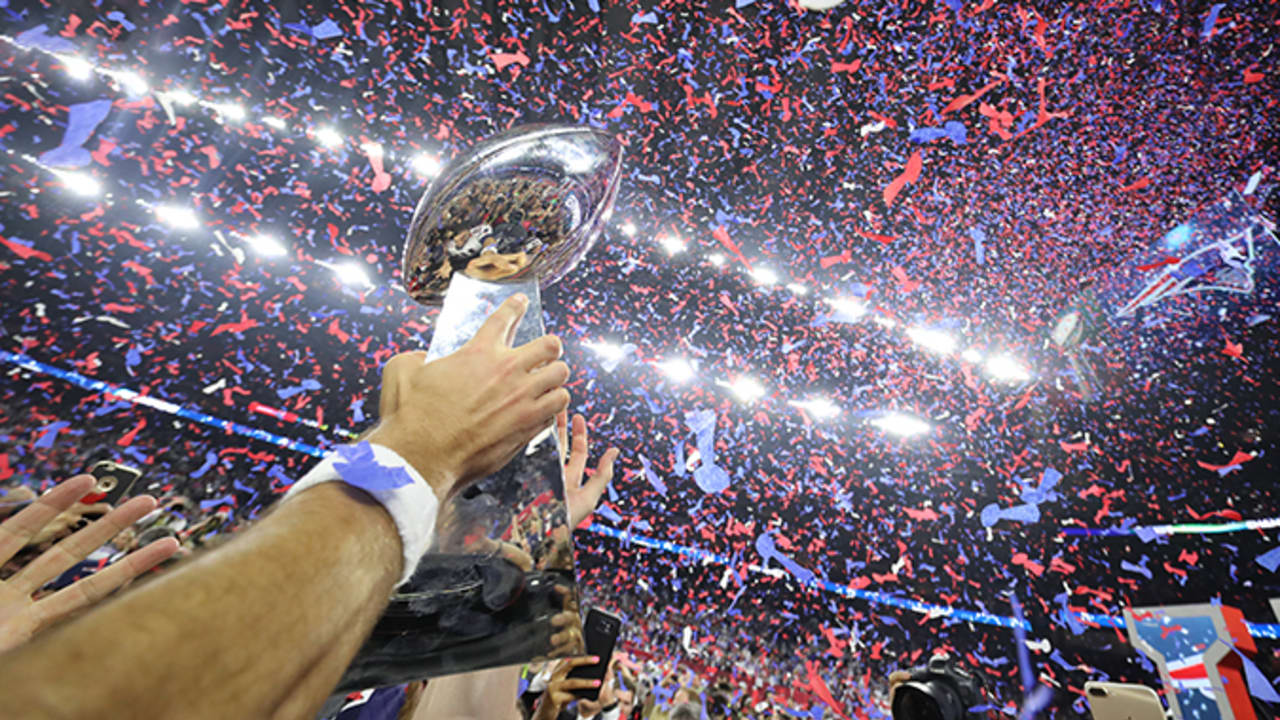 15 Greatest football teams
Many may wonder why the legendary teams like the 1962 Green Bay Packers and the 2007 New England Patriots are not included.
It's because the only teams who are of the modern era and have won the Super Bowl are only included.
15. New England Patriots (2016)
Overall Record: 17-2
Pro Bowlers: 4
Super Bowl LI champion
The 2016 New England Patriots will always be remembered for turning down the largest deficit in Super Bowl history of 28-3 to 36-17.
Besides the Patriots epic comeback, they also became the first team to wins 500 games, record 8 consecutive division titles and 8-0 record on the road.
Likewise, the Patriots ended the season ranking third in scoring offense and first in scoring defense.
Similarly, they began season 3-1 in the absence of Tom Brady. Later, when he returned Patriots won 11 games by double-digit.
14. Dallas Cowboys (1977)
Overall Record: 15-2
Pro Bowlers: 8
Super Bowl XII champion
The 1977 Dallas Cowboys were truly American teams led by veteran Military officers Tom Landry and Roger Staubach.
The Cowboys outsmarted every NFL in the draft after devising scouting computer.
Although scouting reports considered RB Ricky Bell as a draft best prospect, they chose Tony Dorsett listening to scouting computer.
Later, he proved his worth with speed and moves ending the season with a rush over 1,007 yards, including 12 touchdowns.
Likewise, DE Harvey Martin produced one of the greatest NFL seasons by recording 85 tackles and 23 sacks named Defensive Player of the Year.
That year Cowboys finally got a hand in coveted trophy after a year of near misses. In the first 2 games in the postseason, they outscored teams 60-3.
Later, in Super Bowl Cowboys embarrassed the Broncos 27-10. But, likewise, the overall 15-2 record is still the highest single winning percentage in franchise history.
NFL: Top 10 Best Quarterback Ever
13. St. Louis Rams (1999)
Overall Record: 16-3
Pro Bowlers: 7
Super Bowl XXXIV champion
St Louis Rams of 1999 are one of the greatest offensive teams in NFL history. Moreover, their "Greatest Show on Turf" offense scored 526 points in the regular season.
They scored 30 points or more in twelve games, averaging 32.9 PPG.
That season their QB Kurt Warner walked off with both NFL and Super Bowl MVP. Likewise, Marshall Faulk completed 2000 all-purpose yards, and Hall of Famer Issac Bruce led the Rams in touchdowns.
Their defense is probably underrated, allowing 15.1 PPG. However, their defense showed they could win games, especially in an 11-6 victory over the Buccaneers in the playoffs.
12. Denver Broncos (1998)
Overall Record: 17-2
Pro Bowlers: 10
Super Bowl XXXIII champion
The 1998 Denver Broncos entered the league as defending champion. Moreover, they have the sight of becoming the fifth team to win successive Super Bowl.
Broncos made a solid start to the season, winning 13 starting games before ending with a record of 14-2. Broncos had 7 players making Pro Bowl there as 2 players on defense.
Likewise, Hall of Fame RB Terell Davis earned the NFL MVP award following 2,008 rushing yards and 23 touchdowns.
During playoffs in their 3 games, they outscored the opposition by a 95-34 score.
Moreover, their Super Bowl victory was the perfect ending for NFL legend John Elway who retired after playing 16 seasons for the Broncos.
Top 12 Best Pool Players in the World
11. Green Bay Packers (1996)
Overall Record: 16-3
Pro Bowlers: 3
Super Bowl XXXI champion
The 1996 Green Packers was dominant both on defense and offense. During their regular season, they were top-ranked in offense, defense, and special teams.
Moreover, they became the second team after 1972 Dolphins to have both the highest offense scoring (456) and lowest points allowed on defense (210) in the same season.
Moreover, their team was led by NFL MVP Brett Favre, who was in his prime years. He recorded 3,889 passing yards and 39 touchdowns.
After finishing the season with a 13-3 record Packers didn't have much trouble in the playoffs and the franchise third Super Bowl victory.
10. New England Patriots (2004)
Overall Record: 17-2
Pro Bowlers: 6
Super Bowl XXXIX champion
New England Patriots also represent their team of 2003. They finished the season with a successive 14-2 record and winning the third Super Bowl in 4 years.
This team was balanced both defensively and offensively.
In offense, they scored 30 points or more on six occasions, whereas on defense held a team to 10 points or less seven times.
Likewise, after winning two playoff games with comfortable points, the Patriots narrowly won against Eagles 24-21.
Although the Patriots have fielded a flashier team than that year, they became the franchise everybody knew currently in 2004.
9. San Francisco 49ers (1984)
Overall Record: 18-1
Pro Bowlers: 10
Super Bowl XIX champion
After NFL went to 16 game fixtures in 1978, the San Francisco 49ers became the first team to win 15 in one season.
Moreover, 1984 proves to be the best season in franchise history and of Joe Montana.
Their offensive brilliance proved too much for any team averaging about 30 PPG in the regular season.
Likewise, they were ranked second in touchdowns and average rush and third on the total yards.
Going into playoffs as #1 seed, they defeated Giants and Bears before facing Dolphins in Super Bowl.
It was an exciting matchup between the two best quarterbacks Joe Montana and Dan Marino.
However, Montana took both trophy and MVP home, recording 24 passes for a finals record 331 years, including 3 touchdowns and 5 rushes.
8. Pittsburgh Steelers (1975)
Overall Record: 15-2
Pro Bowlers: 11
Super Bowl XXVI champion
The 1975 Pittsburgh Steelers claimed the championship with a dominant defensive unit and quick offense. 1975 Steelers is definitely among the most outstanding defensive teams ever in NFL history.
Their defense proved to be the focal point holding teams to 11.6 PPG in the regular season and 12.3 PPG in playoffs.
It's not like their offense was bad. Steelers could break down teams with Terry Bradshaw's arms and Franco Harris's legs.
In addition, the Steeler's offense also consisted of future Hall of Famers who was having their breakout season.
7. Dallas Cowboys (1992)
Overall Record: 16-3
Pro Bowlers: 6
Super Bowl XXVII champion
Dallas Cowboys of 1992 was led by Hall of Fame's trio consisting of QB Roy Aikman, RB Emmitt Smith, and WR Michael Irvin.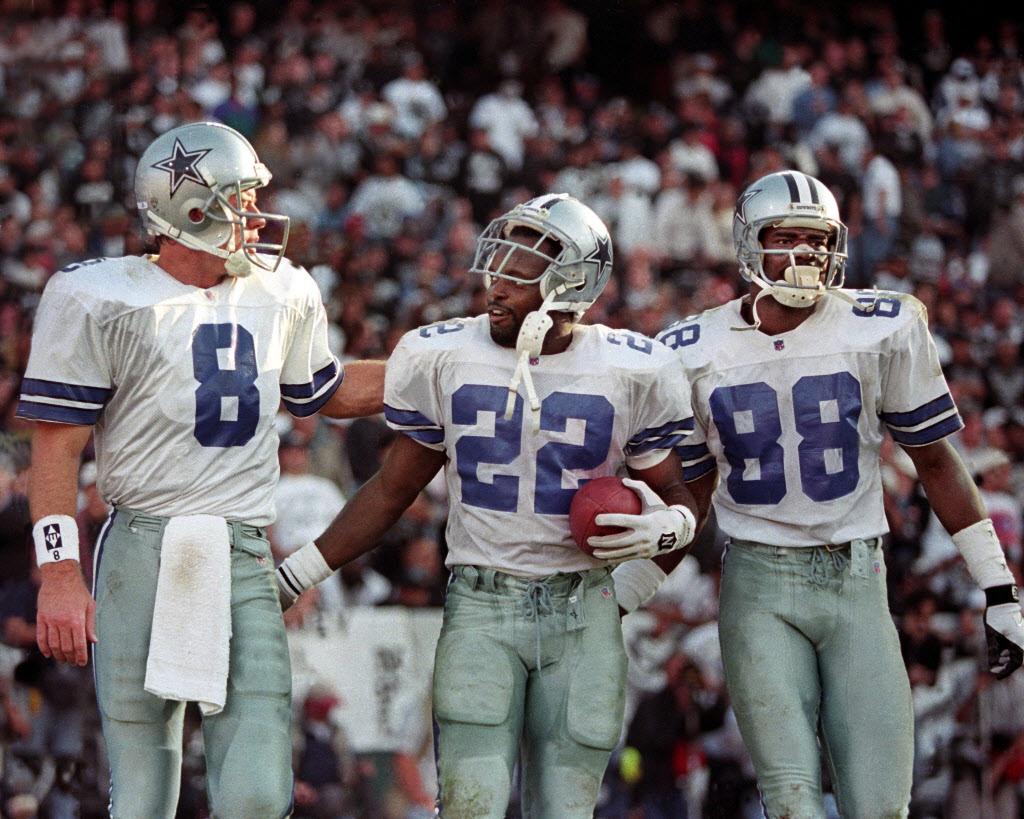 They easily made work in offense easy. Moreover, these three players led Dallas to 39 PPG in the postseason and second in the scoring offense.
That's the reason why their offensive line submerged defense. After all, 6 players who made it to Pro Bowl were all offensive players.
But their defensive unit did a pretty good job as they ranked fifth in defensive scoring. Likewise, in the final, the team held Bills' explosive offensive lines to the bay.
During the Super Bowl, the Cowboys crushed down Bills by 52-17, where Aikman showed incredible performance throwing 4 touchdowns and 70% pass completion.
Top 10 Best Football Movies of All Time
6. Washington Redskins (1991)
Overall Record: 17-2
Pro Bowlers: 7
Super Bowl XXVI champion
The Washington Redkskins is one of the best-underrated teams in NFL history. They don't look like the top team on paper, but they ended the season as champions.
During the first 5 of the season, they shut down 3 opposition to a combined score of 102-0.
They won franchise-record 14 games and their only two-loss combined for 5 points. Likewise, in the playoff, they outscored the team by 101-41 in three games.
Moreover, they were ranked top on scoring offense with 485 points and second on scoring defense with 224 points.
5. Green Bay Packers (1966)
Overall Record: 14-2
Pro Bowlers: 8
Super Bowl I champion
The 1966 Green Bay Packers inaugurated the pro football modern era after winning the first-ever Super Bowl.
Vince Lombardi Packers dominated the league defensively and offensively. They had a strong core allowing just 11.6 PPG and scoring 23.9 PPG.
They were blowing out the team with scores of 56-3 and 31-7 without breaking down sweat.
Their QB Bart Starr won his only NFL MVP, but their defensive unit also had multiple Pro Bowlers.
In Super Bowl, they outscored Kansas City Cheifs 35-10. They also went to win the championship next year.
Who are the Top 10 Power Lifter of all time?
4. San Francisco 49ers (1989)
Overall Record: 17-2
Pro Bowlers: 6
Super Bowl XXIV champion
The San Francisco 49ers team of 1989 is probably the greatest team ever, considering only star powers.
Their offensive line included Jerry Rice, John Taylor, Roger Craig, Tom Rathman, Brent Jones, and Joe Montana handled offensive duty efficiently.
Likewise, their defense led by Ronnie Lott and Charles Haley terrorized quarterbacks. Moreover, they finished the season averaging 27.6 PPG, allowing just 15.8.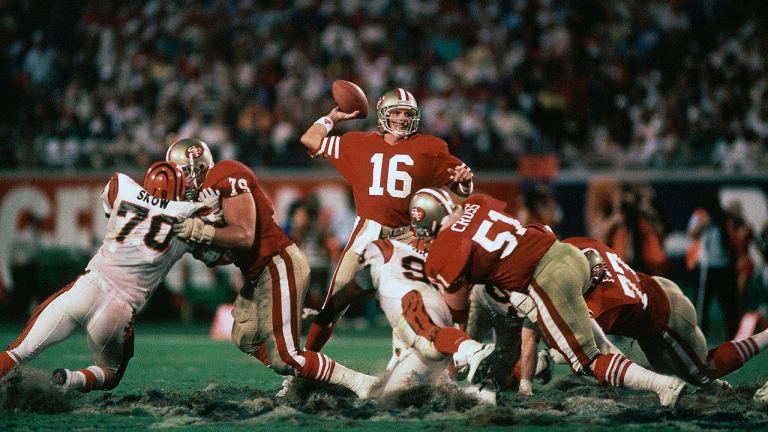 After ending the regular season with a 14-2 record, they completed Super Bowl victory with a dominant post-season run outscoring the opposition by 126-26.
Furthermore, in Super Bowl XXIV, they trashed Broncos 55-10.
3. Pittsburgh Steelers (1978)
Overall Record: 17-2
Pro Bowlers: 10
Super Bowl X champion
It's hard to decide which classic Pittsburgh Steelers team is better than the other. So, when in confusion, pick the 1978 team that even defeated NFL.
The 1978 Steelers is responsible for several rules changes in NFL.
Moreover, their Steel Curtain Defense proved too dominant, leading to drastic changes in rules to give offensive lines a chance.
Steelers defensive was the winner holding the opposition to 12.2 PPG that season.
Leading the 1978 top-ranked defense was 2x NFL Defensive Player of the Year Joe Greene alongside Hall of Famers Jack Ham, Jack Lambert, Mel Blount, Donnie Shell ad LC Greenwood.
NFL and Super Bowl MVP QB Terry Bradshaw led their championship run.
Likewise, Hall of Famers C Mike Webster, RB Franco Harris, WR Lynn Swann, and John Stallworth made the offensive unit stronger.
2. Chicago Bears
Overall Record: 18-1
Pro Bowlers: 9
Super Bowl VII champion
In 1985 Chicago Bears recorded "Super Bowl Shuffle" even before the postseason started. It seems cocky, but they backed up winning the franchise's first Super Bowl.
Moreover, the Bears are one of the teams that can challenge the 1977 undefeated Miami Dolphins for the throne of the Greatest NFL team ever.
They finished the season ranking second in scoring offense and first in scoring defense.
Likewise, when the name of 85 Bears comes, their "46" dominant defense comes to mind allowing an average of 12.4 PPG.
Their defense produced 3 first-team All-Pros and 5 Pro Bowlers.
Similarly, in offense, QB Jim McMahon and RB Walter Paytons did everything to make sure their offense run smoothly.
In the first two-game of the playoffs, they thrashed Giants 21-0 and Rams 24-0. Later, in the final, they demolished Patriots 46-10.
1. Miami Dolphins (1972)
Overall Record: 17-0
Pro Bowlers: 9
Super Bowl VII champion
The 1972 Miami Dolphins is considered as greatest NFL team of all time. One simple argument is they went regular season and playoff undefeated with a 17-0 record.
Moreover, they are the only team in NFL history to go the whole season undefeated. They improved from their previous season record 10-3-1 to achieve the milestone.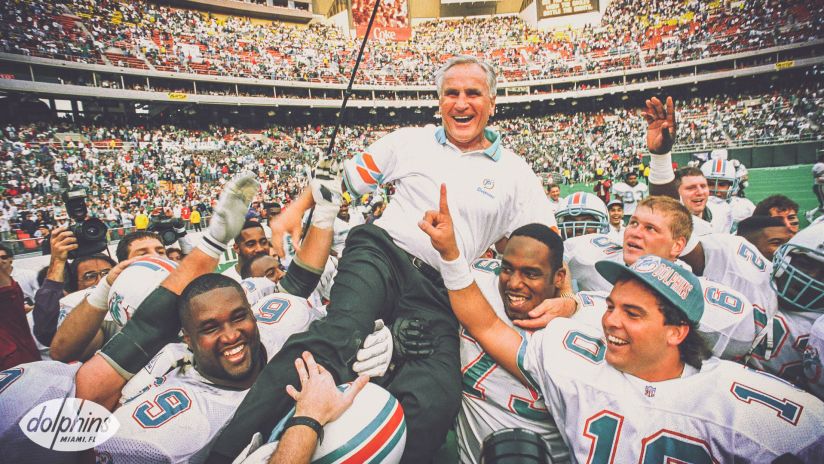 The New England Patriots came close in 2007 to record most wins in NFL history and the Super Bowl list.
Furthermore, they clinched the division title in 10 weeks. Likewise, they are the first team to rank top of both scoring offense and scoring defense.
During the entire, they scored 385 points allowing just 171. Their "No Name" defense will arguably be one of the best defensive units in NFL history.
Dolphins offense also did a great job; their running back pair of Larry Csonka and Mercury Morris became the first pair to rush for over 1,000 in one season.