Tony Dorsett is a former American football player who played in the NFL as a running back for the Dallas Cowboys and Denver Broncos. At every level he played, he shone brighter and was a winner.
On 10 February 2023, he attended NFL Honors Award ceremony and shared his views on what it means to win a Super Bowl.
He is one of the most decorated NFL players and a Super Bowl winner with the Cowboys.
Tony has been a big football fan since he was a kid. His interest in the sport increased with time, and he played football at high school and college.
Eventually, he entered the 1977 NFL Draft and had a very successful career. He is regarded as one of the best running backs in NFL history.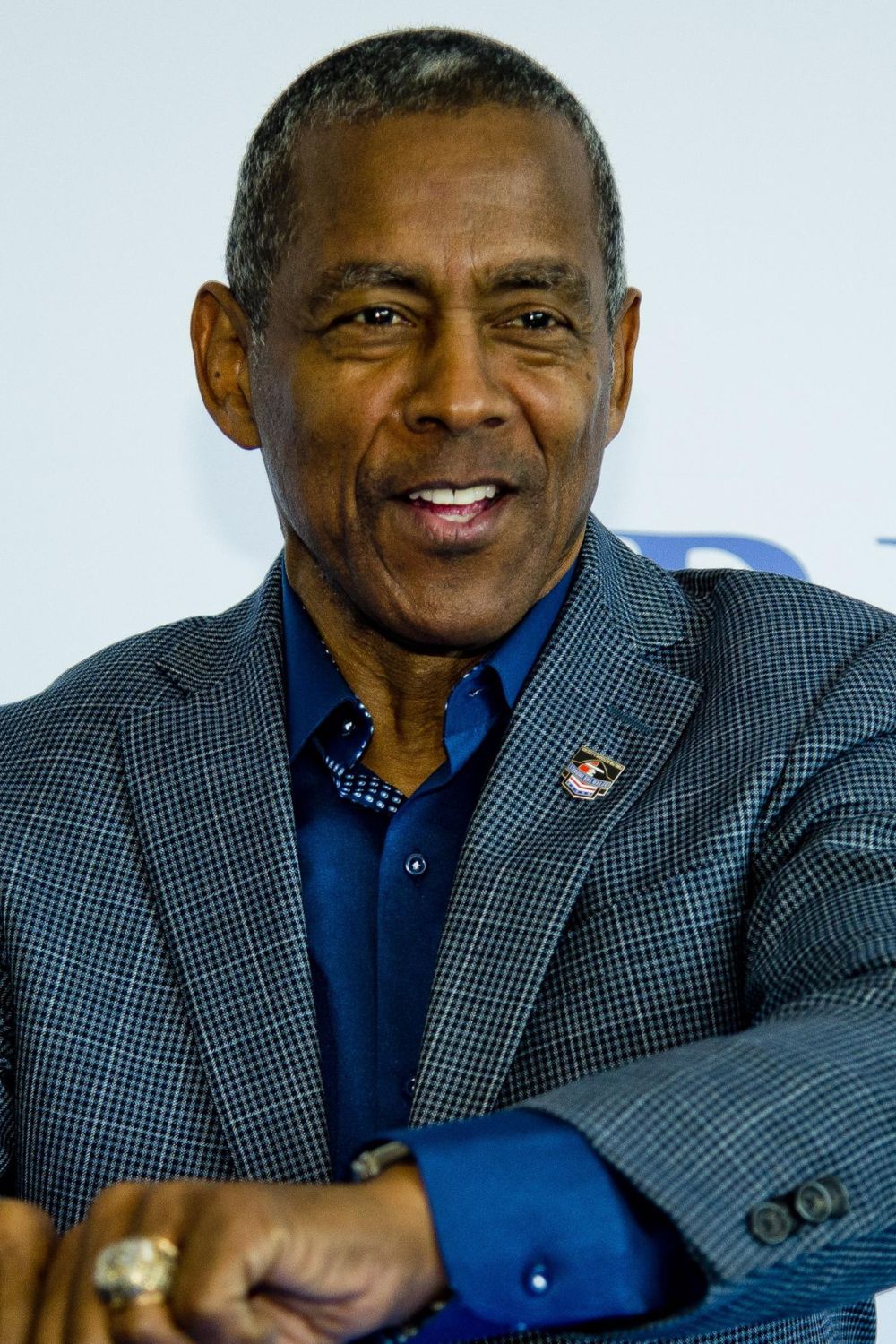 On top of that, his son Anthony made appearances in 1999 and 2002 with the Raiders. Furthermore, he is the uncle of the former football cornerback Ty Law.
Ty Law is a three-time Super Bowl Champion with the New England Patriots.
So, today in this article, learn more about Tony's life. Here we have mentioned all his details regarding his early life, family, professional career, net worth, personal life, and many more.
But, before getting into details about the legendary NFL running back's life and career, look at some quick facts about him.
Quick Facts
| | |
| --- | --- |
| Full Name | Anthony Drew Dorsett Sr. |
| Birth Date | April 7, 1954 |
| Birth Place | Rochester, Pennsylvania, United States |
| Nick Name | Tony |
| Religion | Christian |
| Nationality | American |
| Ethnicity | Mixed |
| Education | University Of Pittsburgh |
| Horoscope | Aries |
| Father's Name | Wes Dorsett |
| Mother's Name | Myrtle Dorsett |
| Siblings | Six |
| Age | 69 Years Old |
| Height | 5 ft 11 in / 1.80 m / 180 cm |
| Weight | 192 lb / 87 kg |
| Hair Color | Black |
| Eye Color | Brown |
| Build | Athletic |
| Profession | Former NFL Player |
| Former Team | Dallas Cowboys, Denver Broncos |
| Position | Running Back |
| Active Years | 1977-1988 |
| Marital Status | Married |
| Wife | Janet Harmon Dorsett |
| Kids | Four; Anthony, Jazmyn, Madison, And Mia |
| Net Worth | $5 Million |
| Social Media | Instagram, Twitter |
| Merch | Poster, Autographed NFL Helmet & Cap |
| Last Update | May 2023 |
Early Life, Family, & Education
Anthony Drew Dorsett, popularly known as Tony Dorsett, was born in Rochester, Pennsylvania, to Wes Dorsett and Myrtle Dorsett on 7 April 1954.
The NFL player's father was a steel mill worker, while his mother was a housewife and cared for the kids.
Dorsett's family resided in a government-funded project called Plan 11. Although they weren't financially gifted, the family was happy with what they had.
Moreover, they counted their blessing and kept their faith in God. The NFL player grew up with six siblings.
There isn't much information about them. Nevertheless, his elder brothers were excellent athletes who played football and ran track.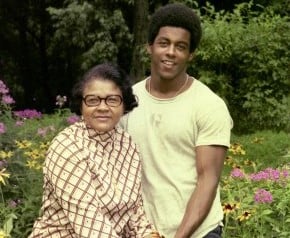 Hence, his siblings served as a source of inspiration for Anthony to pursue football. He also played high school football with them at Hopewell High School.
Besides that, the athlete practiced a lot and worked hard to improve his skills. The former Bronco was determined to make a better life than he had, so he never gave up.
Shortly after, he was well-known as one of the best cornerbacks and linebackers.
Tony was equally good at basketball. He joined the University of Pittsburg after graduating high school in 1972.
The football player continually raises awareness against a sleep disorder called Sleep Apnea. The disease causes breathing stops or shallow breathing more than often.
As a result, regular sleep routines are disrupted, leading to sleepiness and fatigue. Dorsett has helped over 150 former footballers overcome this disorder.
Age, Height, & Weight
The former athlete is 69 years old as of 2023. He is in great shape as he takes good care of his health and diet.
His years of training in the field have undoubtedly made him look very fit and healthy, even in his late 60s. Moreover, he is 1.80 meters tall and weighs approximately 192 lb.
Besides this, other body facts about Tony include short black hair and a pair of black eyes.
Early Career
High School Career
The running back went to Hopewell High School and was on the football and basketball team.
Initially, he was a cornerback and later became the running back for the Hopewell Vikings. Dorsett's coaches had second guesses about him as he weighed only 143 lb.
He quickly turned them into fans with his exceptional defensive skills. At the end of his second year, he made 19 touchdowns.
Besides that, he was a two-time All-State selection. He was one of the most prominent Vikings players and received well-deserved attention.
Tony suffered a concussion in his senior year, but it didn't affect his playing career with the school team.
Later, he assisted the team in the Big 33 Football Classic. On top of retiring his jersey, Hopewell's stadium was renamed Tony Dorsett Stadium.
College Career
Following a successful high school football career, Tony attended the University of Pittsburgh. As a Pittsburgh Panthers, he led his team to their first season win since 2010.
He was also the first All-American freshman since 1944. The former Cowboy had the highest rushing yards record since 1968.
Dorsett was already well-known in his sophomore year and assisted the Panthers to a national title.
Besides that, the running back helped win the Heisman Trophy and Maxwell Award. He also received the Walter Camp Award and UPI Player of the Year.
UPI and NEA named him first-team All-American three times. Similarly, he was a second-team All-American. On top of that, he set an NCAA record with 6,082 total rushing yards.
Tony was the first Pittsburgh athlete that had his jersey retired. Even now, he is regarded as the greatest running back in college football history.
ESPN ranked Dorsett #7 on the Top 25 players in College Football History list.
The NFL player was eventually inducted into the College Football Hall of Fame for his exceptional contribution to college football.
NFL Career
Dallas Cowboys
After a spectacular college football career and graduation, he entered the 1977 NFL Draft.
Many scouts and NFL draft experts doubted his selection because of his physical attributions at the moment.
Nevertheless, he was selected in the first round and was the second pick overall.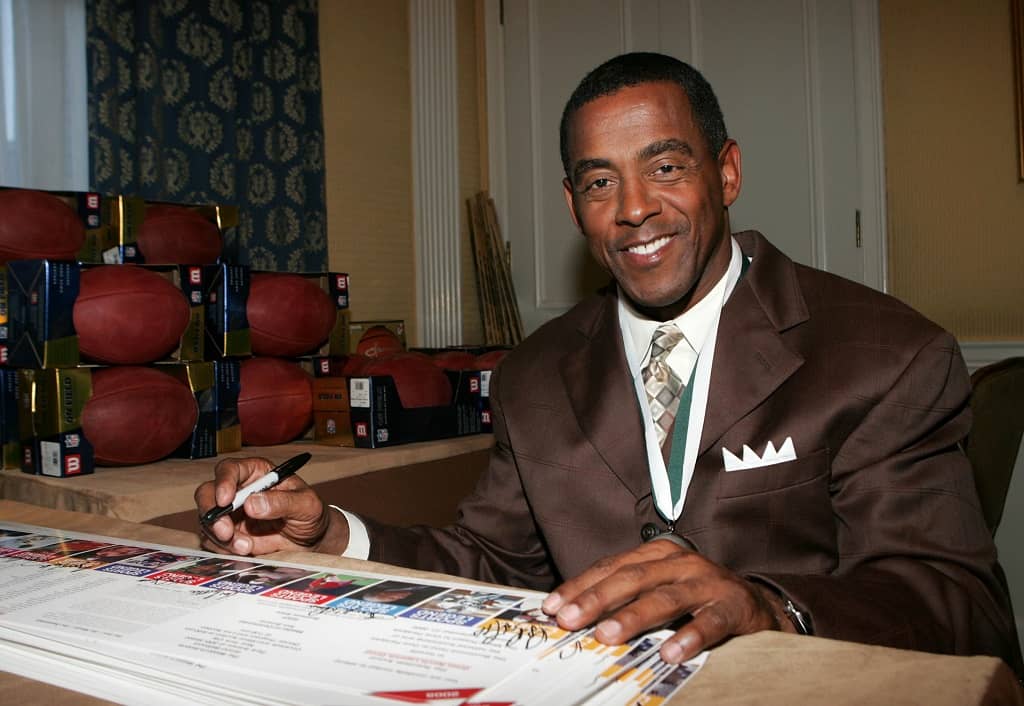 During that period, Dorsett reportedly signed with the Cowboys for $1.1 million; it was the second-largest rookie contract in NFL history.
He had a different point of view than his coach Tom Landry, and their opinions often clashed. However, he followed his instinct and believed in his abilities.
Hence, he won the Super Bowl XII with the Dallas Cowboys with his winning mindset and hard work. He also played in the Super Bowl the next year. However, they lost to Pittsburgh Steelers.
Tony was well known for scoring a 99-yard touchdown in 1983. He received a lot of press for it.
In 1986, he sustained some injuries in his leg, causing him to slow down. Nonetheless, he still rushed 748 yards for the 10th season continuously.
In the next season, he was the Cowboys' primary running back. Hence, he started six of the 12 games he played while rushing 456 yards.
Denver Broncos
Anthony Sr. demanded a trade after he was benched in two games despite being fit to play. Following his demand, he was traded to the Denver Broncos.
He also contributed to the offense before his injuries got the best of him. The NFL player officially retired after tearing his left knee ligaments during training camp. Nevertheless, he had an outstanding career with them.
"To succeed, you need to find something to hold on to, to motivate you, something to inspire you."
-Tony Dorsett
On 10 February 2023, he was interviewed and asked what it means to win the Super Bowl?
He replied on the Red carpet ahead of the NFL Honors award ceremony at the Phoenix Convention Center, "It's the deal."
He also added there is nothing better than winning the big game. It's a team accomplishment, as the whole team works hard wholeheartedly.
What he did individually was just part of helping the team be successful.
He also talked about the Cowboys players with Eral Campbell, who gave predictions for the Super Bowl LVII on the K&C Masterpiece on 105.3 The Fan.
They had conversations about what kept them motivated in their playing days.
The two also shared their feelings on the Cowboys' use of Ezekiel Elliott and Tony Pollard.
Marriage & Kids
The former Cowboys running back is married to Janet Harmon. The duo met in the late 90s and eventually got married in 2000.
He has two children with Janet, named Madison Dorsett and Mia Dorsett. Harmon is Dorsett's second wife.
He was previously married to Julie Simon. She was a nurse. However, the former pair didn't have kids. They were together for four years before divorcing in 1985.
Apart from that, he has two children from different relationships.
His first child and only son was born to his then-girlfriend, Karen Casterlowin. Anthony Dorsett Jr. was born in Tony's freshman year of college. Junior is a former NFL safety.
His first daughter, Jazmyn Dorsett, was born in 1992. She is a successful model and is athletic like her father.
Criticism
Dorsett had his first son when he was a freshman in college. He received a lot of criticism for having a child before marriage.
Several people insisted that he should drop out of college to take care of his child.
They wanted him to marry his child's mother, Karen Casterlowin. However, the NFL player knew better that the best way to look after his child was to ensure a good future.
So he stayed in college and worked hard to enter the NFL. He trained every day and better than anybody else to secure a pick in the 1977 NFL Draft.
Health Issues
Tony revealed he had symptoms of a neurodegenerative disease called chronic traumatic encephalopathy (CTE) in 2013.
It is a disease often seen in former athletes, especially among football players, boxers, and hockey players.
The symptoms typically take years to appear after the injuries. Some of the symptoms are behavioral, mood, and thinking problems. There is no specific cure for CTE, and it only worsens with time.
It can also lead to dementia. The former Cowboy opened up that he had suffered memory loss.
Highlights & Awards
1973: First-team All-American

1975: First-team All-American

1976: National champion, Heisman Trophy, Maxwell Award, Walter Camp Award, First-team All-American

1977: NFL Offensive Rookie of the Year

1978: Pro Bowl

1981: First-team All-Pro, Football Digest NFL Running Back of the Year

Super Bowl champion (XII)

1994: Dallas Cowboys Ring of Honor

(1981–1983) 3× Pro Bowl, 2× Second-team All-Pro

Pittsburgh Panthers No. 33 retired

NFL record 99-yard rushing touchdown (Tied with Derrick Henry)
Super Bowl Rings
Tony Dorsett was the first player to win a college football championship in 1976 and a Super Bowl championship the following year.
The former running back has one Super Bowl ring. Tony won a Super Bowl XII with the Dallas Cowboys in 1977. Furthermore, it was his first year in the NFL playing with the team.
Net Worth & Salary
Tony Dorsett has earned a lot of recognition worldwide as one of the most talented football players. Well, it's not only the name and fame Tony has earned throughout these years.
He has also pocketed millions of dollars along with name and fame. Dorsett has an impressive amount of wealth after serving on outstanding NFL teams.
Tony Dorsett's net worth is over $5 million as of 2023. As a rookie with the Cowboys, Dorsett signed one of the largest contracts worth $1.1 million.
In addition to his regular NFL salaries, he also pocketed a sizable amount from brand endorsement deals.
Similarly, post-retirement, he served as an analyst for ESPN.
He is also the host of Tony Dorsett Celebrity Golf Classic for McGuire Memorial. It has raised nearly $5 million to support McGuire Memorial's mission.
Social Media Presence
The NFL running back is moderately active on social media platforms. He has over 1.6k followers on Instagram.
However, he has not used the account in over two years. Dorsett has shared some hopeful messages and photos with his family and colleagues.
Congratulations @CALEBcsw
Welcome to the @HeismanTrophy fraternity! pic.twitter.com/q2m9m2qxP8

— Tony Dorsett (@Tony_Dorsett) December 11, 2022
Besides that, he is on Twitter with 85.7k followers. He is relatively more engaged on Twitter than on other social media.
He mainly shares football-related news.
Popularity Graph
Tony Dorsett is an NFL running back who won Super Bowl XII with the Dallas Cowboys.
The above graph shows Dorsett's popularity over the past twelve months.
Frequently Asked Questions (FAQS)
How much is a Tony Dorsett rookie card worth?
The Pro Football Hall of Famer Tony Dorsett's rookie card is worth $19.99-$95.00. You can find his merchandise on Amazon.
What year did Tony Dorsett run for 99 yards?
In January 1983, Tony Dorsett made first 99-yard touchdown run in NFL history while playing against the Vikings. Derrick Henry from Tennessee Titans tied this record in 2018.
Which documentary was Tony Dorsett featured in?
Tony Dorsett was featured in the American Dream documentary, which narrates superstar legends' lives and extraordinary careers across the sporting realm. He was also featured in the Tony Dorsett: Running to Daylight, based on one of the greatest backs of all time.
How fast was Tony Dorsett in the 40-yard dash?
Tony Dorsett could run a 40-yard dash in 4.3 seconds. After the retirement of Walter Payton, he was the lead in rushing yards among the active players.
What number jersey did Tony Dorsett wore while playing with the Cowboys?
Tony Dorsett wore Jersey number #33 while playing with the Cowboys. He spent a decade of his life playing for the Cowboys. He was the franchise's rushing leader with 12,036 yards and second in league history in the postseason with 1,383 rushing yards.