Starting as a childhood defense technique, Nicolas Dalby took his fighting skills onto the professional arena. It has been over a decade since he was involved in this profession while gathering all the opportunities that knocked his way.
He is a former Welterweight and interim welterweight champion in Cage Warriors. He is currently fighting for the Welterweight division of the Ultimate Fighting Championship.
Herewith, as we dive deeper into his career and personal venture of life, let us get through a quick dose of facts.
Quick Facts
Full Name
Nicolas Lyngh Dalby
Date of Birth
November 16, 1984
Birth Place
Silkeborg, Denmark
Nick Name
Danish Dynamite
Religion
Christianity
Nationality
Danish
Ethnicity
Unknown
Zodiac Sign
Sagittarius
Age
38 Years Old
Height
5 feet and 11 inches (180 cm)
Weight
170 lb (77 kg)
Hair Color
Dark Brown
Eye Color
Dark Brown
Build
Athletic
Father's Name
Name Unknown
Mother's Name
Name Unknown
Siblings
Name Unknown
Education
Not Available
Marital Status
Married
Wife
Dzifa Adjo Akpalu
Kids
A daughter, Caya Dalby
Profession
Mixed Martial Artist
Fighting Out of
Copenhagen, Denmark
Affiliations
Rumble sports
Rank
Green belt in Ashihara Karate
Brown belt in Brazilian Jiu-Jitsu
Stance
Orthodox
Net Worth
Around $1 million
Social Media
Instagram, Twitter
Merch of UFC
Gloves, Punching Bag, Hoodie
Last Update
May, 2023
Body Measurements
Nicolas Dalby is an athletically toned man with fair skin and deep dark brown hair. He has an eye color similar to his hair and a well-trimmed beard.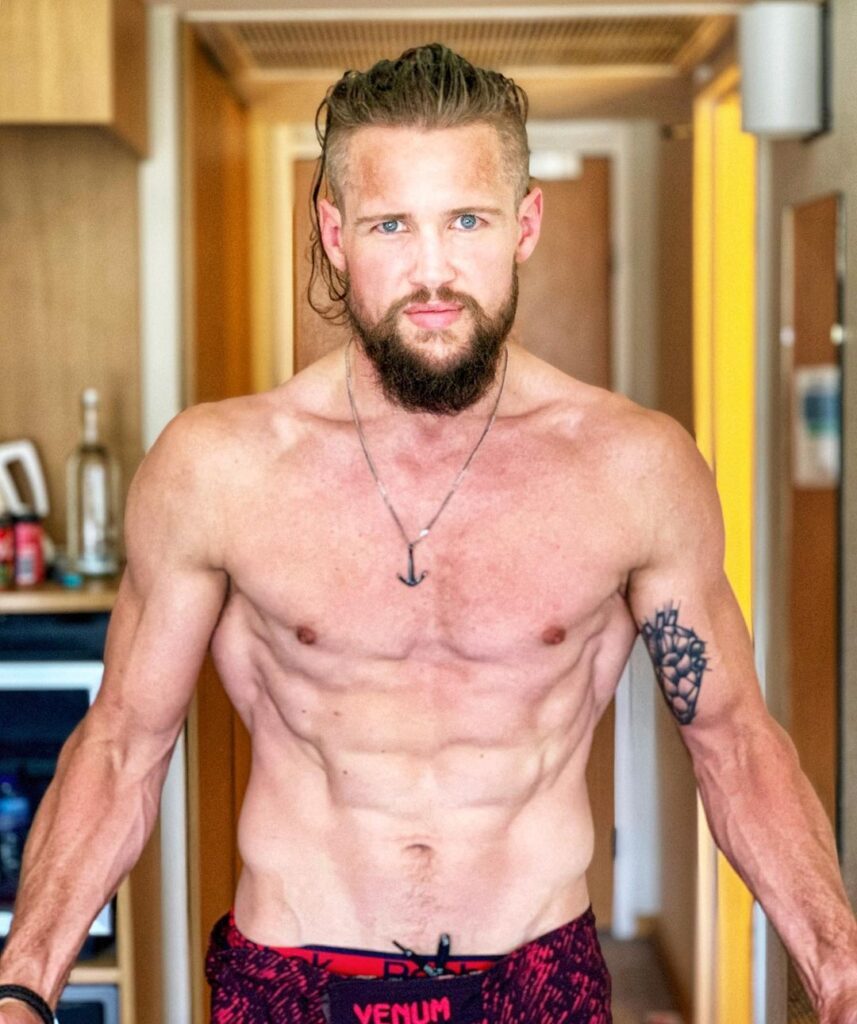 Furthermore, he stands at 5 feet 11 inches (1.80 meters) while weighing 170 lb (77 kg).
Nicolas Dalby | Early Life
Dalby (fully named Nicolas Lyngh Dalby) was born on November 16, 1984, in Silkeborg, Denmark, under the star sign of Sagittarius. Unfortunately, there are no details regarding his familial, educational, and childhood background.
Professional Career
Nicolas Dalby initially started in the fighting arena as a teen. At first, he learned karate to defend himself against the bullies. During those days, he moved from Sønderborg to Copenhagen.
Following it, he entered training in Rumble Sports after five years journey in karate. As an amateur in the field, Nicolas Dalby fought five matches. Among those fights, he lost a single match via decision but won every single of them.
Hence, Nicolas Dalby marked his name as one of the most feared strikers in Europe after many brutal knockouts.
Cage Warriors Fighting Championship
In 2014, Nicolas Dalby debuted in the Cage Warriors, and there, he bagged two victories under his name. Among these two wins, one of them was against Sergei Churilov through the knockout.
As a fun fact, this win earned him the title of CWFC Welterweight Championship, and even defeated it before entering the UFC.
Follow the Details on the Top 20 Richest MMA Fighters in the World Right Now!
Ultimate Fighting Championship (UFC)
On May 30, 2015, Nicolas Dalby made his promotional debut at UFC Fight Night 67. He fought against Elizeu Zaleski dos Santos and won through the split decisions.
Following it, his next match bought him his foremost draw on October 24, 2015. Back then, he appeared against Darren Till at UFC Fight Night 76. As they closed the match with a majority draw, they both gained the fight of the Night honors.
Later, on March 2, 2016, Nicolas Dalby faced Zak Cummings at UFC Fight Night 86 and lost it by unanimous decision. Almost six months later, on September 3, 2016, he then fought against Peter Sobotta at UFC Fight Night 93.
It became his last match at the UFC, which he collected as a loss by unanimous decision.
Mental Health Issues
As Nicolas Dalby's career flourished, his mental health commenced deteriorating. With the continuous two-streak loss, the promotion released him from the matches.
During those tenures, Nicolas also battled depression which took a turn to grow as alcoholism. Hence, he later admitted that those resulted in him having apathy and hurtful behavior towards the people.
However, his family and the people around him did help him move from his condition.
"For a while, I made it work, but as my mental health deteriorated, it was difficult to keep it up in the cage as well because it's a very demanding sport, physically and mentally as well. I've gone through this, and now, I actually trust in myself; I have self-confidence."
-Nicolas Dalby
Return to UFC
Nearly after two years, the UfC re-signed Nicolas Dalby in mid-2019. Then, he made his return debut on September 28, 2019, at UFC on ESPN+ 18. Well, he won this match against Alex Oliveira via unanimous decision.
After his successful comeback, everyone was eager for his next match on March 21, 2020. Additionally, it was set for the UFC Fight Night: Woodley vs. Edwards against Danny Roberts.
You might be interested to learn about Alexander Volkanovski's bio, career, personal life, and much more!
However, they had to postpone the fight till July 26, 2020, at UFC on ESPN 14 due to the novel coronavirus. Even after the rescheduling, Danny Roberts couldn't make it there due to his injury; in addition to that, Jesse Ronson replaced him in the match.
At first, Jesse bagged the match with a rear-naked choke in the first round. Later, they ended the match in no contest after USADA handed Jesse a 22-month suspension for testing positive for Metandienone.
Similarly, his next fight with Orion Cosce also got replaced by Daniel Rodriguez when Orion pulled out of the match for undisclosed reasons. Nicolas won this match held on November 21, 2020, at UFC 255 by unanimous decision.
As for his recent fight, Nicolas Dalby fought against Tim Means after Sergey Khandozhko pulled out due to his injury. This match was held on June 26, 2021, at UFC Fight Night 190, and Nicolas lost the match through unanimous decision.
Nicolas Dalby | Achievements
Fighting out of Copenhagen, Denmark, in the Welterweight division, Nicolas Dalby had fought 26 MMA matches in total. Among them, he has 19 wins (six by knockouts, four by submissions, and nine by decisions).
Click to read about Geoff Neal's career, health, personal life, and earnings!
Moving on, he has four losses (all four by decisions), two no-contests, and one draw. Likewise, below are some of his highlighted achievements and awards to date.
MMA Knockout of the Year (2014)
The comeback of the Year in MMA (2015)
Comeback Fighter of the Year (2019)
FG Welterweight Championship (One time)
One successful Fighter Gala title defense
EMMA Welterweight Championship (One time)
Interim CWFC Welterweight Championship (One time)
CWFC Welterweight Championship (One time) and One successful title defense
UFC Fight of the Night (One time)
Nicolas Dalby | Net Worth
Nicolas Dalby currently maintains a net worth of around $1 million, and yes, his MMA career is his primary source of income. Glancing back, he gained $20,000 for his UFC debut match at UFC Fight Night: Condit vs. Alves.
Similarly, his second fight earned him $12500. Later, he gained $14500 from both the matches at UFC Fight Night: Rothwell vs. dos Santos and UFC Fight Night: Arlovski vs. Barnett.
Altogether, he has at least a four-digit figure in earnings on each event. Not to mention, he also has his own brand deals and sponsorships.
Read in-depth about the top ten best UFC fights of all time!
Nicolas Dalby | Personal Life
At present, Nicolas Dalby is a married man. He is not only a fighter but a husband and a father to his family. Well, he has created a small family with his long-time life partner, Dzifa Adjo Akpalu.
The duo has been together since 2015, and not long after, they got engaged. Following it, the duo had their first child, a daughter named Caya Dalby, on October 7, 2018.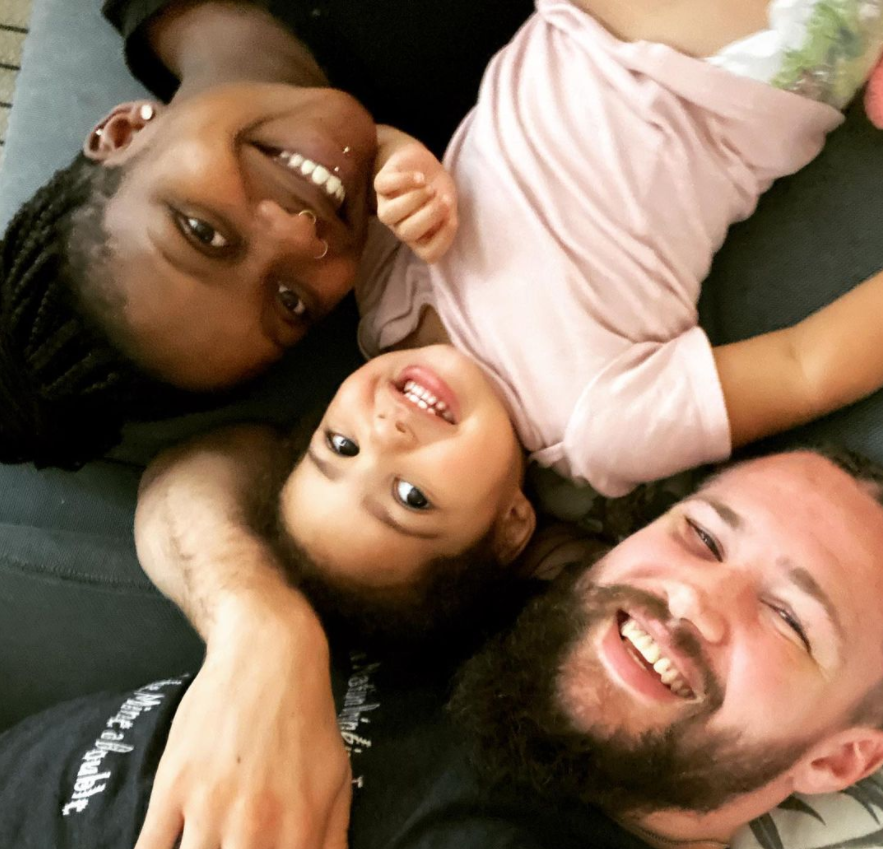 Well, he had announced his child and his wife's pregnancy through his Instagram account. Later in August 2020, the duo took their vows. Their wedding took in a minimal manner.
Nicolas was clad in a black suit with a black bowtie, while Dzifa wore a white embroidered mermaid gown. As an additional fun fact, Nicolas' wife, Dzifa Adjo Akpalu, is a Ghanaian registered nurse.
Social Media
If you are interested in going through Nicolas Dalby's personal uploads and posts, check out his social media sites. He is on Instagram as Nicolas Dalby (@dalbymma) with 25.9k followers as of 2021.
Likewise, he is on Twitter as Nicolas "Danish Dynamite" Dalby (@DalbyMMA) with 6.6k followers.
Frequently Asked Questions (FAQs)
How much is Nicolas Dalby's reach? Does he have a tattoo?
Dalby has a reach of 74.5 inches (1.89 meters). Yes, he does have a tattoo on his back. In fact, the ink has covered his back.
What are Nicolas Dalby's amateur and kickboxing statistics like?
Nicolas Dalby has played only a single match in kickboxing which was his win. As for his amateur career statistic, Dalby had played five games in total.
Among them, four of them were wins (three by Knockout) and had a single loss.