Skateboarding is a recreational activity, an art of business, a method of transportation, and an entertainment industry job.
Big names like Tony Hawks have caught the American market like storm. Similarly, one of the renowned names in street skateboarding is Paul Rodriguez.
Paul is full of talents; not only is he a professional skater, but he is also an actor, rapper, and recording artist.
Likewise, he has gained fame and success in all the fields he works in. Talking about Paul Rodriguez is highly enthusiastic and a free-spirited skateboarder.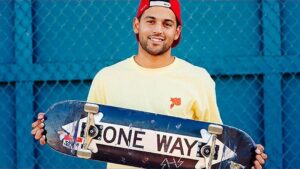 Unlike other skateboarders, his form remains flexible. What captures the eyes of his audience is his complicated yet eye-pleasing stunts.
This has got him 8 medals in the X Games, of which 4 are gold medals, 3 silver, and a bronze.
In his two decades of skateboarding, Paul has successfully grabbed dozens of sponsorships.
Undoubtedly, this has added a lot to his fortune. Today, we dive into the life of Paul Rodriguez. But first, let us have an instant glance at the quick facts.
Quick Facts:
Name
Paul Martin Rodriguez Jr.
Birthplace
Tarzana, California, United States
Birthdate
December 31, 1984
Age
38 years old
Nationality

American

Ethnicity

Mexican-American

Religion

Christianity
Father's Name
Paul Rodriguez
Mother's Name
Laura Martinez
Siblings

Lucas Rodriguez

Education

Birmingham High School
Profession
Street Skateboarder, Actor, Rapper, Recording artist
Nickname
P-Rod
Height
5'8″ (1.73 m)
Weight

72 kg (162 lb)

Hair Color
Black
Eye Color
Light Brown
Shoe Size
Unknown

Zodiac Sign
Capricorn
Net worth
$6 million
Achievement
Rookie of the Year (2002)
Winner- Street League Skateboarding- Stop 3
Silver Medal- 2013 Barcelona Street League
Winner- Street League Skateboarding- Stop 5
Winner- Street League Skateboarding (2016)
Salary
$300,000
Started Career

2002
Medals
X Games- 8 (4 gold, 3 silver, 1 bronze)

Sexual Orientation

Straight

Marital status

Unmarried

Girlfriend

Rachel Metz
Children

Heaven Rodriguez

Manager
Cric Wallace
Sponsors
Nike Skateboarding, Target, Nixon Watches, Glassy Sunhaters, etc.
Merch
Me, Myself & I(Documentary), Tech Deck
Social Media

Instagram, Twitter
Last Update

May, 2023
Paul Rodriguez | Early Life, Family, and Education
Paul Martin Rodriguez Jr., popular as Paul Rodriguez, was born on December 31, 1984, in Tarzana, California, United States.
Born to Rodriguez Paul Sr. (Father) and Laura Martinez (mother), he came from a well-off family.
Likewise, the skater's Father is a renowned actor/ comedian, and his mother is a housewife. While their Father was busy shooting, she used to take care of the children and home.
Undoubtedly, Paul had a lavish life. Likewise, as a kid, Paul occasionally got to meet celebrities.
Similarly, when Rodriguez was 11 years old, friends from school gave him the name "P-Rod."
An early fascination with the skateboard
As an introvert as a kid, Rodriguez didn't interact much with anyone. However, his life turned completely after receiving his first skateboard as a Christmas gift at 12.
Since all of his friends were skaters' heads, Paul was thankful and fascinated after getting one himself.

As a kid, he would always wonder how skateboarders kept their feet to their boards and how they could flip.
Interestingly, Paul slept with his skateboard as a child and even slept with his SLS (Street League Skateboarding) trophy.
Kevin Durant's Net Worth | All about his money!
Paul Rodriguez | Career
As we all know, certified skateboarder Paul grew interested in skateboarding from his school days. However, he was 14 years old when Paul started his career professionally.
Initially, Paul was recruited by a local skateboard shop, "One eighteen," with Andy Netkin, 19, at that time.
Talking about Paul's recruiting story, Paul was too shy that he couldn't even send his "sponsor me" video.
As a result, Paul requested his friend to submit his videotape to Netkin. Upon seeing his video, Netkin immediately offered Rodriguez a place in the store team.
Netkin always knew what Paul's capabilities were and even used to call Paul a superstar. Soon after joining the store team, Paul got a chance to join DNA Skateboards.
Nonetheless, DNA skateboards were Paul's first Company sponsor, and Paul even appeared in the Microanalysis video of 1999.
City Stars
In 2000, career Campbell picked P-Rod to be a part of the City Stars. In this way, Paul became a part of the City Stars team.
Even though Rodriguez was an amateur, he got featured in the Company video "Street Cinema." However, these kinds of honors were reserved for legendary skaters only.
City stars were planning to release a Skateboard design on the grill of a Mercedes Benz featuring Paul. But Paul's departure from Stars canceled the entire product.
Girl
In 2002, Paul was featured in the Transworld Skateboarding video. This video featured talented skaters who were at the beginning of their careers.
While Paul was associated with girls, he achieved professional status in 2002. Similarly, Paul was asked by Eric Koston to join the team.
Paul was with a girl for 3 years, and these were the best days of his life. Also, the American skater got various opportunities and enhanced his personality.
Departure from Plan B
After Girls, Paul joins the relaunched skateboard deck brand, Plan B, under the sponsorship of Danny Way and Colin Mckay.
Likewise, Paul was with Girl for three years, and this was the best day of his life because Paul got various opportunities, and he even enhanced his skills and personality.
Paul loved stars because he had many good memories with them, which is why he didn't want them to spend their money to print up his board, and just before the production, he told Stars that he was leaving.
In 2010, Rodriguez released a solo Plan B video part, namely Me, Myself, and I. This video became the talk of all skateboard communities worldwide for a prolonged period.
Since Paul wanted to explore himself more and try something new, he had to leave the team.
Adamn Vinatieri talks about his retirement on the Pat McAfee show!
Life Series
Paul has a series of his own 'LIFE,' based on his real-life story. Paul made this series in collaboration with network A media.
The first episode, 'Family First,' is about his love for family. In this episode, Paul revisits his grandma's home following her Cancer diagnosis.
Likewise, this is a six-part series available on youtube on Steve Berra Company's YouTube channel.
Paul Rodriguez | Net Worth & Income
No wonder Paul has earned a good amount of money. Likewise, he has worked hard all his life to be where he is today million.
Paul Rodriguez has the estimated net worth of $8 million.
Similarly, he earns around $300,000 a year. The other thing that adds up to his fortune is his brand endorsements.
Paul has even worked on various video projects such as TV shows, films, and videos. He earns an outstanding amount of money from them as well.
Endorsement Deals
Likewise, apart from his brand deals and videos, the pro skater sells his signature skateboard and apparel.
Paul is the first Skateboarder to be endorsed by Nike officially. Apart from Nike, Paul has endorsed Villager Goods, Nixon, Markisa, Glassy Eyewear, and Andale Bearings.
Similarly, he lives a luxurious life. Paul's Los Angeles House is like a skating playground covered with ramps. This is a House where he quarantined himself during the COVID-19 pandemic.
Paul has 300 pairs of shoes, which various people have gifted him over the years.
He started his own Company
Paul is also an investor or the owner of the skateboard brand Primitive, which focuses on retail outlets, apparel, and skateboard deck Company.
Similarly, he has also invested in Markisa, which focuses on wallets and accessories.
Paul Rodriguez | Age, Height & Body Measurement
At the time of writing, Paul is 38 years old. Likewise, he is also into stuff that would make him a better person.
Similarly, Paul is a Mexican-American, and he is a Christian. His whole family turned to catholicism after his Father decided to adapt to that religion.
He even has a great height; at 5 feet 8 inches tall, Paul weighs around 72 kg. Similarly, he has beautiful brown eyes and dark black hair.
As per his birth chart horoscope, Paul is a Capricorn. People with this zodiac sign are usually deter, goal-oriented and motivated.
Undoubtedly, Rodriguez is one determined and goal-oriented person. If it weren't for his hard work and dedication, he wouldn't have been in the place where he is today.
Paul Rodriguez | Personal Life, Girlfriend & Daughter
Paul loves his family, and he is a family man. When Paul is not working, he is always with his family.
Talking about his personal life, Paul has a child named Heaven Rodriguez from his ex-girlfriend Rainbow Alexandra. Likewise, Paul and Rachel shared great moments.
However, their relationship couldn't last for a longer period due to differences of opinion.
However, Paul loves his child and is often spotted with Heaven occasionally.
Currently, Paul is single after he broke up with his long-term girlfriend, Rachel Metz, in 2020.
For now, Paul is focusing on his daughter and his career. Apart from that, his parents are also helping him to take care of his daughter.
You might be interested in reading: <<Stephen Curry Net Worth | Endorsements, Earnings & More>>
Social Media Presence:
Paul is active on social media. Similarly, during the COVID-19 pandemic, he shared many videos of him doing skateboarding, workouts, and many more.
Talking about his followers, Paul has 1.2 million Instagram followers. Likewise, he has 437k Twitter followers.
Some FAQs:
Is Paul Rodriguez a Mexican?
Paul is a Mexican-American. He shares the DNA of both countries.
What happened to Paul Rodriguez's knee?
Paul Rodriguez suffered a major knee injury in the 2018 season. He tore his MCL, ACL, and meniscus all at once.
What board size does Paul Rodriguez ride?
According to sources, Paul Rodriguez mostly rides boards 8.12″ wide x 31.5″ long.
What board does Paul Rodriguez ride?
Paul Rodriguez is mostly seen riding Plan B Skateboards. Plan B Skateboards is a skateboarding Company based in San Diego, California.