Pilar Sanders is an American fitness trainer, model, actor, and producer. She is the ex-wife of the American athlete, sports analyst, and football coach, Deion Sanders. Similarly, Irene Marie and Ford Models, among others, represented her in the fashion industry.
She started modeling when she was in her senior year of high school.
Pilar then pursued acting and production as a way to further her career. The Mod Squad, Streets of Blood, and Percentage are among her most well-known works.
On the other hand, her ex-husband Deion Luwynn Sanders is an athlete, sports analyst, and football coach from the United States.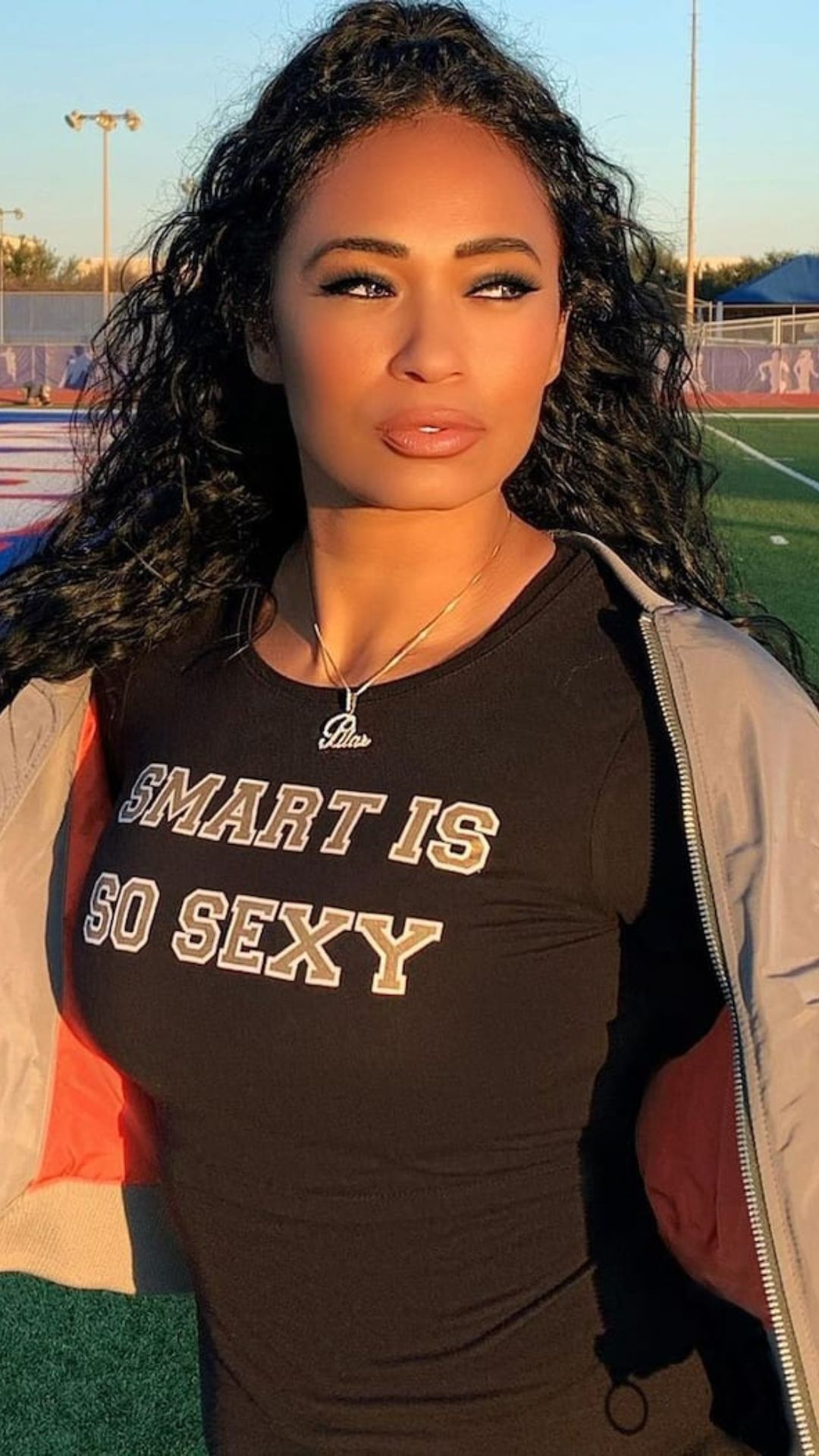 Sanders is the head football coach at Jackson State University and is frequently regarded as one of the most talented NFL players.
Similarly, he was a member of the Atlanta Falcons, San Francisco 49ers, Dallas Cowboys, Washington Redskins, and Baltimore Ravens during his 14-year National Football League (NFL) career.
Let's learn more about the stunning Pilar Sanders starting with some interesting quick facts.
Quick Facts
Full name
Pilar Biggers-Sanders
Nickname
Pilar Biggers, Pilar Biggers-Sanders, Miss P, P-Love, Pilar Biggers Sanders Love El-Dey
Birthdate
October 10, 1974
Birthplace
Elmira, New York, United States
Residence
Elmira, New York
Nationality
American
Ethnicity
Multiracial
Religion
Unknown
Horoscope
Libra
Age
48 years old
Father's name
Dan Biggers
Mother's name
Jeanette Biggers
Sibling
One brother and one sister
Sibling Name

Scottie Biggers
Kandie Biggers

High School
Unknown
College
Unknown
Height
5'9″ (1.75 meters)
Weight
130 lbs (59 kgs)
Body Measurement
Chest Measurement: 35 inches

Waist Measurement: 24 inches

Hips Measurement: 35

Hair Color
Black
Eye Color
Dark Brown
Tattoo
Not Available
Sexual Orientation
Straight
Dating History
Unknown
Marital Status
Divorced (1999–2013)
Ex-Husband
Deion Sanders
No of Children
Two sons and one daughter
Name of Children

Shelomi Sanders (Daughter)
Shedeur Sanders (Sons)
Shilo Sanders (Son)

Profession
Actress, Producer, Model
Movies

Percentage (2014)
Streets of Blood (2009)
The Mod Squad (1999)

TV Shows

Football Wives (2010)
Deion and Pilar: Prime Time Love (2008)
In Da House (1998)
Veronica's Closet (1999)
Walker, Texas Ranger (1997)

Hobbies
Unknown
Favorite Food
Unknown
Salary
Not Available
Net Worth
$5 Million
Social Media
Instagram, Twitter
Deion Sanders's Merch
Football Trading Card
Last Update
April, 2023
Early Life & Education
On October 10, 1974, Pilar Sanders was born in Elmira, New York, to Jeanette and Dan Bigger.
Similarly, Pilar is proud of the African-American heritage she inherited from her parents. Sanders's parents raised her and her two siblings, Scottie Bigger and Candy Biggers.
Also, little is known about her early life and family background. Her education is not yet available, but she knew she had a great interest in acting from her youth and did not hesitate to pursue this passion.
Career
In high school, Sanders was successful as a model with fashion agencies Irene Marie and Ford Models.
Later, Sanders turned her attention to acting by appearing in popular TV series such as Walker, The Texas Ranger, The Jamie Foxx Show, Veronica's Cabinet, and In the House LL Cool J, where she met Deion Sanders in the mid-1990s.
In her mid-twenties, she began her acting career with a small role in the 1999 film The Mod Squad.
This was soon followed by other film credits, including Streets of Bloods (2009) and Percentage (2014), both of which she produced.
Similarly, Pilar Sanders appeared on the small screen in the reality shows Deion & Pilar: Prime Time Love and Football Wives.
As a result, these shows gave her the recognition she deserved as a talented actor.
In addition to being a devoted mother, Sanders co-founded Prime Time Achievers, a summer camp for children.
Later, she founded the Essence of Beshalom, a foundation that helps young girls gain self-confidence.
Works
Movies
Percentage (2014)
Streets of Blood (2009)
The Mod Squad (1999)
Shows
Football Wives (2010)
Deion and Pilar: Prime Time Love (2008)
In Da House (1998)
Veronica's Closet (1999)
Walker, Texas Ranger (1997)
Who Is The Ex-Husband Of Pilar Sanders?
The professional football and basketball player Deion Sanders is the ex-husband of the superstar Pilar Sanders.
Born on August 9, 1967, and raised in Fort Myers, Florida, he began playing organized baseball and football at eight.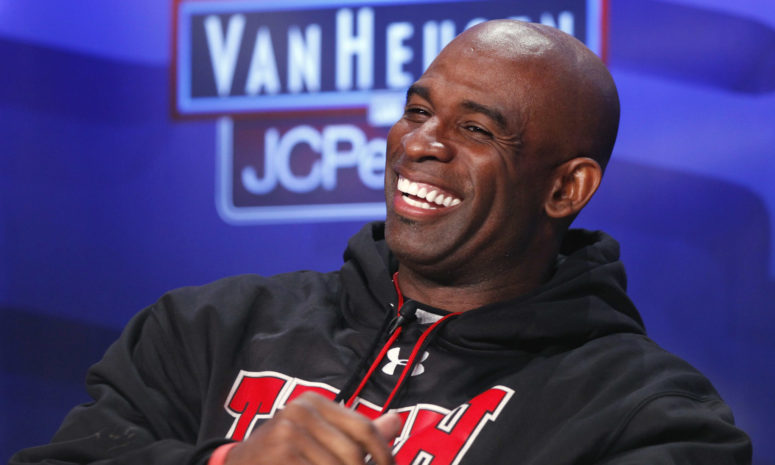 Sanders was an all-state athlete at North Fort Myers High School in football, baseball, and basketball.
Similarly, as one of the most electrifying athletes to ever play sports, Deion Sanders signed with the New York Yankees after being drafted by the Falcons in the 1989 NFL draft.
He was the only athlete to hit a home run and score a touchdown while playing for both teams in the same seven-day span.
The NFL player is also the only athlete to have competed in both the World Series and the Super Bowl.
Professional Career | Deion Sanders
Sanders signed with the New York Yankees, playing outfield for the team's Triple-A affiliate in Columbus, Ohio, during the summer of 1989.
Similarly, Sanders and the Falcons agreed on a four-year, $4.4 million contract the following week, following a protracted contract negotiation period.
After five seasons with the Falcons, Sanders signed a one-year contract with the 49ers in 1994.
His time in San Francisco, on the other hand, was brief. He agreed to terms with the Dallas Cowboys on a new seven-year, $35 million contract during the offseason.
Similarly, Sanders led his team to the Super Bowl as he had done the year before with the 49ers.
Later, Sanders signed a new contract with the Washington Redskins after being released by the Cowboys in 2000.
Pilar Sanders And Deion Sanders: Marriage And Divorce
Pilar met Deion Sanders, the NFL cornerback and MLB outfielder who, in the mid-1990s, became the first to play in both the World Series and the Super Bowl.
On May 21, 1999, the couple married after falling in love. The union between Pilar and Deion resulted in three children: two boys, Shilo Sanders (born in 2001) and Sheduer Sanders (born in 2003), and a daughter, born in 2004.
When they starred in the TV reality, show Deion and Pilar: Prime Time Love in 2008, the Sanders family became the center of attention.
However, Deion filed for divorce from Pilar in 2011, citing infidelity and lies; the athlete did not inform Pilar of the divorce, and she found out about it on TMZ.
When it became clear that Deion would not back down, Pilar tried begging and making amends, but nothing worked.
The couple's 14-year marriage ended on June 28, 2013, when the divorce papers were served.
After the divorce, Deion won a brutal custody battle, but the decision was later overturned.
The well-publicized celebrity divorce turned out to be a bloodbath. Pilar was held in contempt during the custody dispute and imprisoned for seven days.
After the divorce was finalized, Deion was given full custody of all of his children. However, he purportedly provided his wife with a hefty settlement from his estimated $40 million net worth.
Children
The American multi-talented personality, Pilar Sanders, is a mother of three lovely children.
Shilo, born in 2001, and Shedeur, born in 2003, are the two boys, while Shelomi, born in 2004, is the daughter.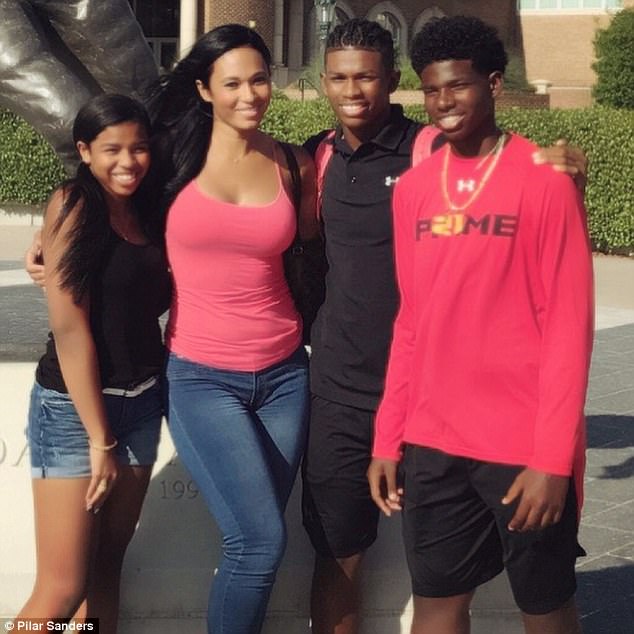 After the divorce, she was given primary custody of Shilo's eldest son, Shelomi, but was seeking complete control of the other son, Shedur.
Similarly, Shilo, 19, took to Instagram to express his joy after his mother was given full custody of him.
Sanders stated that he had always longed to live with his mother and expressed gratitude to the judges for finally realizing the truth and placing him in a healthy and loving home.
Affairs & Relationships
After her divorce from Deion Sanders, she moved on and dated James Prince, a.k.a. J. Prince, the CEO of Rap-a-Lot Records.
Similarly, the pair appears to be in a pleasant, stable relationship with no symptoms of disintegration.
However, in 2016, Sanders and Odell Beckham were speculated to be having an affair after being photographed together at a Drake performance.
In addition, they were seen together on vacation to Paris, where they attended the same concert.
However, later Pilar announced her relationship with J. Prince, the CEO of Rap-A-Lot Records, in 2019.
As a result, Pilar took a chance on Instagram over the weekend to announce her engagement to J. Prince.
She also flaunted a massive diamond engagement ring and a matching diamond necklace and tiara in photos and videos.
Net Worth
Pilar Sanders is a $5 million model, actress, and fitness coach from the United States.
The actress has had a long and fruitful career and has no plans to slow down anytime soon.
Similarly, Pilar petitioned the court with a $24,000 monthly child support demand following her divorce from Deion Sanders and her successful custody takeover of the children.
They eventually agreed on the sum to be paid privately, so the exact amount is unknown.
Likewise, Sanders has accumulated a net worth of $5 million from her numerous endeavors as a model, actress, and fitness coach.
Search Graph Of Pilar Sanders
The popularity graph of Pilar Sanders shows that people in considerate amount search for her.
Social Media Presence
The American fitness trainer, Pilar Sanders, is active on her social media sites. Pilar's Instagram is filled with posts about her children's achievements and her different activities.
Seeing her children's posts gives the viewers the idea of how much she loves and adores her children.
Similarly, one can click below to follow her and get updated about her daily activities.
Instagram: 133K followers with 1265 followings
Twitter: 2133 followers with 699 followings
Facts
Pilar Sanders has a staggering $5 million in net worth.
She sought divorce as a result of the family's constant abuse.
The pair divorced in 2013, following their separation in 2012.
In contrast, Pilar received a seven-day prison sentence in 2014 for failing to give Deion the children back; Deion has subsequently sued Pilar for defamation over her child abuse claims.
FAQs
Did Pilar and Deion have charity?
Pilar and Deion launched the Sanders Claus charity in 2009 while things were going well. The main goal was to give opportunities to underprivileged children in Dallas/Fort Worth.
Did Deion Sanders get into a relationship before his divorce from Pilar?
Yes, he had an affair with Tracey Edmonds, the actor, and comedian Eddie Murphy's ex-girlfriend, before her divorce from Deion was formalized.