The rudest and discourteous tennis players, who often lose their calm on the court, are infamous for their anger and other nasty behaviors. While most players maintain their etiquette and sportsmanship, a few others can get cheeky and make it unpleasant. This article will list the top 13 rudest tennis players of all time.
The players showing rude and controversial actions after letting emotions run them is common in tennis, like other sports.
There is a fair list of incidents when players lose their cool and do things they regret later.
However, some of the players have repeatedly shown unsportsmanlike actions and comments, earning the reputation of the rudest player.
Top 13 Rude Tennis Players
If you are interested in finding out who is the rudest tennis player of all time, stick with us till the end. If you think some other players deserve to be on this list, mention their names in the comment section.
13. Adrian Mannarino
Nationality: French
Career titles: 1
Status: Active
Adrain Mannarino is not so popular on the tennis circuit. Due to his controversial and rude moments over the years, tennis fans do not love the player.
During 2017 Wimbledon, he crashed into a ball boy. Later, rather than apologizing, he joked about the incident, which led to a £7,000 fine.
It's not his first such incident with the ball boys. In the past, he once kicked the ball boy in the neck repeatedly; he deliberately threw his racket near a boy.
Likewise, he criticized the inaugural New York Open, saying without his girlfriend, he would have killed himself due to the remote location of the tournament.
12. Viktor Troicki
Nationality: Serbian
Career titles: 3
Status: Retired
In tennis, getting emotional during an intense battle is normal, and it isn't easy to control them sometimes. However, as being professional, it's an obligation to.
But, during the 2016 Wimbledon, Viktor Troicki made headlines for his bold actions.
When Damiano Torella, Italian umpire, rewarded ace to Albert Ramos Vinolas, he exploded.
Firstly, he snatched the ball from the ball boy's hand and later confronted the Italian. He also questioned his umpiring, calling him evil and the worst in the world.
After losing the match, he refused to shake hands with his opponent and resumed his heated confrontation with the umpire.
Besides, he is well-known for serving a one-year ban due to an anti-doping rule violation after missing a blood test in 2012.
11. Ernests Gulbis
Nationality: Latvian
Career titles: 6
Status: Active
Ernests Gulbis earned a nickname as a wild child of tennis for becoming the controversial and rude player he is today.
Once considered a highly talented player, he is now well known for his comments and attitudes.
Once, he claimed that interviews with players like Nadal, Djokovic, Federer, and Murray were too dull due to their polite fashion.
Likewise, in 2014, he mentioned women should not pursue their careers towards becoming professional tennis players.
He also said he doesn't want his sister to play tennis professionally.
Furthermore, in one interview, he said men's tennis has more bitchiness than women's tennis.
Other than that, he has many incidents of breaking rackets and confronting and cursing the umpires.
10. Martina Hingis
Nationality: Swiss
Career titles: 43
Status: Retired
One of the surprising names on the rude tennis player list is the 2013 International Tennis Hall of Fame inductee Martina Hingis.
Moreover, she is considered one of the greatest female tennis players ever. During the 1990s, she became the youngest Grand slam champion and world number 1.
However, even after attaining so much success in tennis, Martiana is no stranger to tennis controversy. Famous controversial statements made by Hingis came in 2001 when she told Time Magazine being black has helped Willaims sister.
She also said they are getting sponsors and advantages due to their skin color.
Later, Hingis also told Matchball magazine that playing with Serena Willaims felt like playing against a steamroller.
Likewise, in the 1999 Wimbledon press conference, she called her former double partner Jana Novotna, a 4-time Wimbledon champion, old and slow.
9. Andy Roddick
Nationality: American
Career titles: 32
Status: Retired
Andy Roddick is the last male American tennis player to win the Grand Slam title. He also has reached the finals of all major championships.
Fans mostly know him for his lethal service, which made him difficult to beat. However, besides his fantastic gameplay, Roddick is also known for his temper.
Moreover, Roddick rarely left the tennis court without saying a thing to his opponent or the umpire.
One of his famous rude incidents happened in the 2010 US Open when Roddick joked about the chair umpire saying "1800 rent-a-ref" for making a foot fault call.
Likewise, in the Mutta Madrid Open in 2011, he lost 2-0 against Cipolla; he furiously smashed his racket after giving away easy points.
Later, after being found umpire had not warned him, Roddick again smashed his racket.
8. Lleyton Hewitt
Nationality: Australian
Career titles: 30
Status: Retired
Lleyton Hewitt is the first of many Australians to be featured in our rude tennis player list.
He is one of the well-known players whose accomplishment is overshadowed by his attitude and controversies.
One of his famous rude moments happened in the 2001 US Open. He was playing with James Blake.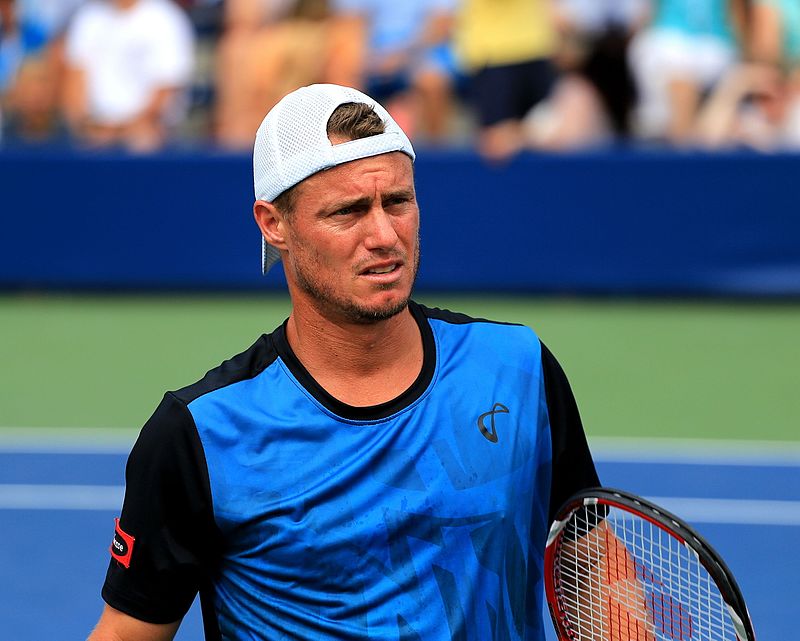 During the match, a black linesman called foot-fault on him twice. Later, he accused the linesman of calling faults against him due to his skin color.
Likewise, French Open Hewitt called the chair umpire Andre England net judge spastics in the same year.
Similarly, in 2002 Wimbledon, he was fined $1000 for his unsportsmanlike actions.
In the match against Robin Hasse, he got mad after the chair umpire called multiple foot faults.
So, he smashed the racket and tapped the ball in the line judge's direction. In the press conference, also Hewitt criticized the umpire's decision.
Read Also: Top 5 tennis players you didn't know were homosexual.
7. Daniel Koellerer
Nationality: Austraian
Career titles: 0
Status: Retired
Unlike in other sports, it's rare to hear the word match-fixing in tennis. But the name of Daniel Koellerer comes to everyone's mind when match-fixing pops out.
Moreover, he is the first person to serve a lifetime ban for trying to fix matches. Under sports anti-corruption rules, he was guilty of three different violations.
So, people who loved and watched tennis were happy to see him given a lifetime ban for attempting match-fixing.
Besides that, he had already served six months of prohibition before in 2006 for his bad behavior.
Furthermore, Koellerer has many other disrespectful and rude actions in tennis.
During the 2010 ATP Challenger Tour in Italy, Brasilian Julio Silve filed charges against him for making racist remarks to ATP.
He was accused of calling Silva "monkey," saying "go back to the jungle," and doing monkey movements.
The same year, he also insulted his fellow Austrian, Stefan Koubek, during the Australian league.
6. Marinko Matosevic
Nationality: Australian
Career titles: 0
Status: Retired
Marinko Matesovic is not a famous player in terms of performance in tennis, but he is pretty famous for his rude and controversial moments.
Those who haven't watched him play, he is not the person you want to mess with.
He has tasted limited success in his senior career. However, Matesovic seems to have an attitude problem.
He earned the nickname "Mad Dog" from the audience and media. Moreover, Matosevic is not afraid of making headlines for controversial antics and statements.
In 2014, he made a controversial comment on women's tennis, saying he would never hire a female tennis coach like Andy Murray.
Likewise, the same year, even after winning the match against Nicolas Mahut, Matosevic lost his temper. He refused to do a handshake with the umpire and kicked the on-court camera.
Once, he shocked everyone when he screamed at the children who asked for his autograph in Miami while training.
5. Bernard Tomic
Nationality: Australian
Career titles: 4
Status: Active
Since his early years, Bernard Tomic has been making headlines one after another for his disciplinary actions.
In 2012 Miami Masters Tomic requested the umpire to eject his father from the stands.
In 2013 he was charged with eight months prison sentence for headbutting and breaking the nose of his hitting partner Thomas Drouet.
He also faced one year ban from ATP World Tour following his improper behavior.
During the 2015 Wimbledon press conference after losing to Djokovic, Tomic ranted against Tennis Australia for lack of respect, support, and funding.
During Channel 7's interview, he confessed to not loving tennis and mentioned he made his career with just 50% effort.
After failing to qualify for the Australian Open in 2018, he commented he only counted the cash in millions.
Likewise, in 2019 Wimbledon lost to Jo-Wilfried Tsonga. He was charged with a £45,000 fine for not fulfilling the "required professional standard."
Later, he earned the nickname Tomic the Tank Engine for his lack of effort in winning the match.
Tomic's comments and actions seem like he does not respect tennis and only cares about the money he makes rather than the sport.
4. Jimmy Connors
Nationality: American
Career titles: 109
Status: Retired
Jimmy Connors was one of the greatest tennis players who always attracted his fans with excellence, toughness, and passion for the game.
To date, he still has three Open Era men's singles records that include 109 titles, 1,557 games played, and 1,274 games won.
However, his competitive side always turned him into a rage machine. He did not fear going against the umpire, spectators, or anyone who stood in his victory.
One of his famous heated moments happened in the 1991 US Open. After making a bad call, he bullied the umpire and flooded swear words toward him.
In the past, reports said that Jimmy Connors was the kind of player who might wait in the parking area to settle a score with his opponent.
3. Ilie Nastase
Nationality: Romanian
Career titles: 64
Status: Retired
Ilie Nastase was the original bad boy of tennis long before Jimmy Connors and John McEnroe came to the scene.
He earned the nickname "Nasty" for his rude and impertinent actions on and off the court.
Mocking, swearing, and raging were common when Nastase played. Fans were even annoyed with his constant violent actions and words.
After retiring, Nastase faced a ban for insulting female players multiple times. Firstly he made racial comments about Serena Williams's unborn child.
Likewise, in 2017 Fed Ex Cup umpire ejected him after swearing at Great Britain players Anne Keothavong (captain) and Johanna Konta.
Also Read: Novak Djokovic Net Worth: Sponsors, House & Jet
2. John McEnroe
Nationality: American
Career titles: 77
Status: Retired
John Mc Enroe was obsessed with winning; that's not abnormal but what's abnormal was how much he hated losing.
He was pettish, acid-tongued, and showcased the entitlement attitude in many ways, never to be forgotten in tennis.
Probably he is the last player who called officials a jerk or hit a ball aiming toward the umpire.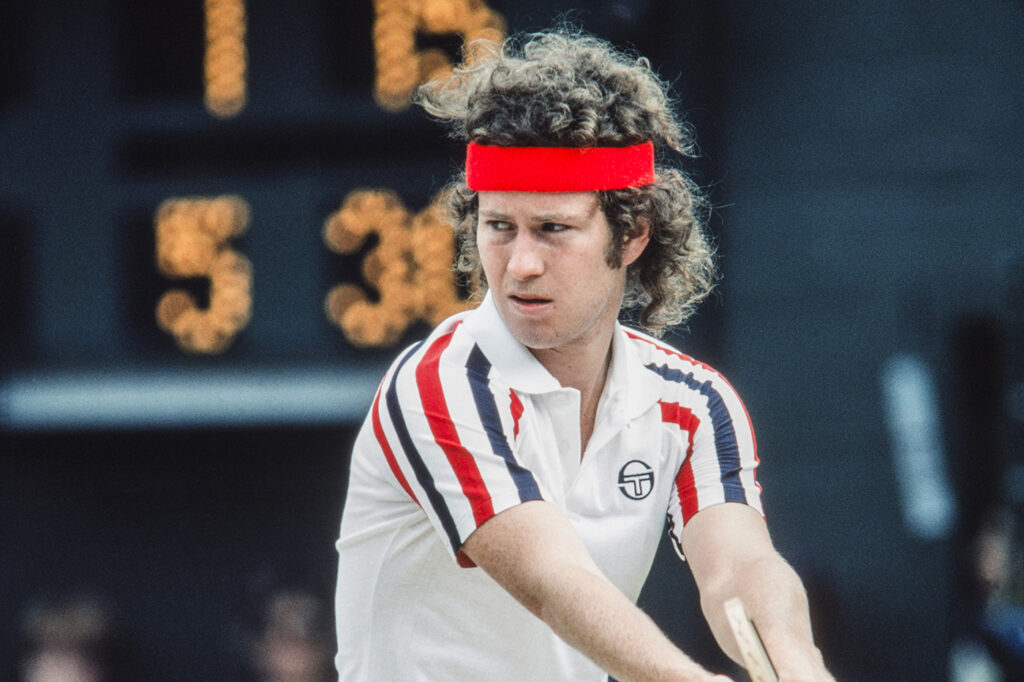 During 1981 Wimbledon, he was closed to being ejected from the match after swearing at the umpire and officials.
Moreover, the phrase "you cannot be serious" he said to the referee became one of the famous lines in tennis history. Later, he earned the nickname "SuperBrat" from Daily Express.
In 1990, McEnroe got ejected from the Australian Open after swearing to match officials during his fourth-round tie.
He smashed uncountable rackets back in his playing days, paid hefty fines, and served bans several times for his rude behavior.
1. Nick Kyrgios
Nationality: Australian
Career titles: 6
Status: Active
Nick Kyrgios is considered one of the best-wasted talents in tennis history. Alongside he is known as heir to John McEnroe and Jimmy Connors for his on-court bursts.
There is probably no unsportsmanlike conduct he has not conducted. Moreover, an entire book can be written about his incidents.
He has done everything from verbally abusing fans, tanking, mocking opponents, and smashing rackets to raging against the official.
So, why Kyrgios ranks top on our rude tennis player list is not surprising.
During the 2015 Wimbledon Champions, he did not play as per his abilities after failing to return his opponent Gasquet.
Likewise, in the 2015 Rogers Cup, he made insulting comments about Stan Wawrinka'sremarkss. Later, he got six months suspension and about a $50k fine in total by ATP.
Soon after returning from suspension in 2016, he again got banned for two months and a fine of $8k for abusing fans and tanking.
Moreover, he confessed to tanking in eight tournaments in 2017. Likewise, the same year he openly cited not loving tennis after exiting from US Open.
Even John McEnroe has questioned Kyrgios' on-court behaviors and attitude several times.
Probably, in the tennis world, he arguably ranks #1 in the list of people playing fines.
Moreover, in the 2019 Cincinnati Masters, Kyrgios was slapped with a record-setting $113k fine for five different unsportsmanlike behavior.
[well, we have some excellent tennis players as well. Open the link below to find out the best tennis players!]