Sarah Nurse comes from an accomplished background, and hence, most of the time, the Nurse family is the talk of the town. However, Sarah has pinned her name on the board as one of the finest female athletes throughout the years.
Currently, she plays for the Canadian women's national ice hockey team and is known as a lethal scorer. Moreover, Sarah is also an independent member of the Professional Women's Hockey Players Association (PWHPA) today.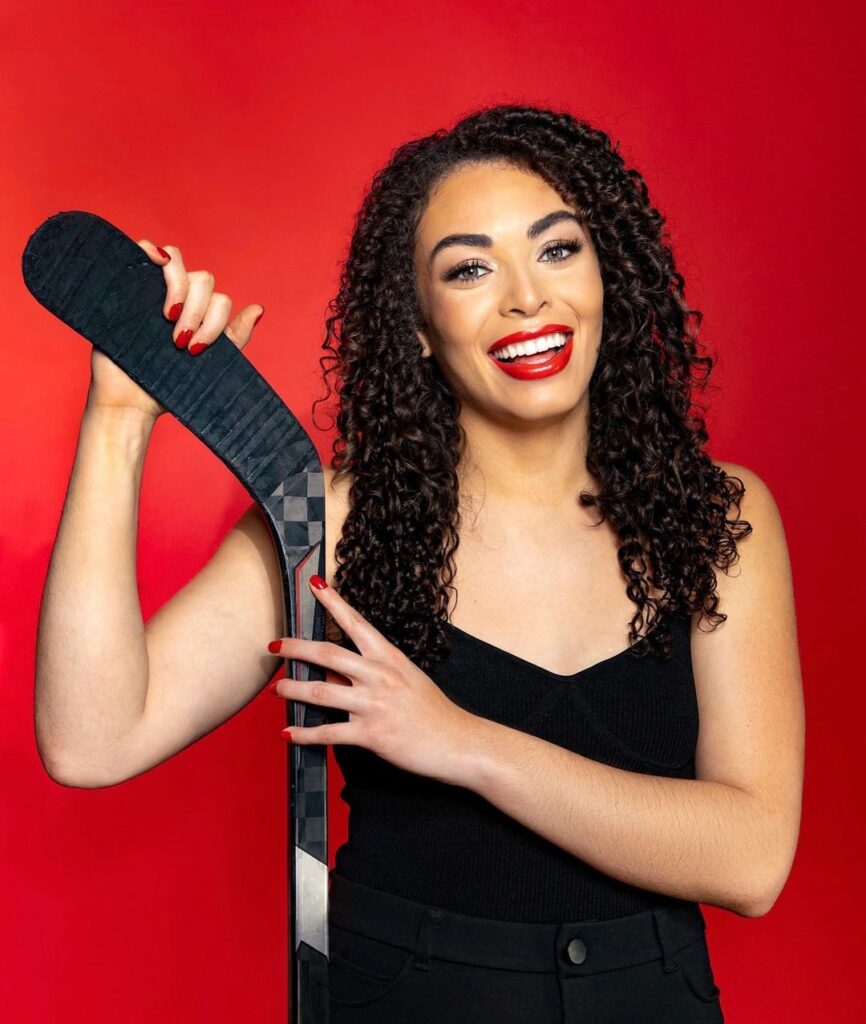 Herewith, as we dive into Sarah's playing skills, career, and the team at the moment, let us first get through a quick dose of facts.
Quick Facts
Full Name
Sarah Nurse
Date of Birth
January 4, 1995
Birth Place
Hamilton, Ontario, Canada
Nick Name
None
Religion
Unknown
Nationality
Canadian
Ethnicity
Unknown
Zodiac Sign
Capricorn
Age
28 Years Old
Height
5 feet and 9 inches (175 cm)
Weight
148 lb (67 kg)
Hair Color
Black
Eye Color
Grey
Build
Athletic
Father's Name
Roger Nurse
Mother's Name
Paul Nurse
Siblings
Brother, Issac Nurse
Cousins; Darnell Nurse and Kia Nurse
Education
University of Wisconsin
Marital Status
Unmarried
Boyfriend
None
Kids
None
Profession
Ice hockey Player
Position
Forward (Shoots: Left)
Affiliations
Independent (PWHPA Team)
Toronto Furies
Wisconsin Badgers
National Team
Canada
Playing Career
2015–present
Net Worth
Between $2-4 million
Social Media
Instagram, Twitter
Merch of Wisconsin Badgers
Unisex T-shirt
Last Update
June, 2023
Body Measurements
Sarah Nurse is a lady with an athletically toned body standing at the height of 5 feet 9 inches (1.75 meters). Furthermore, she weighs 148 lb (67 kg).
As for her physical appearance, Sarah depicts light-toned skin with dark black hair. Additionally, she has light grey eyes.
Sarah Nurse | Early Life
Sarah Nurse was born on Jan 4, 1995, in Hamilton, Ontario, Canada, under the star sign of Capricorn. She is the biracial daughter of a black father and a white mother.
In the meantime, the Nurse family is well-versed with its athletic tree. Most of the time, fans and people recognize them through just the back of the jersey. Talking about her parents, she is one of the two kids of Mrs. Paul Nurse and Mr. Roger Nurse.
Furthermore, she has a brother named Issac Nurse. At the same time, she has some famous uncles and cousins like Donovan McNabb (NFL Player), Richard Nurse (CFL Player), Kia Nurse (Basketball player), and Darnell Nurse (Basketball player).
As for her educational qualification, Srah Nurse graduated from the University of Wisconsin. Throughout the years, Sarah played several sports like basketball, volleyball, lacrosse, and even T-ball.
You might want to read about: Valerie Bure's career, earnings, awards, and many more!
Sarah Nurse | Professional Career
Passion and love for ice hockey commenced early in her childhood days for Sarah. She would often watch Women's hockey matches during her stay at her grandparents' house, and ever since, it had been her dream to start in the international arena.
Sarah Nurse has been active on the ice hockey field since her early days as a high schooler. She partook at the Ontario Women's Hockey Association (OWHA) provincials with her high school team.
Back then, Sarah bagged a silver medal alongside Stoney Creek. Right afterward, she then bagged bronze at the 2010 OFSSAA championships and again silver at OFSSAA 2011.
At the same time, she also led the Provincial Women's Hockey League (PWHL) season with her scores. Furthermore, she also earned OWHA All-Star Team, and the next season, she stood as the alternate captain with Stoney Creek.
Sarah helped the team bag bronze at the PWHL championships during her tenure. Not to mention, the duo led the season with their scores, where Sarah has 35 goals with a hattrick.
Wisconsin Badgers
After a few seasons' tenures with the PWHL, Nurse starred in the Western Collegiate Hockey Association (WCHA). She played for the Wisconsin Badgers women's ice hockey program in the NCAA Division I.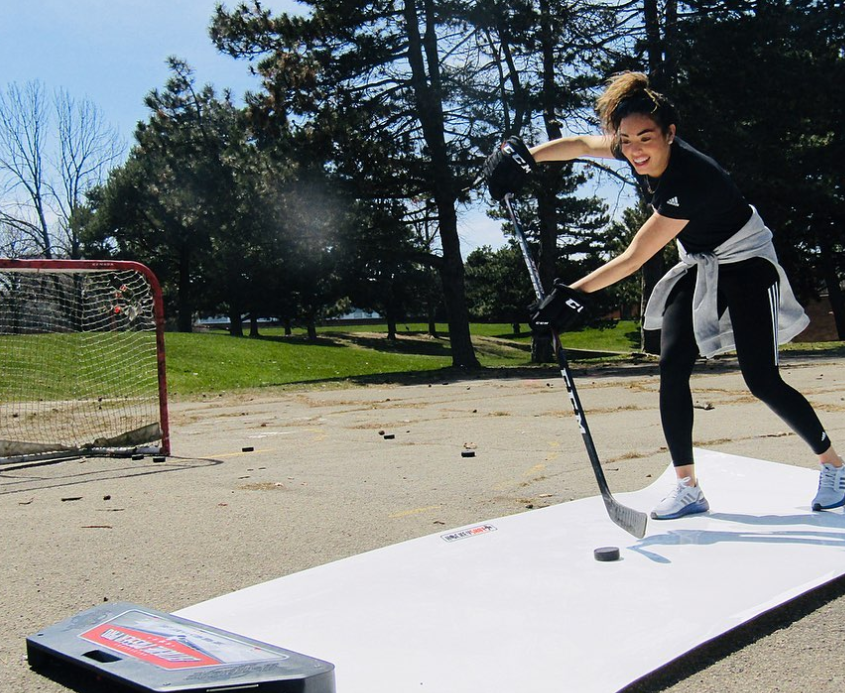 In addition to that, she commenced the season straight with two scores and a game-winning goal against Bemidji State. Following it, Sarah posted the career highlight after becoming the first player in program history to score a hattrick against Minnesota.
CWHL (Canada's Women's National Hockey League)
Sarah initially joined the CWHL through the 2018 draft with the Toronto Furies. Not long after, she posted her foremost goal in October of the same year, which was a game-winning score in the match.
PWHPA (Professional Women's Hockey Players Association)
At the moment, Sarah Nurse is an independent member of PWHPA, where she first skated in the 2021 Secret Cup for the Team Sonnet (Toronto). Later, she posted a single goal and an assist against the team Bauer.
International Arena
Sarah's foremost international experience was during the 2011 and 2012 National Women's Under-18 Championship. Alongside the Team Ontario Red, she bagged gold in 2011 and a bronze in 2012.
Following it, she was a member of the 2013 IIHF World Women's U18 Championship, as they bagged gold. Her team again bagged the gold over Finland at the 2015 4 Nations Cup a year later.
Read in detail about Dale Tallon's career, family, allegations, and more!
In 2018, Sarah Nurse played for the first Winter Olympics with her team. As the sporting event was held in Pyeongchang, South Korea, she later posted her foremost goal against the United States. Following it, she assisted her team in bagging the silver medal.
As for her recent appearance with the Canadian team, they stood in the 2020 National Hockey League All-Star Game.
Award and Achievements
All-WCHA Rookie Team (2013-14)
2015 WCHA Frozen Face-Off Most Outstanding Player
WCHA All-Tournament Team (2015)
All-WCHA Third Team (2015-16)
Second-Team All-American (2016-17)
2018 Winter Olympics (silver)
WCHA 20th Anniversary Team
Sarah Nurse | Net Worth
Unfortunately, Sarah hasn't revealed many details regarding her career earnings and net worth. However, as per the estimated value, she has a net worth of between $2-4 million.
Brands and Sponsors
Indeed, Sarah has several brand deals and sponsorships along the line. Well, for her outfits and gear, Addidas sponsors her deal.
Together with Mattel and Tim Hortons, she collaborated on two limited-edition Barbie dolls in November 2020. They prepared the Barbie dolls based on Sarah and hockey player Marie-Philip Poulin for the Barbie's You Can Be Anything program.
This program inspired girls worldwide and engaged them as role models to showcase their limitless potential.
Community Works
Sarah Nurse has spoken and stood for several causes, especially the terms regarding racism. Coming from a diverse background, she has understood and become a role model for several people out there.
Well, she has voiced the culture of racism in student athletics at the University of Wisconsin. Furthermore, she also stood during the wake of the George Floyd protests in the summer of 2020.
Back then, she made a statement for Canadians not to separate themselves as individuals in racism. Likewise, when the talks landed on the ice hockey field, Sarah has always been on top to talk an open mind in it.
Therewith, she has gained tons of interviews and offers regarding it. Additionally, she appeared in Addidas's "Ready For Change" campaign. This campaign was run to message the people of color and every lady out there.
"I have a platform, and I can reach an audience that may not be reached otherwise, that may not be reached by WNBA players or NBA players. I realized that I have kind of a responsibility to do that."
-Sarah Nurse
Follow on about Charlie Coyle's career, gameplay, family, and much more!
Sarah Nurse | Personal Life
Talking about Sarah Nurse's dating history, she has not been involved in scandals or relationship rumors. At present, our athletic lady is single, and we might even say she is focused on her career and games.
Social Media
Sarah is also not overly active on social media; however, if you wish to check out her personal uploads and posts, check out her social media sites.
She is on Instagram as Sarah Nurse (@nursey16) with 33.6k followers as of 2021. Likewise, she is on Twitter as Sarah Nurse (@nursey16) with 12.2k followers as of 2021.
Frequently Asked Questions (FAQs)
What is Sarah Nurse's jersey number?
Sarah Nurse wears jersey number 20.
What is Sarah Nurse's career statistic like?
Sarah Nurse has played 26 games in the regular season, while she has played three total games in the playoff season.
She has posted 14 goals, 12 assists, 26 points, and 16 penalties for her regular season. Likewise, she has a single goal and a single point during the playoff season.
Moving on, Sarah has played a total of 12 games at the international level. She has maintained four goals, six assists, ten points, and six penalties during that.
What did Drake say to Sarah Nurse?
Drake gave a flirty shoutout to Sarah Nurse through his social media site. After Sarah and her team won over the United States, Drake uploaded Sarah's picture with the caption reading, "Only in Canada will you find a sweeter thing that's going top cheese for a Gino."
Right after Drake uploaded the post to his Instagram story, Sarah gained 2,000 new followers on Instagram.