Steven Hunter is a well-known American former basketball player who last played for Dinamo Sassari.
Hunter played at the age of twenty as a professional player, and his basketball career is appreciated and loved by his fans.
Playing with six different basketball teams throughout his basketball career, Steven has been well acknowledged for his exceptional basketball skills.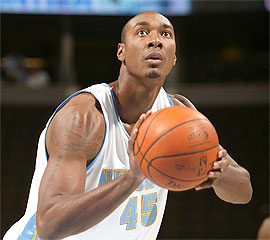 Steven is particularly successful on the break, mainly when he receives the ball on the wing, and can use his agility to convert chances.
Similarly, he can easily score on a basketball court with his quickness and ball-handling skills.
Hunter has a solid ability to play both center and power forward, resulting from his lifelong commitment to basketball.
In this article, we'll look into Steven Hunter's personal life and more, but first, here are some quick facts about him.
Quick Facts
Full Name
Steven Deon Hunter
Birth Date
October 31, 1981
Birth Place
Chicago, Illinois
Nick Name
Not Known
Religion
Christianity
Nationality
American
Ethnicity
Black
Education

Proviso East High School
DePaul University

Horoscope
Aries
Father's Name
Not Known
Mother's Name
Not Known
Siblings
A Brother
Age
41
Height
7 feet (2.13 meters)
Weight
240 pounds (109 kg)
NBA Draft
2001 / Round:1 / Pick: 15th overall
Hair Color
Black
Eye Color
Black
Career Highlights & Awards
Not Known
Build
Athlete
Marital Status
Married
Wife
Erika Hunter
Children
Blaise Hunter, Zoey Hunter, Nylaa Hunter, and Steven Hunter
Position
Center / Power Forward
Profession
Former Basketball Player
Net Worth
Around $3 million
Salary
$30,149,949
Last Plays for
Dinamo Sassari
League
NBA
Active Since
2001-2011
Social Media
Instagram, Facebook, Twitter
Merch
Trading Cards
Last Update
May, 2023
Steven Hunter| Early Life & Family
On October 31, 1981, Steven Hunter was born on the west side of Chicago, Illinois. His parents' names, on the other hand, are still unknown.
Similarly, Steven's mother has served on the Chicago Board of Education for 35 years, while his father is a Vietnam veteran.
So, because his father was a vet, he was strict in the family and wouldn't let his brother or him do anything wrong, and it was great to have him around.
Steven's parents are still a married pair living happily in Chicago, with a strong bond.
He grew up following the Chicago Bulls from an early age, and he recalls a player in the 90s wearing the number 23 jersey, Michael Jordan.
Michele Jordan was his motivation, and Jordan was the athlete he most admired and idolized. His goal to play in the NBA came from his wish to see himself on the same court as his idol.
He slowly liked the game and began playing basketball at a young age, practicing diligently every day. Basketball became more than a passion for him; it became an obsession to win.
Steven feels that his mentors, parents, and supportive friends are responsible for his success as a professional basketball player, which he began playing at the age of three.
Steven Hunter| Career
Early Career
Steven went to Proviso East High School for his early education. Proviso East is where he spends most of his time playing basketball.
Famous NBA players like Sherell Ford, Michel Finley, and others graduated from the school, making it well-known for basketball.
After completing his high school education, he enrolled at DePaul University, located in Chicago, where he spent two years playing basketball.
Similarly, Steven proclaimed himself ready for the 2011 NBA Draft after his undergraduate season.
NBA Career
Beginning his NBA career at the age of 20, Steven, as a rookie, played against Chicago Bulls and made a victory 102-74.
Similarly, next year in 2002, with Orlando Magic, Steven injured his anterior cruciate ligament during a training camp. Because of his injury, he was out for 49 games and could not complete the 2002-03 season.
In the 2004-05 seasons, Steven played as Phoenix Suns. His game with the Suns against Memphis Grizzlies made him average his career-high 16 points in a 114-103 win.
Steven led his teams to the western conference finals as Suns before losing to Spurs.
Hunter also signed a free-agent agreement with the Philadelphia 76ers in the 2005 offseason. In 2006 and 2007, he was traded to the New Orleans Hornets for two second-round draft selections.
Furthermore, as of the 2007 season, Steven was traded to Denver Nuggets along with Bobby Jones by the 76ers on September 10.
After playing with the Nuggets for the 2007-08 seasons, Hunter was later traded to Memphis Grizzlies by the Nuggets with the lottery Protected 2010 first-round pick.
In his last time in NBA before his retirement, he signed a contract with Dinamo Sassari located in Italy.
Steven Hunter is now the Steven Hunter Basketball Academy CEO, and he is no longer a professional basketball player. In 2014, he was also named the Phoenix Suns' community ambassador.
Steven Hunter | Age, Weight & Height
Let's have a look at Steven Hunter's physical features.
Steven Hunter, a veteran player, is now 41 years old. It's incredible to see how he's aging yet still managing to stay athletic and healthy.
Similarly, Steven has been playing basketball since he was three years old, and as an athlete himself, he understands the value of fitness in sports.
Hunter is a tall athlete, standing about 7 feet.
Furthermore, while he was a player, his height was a gift, allowing him to score easily on a basketball hoop. Still, now that he is no longer a player and living a regular life, he believes his height is occasionally a problem.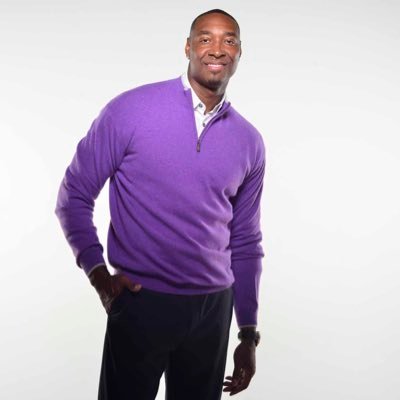 However, his natural solid advantage of being tall has helped him to be in the NBA, but his work ethic is also why he was being chosen out of few.
Steven believes that being tall has many advantages, but that is not always the case. So he practiced his dark abilities and worked hard in general to become a basketball player, which he believes is what sets him apart from other prominent men.
Moreover, his passion for basketball drives him to play and get on the court even when sometimes he does not feel like doing it.
In addition, Steven is fit and healthy, weighing 240 pounds, thanks to his daily workouts and training.
Steven Hunter| Net Worth
Steven has earned enough money to live peacefully with his family after playing with several NBA teams and being drafted based on his ability.
Speaking of his total net worth, it's impossible to determine his actual net worth, although it's estimated to be at the $3 million level.
In addition, his overall earnings as a member of several basketball teams amount to $30,149,949. You can check out his past salary history on Hoopshype.com.
Also, read about NBA: Top 10 Best Centers of All Time>>
Steven Hunter | Personal Life
Let's explore Steven Hunter's personal life.
Steven Hunter is good at keeping his personal life hidden from the public eye.
Furthermore, the veteran athlete has been married to Erika Hunter for thirteen years.
Erika Hunter works as a special education instructional assistant at a public school in Mesa, Arizona, and the pair now resides in Mesa.
The couple has four children: sons called Blaise and Steven and daughters named Zoey and Nylaa. Blaise, the firstborn, was diagnosed with autism at three years old.
Steven and his wife, Erika, found it difficult to witness their first child's autism. Both parents were devastated at first, unsure of what to do.
Similarly, Steven gradually sought assistance and support from a community organization called the Southwest Autism Research and Resource Center. At the same time, Erika began working as a teacher in their son's special school.
On February 15, the duo celebrated their 13th valentine's Day together at Maple & Ash restaurant, and Steven posted on his Facebook account.
Steven adores his family and lives by the concept of "family first." Steven, who retired in his 30s, has spent all of his time with his family and is happy about it.
Steven Hunter Youth Foundations
Knowing the struggle they had and seeing how public school resources can be scary is how Steven came up with Steven Hunter Youth Foundation.
The Foundation's vision is to become Arizona's finest and most dependable non-profit organization specializing in youth sports and special needs assistance.
Steven paid for school and other needy students out of his wallet. Erika believes that the foundation should be a location where individuals in need may readily come and receive assistance.
Similarly, the organization is concerned with Autism, and it has a program called "Father United for Kids with Autism." This allows children and parents to connect and share their personal experiences and judgments.
Steven Hunter Life Skills & Basketball Academy
Steven, who has been a professional basketball player for ten years, has admitted that he still gets butterflies before entering the floor and playing.
As a result, after retiring, he founded Steven Hunter Life Skills & Basketball Academy, where he coached before his kid was born.
The Academy motto is "The Universe has a way of rewarding those with unwavering dedication and faith in what they do and believe in."
Furthermore, The Academy is flourishing, with young people excelling inside and outside the rim.
With coaching positions becoming available, Steven has been committed to the Academy and has given his best to help the organization succeed.
Also, read about Dirk Nowitzki's Bio: Family, Wife, Career & Net Worth>>
Social Media Presence
Steven is private and does not want to share more of his personal life with others when it comes to connecting people and showcasing what is going on in his life.
He utilizes social media platforms such as Instagram, Twitter, and Facebook, but none of them have verified accounts.
He has kept it private in terms of his Instagram account, making it impossible for anyone to learn about his personal life.
Moreover, he has been inactive on Twitter since last month, February 28, 2022, when he last tweeted regarding his hosting on the postgame show with the suns.
In addition, he posted on his Facebook page regarding the recent controversy over Will Smith and Chris Rock's Oscar 2022 performance.
Below-mentioned is the links to Steven Hunter's social media account.
Instagram: 4289 followers
Twitter: 538 followers
FAQs
What jersey number did Steven Hunter wear during his professional career?
Steven Hunter wore jersey numbers 34 with Magic, and 45 with Suns, 76ers, Nuggets, and Grizzles.
Where is Steven Hunter's now?
After retiring from basketball, Steven is living his life as the CEO of Steven Hunter's Lifeskills basketball Academy and Steven Hunter's Youth Foundation.