Tacko Fall is a basketball player with supergiant height and he plays for the Boston Celtics of the National Basketball Association (NBA), and their G League affiliate, the Maine Red Claws in NBA G League. For all that, he signed a new contract with Xinjiang Flying Tigers for 2022.
Basketball is said to be more convenient for taller players. Tacko Fall, a Senegalese basketball player, stands at 2.28 m.
Muggsy Bogues 2.22 m, on the other hand, proved that you can flaunt your inconveniences and still shine.
Manute Bol is said to be the tallest man ever to have played in the NBA, and was (2.34 m) tall.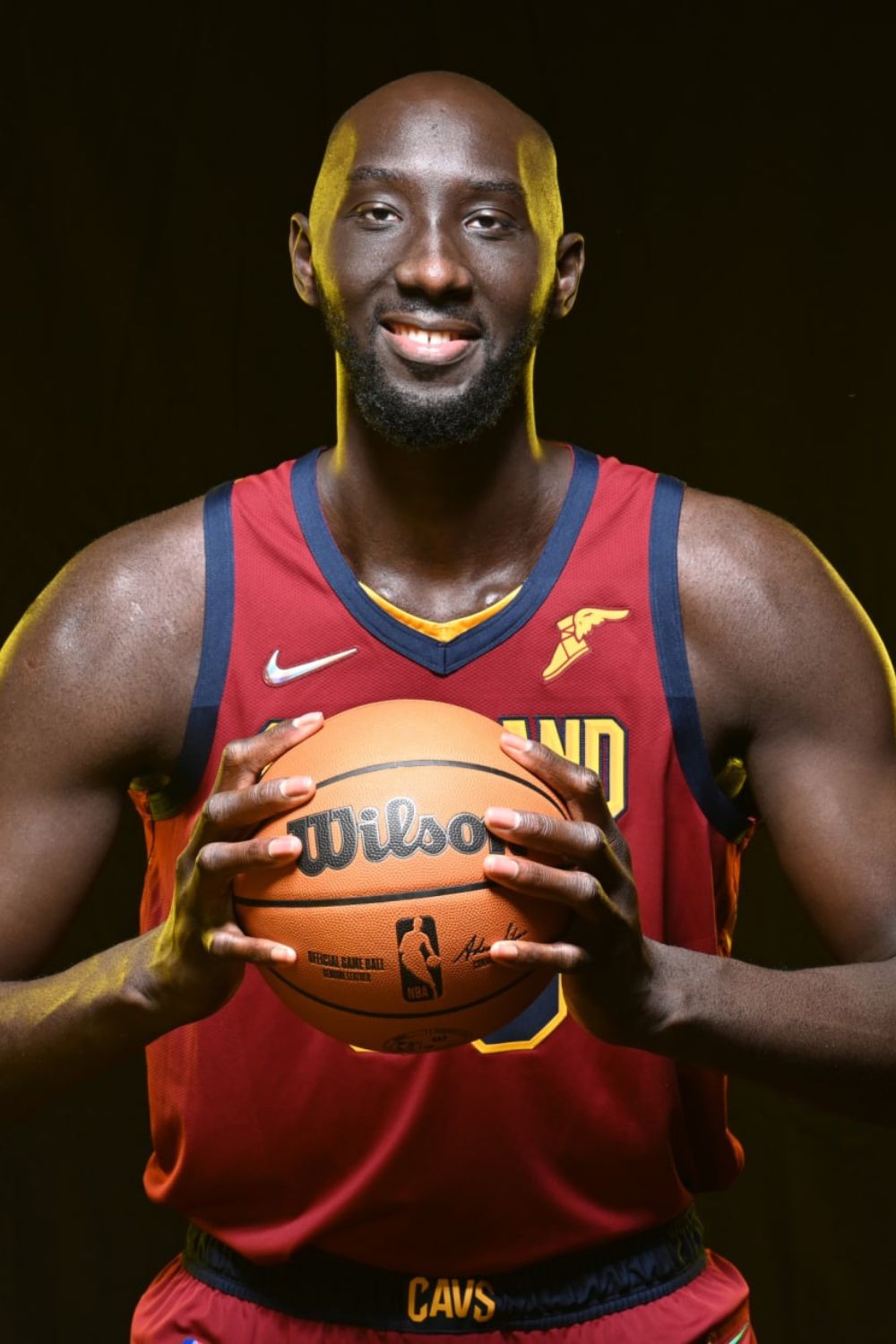 The height factor has definitely favored Fall at times. But his skills are not limited to dunking and jumping. He has already gathered some marvelous moments in his career. This big man has a long way to go.
Today, we will be talking about Tacko Fall's personal and professional life. Let's get started!
Quick Facts About Tacko Fall
Full name

Elhadji Tacko Sereigne Diop Fall

Known as

Tacko Fall

Birthdate

December 10, 1995

Birthplace

Dakar, Senegal

Nationality

Senegalese

Religion

Muslim

Horoscope

Sagittarius

Age
27 Years Old
Father's name
Not Known
Mother's name

Marianne Sene

Sibling

A younger brother

Few half-siblings

Education

Jamie's House Charter School in Houston

Liberty Christian Preparatory School in Tavares, Florida

University of Central Florida

Marital status

Unmarried

Relationship Status

Not Known

Children

None

Height

7 feet 5 inches (228 cm) (2.28 m)

Weight

141 kg (310.85 lb)

Build

Athletic

Eye Color

Black

Hair Color

Black

Profession

Basketball player

Current Affiliations

National Basketball Association (NBA)

NBA Draft

2019 / Undrafted

NBA Debut

2019 (For the Boston Celtics)

Currently Plays for

Boston Celtics of the NBA

Maine Red Claws of the NBA G League

Jersey number

99 in Boston Celtics

College Basketball

University of Central Florida Knights

Highlights and Awards

NBA G League All-Defensive Team in 2020

Third-team All-AAC in 2019

AAC Defensive Player of the Year in 2017

Net Worth
Estimated $100,000 – $1M.
Social Media Handles
Facebook, Instagram, Twitter
Merch
NBA Trading Cards & Photograph
Last Update
December, 2023
Tacko Fall – Early Life And Family
Tacko Fall was born on December 10, 1995, in Dakar, Senegal. His mother's name is Marianne Sene. Fall is reported to have a younger brother and a few half-siblings.
We did not find his father's name, but we believe that the duo must have shared a great bond.
Little Tacko
He was a very athletic child. He played soccer more fondly than basketball. In fact, he was not introduced to basketball until he was 16.
He must be a rare breed because no one expects you not to play basketball for 16 years of your life and then suddenly land on the NBA. Fall remembers being called out and teased for the same thing.
But there is no harm in recognizing your purpose and passion a little late. Fall moved to the United States at the age of 16.
Before moving to the United States, he visited the International Sports Training Institute in Dakar. He was spotted and fondly looked at by a few workers at that place.
They contributed to spreading words about him, which later helped him pave a path in basketball.
He was precisely discovered in Africa by the brother of former NBA player Mamadou N'Diaye, Ibrahim.
He was then recruited to play in Texas at a charter school. That school closed for some reason.
Fall was homesick already. He did not even have the paperwork left to stay in the United States.
Muggsy Bogues Bio: Height, Basketball Career, NBA, Net worth, &Wiki>>
The Back Story
When Tacko first moved to the United States, he spoke French better than English. Likewise, he understood soccer better than basketball.
His mother, Marianne Sene, was doubtful about sending her boy thousands of miles away from home.
Tacko's father convinced her, saying how beneficial it would be for their son's education. He was working as a cab driver in Ohio, United States then.
Tacko Fall had a brief stay in Texas, Georgia, and Tennessee. He later settled down in Florida.
You might be interested in reading: Dante Cunningham Bio: NBA, CBA, Controversies & Wiki
More About Tacko Fall
Fall is a devotee of Islam. He chose the jersey number 99 with the Boston Celtics to reference the 99 Names of Allah.
Fall scored a 4.0-grade point average (GPA) in high school. He took advanced mathematics and science classes.
He learned fluent English within eight months. Similarly, he scored 95th percentile on the SAT.
He did his majors in computer science at the University of Central Florida,
Fall aspired to become an engineer for electronic companies such as Siemens or Microsoft. However, his fate landed him in the NBA.
You might also be interested in reading: Jalen McDaniels Bio: Basketball Career, Brother, Salary & Wiki
Tacko Fall – High School And Before
Fall received training under the guidance of NBA Hall of Famer Hakeem Olajuwon when he played organized basketball in Houston, Texas.
His height was recorded to be (2.31 m) then. He still had his growing age left.
Fall was known to be the tallest high school basketball player in the country while he played for Jamie's House Charter and Liberty Christian Prep.
His height and reach always took him to big things, making him the most highly scouted high school basketball center in the nation.
He first played for Jamie's House Charter School in Houston. He contributed to leading the team to win the state championship.
And Then
Fall then played with the ISTI all-stars summer travel team. He was also a part of Each 1 Teach 1 on the Nike Elite Youth Basketball League (EYBL) circuit.
He played alongside fellow class of 2015 recruits Antonio Blakeney and Ben Simmons in the EYBL.
Fall has also been a part of several NCAA-certified events. He was in the NBPA Top 100 Camp in Virginia.
Fall then got admitted to the Liberty Christian Preparatory School in Tavares, Florida. He recorded 20 points, 15 rebounds, and 5.1 blocks on average per game in his senior year.
He had a big list of schools approaching him. Fall chose the University of Central Florida in Orlando among more than forty options.
The University of Central Florida officially signed him on October 28, 2014. Head coach Donnie Jones mentored him while he represented UCF Knights.
DeAndre' Bembry Bio: Basketball Career, Family Tragedy, Contract, & Wiki>>
Tacko Fall – College Career
Fall went to the University of Central Florida. He played for their basketball team, UCF Knights, as a center.
Words can't describe how much you have meant to this program. You and your staff work tirelessly everyday to help us become the best version of ourselves on and off court. We appreciate you @Coach_Dawkins. #ThankAUCFCoachDay pic.twitter.com/LWO6zfc9pW

— Elhadji T Fall (@tackofall99) April 9, 2018
He faced his fellow giant Senegalese center Mamadou N'Diaye. Mamador stands at 2.31 m.
The faceoff was the highest tip-off and match-up in United States college basketball history in a game against UC Irvine.
Fall's transition from Dakar to the States had something to do with fellow Dakar native Mamador's brother, Ibrahim.
He then became the tallest player in college basketball in his sophomore year after his friend from Dakar declared for the 2016 NBA draft.
Fall is not one of those players who are naturally friendly with basketball. However, he made significant improvements in his playing style as the years passed by.
2017 And Later
He was named American Athletic Conference Defensive Player of the Year in 2017. Similarly, he was ranked second nationally in field goal percentage in January 2017.
Fall was announced in the 2017 NBA draft on April 5, 2017. He still left a possibility of returning to Central Florida before the end of that year's draft lottery.
He then removed his name from consideration for the NBA draft on May 24, 2017.
Fall returned to UCF Knights for his junior year. He had a shoulder injury while in junior year. As a result, he could participate only in 16 games, totaling 351 minutes.
Fall had a senior year then. He was named to the Preseason Second Team All-AAC. He also contributed to leading the UCF Knights to the NCAA Tournament.
In fact, the team earned its first victory in program history. It was a win over VCU.
Fall compiled 15 points and six rebounds in his final game. It was a 77–76 loss to Duke.
Tacko Fall – Professional Career
Fall was named one of 80 participants (40 representing the NBA draft hopefuls) for the NBA G League Elite Camp on May 12–14. It was right after he finished his senior year.
He then got transferred into the NBA Draft Combine as one of an additional 11 participants.
He also put up new records at the event during the combine. The record also included height, wingspan, and standing reach. Fall's height was compared to former NBA player Manute Bol.
Boston Celtics (2019–present)
Fall remained undrafted in the 2019 NBA Draft. But he was signed to an Exhibit 10 Contract by the Boston Celtics on June 21, 2019.
Before his signing in the NBA draft, he joined the Los Angeles Lakers team for practice. Besides, he also paid a visit to four other teams including New York Knicks.
He played for the Boston Celtics during the 2019 NBA Summer League season. He recorded 6 points in his first game alongside 4 rebounds.
Similarly, he tallied 12 points for his first double-digit scoring game, alongside another rebound in his second game.
Fall also had one blocked shot in both of his first two matches. He ended his 2019 Summer League run, by participating in all five games with the Boston Celtics.
He averaged 7.2 points, 4.0 rebounds, and 1.4 blocks. Similarly, Fall shot a team-high 77 percent from the field.
The Boston Celtics officially announced their signing with Fall on July 25, 2019. They again announced their two-way contract with Fall on October 13, 2019.
The two-way contract enabled Fall to split his time between the Boston Celtics and their G League affiliate Maine Red Claws.
Fall played his debut game for the Boston Celtics on October 26, 2019. It was against the New York Knicks at Madison Square Garden.
He scored 4 points and grabbed 3 rebounds in four minutes. Moreover, his first points came from a standing dunk.
Likewise, he stood up as one of the top players in the G League. He averaged a double-double of 12.9 points and 11.1 rebounds.
Nearly 3 blocks per game accompanied it for the Maine Red Claws. As of now, he is on the number 70 rating with the Boston Celtics.
You can see Fall's career statistics on the website of basketball-reference.
Luguentz Dort: Basketball Career, NBA, Family, & Wiki>>
Tacko Fall – Player Profile
Fall is exceptionally tall. In fact, he is one of the tallest basketball players that have ever been associated with the NBA.
He plays the center position.
Fall's wingspan is 2.56 m. Similarly, he has a standing reach of 3.10 m.
He has a maximum vertical leap of 0.67 m.
Fall also has considerably long hands, which are recorded to be 0.26 m in length and width. It enables him to palm the ball with one hand.
He was said to be a great shot blocker who was relatively lacking in lane agility and three-quarter-court sprinting speed in the 2019 NBA draft.
Tacko Fall Game With Zion Williamson
During the match against Duke and UCF for the spot in sweet 16, Duke took the victory. Also as they appeared in the tournament, Fall had made headlines for stating that he didn't want to appear beside Zion as an extra.
During the game, as Zion tried to dunk, Fall had it covered however, it was questioned all over.
"It's very hard [to dunk on me], I mean, I won't allow it. I won't allow it and I won't allow him putting me on one of his highlight tapes."
Tacko Fall – Diet
Like every athlete, Tacko Fall is concerned with his diet. Currently, Fall states that he consumes around 6,000 calories per day.
Before his early phase, he used to rely on light breakfast. Furthermore, he doesn't eat pork and hence, munches turkey bacon or turkey sausage.
Also, he is more into fruits, especially grapes and bananas. Likewise, he has also cut down on fast foods and oily foods. During his practice, he often gets two boxes for lunch and thus, has a box once in lunch and the other one in a few hours.
Tacko Fall – Net Worth
Fall's NBA career has just begun. He has already earned a good amount of money.
Tacko Fall's net worth is estimated to be around Estimated $100,000 – $1M.
He lives a decent life in his 20s with self-earned money.
Fast Facts On Supergiant.
Fall received a 95th percentile SAT score.
He is among the tallest people alive today.
In 2017 he was named conference defensive player of the year.
Tacko was born and raised in Senegal.
Fall started playing Basketball at 16 and received advice from an NBA Legend
Tacko Fall – Social Media Presence
Fall is often seen posting pictures of him playing basketball on his social media handles. You can follow him via these links:
View this post on Instagram
The Twitter account of Fall is unavailable now for some reason. Although his fan accounts are available on Twitter by the name "Tacko Fall Is The Goat".
Recent 2022 Update
Xinjiang Flying Tigers (2022–present)
According to the present sources, Fall has been signed by Xinjiang Flying Tigers of the Chinese Basketball Association, one-year contract, on August 2022.
Search Graph
Tacko is still on the rise and is still on the field, he is determined to gain more success and polish his skills, so we can see his popularity is on a constant rise.
Common Queries About Tacko Fall
How did Tacko Fall become giantly tall?
Tacko Fall's height is recorded to be 2.34 m with shoes. He gets 2 inches down without shoes. He is one of the tallest players in the NBA. Moreover, he makes it to the list of the tallest 40 humans on the planet.
People might assume that he must have received his height genetically. But his parents are a lot shorter than him.
People say that Tacko is a foot and a half taller than his parents. However, he is not the only tall member of his family.
His younger brother was 1.79 m at the early age of 7. Junior Fall might get into a competition with his elder brother. Similarly, two of his uncles stand at 2.07 m.
Tacko Fall is still a lot taller than all of them.
Can Tacko Fall dunk without jumping?
Tacko Fall is ridiculously tall. His measurements broke NBA Draft Combine results dating back to the 80s.
He has an incredible standing reach that enables him to touch the rim without even jumping. He is said to have one of the best relationships with a rim in NBA history.
What does Tacko Fall think about his height?
Tacko Fall and his mother, Marianne Sene, considered Tacko's giant height as something problematic initially. However, they are now extremely happy with what God gave them.
Tacko admits that his height is a boon on the basketball court. Apart from basketball, it also makes his daily chores easier.
He says, "When I walk in the grocery store, I can see on top of all the shelves, and I can reach over anything that I want to."
Seeing everybody forgetting the "k" in #NationalTackoDay 😂😂 pic.twitter.com/1i4tR0LJme

— Elhadji T Fall (@tackofall99) October 4, 2018