Terence Crawford is one of the greatest American professional boxers in history. He has held multiple world championships in three weight classes, including the WBO welterweight.
The highly decorated boxer is ranked as the world's best active boxer, pound for pound, by ESPN, second by The Ring magazine and Boxing Writers Association of America, third by TBRB, and fourth by BoxRec as of May 2022.
Crawford is best known for his punching power, fast hand speed, ring IQ, counter-punching abilities, and defensive skills.
On January 24, 2023, Kenny Porter predicted Errol Spence would beat Crawford if PBC allowed the two to face each other before Terence Crawford retired from boxing.
It is not something we can be sure of, but it is definitely what Crawford and Spence's fans have been eager to watch.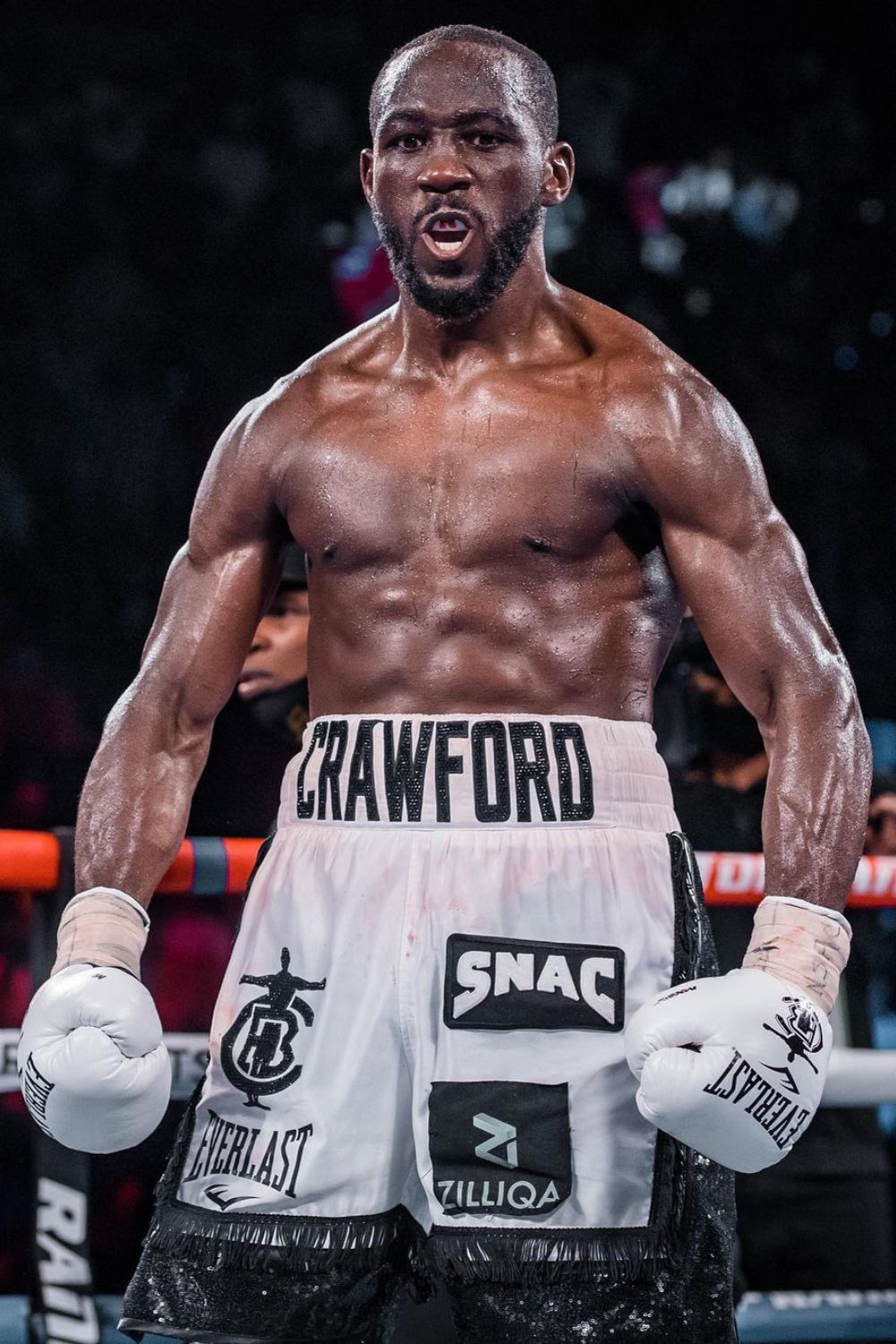 In this article, we will discuss in detail about Terence Crawford's career, family, net worth, personal life, and many more.
Let's start with some quick facts.
Quick Facts
Full Name
Terence Allan "Bud" Crawford
Birth Date
September 28, 1987
Age
35 Years Old
Birth Place
Omaha, Nebraska, United States
Nick Name
Bud
Religion
Unknown
Nationality
American
Ethnicity
Mixed (African-American)
Education
Bryan High School
Horoscope
Libra
Father's Name
Terry Crawford
Mother's Name
Debbie Crawford
Siblings
Latisha Crawford

Shawntay Crawford

Height
5 ft 8 in / 173 cm / 1.73 m
Weight
68 kg / 149 lbs.
Hair Color
Black
Eye Color
Black
Body Measurement
Chest- 41 inches
Waist- 29 inches
Biceps- 14 inches
Build
Muscular
Marital Status
Unmarried
Girlfriend
Alindra Person
Children
Terence Crawford Jr, Miya Crawford, T.Bud Crawford, Tyrese Crawford, Lay Lay Crawford, Trinity Michele Crawford
Profession
Boxer
Net Worth
$8 Million
Salary
Unknown
Affiliations
WBA, WBC, WBO
Merch
Boxing: Terence Crawford vs. Felix Diaz
Active Since
2008-Present
Social Media
Instagram, Twitter
Last Update
March 2023
Early Life, Education & Parents
Terence Allan Crawford was born in Omaha, Nebraska, to parents Terry Crawford and Debbie Crawford.
As for his other family member, Terence has two elder sisters, Latisha Crawford and Shawntay Crawford. The whereabouts of Crawford family and their occupation is unavailable.
Terence started his boxing journey at 7 and has been hooked on the sport ever since. Crawford participated in 70 boxing matches as an amateur, losing only 12 times.
Notably, he won three amateur tournaments as a gold medalist, including National PAL Championships 2006, Blue & Gold National Championships 2006, and U.S. Pan American Games Box-Offs 2007.
The talented player also became the highest-ranked lightweight in the U.S. Since the early days, Terence honed his natural raw power and skills. He has successfully become one of the most admired and talented boxers.
Age, Height, Weight, And Body Measurements
As of 2023, Terence is 35 years old. His star sign is Libra, as he was born on September 28. The people of this sign are known for being stubborn, well-balanced, and passionate.
It is no secret that Terence has a muscular build, standing at 1.75 m and weighing around 167 lb.
Crawford competes in the Lightweight, Welterweight, and Light Welterweight, so his weight varies depending upon the weight class.
Though it has been more than a decade since Terence got into boxing, still, to this date, he is energetic and fit.
Professional Boxing Career
Initial Career And Winning Titles
After his amateur years, Terence made his professional debut as a boxer on March 14, 2008. He fought against Brian Cummings for his debut match and won the fight compiling a record of 19–0 with 15 wins by knockout.
Following that year, he also made his first notable bout against Breidis Prescott, securing a unanimous decision victory. He continually competed with several reputed boxers and kept his winning streak.
In March 2014, the American boxer defeated Ricky Burns, won the WBO lightweight title, and bagged The Ring and Lineal lightweight titles by defeating Yuriorkis Gamboa and Ray Beltran.
That year, Crawford was also named 2014 'Fighter of the Year' by ESPN and the Boxing Writers Association of America, becoming a lineal lightweight champion.
After that, Terence debuted as a light welterweight in 2015; and won the WBO junior light-welterweight title after defeating Thomas Dulorme. The undefeated fighter won against Dierry Jean via a technical knockout in 2015.
He defeated Hank Lundy to retain the WBO light welterweight title. Further, he continued his winning spree, and in 2016, at a match against Viktor Postol, Terence won the WBC, vacant The Ring, and Lineal light-welterweight titles.
In 2017, Crawford debuted in the welterweight division. That year the American boxer retained the WBC, WBO, The Ring, and lineal light welterweight title against John Molina Jr., Felix Diaz, and Julius Indongo.
Following those wins, he wanted to fight against top fighters like Manny Pacquiao. According to the sources released in 2021, Bob Arum has said, "Yeah, we're going to see what happens, and we'll know this week whether Pacquiao-Crawford can happen."
Last Fight And Next Fight
Crawford won the WBO welterweight title against Jeff Horn and, that same year, retained the title against Jose Benavidez Jr.
Similarly, in 2019, Crawford competed with British professional boxer Amir Khan and knocked him down into the first round. But later, Khan could not continue the game due to an accidental low blow, so the referee stopped the contest.
The undefeated fighter won his next fight against Lithuanian professional boxer Egidijus Kavaliauskas.
Crawford's last fight was against Kell Brook on November 14, 2020, to defend his WBO welterweight title. He won by a technical knockout in the fourth round.
Crawford's next fight was expected to be with Errol Spence Jr, if not Manny Pacquiao. However, both boxers feel that the fight may never happen now.
As of December 2022, Crawford is one of only nine male boxers in history with all four major world titles in boxing (WBA, WBC, IBF, and WBO) since Jermain Taylor in 2005.
On 10 December 2022, Crawford dominated and stopped Avanesyan with a brutal right hand to the jaw in the sixth round at the CHI Health Center in Omaha, Nebraska.
He revealed after the fight that it was a one-fight deal and he is still a free agent.
Highlights And Achievements
WBO Welterweight champion
Best Fighter ESPY Award
WBC Super-lightweight Champion
WBO Super-lightweight Champion
IBF Super-lightweight Champion
WBA Upper-lightweight Champion
WBO Lightweight Champion
WBO NABO Lightweight Title
The Ring Lightweight Title
Won a gold medal at the 2006 National PAL Championships
Received a gold medal at the 2006 Blue & Gold National Championships
Won a gold medal at the 2007 U.S. Pan American Games Box-Offs
Boxing Record
| | | |
| --- | --- | --- |
| Won By | No. of Wins | No. of Losses |
| Knockout | 30 | 0 |
| Decision | 9 | 0 |
Legal Troubles
In April 2016, the undefeated boxer was involved in an incident at a car body shop. He made a partial payment for his car to have some work done, and the amount being charged.
He was unsatisfied with the work and refused to pay the remaining balance.
Moreover, the fighter decided to lower his car himself, resulting in some damage to the hydraulic lift. Hence, the car body shop pressed charges.
Crawford was charged with theft of services, criminal mischief, third-degree assault, and trespassing.
Consequently, he was found guilty of criminal mischief and trespassing on September 21, 2016. Although the judge sentenced him to 90 days in prison, it was later reduced to 53 days.
But the champion fighter spent only eight hours in incarceration as his lawyer posted a bond of $10,000.
Net Worth And Income
Terence Crawford is one of the most famous and successful boxers. Throughout his career, he became a popular name among boxing fans and several awards.
But it's not just the name and fame that he has made throughout these years. From his successful career as a boxer, Terence has also built an impressive net worth.
According to sources, the talented boxer has accumulated a net worth of $8 million. Well, Terence has been involved in boxing for more than a decade now. His net worth should not surprise anyone.
Moreover, as for his fight purse, Crawford earned $1.5 million after defeating Julius Indongo in the WBA (Super) and IBF light-welterweight titles in 2017.
He has also received a whopping $3 million after winning against Jeff Horn in 2018.
That same year in October, Terence also made $3.625 million after defeating Jose Benavidez Jr.
The talented boxer has earned $4 million after defeating Kell Brook in November 2020. Terence gained an ESPN contract of $6 million.
Crawford has also many lucrative endorsement deals that have significantly helped his income growth. His huge earnings have helped him live a luxurious lifestyle with his family.
Charity
The professional boxer also believes in giving back to the community. Terence well uses his money and is involved in a lot of charity work.
The good-hearted boxer has never failed to impress and has been doing good for the underprivileged.
Terence has even opened a B&B Sports Academy to work with troubled children. Likewise, sources have also revealed that the boxer has even gone on two charitable missions in Africa to help the poor and needy.
Recent Lawsuit
In January 2022, Terence Crawford filed a nearly $10 million lawsuit against his former promoter Bob Arum. The lawsuit alleges Arum engaged in "revolting racial bias" that prevented Crawford from booking big fights.
When Arum failed to book a fight with Errol Spence Jr., he stated his acts were intentional. He also accused Arum's stepson, Todd DuBoeuf, and Arum's company, Top Rank, of failing to promote Black fighters.
Personal Life And Kids
When you are as talented and famous, everyone wants to know whether you have a significant other half.
Most of his fans may be unaware of Terence's love life. The talented boxer is neither single nor married, but he has been in a relationship with a beautiful girl named Alindra Person for many years.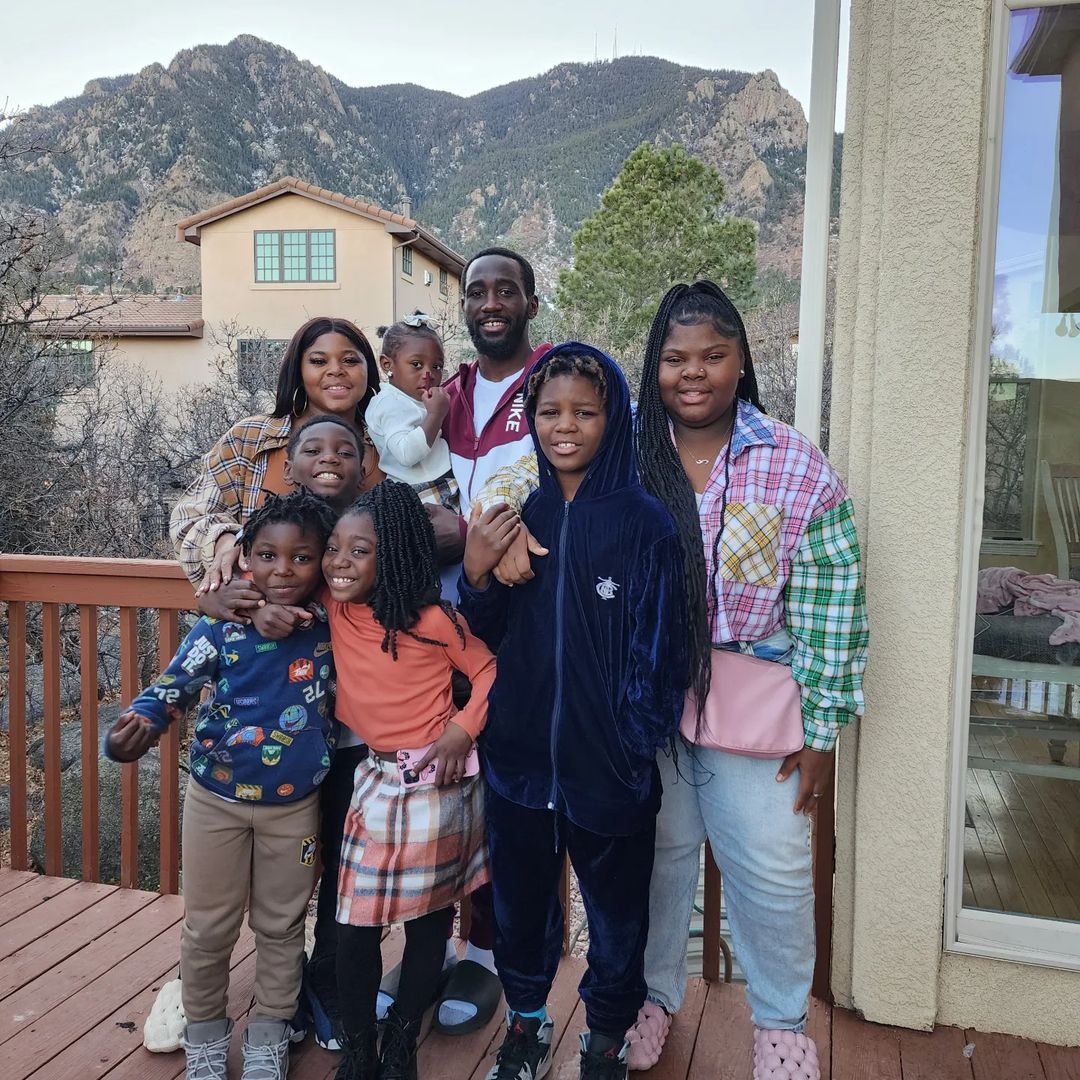 There is no information about how and when they met or started dating. But we can assure you that even after dating for such a long time, the couple has not been married. Only time can tell when the two will walk the aisle together.
The lovely couple is also proud parents of share six children (three sons) named T.Bud Crawford, Tyrese Crawford, Terence Crawford Jr, and (three daughters) named Miya Crawford, Lay Lay Crawford, and Trinity Michele Crawford.
Blessed and happy, Terence lives blissfully with his family in Omaha, Nebraska. The boxer considers his wife and children his biggest motivation and inspiration to do better.
Arrest
In March 2022, Terence Crawford turned himself in to the Omaha, Nebraska, police department. As per the allegation, he repeatedly pushed an auto shop owner and caused $5,000 worth of damages to a hydraulic lift.
Omaha Police Central Headquarters arrested, interviewed, and gave him a criminal citation. Hence, he suffered from charges such as theft of services, criminal mischief, assault in the third degree, and trespassing.
Social Media Presence
Terence Crawford is recognized worldwide as one of the greatest boxers in history. He has achieved thousands of followers on his social media who admire and respect him.
View this post on Instagram
The talented boxer is on Instagram with 855k followers. Terence mostly shares pictures of himself inside the ring and beautiful moments with his beautiful wife and children.
Similarly, Crawford is also on Twitter, with over 326.8k followers.
Popularity Graph
Terence Crawford is one of the greatest boxers of his time; he held the WBO and Ring magazine lightweight titles from 2014-2015.
He also held the unified WBA(Super), WBC, IBF, WBO, and Ring light welterweight titles between 2015 and 2017.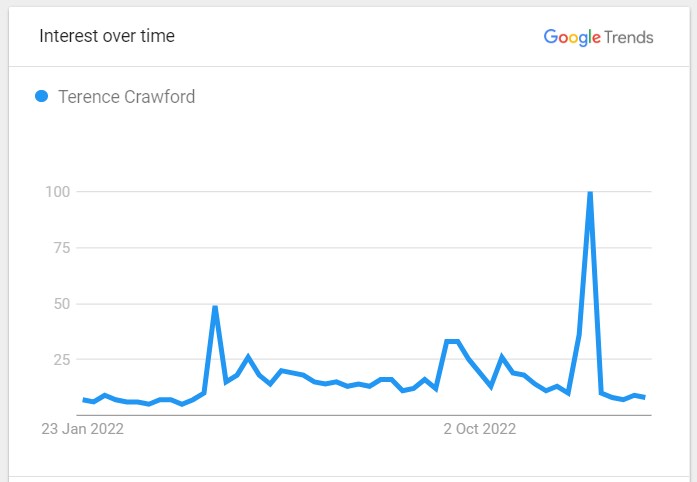 The above graph shows Crawford's popularity over the past twelve months.
Frequently Asked Questions (FAQS)
Is Terence Crawford left-handed?
No, Terence Crawford is a skilled right-hander.
When is Terence Crawford fighting Errol Spence?
Terence Crawford's next fight date is not yet determined. However, rumors exist that he may fight Manny Pacquiao or Errol Spence Jr.
Is Terence Crawford fighting Danny Garcia?
Earlier $3 million pay-per-view on ESPN was offered to Gracia and Crawford; however, Gracia did not respond to the offer, and the fight never took place. Terrence Crawford and Danny Garcia have engaged in a Twitter war that seems to hint that perhaps the two of them will fight at some time in the future.
Who is Terence Crawford's promoter? Who is his manager?
Bob Arum is the promoter of Terence Crawford and Brian McIntyre is his manager.
Where is Terence Crawford from? Has Terence Crawford been shot?
Terence Crawford is from Omaha, Nebraska, in the United States. Terence was shot in the neck and left to die after a gambling dispute in 2008. If the bullet had been a millimeter higher, he would have died. Fortunately, he is lucky to be alive as he is now a ring champion.