Thaddeus Moss is a football tight end who last played for the Cincinnati Bengals of the National Football League (NFL) and is currently a free agent.
Moss has been an active football player since his high school days.
There is much more to know about the personal and professional life of the NFL player. Please read the full article to learn more.
Before going into the details, let's check out some of his quick facts.
Thaddeus Moss | Quick Facts
| | |
| --- | --- |
| Full Name | Thaddeus Moss |
| Birth Date | May 14, 1998 |
| Birth Place | Charlotte, North Carolina |
| Age | 25 Years Old |
| Known As | Thaddeus Moss |
| Religion | Christian |
| Nationality | American |
| Education | Mallard Creek, NC State |
| Horoscope | Taurus |
| Father's Name | Randy Gene Moss |
| Mother's Name | Libby Offutt |
| Siblings | Four |
| Height | 6 ft. 3 in/1.91 m/191 cm |
| Weight | 249 lbs./113 kg |
| Build | Athletic |
| Shoe Size | Not Available |
| Hair Color | Black |
| Eye Color | Dark Brown |
| League | National Football League |
| Playing Career | 2020-Present |
| Marital Status | Single |
| Profession | Football Player |
| Position | Tight end |
| Current Team | Free Agent |
| Net Worth | $1.5 Million |
| NFL Draft | Undrafted |
| Social Media | Instagram |
| Merch | |
| Last Update | June 2023 |
Thaddeus Moss | Early Life, Family & Education
Thaddeus Moss was born on May 14, 1998, in Charlotte, North Carolina, to Randy Gene Moss and Libby Offutt.
He grew up with his four siblings, Sydney Nikale Moss, Senali, Montigo, and Sylee, in North Carolina.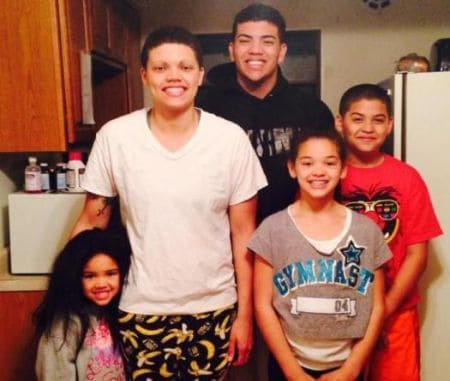 Sydney, Thaddeus' elder sister, is a basketball player who plays at NCAA Division III Thomas More College.
Similarly, Senali is also a basketball player, while Montigo and Sylee play football.
Thaddeus went to Boone County High School in Florence, Kentucky but transferred to St. Albans School in St. Albans, West Virginia, in the middle of his first year.
Again for the sophomore year, he transferred to Lincoln High School in Rhode Island. He went to Charlotte, North Carolina, as a junior.
Likewise, he went to Victory Christian Center as a junior and transferred to Mallard Creek High School in his senior year.
Finally, after graduating from high school, Moss went to North Carolina University for college studies, where he played college football.
Tyrod Taylor is an American football player and holds the position of Quarterback for the New York Giants. He has been playing professional football for more than a decade. Learn more about the NFL player>>
About Thaddeus Moss's Father
His father, Randy, is a former football player. Currently, he is a color analyst.
Randy had played for many teams as a wide receiver during his professional career, including Minnesota Vikings, Oakland Raiders, New England Patriots, Tennessee Titans, and San Francisco 49ers.
Following his father's footsteps, Thaddeus developed an interest in football and started his professional journey.
The Pro Football Hall of Famer Randy Moss has had quite a career.
Some of his records include NFL single-season touchdown reception, the NFL single-season touchdown reception, and the NFL all-time regular-season touchdown reception.
Randy participated in the Pro Bowl six times and won the Pro Bowl Most Valuable Player Award.
After retiring from football, Randy started working as an analyst for Fox Sports 1's Fox Football Daily show.
He also worked as the associate head coach and defensive coordinator at Victory Christian Center High School in Charlotte, North Carolina.
About Thaddeus Moss's Mother
Moss's mother, Libby Offutt, was born Elizabeth Ann Offutt on November 1, 1975.
Thaddeus Moss's parents never married, but they were together for an extended time. His mother, Libby Offutt, is famous as an ex-girlfriend of Randy Moss.
Libby is an excellent swimmer and used to practice swimming in her school days at Saint Albans High School in West Virginia.
The relationship between Randy and Libby was not friendly, so the family had to go through a lot because of the domestic violence case.
Due to the problems and misunderstandings, the couple had to call it quits. After the separation, the couple shared custody of their five children.
Randy moved on and married Lydia Griffith Moss in 2015, while Libby is still single.
Thaddeus Moss | Age, Height & Weight
Thaddeus Moss is 25 years old as of 2023.
He has an incredible height of 6 ft. 3 in (1.91 m) and weighs around 249 lbs. (113 kg).
Foyesade Oluokun is a linebacker for Atlanta Falcons. He was drafted in the 2018 NFL Draft by the Falcons. Click to know more about his personal and professional life.
Thaddeus Moss | Career
College Career
Thaddeus Moss played college football at NC State. He was exceptional at his crafts and was well known on the college team.
Moss missed the 2017 season because of his transfer to the Louisiana State University team.
He missed the season the following year because of a foot injury.
Thaddeus Moss was back in the game in the 2019 Peach Bowl and caught passes four passes for 99 yards and scored two touchdown on a 62-yard reception against Oklahoma.
In the 2020 National Championship Game, he scored two touchdowns on five receptions for 36 yards. He broke the record of two touchdown passes of Joe Burrow in the match.
On January 17, 2020, Moss declared for the 2020 NFL Draft.
NFL Career
Moss went undrafted in the 2020 NFL Draft but signed with Washington Football as a free agent.
Unfortunately, he suffered an injury and was kept on the injured reserve list on August 22, 2020. He was with the team for almost a year and was released on April 9, 2021.
Moss signed with the Cincinnati Bengals on April 12, 2021. However, he was released after four months, on August 31, 2021.
But he was signed to the Bengals practice team the next day.
However, he was waived by the team from the practice squad on September 5, 2022.
Thaddeus Moss Injury
Injuries are inevitable while playing on the field, and there are many cases. Some are major and can be career-ending for the player.
Thaddeus Moss has also suffered from some injuries in his playing career.
Moss was out of the 2018 season in college due to a foot injury. He was suspended as a result by the officials.
On August 21, 2020, Moss suffered a pedal foot fracture and was kept on the injured reserve list the next day.
In November 2021, Moss had a hamstring injury while practicing in the warmup games. He missed out on one game after the injury.
Thaddeus Moss | Net Worth
The estimated net worth of Thaddeus Moss is $1.5 million as of 2023. He has been playing as a professional football player since 2020 for different teams.
He basically earns from his NFL contracts and brand deals.
Melvin Ingram is the linebacker and the defensive end in the Kansas City Chiefs of the National Football League (NFL). He is among the wealthiest and most popular footballers born in North Carolina.
Frequently Asked Questions (FAQs)
Is Thaddeus Moss on the Bengals practice squad?
Thaddeus was signed to a practice squad on August 31, 2022, but was waived from the squad on September 5, 2022.
Is Thaddeus Moss still playing in the NFL?
Moss is currently a free agent.
You Might Want To Read About Boston Scott: Running Back For The Philadelphia Eagles!