The kind and robust Thomas Robinson is an American-born Lebanese professional basketball player. He currently stars as a center for the Puerto Rican club, Piratas de Quebradillas in the Baloncesto Superior Nacional (BSN).
Robinson started his league career as one of the top picks in the NBA with the Sacramento Kings in 2012. But sadly, his NBA campaign failed early, so people often consider him a draft bust.
Before starting his professional league journey, he played college basketball for the Kansas Jayhawks.
Overviewing his stats throughout his career, Robinson seems pretty strong in defense as he always had a good rebound score per game even when his performance was feeble. Talking about his offensive gameplay, it is somewhat inconsistent.
After the NBA, he appeared for various clubs worldwide but without significant success. Even though he improved his performance a little, he has not won any league titles.
But still, Robinson does not seem to stop playing professional basketball anytime soon. Just a year before, he joined the Lebanese national basketball team, and he is all set to appear for them in the upcoming FIBA Basketball World Cup in 2023.
Now, let's discover more about the struggling young athlete in the article beneath. But before moving further, here are some quick facts about Thomas Robinson.
Quick Facts
Full Name
Thomas Earl Robinson
Known As
Thomas Robinson
Date of Birth
March 17, 1991
Birth Place
Washington D.C., the USA
Nick Name
T-Rob
Religion
Christianity
Nationality
American / Lebanese
Ethnicity
African-American
Zodiac Sign
Cancer
Age

32

years old
Height
2.08 m (6 feet 10 inches)
Weight
237 lb (108 kg)
Hair Color
Black
Eye Color
Dark brown
Build
Athletic
Father's Name
Not available
Mother's Name
Lisa Robinson
Siblings
Jayla Paris, Jamah Robinson
Education

Brewster Academy (Wolfeboro, North Hampshire)
University of Kansas (Lawrence, Kansas)

Marital Status
Unknown
Sexual Orientation
Straight
Wife's Name
Not available
Kids
Two (Rain, Ryder Tai)
Salary
Not available
Profession
Basketball player
NBA Draft
2012 / Round: 1 / 5th pick overall
Position
Center / Power forward
League
Baloncesto Superior Nacional (BSN)
Active Years
(2012 – Present)
Net Worth
$2 million
Currently Plays for
Piratas de Quebradillas
Social Media
Instagram, Twitter
Merch
Basketball Card
Last Update

November 2023
Thomas Robinson | Early Life, Family & Education
Thomas Earl Robinson, commonly known as Thomas Robinson, was born on March 17, 1991, in Washington D.C., United States. Before him, his mother, Lisa, had given birth to his older brother, Jamah Robinson.
Both Robinson and his brother were born in the nation's capital and spent most of their childhood there. His father was nowhere around while growing up, so Lisa took care of them as a single mother.
However, his maternal grandparents' house was nearby, so they assisted their mother in raising them. Although Lisa usually was unfit because of health issues, she worked hard and tried her best to fulfill the needs of the children.
He initially attended a community school in Washington D.C. for his primary schooling. Even though he was not so bright, Thomas always brought enough marks to advance his class.
Devin Robinson is an American NBA player who serves as a small forward for the Raptors 905. Can you guess what is his net worth?
Like almost every city in the US, basketball was one of the favorite past times of school-going kids. So, he learned to play it from a young age. His older brother, Jamah, was one of his early playmates.
When Robinson was around ten, his mother married a man named James Paris. After a few years, his mother gave birth to his younger sister, Jayla Paris. Although she began living with James and her new family, she lived in D.C. and often visited her sons.
After graduating middle school, Thomas moved to New Hampshire and enrolled in the Brewster Academy in Wolfeboro for his high school education. He later joined the University of Kansas in Lawrence for further studies.
Tragedy and a New Family
While Robinson was in the second year of his college, a series of worst possible tragedies occurred in his family. In the late 2010s, both his beloved grandparents died, and his mother's unexpected death immediately followed it.
He was playing for the Kansas Jayhawks, already heavy-hearted following his grandparents' deaths. In January 2011, he received a call from his younger sister, Jayla, that his mother had passed away.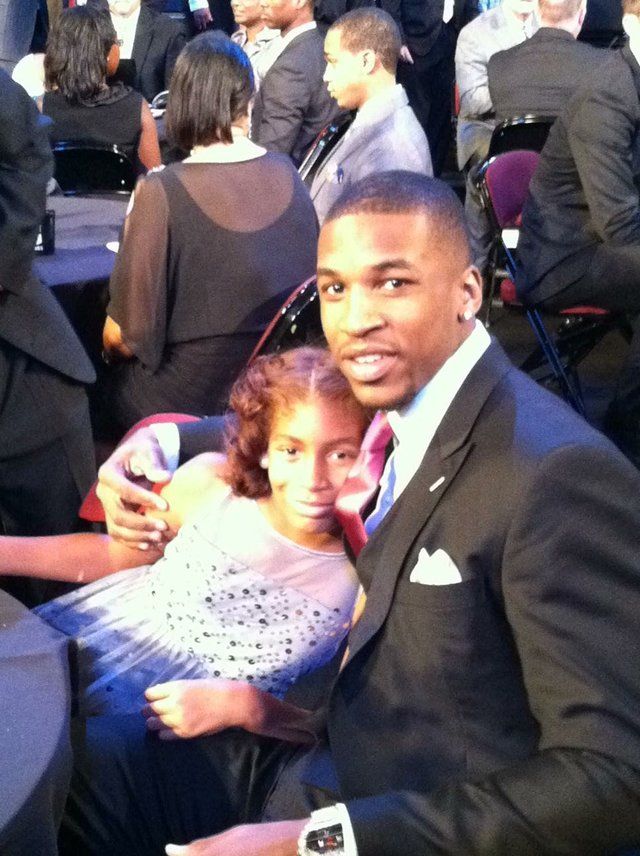 Lisa was only around forty-three when she died of a heart attack.
His mother's funeral in the Antioch Baptist Church in Deanwood, Washington, was attended by whole University of Kansas team members and staff, including the head coach Bill Self.
Thomas received support from those around him, and hence, he could return to the court in a short time after the tragedy. His seniors, Marcus, and Markieff Morris, motivated and stood by him.
Not only that, Angel Morris, the Morris twins' mother, pledged to look after Thomas and his younger sister. So, that's how Thomas found a new family after joining college. The Morris brothers love him as their own younger brother to this day.
Family over Everything "FOE"
In 2017, Robinson founded a non-profit foundation named Family over Everything (FOE) with Markieff and Marcus Morris. Besides them, Angel Morris and Thomasine Morris have notable roles in establishing it.
The foundation primarily focuses on assisting underprivileged families, especially those run by single parents.
Moreover, they regularly bring various programs related to health and education to the people living in dire conditions in areas such as Philadelphia, Washington D.C., Boston, etc.
Thomas Robinson | Basketball Career
High School Career
Robinson started playing high school basketball for the Eastern Senior High School in Washington DC. However, his mother, Lisa, suggested transferring to Brewster Academy as she felt the environment there was unsafe for him.
Robinson finished his senior season with an average of 16.0 points and 13.0 rebounds. He was one of the best rebounders from the region. Upon his graduation, many sports agencies named him a high star recruit.
Learn all about former NBA player Drew Gooden's personal (net worth, salary, relations) and professional life.
College Career
Thomas began receiving scholarship offers from various universities before his senior high school year, but at last, he chose to go to the University of Kansas. Hence, he played college basketball with the Kansas Jayhawks.
However, he did not get much chance to play in his freshman season. Although he played 33 games of the season, his playtime was roughly seven minutes per game. So, he finished his rookie season with an average of 2.5 points and 2.7 rebounds per game.
He improved his game drastically in his junior season. Playing all 39 games, he averaged 17.7 points and 11.9 rebounds per game that season.
After completing his junior year, Robinson decided that he was ready for the NBA, declaring for the draft on April 9, 2012.
Professional Career
The Sacramento Kings selected Robinson as the 2012 NBA draft's 5th overall pick. After signing with the Kings, he played around 70 games in his first-ever NBA regular season, but he got very little playtime.
Consequently, his performance was miserable in the rookie season, where he averaged around 4.8 points and 4.7 rebounds per game. As he could not deliver as expected, the Kings traded him to the Houston Rockets before the season was over.
Robinson signed with the Portland Trail Blazers after playing the half of the 2012-13 season with the Rockets. The athlete hoped for a significant improvement that season, but his performance was no better than the previous one.
In his second season for the Blazers, he was overshadowed by the newly bought center/power forward Chris Kaman, so he had to leave the club in the 2014-15 mid-season.
Thomas played for three other NBA clubs before he moved abroad in 2017.
Foreign League Career
He signed with the Russian club BC Khimki to play in the Russian Basketball Super League on September 23, 2017. After spending a year with Khimki, he returned to the United States, but he did not play in the NBA.
Furthermore, he played for different clubs worldwide, including Beijing Fly Dragons of the CBA, Seoul Samsung Thunders of the Korean Basketball League (KBL), etc. He signed with the Puerto Rican club, Piratas de Quebradillas, on February 16, 2022.
Awards and Achievements
Some of his awards and achievements include:
Consensus first-team All-American (2012)
First-team All-Big 12 (2012)
Big 12 Player of the Year (2012)
Fourth-team Parade All-American (2009)
ESPN.com National Player of the Year (2012)
NCAA Final Four All-Tournament Team (2012)
Net Worth and Career Earnings
According to sources, Thomas Robinson has a net worth of around $2 million.
Robinson signed a three-year contract worth $10.5 million with the Sacramento Kings in 2012 after they selected him as the 5th pick in the draft.
However, he stayed with them for nearly a season and played 21 matches for the Houston Rockets, from which he earned around $3.3 million. After the Rockets, he played for the Portland Trail Blazers, which offered him around $6 million for about two seasons.
Sadly, Robinson was playing his worst game since the start of his professional league journey, so his salary decreased in the following seasons. After the Blazers, he appeared for three more clubs in the NBA, from which he made about $3 million.
Thomas accumulated approximately $12.6 million from his overall NBA career. In addition, he earned a lot more playing in foreign leagues, but the amount remains undisclosed.
Body Features
As of 2023, Thomas Robinson is 32 years old. About his physical stats, Robinson stands at the height of 2.08 meters (6 feet 10 inches) and weighs around 237 lb (108 kg).
Moreover, he has a well-maintained physique as he regularly goes to the gym and follows a healthy diet. He had a pretty balanced body type before his NBA debut as well.
In addition, he has a lot of tattoos nearly all over his body. He had his first tattoo on his sleeve when he was just 16 in memory of his cousin named Ali, who was shot in 2007. After that, he inked much more, mainly on his upper body parts.
He had once remarked that he gains confidence and remains motivated when he looks at his tattoos during the games.
Ryan Kelly is an American-born professional basketball player who plays for the Sun Rockers Shibuya in the Japanese B. League. Click here to know Ryan!
Thomas Robinson | Relationship & Kids
Thomas Robinson was one of the most followed young basketball players back in the early 2010s. Even though his craze somehow slowed down over the years, we found that his fans still want to know about his whereabouts today.
Most importantly, they want to know about his relationship status. So, we set out to find some information about it, but we did not find any new information.
Hence, his marital status remains unknown. But, his social media handles pretty clearly show that he is the father of two children. He has a daughter named Rain and a son named Ryder Tye.
Everyone knows he was in a relationship with an American nurse, Kai Cyre, before moving to Russia in 2017. Cyre had given birth to a baby girl, Rain, during their relationship.
They have never been seen together in the years that followed, but rumors suggest that they co-parent their daughter. He often posts pictures of his kids on his Insta, but he has never posted his girl's photos online yet.
Social Media
Frequently Asked Questions
What numbered jersey does Thomas Robinson wear?
Thomas Robinson wears jersey no. 41 for the PuertoRican club, Piratas de Quebredillas in 2022.
What is the wingspan of Thomas Robinson?
Thomas Robinson has a wingspan of 2.16 meters.