Marcus Morris is a professional basketball player from the United States. Currently he has been actively playing for Los Angeles since 2020.
On defense, he provides a high-intensity work ethic that compensates for his physical limitations regarding height, length, and explosiveness.
Marcus and his identical twin Markieff Morris are both basketball players with a strong bond.
Moreover, playing for seven different teams throughout his NBA career, Marcus can generate balanced space and secure a role in a rotation right away.
Before getting into NBA, Marcus played as a forward in his collegiate year in Kansas.
If you want to know more about the personal and professional life of Marcus Morris, Stick to the end of the article. Let's start with quick facts first.
Quick Facts
Full Name
Marcus Thomas Morris sr.
Birth Date
September 2, 1989
Birth Place
Philadelphia, Pennsylvania
Nick Name
Mook and Flask Dad
Religion
Christianity
Nationality
American
Ethnicity
Black
Education
Prep Charter, Apex Academy, Kansas University
Horoscope
Virgo
Father's Name
Not known
Mother's Name
Thomasine "Angel" Morris
Siblings
Markieff Morris, David Morris, Blake Morris, Donte Morris
Age
33
Height
6 feet 8 inches (2.03 m)
Weight
218 lb. (99kg)
NBA Draft
2011 / Round:1 / Pick: 14th Overall
Hair Color
Black
Eye Color
Black
Career Highlights & Awards

Consensus second-team All-American (2011)
Big 12 Player of the Year (2011)
The no. 22 jersey was retired by Kansas Jayhawks

Build
Athlete
Marital Status
Married
Girlfriend / Wife
Amber Soulds
Position
Power Forward
Profession
Basketball Player
Net Worth
Not known
Salary
$15,627,907
Currently Plays for
Los Angeles Clippers
League
NBA
Active Since
2011- present
Social Media
Instagram, Twitter, Facebook
Merch
Trading Card
Last Update
May, 2023
Early Life, Family & Education
On September 2, 1989, he was born to Thomasine Morris in Philadelphia, Pennsylvania.
Marcus is the brother of four, including his identical twin Markieff.
He and his twin have a close relationship because they attended the same college and now work in the same profession.
Moreover, he has added new family members as a wife and son, Amber and Marcus Thomas Morris Jr.
Talking about his high school education, both brothers completed their high school from Prep Charter and Apex Academy.
Furthermore, Rivals.com rated Marcus as a four-star recruit, the No. 10 power forward, and the No.29 player of the nation in 2008.
College Career
Marcus completed his collegiate education at Kansas University. Though he is recognized as a professional basketball player, he majored in American studies during his collegiate year.
He was recognized as the 2010-11 Big 12 Conference Men's Basketball player of the Year and Second-team- American during his college years.
Moreover, he was also named a third-team All-America by Fox Sports and a ten-member John R. Wooden Awards Men's All-American team.
Marcus and his brother finally decided to enter the NBA after his improvement. Both announced their appearance in the 2011 NBA draft.
Professional Career
Houston Rockets
Starting his first appearance as an NBA player, Houston Rockets picked Marcus with the 14th overall pick, and Phoenix Suns hired his brother with the 13th pick.
Marcus was assigned to Rio Grande Valley Vipers on January 2, 2012, and during his first game, he averaged 33 points and 16 rebounds in a 105-103 loss against Dakota Wizards.
Similarly, after the Grande valley game, he returned to the Rockets and was reassigned to Rio Grande Valley on February 3. He made his safe return to the Rockets again on February 20.
Morris was assigned as a starter at power forward for the 2012-13 draft after the injury to Patrick Patterson.
Marcus, however, initially mistook his coach Kevin McHale's decision to designate him as the starting power forward as a joke.
He didn't play much in his debut season and was injured during the preseason.
Moreover, his game was impressive after Patrick's injury, as he finished 17 games. His three-point shot percentage tripled from 12% to 38%.
Phoenix Suns
Marcus and Markieff played for the Phoenix Suns for the 2013-15 seasons. Marcus traded with the Suns on February 21, 2013.
Furthermore, seeing twins playing for the same team was a sight to watch. Marcus played against Boston Celtics with his brother and scored 7 points, two steals, and a rebound.
Although the Suns did not train him before entering the game against the Celtics, he played well.
Starting his second game with his brother, the team won against Atlanta Hawks with a 92-87 victory, where Morris notched 16 points.
On March 10, 2013, both brothers appeared in a game against the Rockets, making them the first twin brothers to ever start for the same team.
Marcus extended his contract with the Suns and scored 21 points in a 119-99 victory against Los Angeles Lakers on October 29, 2014.
He received a technical foul in a game against Minnesota Timberwolves, Morris argued with his coach, and the act was caught on national TV, so he was sidelined for the rest of the games.
Moreover, against Utah Jazz, Marcus scored a career-high of 34 points and 12 rebounds in a 100-93 victory.
With his double-double off the bench, he became only the second player since Brook Lopez in 2014–15 to have a 30-point, 10-rebound game.
In addition, it was the first time in their NBA career that both Morris brothers had a double-double in the same game.
Detroit Pistons
Marcus completed his 2015-17 seasons with the Detroit pistons. Along with Reggie Bullock and Danny Granger, he was traded on July 9, 2015.
In addition, making his first debut against Atlanta Hawks, he scored 18 points and ten rebounds in a 106-94 victory within 7 minutes.
Moreover, he averaged season-high 31 points against Dallas Mavericks in a 98-99 loss. As the eighth seed in the eastern conference, the team finished the game with a 44-38 record.
Furthermore, Marcus notched a career-high 36 points against Minnesota Timberwolves in a 116-108 win on February 3, 2017.
He also notched a new career-high 37 points in a 120-113 victory against Portland Trail Blazers on February 28.
Boston Celtics
Later, with a deal in exchange for Avery Bradley and a 2019 second-draft pick, Marcus was traded to Boston Celtics on July 7, 2017.
Moreover, in his game against Toronto Raptors, Marcus averaged 25 points in a 110-99 victory on March 31, 2018.
That was his fourth game in a row with at least 20 points.
New York Knicks
After completing the 2017-19 season, Marcus signed with New York Knicks on July 16, 2019.
Furthermore, in a 135–132 loss to the Los Angeles Clippers, Morris set a career-best with 38 points and tied a career record with 13 field goals.
Los Angeles Clippers
After playing with different teams, on February 6, 2020, the Knicks traded Marcus to Los Angeles Clippers in a three-team trade, including Washington Wizards.
On his first debut with the Clippers, he averaged 10 points in a 133-92 win against Cleveland Cavaliers on 9th February.
During game 6 of the 2020 NBA playoffs, Morris was disqualified after committing a flagrant foul on Luka Dončić. However, he was never punished but got fined $35,000.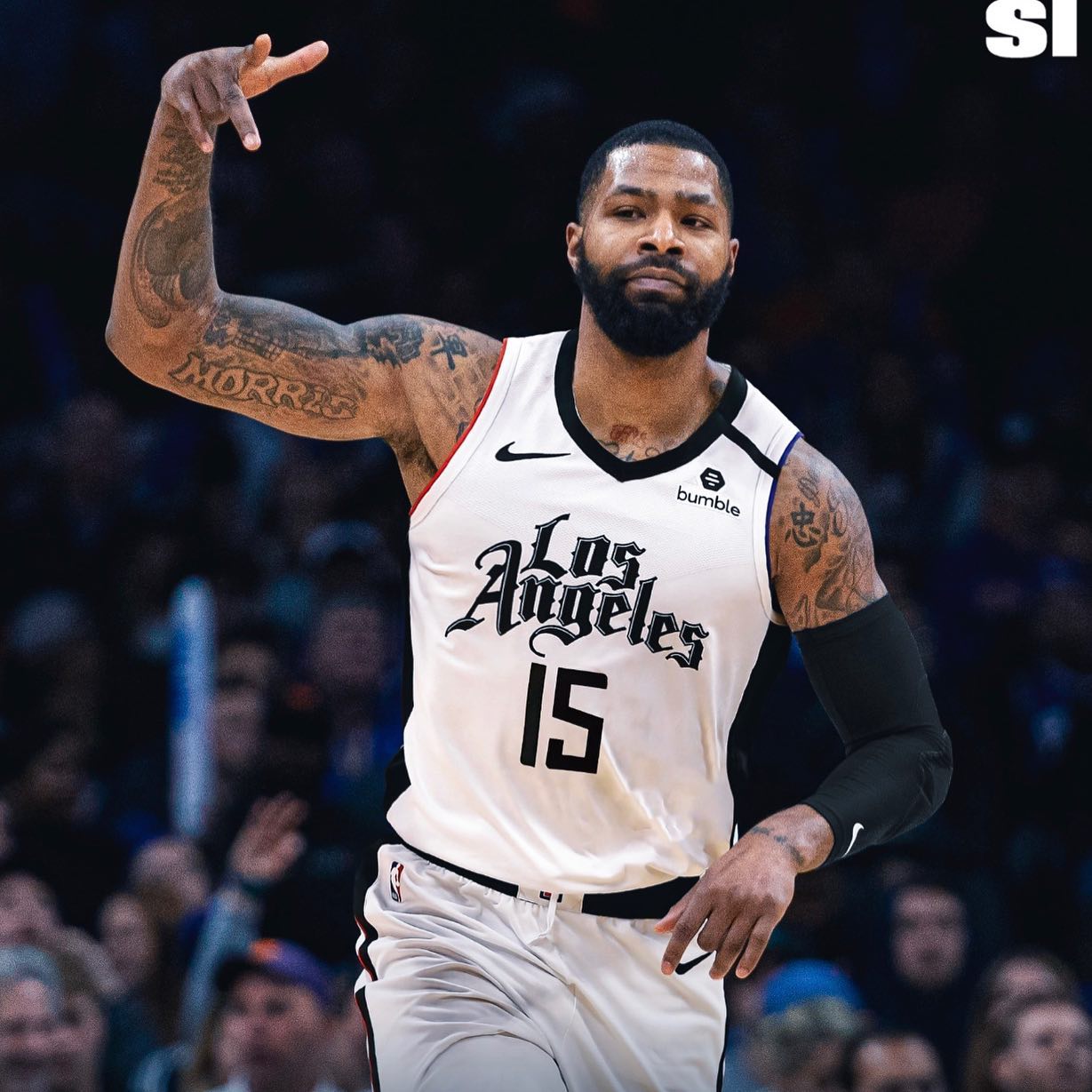 Similarly, his altercation with Paul Millsap was seen during the 2020 Western Conference Semifinals. However, Marcus scored 11.8 points and 4.8 rebounds.
Marcus signed a $64 million contract with four years extension on 25th November 2020.
Also, to find out a profile, ranking, game stats, and much more about Marcus Morris, go through NBAdraft.net.
Awards & Recognition
Consensus second-team

All-American

(

2011

)

Big 12 Player of the Year

(

2011

) and

First-team All-Big 12

The no. 22 jersey was retired by Kansas Jayhawks
Big 12 All-Rookie Team in 2009
Personal Life
Marcus, the skillful player, is currently married to Amber Soulds and happily living with his son.
Furthermore, the Morris family is actively involved with the Foe Foundation, which provides financial assistance to single parents.
Marcus, his mother, and his brother are co-founders of the Family Over Everything Foundation (FOE).
Marcus is a proud Father, as evidenced by his numerous posts with his baby. In one of his interviews, he stated that he wanted to add Sr to his name so that his son's name would be Marcus Morris Jr.
To boot on, Marcus wore "Morris Sr." on the back of his gameday jersey at the beginning of the 2018-19 season.
Furthermore, Marcus's wife, Amber Soulds, is a University of Phoenix graduate. However, due to her non-social media personality, very little is known about her active life.
Similarly, Marcus is nicknamed "Mook' and "Flask Dad."
Moreover, both brothers have been in assault controversies with Erick Hood.
The twin brothers assaulted Erick for sending an inappropriate text message to their mother. He has a long history of instigating on the court.
The case was concluded in 2017, and the twin brothers were not found guilty.
Morris grew up without a Father. Therefore, he considers himself fortunate to be given a Father's role, which he enjoys.
Age, Height & Weight
Born in 1989, Marcus Morris is currently 33 years old.
His star sign is Virgo, which makes him a hardworking, intelligent, and adventurous person.
Moreover, Morris stands 6 feet tall. His perfect height makes his scoring easier on the basketball court.
In addition, Marcus has a healthy body. He weighs around 99 kg which is an ideal weight for an athlete.
Net Worth
Marcus Morris is a veteran basketball player. Morris has proven to be a hard-working person throughout his basketball career.
In addition, his efforts and dedication to basketball have led him to live a luxurious life with his family.
Moreover, Marcus's actual net worth is still unclear, although it is estimated to be $18 million.
In terms of pay, he has earned $15,627,907 during his NBA career with several teams.
Marcus is now the league's 85th most-paid NBA player and the 34th highest-paid forward.
He earns a considerable amount, with more salaries than in 2020/21.
To find out his salary history with different teams, you can also go through Hoopshype.com.
Social Media Presence
Morris appears to use social media platforms such as Instagram, Facebook, and Twitter to stay connected with his fans.
He also has 137 Instagram posts and 3754 tweets on his verified Twitter and Instagram accounts.
Most of Marcus's social media posts are related to basketball and his family. His bio on Instagram says
" ASpromised #familyfirst"
You may learn more about Marcus Morris' personal life and follow him on social media by clicking the link below.
Instagram : 343k followers
Twitter: 154.4 followers
Facebook: 8.5k followers
Frequently Asked Questions (FAQS)
Who is Marcus Morris's agent?
According to ESPN, Marcus's agent is Chafie Fields.
Why do both Morris brothers have the same tattoo?
In one of the interviews, Morris mentioned that the Morris twins had the same taste in games, shoes, and everything else. Thus, they have the same tattoo.