Do you know about the biggest top sports scandals that made many headlines in the media?
Scandals do not elude the sports world. Although, the fans worship the athletes and even consider them godly. However, despite their status, athletes are just other human beings.
On the contrary, athletes who have reached celebrity status are more prone to getting involved in scandals. Sometimes fame gets to them, and they fall from grace.
As a result, there have been many shocking scandals in the sports world. From scandals like doping to arrests and murder, we have compiled some of the biggest news that broke in the sporting world.
So without further ado, let's begin.
Top 10 Sports Scandals of All Time
The list has been compiled from trusted sources like Bleacherreport, SportsShow, etc. Let us take a quick look at the table below before getting into the details.
| | |
| --- | --- |
| Athletes Names | Sports |
| 10. Danny Almonte | Baseball |
| 9. Pete Rose | Baseball |
| 8. Tonya Harding and Nancy Kerrigan | Ice Figure Skating |
| 7. Ben Johnson | Track and Field |
| 6. Reggie Bush | Football |
| 5. Rosie Ruiz | Track and Field |
| 4. Diego Maradona | Soccer |
| 3. Tiger Woods | Golf |
| 2. Lance Armstrong | Cycling |
| 1. O.J. Simpson | Football |
10. Danny Almonte
We will start our list of top sports scandals with a former Dominican-American baseball player Danny Almonte. He was a Little League World Series hero at one time, but then he got into one of the greatest sports frauds.
Almonte was considered a phenomenon. He was a Little League pitcher who led his Brox team to third place in the 2001 Little League World Series. Similarly, his incredible throw of 79 miles per hour (127 km/h) was the talk of the baseball world.
But then it was revealed that Almonte was two years old to play in the Little League. So the speculation that started as a rumor later became a truth.
The age reveal was one of the biggest scandals in baseball's history. Although it might not sound like a severe scandal, this cost Almonte everything, including his career in MLB.
He did play for different teams over the years but without much luck. He worked as an assistant coach at Cardinal Hayes High School in New York City.
There are many athletes, but only a few have been considered overrated. Click here to read about the most overrated athletes of all time!
9. Pete Rose
Pete Rose is a former professional baseball player and manager. Nickname "Charlie Hustle" was a prominent member of the Cincinnati Reds team known as The Big Red Machine and served as the team's manager.
Rose was a big shot in the baseball league; however, an accusation later turned into a full-on investigation. It led him to be permanently ineligible from baseball.
He was accused of gambling on the baseball game while playing and managing the Reds. As a result, the Commissioner of Baseball, Peter Ueberroth, and N.L. President Bart Giamatti informally questioned Rose in February 1989.
At first, he vehemently denied all the allegations. But after years of accusations, more evidence piled up. Finally, the investigations revealed Rose's betting records.
While piling evidence, Rose voluntarily accepted a ban from MLB on August 24, 1989. Moreover, the Baseball Hall of Fame has banned him from being inducted into the Hall of Fame.
Although one of the baseball stars, Rose himself led to his career and legacy's demise. His betting scandal is one of the biggest in the baseball league.
8. Tonya Harding and Nancy Kerrigan
Talking about scandals, this next one takes the cake for being one of the most unethical and heinous acts in sports history. Moreover, it is one of the disgraceful examples of taking sports rivalry to the next.
Tonya Harding and Nancy Kerrigan were time rivals, both Olympic skaters. Harding had defeated Kerrigan on multiple occasions.
Fast forward to 1994, Kerrigan was attacked after practice at the Cobo Arena in Detroit, Michigan. A hitman struck Kerrigan's right leg with a 21-inch collapsible baton. Fortunately, the injury left her with bruises and no broken bones.
However, it was severe enough for her to pull out of competing in the national championships. There is a dreadful video of Kerrigan screaming in agony after the attack.
An FBI investigation led to the arrest of Harding's bodyguard, who confessed to his involvement in the attacks. Moreover, the bodyguard was incriminated.
With mounting pieces of evidence, Harding pleads guilty to all charges. As a result, she was revoked from her 1994 national championships and was banned from U.S. Figure Skating.
7. Ben Johnson
Ben Johnson once held the title of the world's fastest man. He is a former Canadian sprinter who previously had the World Records for 60m and 100m and many other titles and awards.
One of the prominent sprinters, he appeared in the Summer Olympics and Commonwealth Games before allegations of doping swirled around him.
In the 1988 Summer Olympics (Seoul 1988), the Olympic Doping Control Center found stanozolol in Johnson's urine sample. Johnson was then disqualified for three days after the race.
After the revelation, he admitted to using steroids in 1987 when he made a World Record. So naturally, this caused a considerable commotion in the sports world.
As a result, he was stripped of his World Records gold medals and suspended from the sport for the time being.
After his suspension ended, Johnson attempted his comeback. Although he failed to qualify for the 1991 World Championships, he was still eligible for the Canadian Olympic team in 1992.
<<<15 Best Sports Rivalries of all Time>>>
6. Reggie Bush
Moving on at 6, on our list of the top sports scandals is Reggie Bush. Before scandals surrounded Bush, he was one of the top players and a Heisman Trophy winner. New Orleans Saints drafted him second overall in the 2006 NFL draft.
Bush joined the University of Southern California, receiving an athletic scholarship. He played for the University's football team, the Trojans, and quickly grabbed the football world's attention.
As Bush stacked many titles and winnings in 2006, reports surfaced about the Bush family's receiving gifts. Aside from being unethical, it was also a violation of the NCAA policies.
Then the following year, in 2007, Sports agent Lloyd Lake sued the Bush family with intentions to recoup $291,600 in cash and gifts. Furthermore, Lake agreed to cooperate with NCCA in the ongoing investigation.
Bush voluntarily forfeited his 2005 Heisman Trophy with the allegations and investigations swirling around. As a result, NCCA stripped his USC championship trophy and winnings for the 2004-2005 season.
Although the Saints drafted Bush, he could not make much impact in the NFL. The scandal tainted his name and his professional career could not flourish all too well.
5. Rosie Ruiz
Rosie Ruiz's name has been forever marked as one of the biggest fraudsters in sports history. She was a former Cuban-American marathon runner.
Born in Havana, Cuba, Ruiz moved to the United States when she was eight. For the first time, Rosie qualified for the New York City Marathon in 1979. She came 11th in the woman's overall and qualified for the Boston Marathon.
Then in 1980, Ruiz appeared in the Boston Marathon. At first, she seemed to have won the marathon with the fastest female time in Boston Marathon history and the third-fastest female time in any marathon history.
However, suspicion rose from the beginning, and Men's winner Bill Rodgers noticed Ruiz could not recall many things about the race. Observers also saw unlike other runners, she was not coated in sweats, pant and her thighs were less lean and muscular.
All the suspicion, witnesses, and testimonies made her admit her fraud. She admitted to not running the course and took a shortcut to finish the race. As a result, Ruiz was disqualified from the 1979 New York City Marathon and Boston.
However, despite leaving the sports world, Ruiz's life was filled with many crimes and arrests. Rosie passed away at the age of 66 in 2019.
4. Diego Maradona
Diego Maradonna is a legendary figure in soccer. The former Argentine player and manager are regarded as one of the greatest players in history.
However, this legend, along with a long list of achievements, was also scandalous. Maradonna was often in trouble with the authorities and addicted to cocaine.
But the scandal we are talking about here is the one in the quarterfinal between Argentina and England in the 1986 World Cup.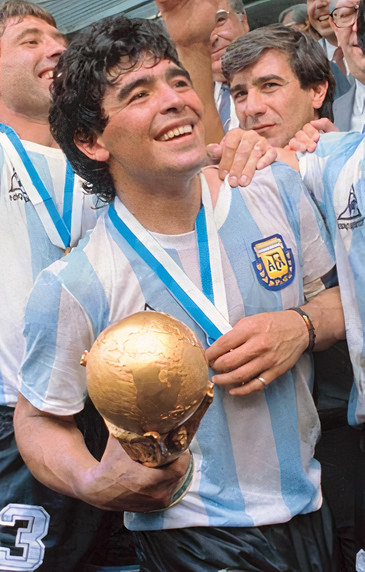 At 51 minutes into the game, Maradonna received a pass in front of the goal. He then proceeded to tap the ball in with his hand. Nonetheless, it escaped the eyes of the referee for the match, Tunisian Ali Bin Nasser.
The goal was valid, Maradona scored another dream, and Argentina won the match. However, it was undoubtedly one of the most controversial and scandalous goals in sports history.
Later Maradona himself admitted that he tapped the ball in with his hand. What is more interesting is that he gave his cheating hand the name "Hand of God."
3. Tiger Woods
Tiger Woods was enjoying his life of fame and fortune as one of the greatest golfers, but it all came crashing down. And it all starts with the number 12.
On the fall 2009 Thanksgiving day, Woods' wife, Elin Nordegren, chased him out of the house with a golf club. Woods had made his escape in a speed-away car and crashed.
Onlookers thought it was a car crash, but it was the most scandalous affair the sports world had ever heard about. The athlete's ex-wife smashed his car window with a golf club to get him out.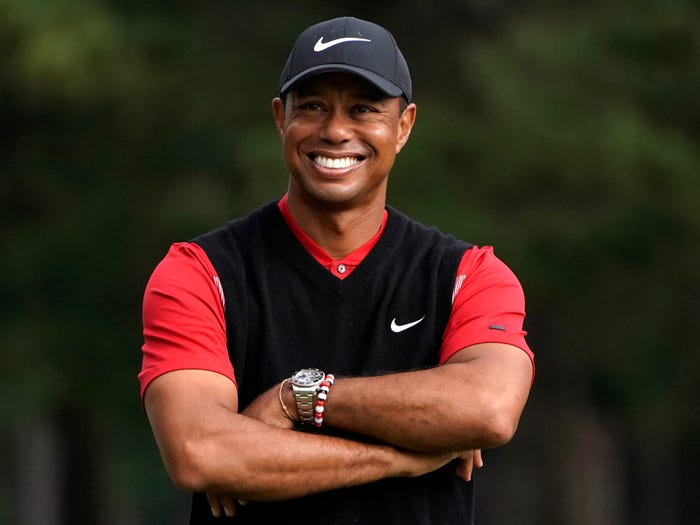 His wife caught his infidelity. She read an intimate text between him and his lover, which raged her to chase after Woods like a mad woman. And you know what they say, hell has no fury like a woman scorned!
As the details started to leak, it came to light that he had affairs with 12 different women at a particular time in his marriage. With his personal life all over the media, Woods took an indefinite leave from golf.
Woods went through a rough divorce and lost custody of his kids. Although he did make a comeback to sports, he has never been able to return to his former glorious self.
2. Lance Armstrong
Another major scandal of doping that ended an athlete's career was that of the road racing cyclist Lance Armstrong. The doping allegation led to a significant investigation that ended his career forever.
One of the greatest cyclists, Armstrong had seven consecutive wins in the Tour de France from 1999 to 2005.
Similarly, he also enjoyed success between 1993 to 1996, winning various titles. However, Armstrong's career doping allegations overshadowed his professional career.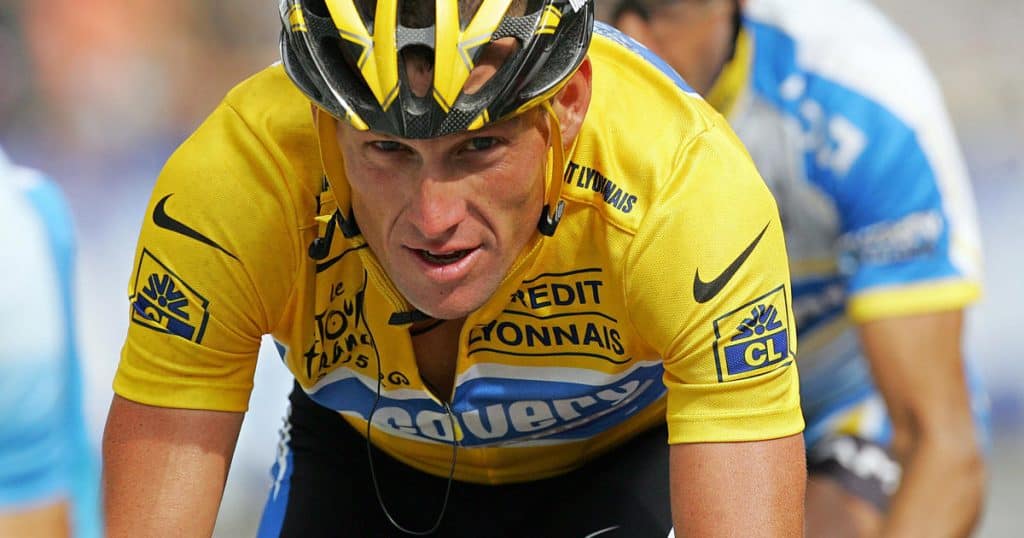 Although he was subject to doping soon after winning the 1999 Tour de France, no official investigation was taken until 2006.
Then in 2012, United States Anti-Doping Agency (USADA) investigation concluded that Armstrong had used performance-enhancing drugs during his games.
However, with the doping allegation proved, Armstrong did not choose to contest the charges. As a result, the racer was stripped of all his wins and banned from all sports.
<<<Countries with Most LGBTQ+ Athletes in Beijing Olympics 2022>>>
1. O.J. Simpson
Who could forget this scandal that rocked the whole sports nation making huge headlines worldwide? The scandal is not related to fraud, doping, or cheating allegations but is a double murder case.
Once a popular American public figure, O.J. Simpsons is now known for an attempt to kill his wife Nicole Brown Simpson and her friend Ron Goldman.
The story brought a crazy whirlwind of mass media and the public speculating whether Simpson committed the heinous crime or not. Finally, he was caught and tried for the murder charges in federal court.
The snippet of him trying to put on a glove which he faked a struggle to put on, is one of the best-known parts of the trial. Finally, after nine months of what seemed like something straight out of movies, Simpson was found not guilty.
But less than four months later, he was found guilty of both deaths in a civil trial. The court awarded a $33.5 million judgment for the victim's wrongful deaths.
Although the scandal has nothing to do with sports, the involvement of a famous former athlete makes the case one of the top sports scandals of all time.
Conclusion
The scandals have ruined athletes' reputations and careers and forever tainted their lives. Although few have made a return to the sport, their job will never be the same.
So which scandal do you think is one of the most insane in sports history? Let us know!