Ty Gibbs, the 20-year-old eligible bachelor, is an American professional stock car racing driver who competes full-time in the NASCAR Cup Series and part-time in the NASCAR Xfinity Series for Joe Gibbs Racing.
He joined NASCAR Cup Series full-time in 2023, driving the newly rebranded No. 54 Toyota Camry.
Gibbs, as of this writing, ranks at number 18 in the Cup Series standings with 174 points and no wins.
Joe hails from a long line of talented athletes with a family tree that boasts an impressive array of sporting legends across multiple generations.
He is the proud grandson of Joe Gibbs, the renowned former head coach of the Washington Redskins, and owner of Joe Gibbs Racing.
Quick Facts
| | |
| --- | --- |
| Full Name | Tyler Randall Gibbs |
| Known As | Ty Gibbs |
| Nickname | Ty |
| Birthdate | October 4, 2002 |
| Age | 20 Years Old |
| Birthplace | Charlotte, North Carolina, United States |
| Current Residence | Charlotte, North Carolina, United States |
| Father | Coy Gibbs |
| Mother | Heather Gibbs |
| Siblings | Three | Two Brothers (Case Gibbs and Jett Gibbs) | One Sister (Ellie Gibbs) |
| Nationality | American |
| Marital Status | Unmarried |
| Built | Athletic |
| Sexual Orientation | Straight |
| Eye Color | Dark Brown |
| Hair Color | Brown |
| Height | 5 ft 7 in/1.70 m/170 cm |
| Weight | 114 lb/52 kg |
| Ethnicity | White American |
| Zodiac Sign | Aquarius |
| Religion | Christianity |
| Profession | Stock Car Racing Driver |
| Education | Not Known |
| Association | Joe Gibbs Racing |
| Net Worth | $1 to $5 Million |
| Salary | Not Known |
| Social Media | Instagram, Twitter |
| Last Update | May 2023 |
Early Life & Family
The young and talented NASCAR driver Ty Gibbs was born on October 4, 2002, in Charlotte, North Carolina, United States.
As mentioned before, Gibbs has an illustrious lineage in both football and NASCAR.
Ty's grandfather Joe Gibbs is the owner of Joe Gibbs Racing and the former head coach of the NFL's Washington Redskins.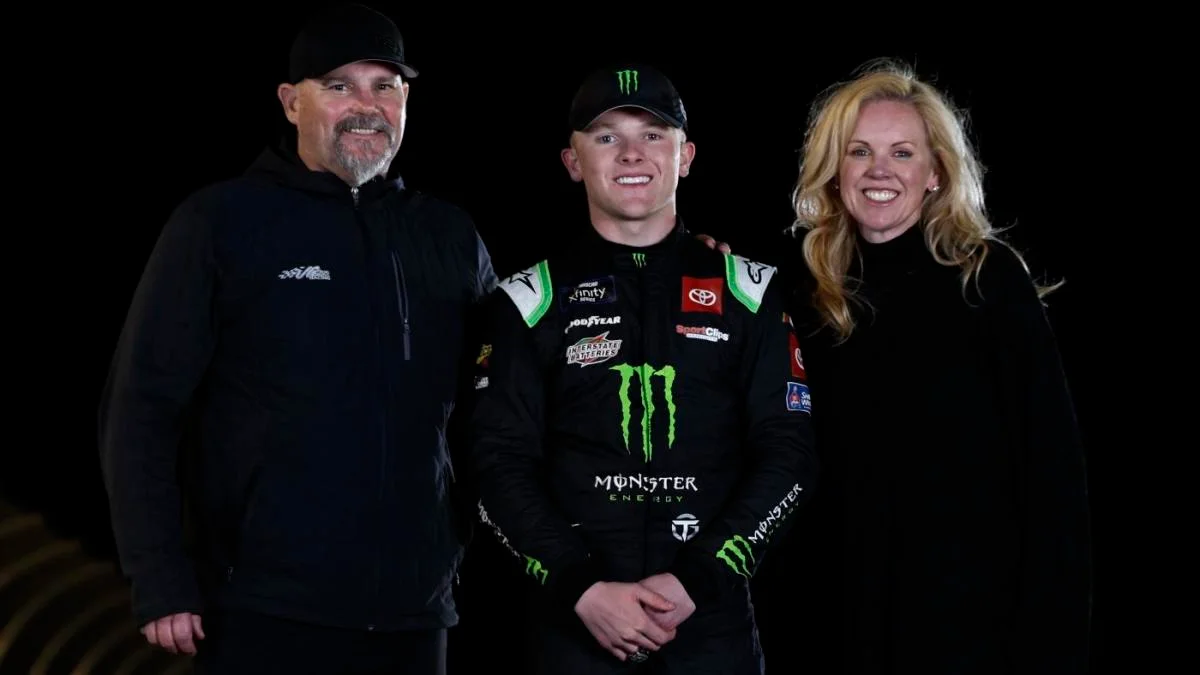 Similarly, his father, Coy, was the assistant coach and former NASCAR driver. Heather Gibbs, Ty's mother, is a realtor in the Charlotte area.
That's not it; he is the beloved nephew of the late J. D. Gibbs, who served as co-owner of Joe Gibbs Racing.
Furthermore, Gibbs is the cousin of two talented athletes: former Appalachian State University quarterback Jackson Gibbs, and tight end, Miller Gibbs.
Acquaintance With Racing
Ty's career began in 2015 at the tender age of 13, when he started running Shifter Karts at GoPro Motorplex.
It was not particularly surprising as he comes from a family who shares a deep love for motorsport.
Over the years, he has polished his expertise and worked diligently to improve his craft.
In 2019, his hard work paid off when he won the prestigious IceBreaker 125 Late Model Stock race at Myrtle Beach Speedway.
Gibbs piloted the No. 18 car for Nelson Motorsports and drove with poise and precision, demonstrating his remarkable ability to handle high-pressure situations and emerge victorious.
Professional Career
The grandson of NASCAR Hall of Fame team owner and Pro Football Hall of Fame coach Joe Gibbs, Ty competed in the CARS Late Model Stock series for Marlowe Racing in 2017 and 2018.
He began his professional racing career with remarkable performances in the NASCAR K&N Pro Series East and West, collecting four second-place finishes and a debut win in 2019.
He has since competed in the ARCA Menards Series, finishing 13th and fifth in 2019 and 2020, respectively.
In 2021, Gibbs made his Xfinity Series debut and drove part-time for Joe Gibbs Racing's No. 54 car, sharing the ride with other notable drivers.
He moved to the Xfinity Series full-time in 2022 and won three races early in the season, showcasing his exceptional racing skills.
Gibbs also made his NASCAR Cup Series debut in July 2022, stepping in as a replacement driver for Kurt Busch and further proving his talent in the racing world.
He joined NASCAR Cup Series on a full-time basis in 2023.
Awards & Achievements
Ty Gibbs, a young NASCAR Cup Series driver, has garnered numerous awards and achievements throughout his career, including,
2022 NASCAR Xfinity Series Champion
2021 ARCA Menards Series Champion
2019 IceBreaker 125 Winner
2021 NASCAR Xfinity Series Rookie of the Year
Father Coy Gibbs
Coy Randall Gibbs, the later father of Ty Gibbs, was born on December 9, 1972, in Fayetteville, Arkansas.
He was the son of five-time NASCAR Cup Series championship-winning owner and Pro Football Hall of Famer Joe Gibbs.
Coy went to Stanford University and played football as a linebacker from 1991 to 1994 and led the Cardinal in tackles as a senior.
He made his NASCAR debut in 2000 in the Craftsman Truck Series, sharing the driving duties of the No. 20 Chevrolet with his brother J. D.
Even though he had no notable wins in NASCAR, he is still remembered for his fierce on-track performances.
Unfortunately, Coy, aged 49, died in his sleep on November 6, 2022, the night during which his son Ty Gibbs won the 2022 NASCAR Xfinity Series.
His death was announced just before the 2022 NASCAR Cup Series Championship Race. Multiple drivers, including Kyle Busch, Joey Logano, and Christopher Bell, paid tribute to Gibbs before and after the race.
Grandfather Joe Gibbs
The former football coach and auto racing team owner, Joe Gibbs, was born on November 25, 1940, in Mocksville, North Carolina, United States.
He graduated from Santa Fe High School in 1959, where he was a standout quarterback on the football team.
After high school, Gibbs continued his academic and athletic pursuits by attending Cerritos Junior College.
Later, Gibbs pursued a degree in Physical Education at San Diego State University, where he had the privilege of being coached by Don Coryell, a legendary coach who would go on to be inducted into the Pro Football Hall of Fame.
Gibbs completed his Bachelor of Arts degree in 1964 and earned a master's degree from the same university in 1966.
He began his coaching career with a stint as an offensive line coach at San Diego State and later coached several NFL teams, including Tampa Bay Buccaneers, St. Louis Cardinals, and Washington Redskins.
One year prior to his first retirement from NFL, Gibbs created his NASCAR team, Joe Gibbs Racing, in 1992.
Net Worth & Earnings
The exact net worth figure of the young champion has not been revealed, but given his time in motorsports, he might have a net worth of $1 and $5 million as of 2023.
Ty earns well from his on and off-track endeavors.
One of the most lucrative sources for drivers to earn in NASCAR is sponsorships, and Ty has benefitted immensely from his share of endorsement deals.
Some of his sponsors include Interstate Batteries, MoneyLion, Monster Energy, McDonald's, Jordan Brand, 23XI Racing, and Toyota SmartPath.
Unknown Facts About Ty Gibbs
On September 21, 2019, Ty scored his first career win in his sixth start at the Apple Barrel 125 at New Hampshire Motor Speedway in the No. 54.
In 2022, Ty was fined $15,000 for hitting Sam Mayer's car on the pit road after the race.
Gibbs was fined $75,000 when she veered into Ty Dillon on pit road, nearly sending Dillon toward a NASCAR official and a group of pit crew members.
Frequently Asked Questions (FAQS)
What is Ty Gibbs's NASCAR Xfinity Series career stat?
Throughout his 51 races run over 2 years in NASCAR Xfinity Series, Ty has won 11 races, with 6 pole finishes and 34 top ten finishes.