Tyler Skaggs was a professional baseball starting pitcher from the USA. He was born and raised in California until he went professional.
He played for the Major League Baseball teams and the Minor League teams too. Teams such as Los Angeles Angels and Arizona Diamondbacks mourn their loss to date.
The starting pitcher passed away in a tragic incident on July 1, 2019, which is also his birth month.
During his ten years of career, he always gave his best in pitching and led his teams to many victories.
He used three pitching styles, a four-seam ball, curveball, and a change-up with 72 to 94 miles per hour. However, according to Baseball America, the curveball was his best pitching.
After his untimely death, all of MLB was in great agony and gave many memorials in honor of Tyler to show their love and respect.
Now let us go further and know more about the late Tyler Skaggs. Below is a table of facts for your brief understanding.
Tyler Skaggs | Quick Facts
| | |
| --- | --- |
| Full Name | Tyler Wayne Skaggs |
| Date of Birth | July 13, 1991 |
| Birth Place | Woodland Hills, California, USA |
| Known As | Swaggy, Skaggs |
| Religion | Unknown |
| Nationality | American |
| Ethnicity | White |
| Zodiac Sign | Cancer |
| Age | – |
| Height | 6 feet 4 inches (193 cm) |
| Weight | 102 kg (201 lbs) |
| Hair Color | Black |
| Eye Color | Dark Brown |
| Build | Athletic |
| Father's Name | Darell Skaggs |
| Mother's Name | Debbie Skaggs |
| Siblings | None |
| Education | Santa Monica High School |
| Marital Status | Married |
| Wife | Carli Miles Skaggs |
| Profession | Professional baseball player |
| Position | Starting Pitcher |
| Teams | Arizona Diamondbacks, Los Angeles Angels |
| Active Years | 2009-2019 |
| Salary | $1.8 million as of 2018 |
| Social Media | Instagram, Twitter |
| Death | July 1, 2019 (aged 27) |
| Last Update | November, 2023 |
Tyler Skaggs | Early Life, Education, and Family
Tyler Wayne Skaggs was born on July 13, 1991. He was born and brought up as an only child in Woodland Hills, California, with parents, Darell Skaggs and Debbie Skaggs.
Debbie remarried Danny Hetman after separation from Darell.
Not to mention, his mother was the softball coach at Santa Monica High School. Besides, Tyler attended Santa Monica High School in California, where his mother worked.
Also, Skaggs played for the school team and not to mention received the player of the year award in his junior year.
There is no information on whether he graduated from a university or not, but he went professional after high school, as reported.
Amateur career
Skaggs started his journey toward professional baseball at Santa Monica High School.
During his junior year in 2008, he recorded a 1.11 earned run average (ERA), including 89 strikeouts, 44 hits, and 22 walks in 63 1⁄3 innings pitched.
Consequently, Tyler received the Player of the Year award in the Ocean League.
Tyler Skaggs | Professional Career
Los Angeles Angels
During the first round of the 2009 Major League Baseball draft, the Los Angeles Angels of Anaheim drafted Tyler Skaggs with the 40th pick as a supplemental selection.
Furthermore, Skaggs made his professional debut with the Arizona Angels of Arizona League in Minor League Baseball as a rookie.
He also played with Orem Owlz of the Pioneer League. In addition to whom he played with, Tyler scored a 1.80 ERA in 10 innings pitched.
The Angels assigned Tyler to the Cedar Rapids Kernels of the Class-A Midwest League in 2010. In addition to the assignment, he made his appearance in the Midwest League's all-star game.
Harrison Bader – Career, Family, MLB, Net Worth & Wiki.
Arizona Diamondbacks
2010
Further, the Los Angeles Angels traded Tyler Skaggs along with Joe Saunders, Rafael Rodriguez, and Patrick Corbin to the Arizona Diamondbacks on July 25, 2010, in exchange for Dan Haren.
After the trade, the Diamondbacks appointed him to a former Class-A affiliate team, the South Bend Silver Hawks of the Midwest League.
Tyler Furthermore, he finished the 2010 season with nine wins and five losses, including a 3.29 ERA and 102 strikeouts.
2011
In 2011, Skaggs started the season with the Class-A Advanced affiliate team, Visalia Rawhide of the California League.
Shortly afterward, The Diamondbacks promoted him to a former Double-A affiliate team called the Mobile Bay Bears of the Southern League in July.
Moreover, Tyler represented the Diamondbacks in the 2011 All-Star Futures Game hosted by the MLB, alongside Paul Goldschmidt.
Additionally, Skaggs started 27 games for the Rawhides and Bears, where he had a 9-6 win-loss record, with a 2.96 ERA and 198 strikeouts. Even more so, the Diamondbacks gave him their minor league pitcher of the year title.
2012
Tyler Skaggs headed off to the 2012 season with Mobile. Later in June, Arizona Diamondbacks eventually promoted him to a Triple-A affiliated team named Reno Aces of the Pacific Coast League.
Also, he made his second appearance in All-Star Futures Game in 2012.
Not to forget, on August 22, 2012, Skaggs made his MLB debut. He reserved two runs in ​6 1⁄3 innings in his debut game and led the team to a victory.
Likewise, in the Major League game with the Diamondbacks, Tyler recorded a 5.12 ERA in seven major league starts in 2013.
Nick Pivetta – Boston Red Sox, Career, MLB & Net Worth.
Return to the Los Angeles Angels
2013 – 2015
On December 10, 2013, the Diamondbacks traded Skaggs back to the Angels in a three-team trade.
The Angels received Hector Santiago, while the Chicago White Sox received Adam Eaton. Similarly, the Diamondbacks received Mark Trumbo and two other players.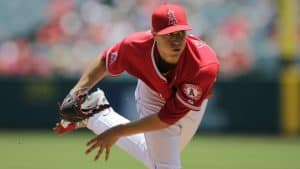 Before his injury in August, Tyler recorded a 4.30 ERA in 18 games started in 2014. As a result of his injury, he underwent ulnar collateral ligament reconstruction and ended his time for the season.
During his recovery, Skaggs decided that he would not pitch for the entire 2015 season so that he could recover completely.
Nevertheless, he returned to the Angels in 2016 after more than a year of recovering from the surgery.
2016-2019
After the recovery break, Skaggs returned to the Angels in 2016 and played ten starting games.
However, Tyler spent more than three months on the disabled list for the 2017 season, due to which he only started 16 games.
Similarly, in 2018, Skaggs spent another three months on the disabled list because of a muscle strain.
He finished the 2018 season with 24 starting jobs, including a 4.02 ERA and 129 strikeouts in ​125 1⁄3 innings.
Furthermore, he began the 2019 season in the rotation. However, Tyler had to sit out as he suffered a left ankle sprain and was placed on the disabled list. Subsequently, he was recalled to the field on April 26.
In addition, Tyler Skaggs recorded seven wins and seven losses in the 15 starting games in 2019. Also, he scored a 4.29 ERA and 78 strikeouts. Moreover, Skaggs became the team leader in wins and strikeouts for the season.
Tyler recorded 28 wins and 38 losses during his career, including a 4.41 ERA and 476 strikeouts in ​520 2⁄3 innings pitched.
Also read Ronald Torreyes – Career, MLB, Trade, Net Worth, Wiki.
Tyler Skaggs | Personal Life
Skaggs tied the knot with his long-time girlfriend, Carli Miles. She is now known as Carli Skaggs.
Tyler proposed to his wife in 2017 in Bora Bora, and the couple got married in 2019 after the conclusion of the 2018 Major League Baseball season.
Tyler and Carli spent quality time together when they could, traveling to beaches all around the world.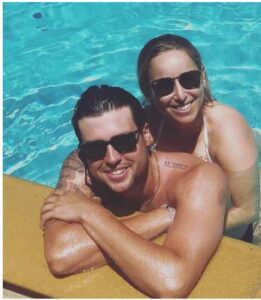 They seemed to be in a happy and healthy relationship without any rumors affecting their personal life.
Sadly, they could not spend a lifetime together. However, Carli founded a non-profit in honor of her husband. The Tyler Skaggs Foundation started in 2019 and focuses on empowering the youth through sports.
Also read Kevin Kiermaier – Tampa Bay Rays, Marriage, and Net Worth.
Tyler Skaggs | Death
Skaggs died an unfortunate death by overdosing on fentanyl overdose. Agonizingly, Skaggs was found unresponsive in his hotel room, in Southlake, Texas, on July 1, 2019.
The authorities pronounced him dead at around 2:18 in the afternoon after they arrived at the scene.
Tyler was scheduled to pitch in the four-game series against the Texas Rangers supposed to be held on July 4. But after the tragic incident, both the Angels and Rangers postponed the first game.
According to the statement issued by the Southlake Police Department, there were no suspicions of suicide or foul play was suspected.
The following day after the announcement of his death, the Tarrant County Medical Examiner started doing an autopsy.
They estimated that the autopsy would determine a cause of death by October 2, 2019.
After the passing of Tyler Skaggs, Andrew Heaney became the first pitcher to start the game on July 6, 2019.
Later, the Tarrant County Medical Examiner announced a mixture of fentanyl, oxycodone, and alcohol in his system after performing the autopsy on Tyler on August 30, 2019.
The medical examiner concluded that Skaggs died because of asphyxia after choking on his own vomit, and his death was declared an accident.
However, Tyler's family could not sit quietly, knowing that their son had tragically died. They hired a Texas attorney Rusty Hardin to investigate the causes of his death further.
After the investigation, one of the Angels employees admitted to providing oxycodone to Skaggs.
Consequently, on October 15, 2020, former Angels communications director Eric Kay was accused of charges related to Tyler Skaggs' untimely death.
Tyler Skaggs
| Career Stats
Tyler Skaggs | Memorials
The sad and untimely demise of an impressive pitcher triggered an outpouring of grief and mourning.
In honor of the late Tyler Skaggs, Patrick Corbin, who was traded along with Skaggs to Arizona, switched his jersey number to 45 in a game against the Miami Marlins on July 2.
Similarly, Mike Trout and Tommy La Stella, the Angels' two All-Star representatives, also wore No. 45 in honor of their dear friend and teammate at the 2019 Major League Baseball All-Star Game.
Mike Trout – Net Worth, Instagram, Contract, Stats & Wife
Likewise, On July 12, 2019, every player from the Angels wore Tyler's number 45 at their first Angels game after Skaggs' death.
In a tear-jerking moment, Tyler's mother, Debbie Hetman, threw the ceremonial first pitch.
Furthermore, after the game, the Angels' players removed their number 45 jerseys and laid them on the ground in honor of Tyler's memory.
Even more so, all the major league players wore a number 45 patch on Players Weekend.
Also, During the first night of Players Weekend, Ryan Braun, Jesse Chavez, Patrick Corbin, Jack Flaherty, Max Fried, Lucas Giolito, Scott Heineman, Mike Moustakas, and Christian Yelich wore jerseys with Skaggs' nicknames to honor and show their love towards Tyler.
Similarly, a few of his teammates also wore jerseys that had "LOVE YOU, TY" written on them.
And for the rest of the 2019 season, the Angels wore a No. 45 patch in his memory.
You can also find Tyler's grave memory here.
Tyler Skaggs
| Social Media
Instagram – 48.5K
Twitter – 33.3K
Some FAQs
How much is a Tyler Skaggs Baseball Card worth?
On average, the Baseball Card from Tyler Skaggs is valued at $7.75.
Who did Tyler Consider his Idol?
Tyler considers Kobe Bryant as his Idol personality.
Where did the basketball Player Die?
He died in a hotel room in Southlake.
What was the Jersey Number of Tyler?
Tyler used to wear Jersey number 45.