John Calipari kids, Erin, Megan, and Brad, have successful careers of their own. Among his three children, only his son, Brad, pursued a career in sports.
The American basketball coach is indeed a proud father.
He and his wife, Ellen, paved the road to success for their children. Their eldest daughter, Erin, is an associate professor, the second-born is a chef, and their only son caught the basketball coaching profession like his father.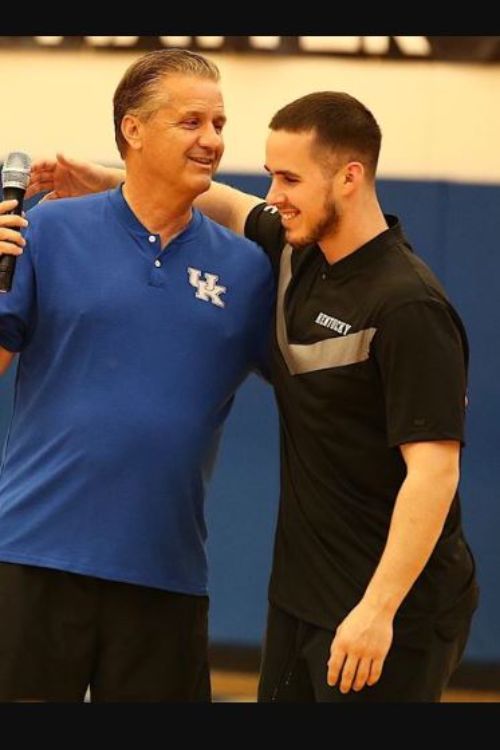 With an experience of more than four decades, John Vincent Calipari defines his status as one of the most successful basketball coaches.
Currently, Calipari is the head coach of men's basketball at the University of Kentucky (2009- present). With the Kentucky Wildcats, he won the 2012 NCAA Championship.
He's coached both the college basketball team and in the NBA, having coached numerous successful NBA players like Derrick Rose and DeMarcus Cousins.
His NBA stints were as the head coach of the NBA's New Jersey Nets (1996-99) and as an assistant coach at the Philadelphia 76ers (1999-2000).
The three-time Naismith College Coach of the Year previously coached college teams at Kansas Jayhawks, Pittsburgh Panthers, UMass Minuteman, and Memphis Tigers.
John Calipari Kids: Father Of Three With His Wife, Ellen
The 2015 Basketball Hall of Fame inductee and his wife Ellen Calipari (nee Higgins) share three children (two daughters & a son). Their names are Erin (the eldest), Megan (middle), and Brad (the youngest).
Erin and his sister, Megan, have an age gap of only two years, while the third-born, Brad Vincent, is nine and seven years younger than them, respectively.
The Calipari family shares a close bond. All of them are active on social media platforms and frequently share family posts on their Instagram and Facebook.
John Calipari and his wife met in the mid-1980s while working at the University of Kansas.
At that time, Ellen was an athletic department secretary, while he was an assistant coach under Larry Brown.
After dating for a few years, they married on June 22, 1986. By a decade later, the Calipari family had expanded to a family of five with the welcome of three kids.
Unlike John, who has dual citizenship: American and Italian, his children are of only one nationality, i.e., American.
What Does Calipari Eldest Kid, Erin, Do?
Born on February 18, 1987, Erin Sue Calipari is an associate professor at Vanderbilt University (June 2022- now). As of 2023, she is 36 years old.
Moreover, according to her LinkedIn profile, she is an assistant professor at Vanderbilt University School of Medicine (Nov. 2017- now) and Vanderbilt University Medical Center (Sept. 2017- now).
Erin used to play basketball at her high school (White Station High School) and college before she opted for a medical career.
Her most focused research is on studying neural circuit activity and transcriptional programs.
She graduated from the University of Massachusetts Amherst in 2009 with a degree in Psychology (neuroscience).
Then, she enrolled at the Wake Forest University School of Medicine and obtained a Ph.D. in Physiology and Pharmacology.
Middle Child, Megan, Is A Pastry Chef
Megan Rae Calipari is the only child of John Calipari, who didn't play any sports during high school and college.
Instead, the Briarcrest Christian School alum was into food-making, which eventually led her to become a French pastry chef.
She attended the Cambridge School of Culinary Arts Professional Pastry Program and graduated in 2013.
Born on November 23, 1989, Megan is 34 years old as of 2023.
Megan is a married woman and lives in Cambridge, Massachusetts, with her husband, Michael Cotton (b. July 1988). They married on June 25, 2017.
Her husband, Michael, is a firefighter at Boston Fire Department.
Brad Calipari (Youngest Kid) Is A Basketball Assistant
The youngest of all, Brad, born on November 11, 1996, followed his father's footsteps into basketball.
He is the director of on-court player development for the Vanderbilt Commodores (July 2023- now), joining head coach Jerry Stackhouse's coaching staff.
In the 2022-23 season, Brad was a special assistant and director of player development at Long Island University Brooklyn. At LIU Brooklyn, he worked alongside Rod Strickland.
Like other coaching staff, Calipari also started as a basketball player. He played high school basketball at Lexington Christian Academy and MacDuffie High School.
Then, he played college basketball for his father at the University of Kentucky from 2017 to 2019. He graduated in three years with a degree in communication.
Then, Brad enrolled at the University of Detroit Mercy and received a master's in liberal arts and sciences in 2021.
It followed his subsequent roles as a graduate assistant at the University of Kentucky before he went to LIU Brooklyn.
FAQS
Who Are John Calipari Kids?
John Calipari kids are Erin, Megan, and Brad, all of whom have successful careers of their own.