Ichiro Suzuki is a big name in the baseball world. We are talking about the now-retired famous Japanese professional baseball outfielder who played for the New York Yankees and Miami Marlins.
But today, we will be focusing more on his wife, Yumiko Fukushima.
Yes, for those who don't know, Yumiko is the better half of Ichiro, and they have been together for two decades now.
Likewise, Fukushima is a former sports reporter for the Tokyo Broadcasting System. Bet many did not know this, as it is given that being a wife of a famous personality has its drawbacks.
Anyway, this and a lot more will be revealed today. We will further discuss her childhood, early life, marriage, and if they have any children or not? Let's get to it right this minute.
Yumiko Fukushima: Quick Facts
| | |
| --- | --- |
| Full Name | Yumiko Fukushima |
| Birth Date | December 10, 1965 |
| Birth Place | Matsue, Shimane Prefecture, Japan |
| Known as | Yumiko |
| Religion | Unknown |
| Nationality | Japanese |
| Ethnicity | Mixed |
| University | Keio University |
| School | Updating Soon |
| Horoscope | Sagittarius |
| Father's Name | N/A |
| Mother's Name | N/A |
| Siblings | An elder sister, Atsuko Fukushima |
| Age | 56 Years Old |
| Height | 5 feet 7 inches (170 cm) |
| Weight | 60 kgs (132 lbs) |
| Build | Slender |
| Eye color | Black |
| Hair color | Black |
| Profession | Former sports reporter |
| Affiliated to | TBS TV |
| Marital Status | Married |
| Spouse/Husband | Ichiro Suzuki |
| Children | None |
| Net Worth | Under Review |
| Merch of Ichiro Suzuki | Jersey, Rookie Cards, Funko Pop |
| Last Update | November, 2022 |
Meet Ichiro Suzuki's wife | Personal Life, Married, and Children
As we know, Suzuki and Fukushima have been married for a while now. The two have been married for two decades now and are still going strong as a couple.
According to the biography "Ichiro Suzuki: Baseball's Most Valuable Player," Yumiko and Ichiro began dating somewhere in 1997.
Author David Aretha wrote the book states that many young female fans adored Ichiro, teenage girls but the star baseball player "developed a long-term relationship with a professional woman who was seven years his senior."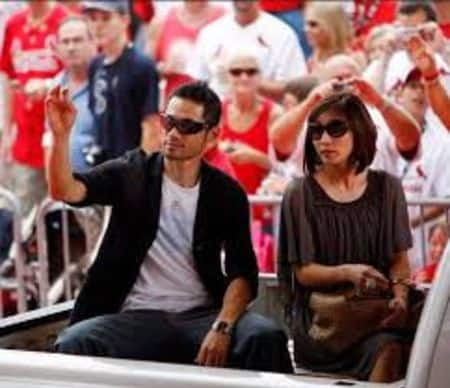 Yes, Yumiko is seven years older than Ichiro, who is just 49 years old. It was also reported that Suzuki was ecstatic about their relationship and the possibility of them being an average couple as both were them were celebrities.
Likewise, as expected, the couple received a lot of attention. Still unfazed and strong, the two got engaged in the fall of 1998.
Wedding in the States – Who was Yumiko Fukushima's former boyfriend?
The life before the two got engaged and dated is not known in public. But according to "The Meaning of Ichiro" book reference in the first section, Fukushima was already committed to another baseball player.
Though the author did not mention his name, he stated the athlete played in the Central League. For those curious, Ichiro played in the Pacific League.
Nonetheless, Yumiko and Ichiro tied the knot in the states to keep it private and small. The lovebirds tied the knot on December 3, 1999, in Santa Monica, California.
Even after twenty years of their marriage, the two have do not have a child. Instead, the two take care of their dog named Ikkyu, who they adore a lot.
When first asked about the pet's name, Suzuki kindly responded, "I do not have the dog's permission."
Also, check out: <<Trey Mancini Age, News, Stats, Contract, Colon Cancer, Girlfriend, Net Worth >>
Ichiro Suzuki's Alleged Affair
Ichiro and Suzuki just entered the twenty years of their marriage. They are a happy couple, and people could not envy them more.
But not everything was rainbows and flowers for this couple. Did you know they almost did not make it to the altar?
Yes, during their engagement, it was revealed that Ichiro was having an affair with a married woman.
According to The Japan Times, a Japanese magazine, the alleged affair had been going on in the final months leading up to their marriage.
In fact, the news only got out after the woman's husband found out about it.
However, upon questioning, Suzuki denied knowing the woman had been married. He even paid a whopping amount of $12.5 million to the woman as "consolation money."
Sure enough, people were convinced Fukushima would break their relationship but surprisingly, she did not.
In an interview with The Japan Times, Ichiro addressed the issue and said, "I talked about this matter with my wife some time ago, and it's not a problem between us anymore."
Biggest Supporter of her husband, Ichiro Suzuki- Yumiko Fukushima
As we all know, nothing could break the couple, not even Ichiro's alleged affair.
If anything, their relationship got more reliable, and when Ichiro moved to the states, Yumiko played an essential part in her husband's life.
You see- Yumiko was already fluent in English before she even moved to the States.
As author Robert Whiting wrote in "The Meaning of Ichiro," Fukushima was a typical Japanese wife who followed the deep-rooted tradition. To this, he added,
"She could be spotted by Japanese photographers walking three steps behind her husband in post-wedding excursions. It was a customary and respectful distance long observed by traditionally-minded wives in Japan."
However, at the same time, Yumiko suggested Ichiro grow a beard, so he would "look like Brad Pitt." If that did not tell you anything about her sense of humor, then this might.
In their house in Miami, there is a life-size picture of Snoop Dogg. Apparently, Yumiko's first American album also happened to be of Snoop.
Don't forget to check out: <<Alexis DeJoria Age, Father, Tattoos, Racing, Net Worth, Sponsor, Instagram >>
Who is Yumiko Fukushima? Nationality and Family
Famously known as the retired baseball player's wife, Ichiro Suzuki, Yumiko Fukushima is Japanese by nationality.
She was born and raised in the city of Matsue, Shimane Prefecture, in Japan. Also, from what we know, her ethnicity is mixed.
Furthermore, Fukushima has an elder sister, Atsuko Fukushima, who is three years older than her. Apparently, her sister used to work as a broadcast journalist and flight attendant.
Aside from these tidbits, Fukushima has not mentioned much about her parents in public. Hence, we have no idea who her parents are and where do they live at the moment.
Likewise, this Japanese beauty has not revealed much in her childhood; even her academics are in the dark. But this is just an assumption; Yumiko must come from a literate background.
According to the news, she is a Keio University graduate, a research institute located in Minato. However, it is not known about her major, but we expect it to be journalism as her older sister.
That is because she has been a TV announcer and reporter for Tokyo Broadcasting System before moving to the US in her early career.
How old is Yumiko Fukushima? Age and Body Measurements
Always standing side by side with her husband, Yumiko Fukushima has been the fan-favorite of many baseball fans.
From what we know, Fukushima was born in 1965, which makes her 56 years old at the moment.
Also, she celebrates her birthday every year on December 10. Likewise, according to the zodiac sign, she is Sagittarius.
This sign is known to be passionate, free-spirited, and great adventurers. A great supporter and free-spirited, Fukushima truly embodies these elements in her life.
Otherwise, no other woman would leave their hometown and follow their husband in a heartbeat.
Similarly, Yumiko stands at 5 feet 7 inches (170 cm) tall and weighs around 60 kgs (132 lbs). Aside from these, her body measurements are unknown.
But we know that she is petite and has short black hair, and has a pair of black eyes.
How much is Ichiro Suzuki's worth? Net Worth and Income
Many know Yumiko as the wife of a baseball player, Ichiro, but she is more than that. Hugely overshadowed, Fukushima is a former sports reporter and TV host of the Japanese Television channel.
It is assumed the two likely met through baseball.
According to "The Meaning of Ichiro: The New Wave from Japan and the Transformation of Our National Pastime," she worked as a sports reporter for the Tokyo Broadcasting System.
To support her husband and his dream, Fukushima gave up her job and moved to the United States as Ichiro signed with the Seattle Mariners back in 2001.
Since then, he had played for the New York Yankees and the Miami Marlins before he returned to Seattle in 2018.
On March 21, 2019, Ichiro formally announced his retirement, following the game's conclusion between the Mariners and Athletics in Tokyo.
This allowed the national star to give a final bow to his fans in his home country. Furthermore, Seattle Mariners also paid tribute to their player and tweeted,
"I have achieved so many of my dreams in baseball, both in my career in Japan and, since 2001, in Major League Baseball. I am honored to end my big league career where it started, with Seattle, and think it is fitting that my last games as a professional were played in my home country of Japan."
Since Yumiko is not actively working, her net worth as of now is unknown. Meanwhile, her husband, Ichiro Suzuki, has an astounding net worth of $120 million, which is all thanks to his successful baseball career.
Moreover, the former baseball player earns additional from his advertisement and endorsement deals. In 2016, he made a total of $4 million just from his advertisement deals.
Back then, Forbes also mentioned Suzuki earned around $7 million just from his endorsement deals that came from Japan.
As much as they earn, the couple is also known for their kind-hearted nature. In 2011, the couple donated a generous $1.25 million to help the victims of tsunami and earthquake in Japan.
Don't forget to check out: <<Ella Rose, Ex-girlfriend of Julian Edelman: Age, Daughter, Model, Instagram >>
Social Media Presence:
As of now, Yumiko is not active in any social media accounts, but her husband is and posts a generous amount of pictures, updating his fans about his life.
Some FAQs:
Why does Yumiko Fukushima always walk three steps behind Ichiro?
As per the old Japanese tradition, it is a customary and respectful distance long observed. Thus, we can see Yumiko Fukushima, three steps behind Ichiro mostly.
Where do Yumiko and Ichiro reside?
Ever since their marriage in Los Angeles, Yumiko and Ichiro have been residing in Medina in the neighborhood of Bill Gates.
Does Yumiko and Ichiro have Kids?
Yumiko and Ichiro do not have any children so far. Likewise, there are also no rumors of a baby on board.
Does Ichiro Suzuki speak English?
Yes, Ichiro Suzuki speaks English quite well. However, he prefers using a translator during his interviews for the purposes of consistency and to avoid confusion while speaking to the press.
Is Ichiro Suzuki a Hall of Famer?
Ichiro Suzuki is the first MLB player to enter the Japanese Baseball Hall of Fame.
How many Gold Gloves does Ichiro Suzuki have?
Ichiro Suzuki has won seven Golden Glove Awards in his professional career.