It gets difficult to leave sports when sports become one's obsession. In like manner, we have Zac Gallen, obsessed over baseball since his early days of livelihood.
You must have come across this name if you are an MLB follower.
For those, who are still unaware of this name, Zachary Peter Gallen is a professional baseball player for the Arizona Diamondbacks of MLB.
He kicked off with the Miami Marlins in 2019. He serves as a pitcher in the baseball world.
The polished right-hand pitcher started playing in the minor leagues by playing with his friend in the backyard, then moving forward to being a collegiate athlete.
Later on, he finally turned into a major league player with time, patience, and experience.
To find more intriguing details about Zac Gallen, stick to this article, and keep reading. But before that, let's jump into the quick basic facts about the pitcher guy, Zac Gallen.
Zac Gallen | Quick Facts
| | |
| --- | --- |
| Full Name | Zachary Peter Gallen |
| Birth Date | August 3, 1995 |
| Birth Place | Somerdale, New Jersey |
| Nick Name | Milkman |
| Religion | Not Known |
| Nationality | American |
| Ethnicity | White |
| Education | Bishop Eustace Preparatory School |
| Horoscope | Leo |
| Father's Name | Jim Gallen |
| Mother'sName | Stacey Gallen |
| Siblings | Jay Gallen |
| Age | 28 Years Old |
| Height | 1.88 m (6 feet 1 inch) |
| Weight | 87 kgs (191 lbs) |
| Former team | Miami Marlins |
| Hair Color | Black |
| Eye Color | Black |
| Play Style | Bats: Right, Throws: Right |
| Build | Athletic |
| Marital Status | Single |
| Girlfriend | Not known |
| Position | Pitcher |
| Profession | MLB Player |
| Net Worth | Not known |
| Salary | $5,75,000 average salary |
| Currently Plays for | Arizona Diamondbacks |
| League | MLB |
| Active Since | 2019-Present |
| Social Media | Instagram, Twitter |
| Last Update | November, 2023 |
Zac Gallen | Early Life
Starting with the basics, Zac Gallen was born on August 3, 1995, in Somerdale, New Jersey, to his parents Jim Gallen and Stacey Gallen. He had a sibling by his side, his brother, Jay Gallen.
Zac remained a huge Michael Jordan fan since his early days of livelihood. He even wore the number 23 jersey on the baseball field at Chapel Hill.
From the very early days, he was captivated by umpires and catchers.
Not to mention, he developed a good understanding of the sport. His father, Jim, used to coach him and Jim himself was a rugby player.
At nine, Zac pitched and led the team to win a championship in the title game against a team of basically 12 years old.
Moreover, whenever asked about the younger child, his mother would end up saying, " He always had a ball in his hand."
Here is an Instagram post where Zac has wished his mom Mother's Day with whole love.
Zac, Nick, and Arsenals
Well, Zac Gallen has remained friends with Nick Sciortino for a very long time. They share their tale of friendship at a different level; pitch and catch.
They were members of the top-ranked summer teams in the country. Also, together they made the best line-up in the Cape League.
Both boys grew up in New Jersey in an athletic family. Zac and Nick were coached separately by their fathers.
And both their older brothers went on to play college baseball. Both had strong arms, and one became the ultimate catcher and the other the ultimate pitcher.
Nick mostly played with the players older than him, whereas Zac was the first player in his town ever to show up.
At 11 years old, the only A they knew was Arsenal. So they started playing legally for the Tristate Arsenal Baseball Academy an 11u team in New Jersey.
It was a golden opportunity that no kid with a love for baseball would miss randomly.
Going to tournaments felt like going on a business trip by the time they turned twelve.
They were sure that they would make a win until and unless they came across a trip to Florida for the Elite-32, where the best 32 youths were placed against each other to know who the real champ is.
That whole moment was awakening as they saw kids who were big and brilliant. It made them realize, making only business trips is not the end.
There is much more to come. Yes, Of course, before that, they won a trophy in the Super-NIT tournament, which was unfit in their coach's car.
Playing at the Backyard
They say if someone is a part of your childhood, they become part of your life. A Similar was in the case of Zac and Nick. They were inseparable.
The duo used to play their fun-time gams in Nick's backyard, which was big but not that fancy.
When they were not completing their home-works or were not at school and practice, they would completely switch their spots to backyards and play for hours.
They would name the yard as a field of dreams, where many kids pitched and hit, imagining what it would be like to be a collegiate player.
Louis Riddick Bio: Wife, Career, Net Worth & Personal Life >>
Even if they landed up at different high schools, Zac made time and visited Nick at his tournaments, and Nick did the same.
Even if they could not make time for each other, their parents would come to see their matches. Not necessarily, if the match was of their kid.
Zac Gallen | Early Career
Playing for the minor leagues, Arsenals, and then traveling to play in New Jersey, Maryland, Delaware, Pennsylvania, and Florida made him much of an accomplished teenager by the time.
He knew how to handle triumphs and defeats at the same time. Zac also got enrolled for the 14u AAU National Championship.
Bishop Eustace Preparatory High School played three years of college baseball at the University of North Carolina, to name the high school he attended. Sam Tropiano coached him at Bishop Eustace Prep.
He was an undersized kid, which lagged him backward in his opinion, and thus, he tended to form an underdog mentality.
Zac also got enrolled in the Chatham Anglers' team of the Cape Cod Baseball League. It's like he not only exchanges communication in words but also with body language.
He nails it by expressing signs. During his time with Cape Cod, he wore a helmet with a capital A imprinted on it.
Besides talking about his sports career, Zac also majored in management and society.
Zac Gallen | Professional Career
St. Louis Cardinals
Well, it was the St. Louis Cardinals that hired him in the third round of the 2016 Major League Baseball draft.
Zac started with the Palm Beach Cardinals and was later upgraded to the Springfield Cardinals and Memphis Redbirds.
He notched a 2.93 ERA, and 1.17 WHIP in 26 starts after combining all three clubs.
Miami Marlins
The Cardinals loaned him along with a few other players to the Miami Marlins on December 14, 2017, in place of Marcell Ozuna. He got enrolled in New Orleans Baby Cakes for the season of 2018.
Zac was called up to play an official debut in the major league for the first time on June 20, 2019. He gave a good start that night against the St. Louis Cardinals.
Arizona Diamondbacks
Zac was again traded for the third time in his career. He moved to Arizona Diamondbacks in place of Jazz Chisolm on July 31, 2019.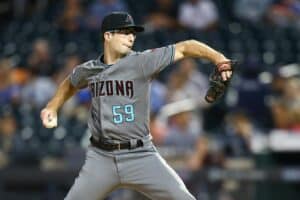 To put it into words, Zac is having a great time with the Diamondbacks, but at the same time, he faces difficulty in finding a stride.
However, he has managed to show the legitimate pitches that he could.
Gallen news regarding career rankings can also be found on razzball and fantasy sites.
Zac Gallen | Career Stats
| | | | | | | | | | | |
| --- | --- | --- | --- | --- | --- | --- | --- | --- | --- | --- |
| Year | Team | GP | CG | ER | SO | W | L | Sv | WHIP | ERA |
| 2020 | Diamondbacks | 12 | 0 | 22 | 82 | 3 | 2 | 0 | 1.11 | 2.75 |
| 2019 | Marlins | 7 | 0 | 11 | 43 | 1 | 3 | 0 | 1.18 | 2.72 |
| 2019 | Diamondbacks | 8 | 0 | 14 | 53 | 2 | 3 | 0 | 1.26 | 2.89 |
| Career | | 27 | 0 | 47 | 178 | 6 | 8 | 0 | 1.17 | 2.78 |
Moreover, Gallen's career stats and scouting reports can also be found on Milb.com, Fangraphs.com.
Zac Gallen | Personal Life
Coming to his personal aspects of life, many would-be bewildered by whether the handsome pitcher is in a relationship with someone or still single.
Well, keeping all the Gallen fans' curiosities in mind, we opted for several searches on the internet but, sadly, could not come up with a solid and confident result.
But yes, we can surely make predictions. For example, there might be two statuses that would nicely fit him.
And that's whether he is single or might be having a secret affair with someone.
Keeping his private talks aside, Zac is a fun-loving person and an animal lover. He frequently roams around with his friends during a vacation or casually. He also has a pet named Briar.
How did he get his nickname, Milkman?
According to a podcast posted on Sports360, Zac had his nickname from his college's early days.
He even did not know about it unless he saw a news-popping which had the title, " The Milkman Delivers: Gallen K's 13, Shuts Out Virginia Tech."
You can also click here and give listen to the podcast in his voice.
During his time with UNC, his fans pronounced the day Gallentine's day when Zac was about to play at the Boshamer Stadium.
He gained all the highlights round the clock, claiming him as Milkman or Gallentine's day.
Zac Gallen | Net Worth
Well, it is no hidden fact that Zac has been working day in and day out to improve his efficiency. He is considered a professional pitcher in today's date.
Talking about his net worth and salary, according to the data and facts available on Spotrac.com, Zac makes a pretty much reasonable sum of $5,75,000 as his annual average salary from the Arizona Diamondbacks.
Tyler Ulis Bio: Early Life, Career, Net Worth & Social Media >>
Sadly, we cannot retrieve any information regarding his net worth. It might still be under review.
Zac Gallen | Social Media Presence
Instagram – 10.8k Followers
Twitter– 3,982 Followers
Also, read about yet another baseball player, Devin Smeltzer, who is also found commenting on his Instagram posts. We can predict that Devin must be his colleague or friend.
Some FAQs
When did Gallen Join Arizona?
Gallen Joined Arizona in the year 2019.
What is the Jersey number of Gallen?
Gallen wears Jersey number 23.