Scootering, one of the extreme sport, first gained its popularity in the street of Asia as fun means of transportation over a short distance. However, it became a craze among young children across America in the early 20s.
Various tricks as real slides from Skateboarding and backflips from BMX (bicycle motocross) were developed subsequently with the growing craze.
At last, scootering has become one of the legitimate extreme sports as of now.
With growing recognization and love for scootering, many world-class competitions are held globally. As a result, many professional riders have emerged in this sport.
In ours today's list, we are about to find out who the top ten best scooterists of the present time are:-
Top 10 Best Scooterists
10. Robbie Menzies
Robbie Menzies is one of the well-known professional scooterists currently living in Helensvale on the Gold Coast.
Born on May 24th, 1995, in England ( his hometown), the rider started scootering in the year 2008 in an indoor skatepark in England.
Likewise, the rider follows the Steeze and flow style of riding that is unique in itself. Moreover, he loved flowing around and consider it to be his best trick.
As a pro rider, Menzies has won 4th position in the Aussie ISA competition and 3rd position in the ISA World Championships 2012.
Equally important, he collects great inspiration from Tom Dugan BMX and follows his videos.
Top 12 Most Popular Sports in America [2021 Edition] >>
9. Matt Mckeen
Matthey J.McKeen is a professional scooter rider born on September 13th, 1992, in Philadelphia, US. He earned a reputation on his Signature deck and bars.
Furthermore, his receiving the Best Street Rider of 2006 for the Scooter Resource Forum awards became one of his greatest achievements.
Matt got a lifetime opportunity to get filmed for MTV'S season 2 Nitro Circus in 2009 and become a well-known sports figure.
8. Ben Thomas
Ben Thomas, better known as Da Bennis, is an Australian scooter rider. He's born on September 9th, 1995. The rider started scootering from the age of 12 and gradually developed a true love for the sport.
In 2012, Ben had his first-ever World Championship in Manchester, England, and secured 2nd position.
Likewise, he also secured 3rd and 4th positions in Pro Series 2015 and 2016, respectively.
Ben explains he always had a naturally competitive nature, resulting in him doing best with whatever he does.
Thomas follows a tech and spine/box style of riding. Flip kick-less rewind spine is one of his favorite tricks. He has received sponsorships from Sacrifice Scooters and the Level 7 Clothing brand.
Beside Scootering, he loves paintball as a sport and also hopes to excel in a career in it.
7. Jamie Hull
One of the emerging freestyle riders and the winner of various competitions, the next rider is also from Australia. Born on March 21st, 1994, Jamie Rider flows street-style Scootering and holds strength in riding the street terrain.
Jamie loves to experiment with his tricks and idolize Matt Mckeen. Hull started his scootering career from the year 2007. Jamie Hull goes with the stage name Jamie Rider.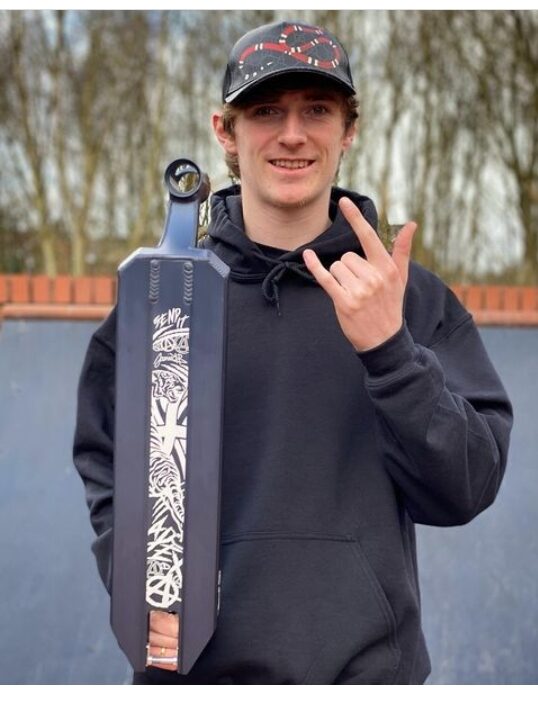 Ryan Wiliams has always been a source of inspiration to this rider. For the past few years, Jamie is traveling around the UK with his idol and Nitro Circus legends Ryan Williams and Travis Pastrana.
6. Jeremy Malott
To inspire children worldwide to enter Scootering and help grow this sport more, Jermy entered the world of scootering games.
Born on November 20th, 1996, in California, Malott is a known name and professional BMX rider on ours this list. With the first entry in 2008, Jeremy holds seven-plus years of experience in scooter riding.
He explains US Championship and SD8 to be a few of his highest achievements in his career path.
Similarly, Corked 20, flip drop-in, 1080 barspin are some of the best tricks Jeremy has shown. He holds a deep passion for the scootering game and is ever aspire to do more new tricks.
The Top Ten Best Nike Shoes >>
5. Max Peters
Born on September 25th, 1994, Max Peter is one of the best at what he does. Undoubtedly, Max falls to the top five on our list as the most talented scooter rider and an excellent park terrain rider.
Unlike others, Peters became an expert at the sport within about two years of starting, where he admits that videos and the internet have helped a lot. This professional now lives in Seaford in Victoria, Australia.
Likewise, Peter learned the first few tricks, such as inwards and tucks. The guy truly believes that practice makes man perfect and works hard to learn and showcase more tricks.
He has been working on some more tricks, such as inward to double whip flyout, quint whip air, and 360 bri-triple whips.
Besides scootering, Peter also holds an interest in riding motorbikes.
4. Dylan Morrison
Dylan Morrison is one of the youngest scooterists on the list. He is one of the talented and influential scooter-rider in the world. He was born on June 3rd, 1998, Cheltenham-England.
Likewise, Morrison started his riding career back in the year 2010. He earned his name as the best rider in the park terrain.
Few achievements of this professional rider are the 2nd position in the Australian Championship 2014 and the top position in the Pro Series 2014.
Not to mention, Morrison has demonstrated some of the best tricks, like backflip and drop-in. Max Peter always has been a source of inspiration to Dylan.
3. Brandon James
Achieving expertise in scooter riding within just four years, Brandon James is an established name in Scootering. James comes from England, born on August 24th, 1995.
Speaking of his scootering career, it started in the year 2009. Unlike other riders, James prefers riding the street or ledge instead of the local skate park.
Furthermore, a few of his favorite tricks on scooters are 180s, nose manuals, front boards, and Back smiths.
Equally important, James holds his career goal of traveling to America and participating in the competition there. It is one of the lifetime dreams of this scooter rider.
2. Ryan Williams
Going with R-Willy as a stage name, Ryan Williams an Australian-born on July 22nd, 1994. Willy started scootering in the year 2006. After discovering his passion for doing big air tricks, Ryan started BMX at 15.
Similarly, Williams joined the Nitro Circus team in 2009 that led to the growth of his success.
He even achieved seven gold medals on scooter and BMX in big air and best tricks at Nitro World Games and XGames.
Pioneer in freestyle scootering, Willy stands as an inspiration to the kids worldwide.
One of the second-highest-paid scooter riders, this guy has landed over dozen of world-first such as Double flair, Double Front Flip, Frontflip Inward Bri Flip, Cash Roll, Double Front Flip 360, Flair 540, Cork 1080, etc.
1. Dakota Schuetz
Dakota Scheutz is born to Mr. Gary Schuetz and Mrs. Cherly Schuetz on March 19th, 1996, in California as the eldest child to five.
Coming from a sport-loving family, Dakota gained his love for the sport from his childhood days.
Witnessing an older kid named Tawan doing tails, flips, and different tricks over a scooter helped Dakota grow a passion for scootering.
Today, Dakota Schuetz is a world-known professional freestyle scooter rider from America.
Winner to World Champion in the ISA Scooter competition for three successive years, i.e., 2012, 2013, 2014 Dakota is also top two highly paid scooter riders.
Moreover, Kota has won quite a lot of contests. For example, he is one of just two people to have completed all 40 tricks in Tricknology, an online challenge where riders complete as many tricks as possible.
Dakota holds the most wins for the freestyle scooter ISA World Championship in 2016, later published in the Guinness Book of World Records in 2018.
Additionally, he also won FISE World the best, claiming his top spot as the best scooterist right now.
The Top Ten Best Autobiographies of All Time >>
Conclusion
Well! Here we conclude our today's list of the top 10 best scooterists in the world. We hope the article assisted you in getting the needed ideas about these world-famous riders.
These riders followed their passion for scootering and are ever-growing. Thus, we suggest our readers follow your heart and your passion.
Keep Reading! Keep Riding!!