Often compared with the legendary runner, Usain Bolt, Carl Lewis is a dominant sprinter himself. During the tenure of his nearly two-decades-long career and with his work to date, Lewis depicts a net worth of $20 million.
Apparently, it makes sense to say he lives a luxurious life with his hard-earned money. Alongside being a former track and field athlete, Carl Lewis is also an actor, businessman, and entrepreneur.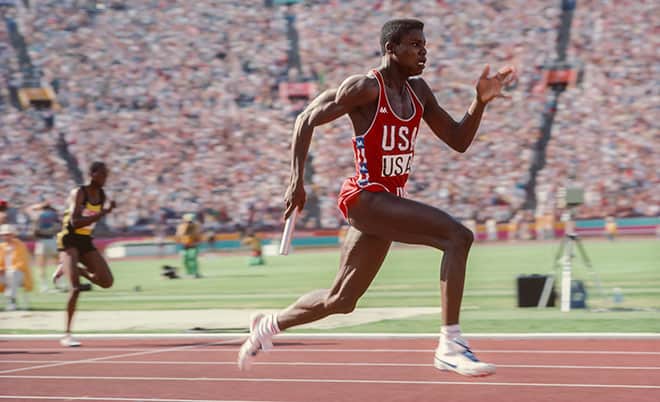 Apart from these, Lewis had also tried his hands on the Democrats in the New Jersey Senate. However, he was removed from the ballot.
Anyways, today Lewis stands as number 11 among the top 20 richest Olympians of the world.
Quick Facts
Full Name
Frederick Carlton Lewis
Date of Birth
July 1, 1961
Birth Place
Birmingham, Alabama, U.S.
Nick Name
Carl
Religion
Christianity
Nationality
American
Ethnicity
African American
Zodiac Sign
Cancer
Age
61 years old
Height
6 feet 2 inches (188 cm)
Weight
176 lb (80 kg)
Hair Color
Light presence of hair
Eye Color
Dark Brown
Build
Athletic
Father's Name
William Lewis
Mother's Name
Evelyn Lawler
Siblings
Two elder brothers; Cleveland Lewis and Mackie Lewis
A younger sister, Carol Lewis
Education
Willingboro High School
University of Houston
Marital Status
Married
Wife
Maria Carl Lewis
Kids
A son, Bakim Lewis
Profession
Track and field athlete
Coach
Businessman
College Team
Houston Cougars
Affiliations
Santa Monica Track Club
Active Years
1979-1997
Net Worth
$20 million
Social Media
Instagram, Twitter
Merch
Signed USA Custom Stitched Pro Style Track & Field Jersey, Inside Track: Autobiography
Last Update
September, 2022
Brief Glance on Carl Lewis
Fully named Frederick Carlton Lewis, widely known as 'Carl,' he has listed his name as one of the most outstanding track & field athletes of all time. Starting to appear in games in 1979 professionally, Carl played till 1997.
As a matter of fact, Carl has garnered nine Olympic gold medals, one Olympic silver medal, and ten World Championships medals, among which eight of them are gold.
Lewis also posted new world records for the 100 m, four × 100 m, and four × 200 m relays during the tenure. Furthermore, in the year between 1981 to the early 1990s, Lewis dominated the field and frequently ranked in the world's top rankings.
Not to mention, he holds the sport's longest victories streak, which is 65 consecutive wins in the long jump in the span of ten years. Indeed, he has had 71 jumps in over 28 feet throughout his journey.
Click to learn about Usain Bolt's Net worth and many more >>
Accolades and Achievements
Altogether, he is the only man to have a successful defense on his Olympic long jump title. Apparently, his honorable career made him achieve many feats.
Of course, he was inducted into the New Jersey Hall of Fame and the Texas Track and Field Coaches Association Hall of Fame.
Alongside it, his alma mater (University of Houston) named a complex after him as the Carl Lewis International Complex.
Advancing to his personal best, Lewis's 100 meters time span is 9.86 seconds, 200 meters in 19.75 seconds, four × 100 m relay in 37.40 seconds, and four × 200 m relay in 1:18.68 minutes.
Following it, his long jump record is maintained at 8.87 meters (29 feet 1 inch). Some of his awards to date are listed as;
1999 – Sportsman of the Century by the International Olympic Committee

1999 – World Athlete of the Century" by the International Association of Athletics Federations

Olympian of the Century in 1999 by Sports Illustrated
View Points on Tokyo 2020 Olympics
The nine-time Olympic gold medalist said that the Tokyo 2020 Olympics should be held off till 2022 rather than being canceled. Moreover, he hoped that while conducting it in 2022, the Summer and Winter Olympics could be held together.
Due to the Coronavirus outbreak and pandemic that followed, the Tokyo 2020 Olympics could not be held as scheduled. Hence, several rumors about the Olympics being canceled started swirling around.
So, America's most decorated track and field athlete suggested that it was time to focus on people and bringing the world together rather than the Olympics. Furthermore, he said,
"Let's wipe the season clean, focus on the (2021) worlds and get it together. It's going to hurt a lot, but wipe it clean."
Similarly, he grilled the IOC for a definite decision regarding the Tokyo Olympics in 2020 and requested not to keep thousands of athletes in limbo. The track and field coach at the University of Houston said,
"It is just too big an event for everyone not to have it. Athletes deserve to have it. It's no one's fault but everyone's problem."
Is Carl Lewis a Millionaire?
Well, without a doubt, Carl Lewis is a millionaire. In fact, he has a whopping net worth of $20 million, while he is estimated to have earned more than $115 million from his entire career.
In 2018, Carl Lewis had also stood in the number 1 for People With Money's top 10 highest-paid athletes.
Additionally, a single gold medal in Olympics earns a reward of 37,500 USD, while a silver medal brings 22,500 USD for an athlete.
Also, counting Lewis's medals, he has had plenty of them. Also, it was reported that back in his days, his single international track and field earned him $50,000 at a time.
Apart from his career, Lewis is also part of many brand endorsements like Nike, CoverGirl cosmetics, etc.
You might be interested in Adrian Peterson Bio: Early Life, Career, Net Worth >>
Endorsement Deals and Sponsorships
During the journey, landing on lucrative endorsement deals was hard for Carl Lewis. Initially, they also had rumors that Lewis was gay, and no matter how many times he denied it, that had already hampered his image.
Unfortunately, the Coca-Cola company, which wanted Lewis to endorse their brand, also withdrew it later.
Apparently, as the Coca-Cola company put forward their deal with Carl Lewis, he and his manager turned down the offer stating he was worth more than it.
However, he and Nike have a long history of deals. When Lewis signed with Nike, he was still a college student, and they had a six-figure contract.
Alongside it, they included the bonuses every time he had earned a gold medal in the Olympics.
Advancing on, he was on almost every Nike's billboards and television advertisements. However, they ended his contract after Lewis' gay rumors got strong.
"If you're a male athlete, I think the American public wants you to look macho."
-Don Coleman, a Nike representative.
After dropping from Nike, Lewis was sponsored by the Japanese sports equipment and sportswear company Mizuno.
Apart from being an athlete
As a matter of fact, Carl Lewis is well-known as a sprinter and a track and field athlete; however, he is much more than that. Lewis is also a businessman and an actor.
Starting in his own business line, Lewis can be seen in the line of foods, perfume, fashion, and beverages. To elaborate, he owns several restaurants with the name the "Fat Lewis Burger," which is now a chain.
Besides, he has another chain of the restaurant named "Café Noir." Moving on, he has also launched his own line of vodka, popularly known as Pure Wonderlewis.
Likewise, he owns the perfume brand 'With Love from Carl' and the fashion line, "Carl Lewis Seduction."
Apparently, he commenced his fashion line during Florence's renowned Pitti Uomo fashion fair. Back then, he had portrayed his first autumn/winter sports clothing collection.
Learn about Kit Hoover Bio: Early Life, Net Worth, Career, Husband >>
Actor, Football, and Coach
After his retirement as a track & field athlete, Carl Lewis appeared in many television shows and movies. Some of his notable cameo in the television series include Perfect Strangers, Speed Zone, Alien Hunter, and Material Girls.
Additionally, he was also in the 2006 movie named The Last Adam. Likewise, he portrayed Stu's character in the made-for-TV film Atomic Twister and was also in a role on The Weakest Link.
Following it, Lewis also acted in the short documentary Challenging Impossibility. As a matter of fact, it was prepared by the late spiritual teacher and peace advocate Sri Chinmoy.
Besides acting, Lewis is equally involved in coaching and other sport as football. In 2018, Lewis was chosen as the assistant coach in his alma mater, the University of Houston.
As a fun fact, the Dallas Cowboys drafted Carl Lewis in the 1984 NFL Draft. Back then, he was chosen as a wide receiver in the 12th round; however, he didn't play a single game for the NFL.
Today, he owns his own football team, the Birmingham Angels. But, moving on, Lewis had also tried his hands as a Democrat on April 11, 2011.
Apparently, Lieutenant Governor and secretary of state Kim Guadagno removed him from the petition.
Lewis hadn't fulfilled the rule for Senate's candidate to stay in New Jersey for four years. So, therefore, he had filed again straight in the court, which was considered for few days, but later, Lewis himself removed his name.
Carl Lewis | Lifestyle
With the massive net worth, Lewis leads a healthy and luxurious lifestyle. Also, Carl Lewis is a vegan since his late twenties days. Apparently, he feels that being a vegan has helped him gain athleticism while also improving his performance.
Furthermore, Lewis is an early riser, and right after it, he starts his day with a light breakfast of grapefruit juice.
Additionally, he also indulges in herbal tea and raw fruits. Also, most of his workout routine starts after the afternoon in the weight room.
Pacific Palisades home
In 2002, Carl Lewis purchased a $1.75 million Pacific Palisades home, which he later sold for $2.5 million in July 2010. Apparently, the home stood at nearly a third of an acre with ocean views.
Moreover, the house was built in 1991, including a swimming pool, a spa, a fish pond, a gazebo, and fruit trees.
Overall, the house consists of four bedrooms, 4 1/2 bathrooms, and a master bedroom with an attached area.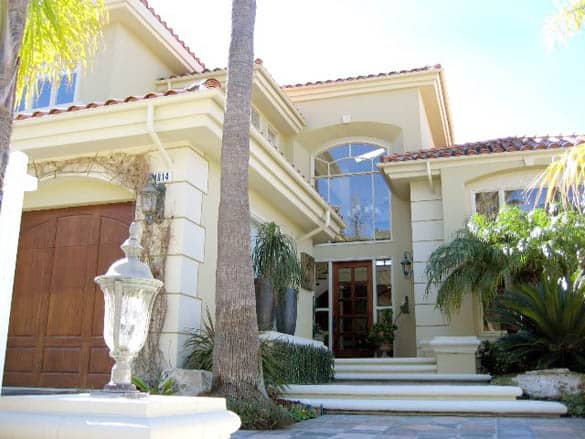 Furthermore, their living room acquired an area of 5,307 square feet. Not to mention, their master bedroom also had an attached see-through fireplace.
Click the link to follow Cat Osterman and his journey to the Olympics >>
Social Media Presence
Besides, you can check out his social media platforms for his pictures and uploads. He is on Instagram as Carl Lewis (@carl_lewis_official), with 4.7k followers.
Additionally, he is on Twitter as Carl Lewis (@Carl_Lewis), with 23.6k followers. Apart from his lavish life and wonderful days, lewis has also contributed to society for a cause.
Apparently, he has helped charitable institutions like Best Buddies International, Buoniconti Fund To Cure Paralysis, and Greenpeace. Furthermore, back in 2010, he was also a part of the UN's "1 Billion Hungry" project.
Carl Lewis | FAQs
Who is Carl Lewis's agent?
Carl Lewis's agent is Joe Douglas.