A new uprising face in NFL, American footballer Charles Cross paved his path to the National Football League as the 2022 NFL Draft of Seattle Seahawks. The first round 9th overall pick sits tight as an offensive tackle with jersey number #67.
The Mississippi native may be new to this major league, but his playing stints are already on a level of maturity.
The player is probably the best tackle prospect specializing in body control and core strength. Fans are hopeful that Cross could lead them to their second Super Bowl win, having the previous glory at Super Bowl XLVIII.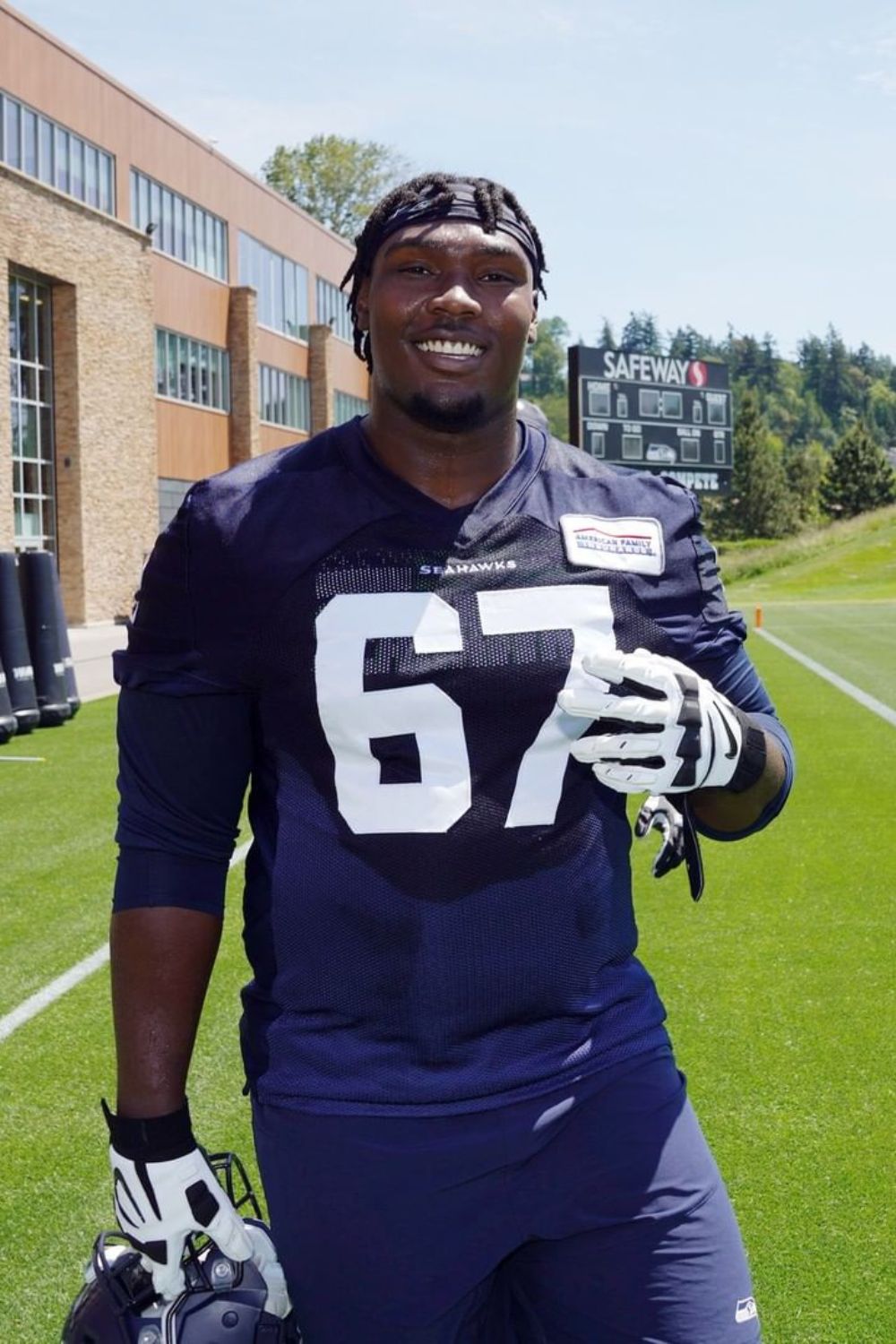 Along with his gameplay, his bubbly personality is yet another reason to love him. If you've watched his interviews, you might have noticed that he smiles constantly and answers every question in a laid-back way.
Want to know more about Laurel-born Charles Cross? Then, make sure to read this article to the end.
Charles Cross | Quick Facts
| | |
| --- | --- |
| Full Name | Charles Ellis Cross |
| Nick Name | Sweet Leg |
| Date of Birth | November 25, 2000 |
| Age | 22 years old |
| Birth Place | Laurel, Mississippi |
| Nationality | American |
| Ethnicity | Black |
| Zodiac Sign | Scorpio |
| Chinese zodiac | Dragon |
| Height | 6 feet 5 inches (1.95 m) |
| Weight | 141 kg (311 lbs) |
| Hair Color | Black |
| Eye Color | Dark Brown |
| Father's Name | Mitchel Cross |
| Mother's Name | Owedia Cross |
| Siblings | Two older siblings |
| High School | Laurel High School |
| University | Mississippi State University |
| Marital Status | Not married |
| Girlfriend | None |
| Children | None |
| Profession | NFL player |
| Position | Offensive tackle |
| Jersey Number | 87 |
| Leagues | NFL |
| NFL Draft | 2022, Round 1, Pick 9 |
| Debut Year | 2022 |
| Food Habits | Nonveg |
| Tattoos | None |
| Religion | Christianity |
| Team | Seattle Seahawks (2022- Now) |
| Net Worth | Under review |
| Social Media | Instagram, Twitter |
| Merch | Rookie Card |
| Last Update | November 2023 |
Charles Cross | Early Life And Family
Charles Ellis Cross was born in Laurel, Mississippi, on November 25, 2000. He is the youngest of three children to Mitchell Cross and Owedia Cross.
The NFL rookie's elder sister is Quenna Cooper, while his big brother's name is Mitchell Cross Jr.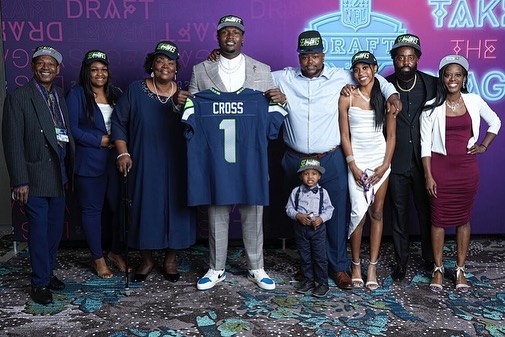 Nothing much about Cross's parents is known- they reportedly married more than twenty-five years from now. They come from an African-American ethnic background.
He comes from a supportive family- his father and mother both encouraged him to prioritize his studies while pursuing his football goals. And now, with a promising NFL journey in his 20s, his parents are thrilled and proud of their son.
Charles Cross speaks less about his family but shares pictures of them on social media.
Cross' School And College Career
Following Laurel High School, the three-star offensive tackle Charles Cross originally chose to commit the Florida State University in July 2017.
However, during his senior year, he de-committed from the University and confirmed it via Twitter in November 2018. He assured that he has not 'lost love for the Florida State program.'
Afterward, Cross signed in favor of Mississippi State University and played for the Bulldogs at the 2018 All-American Bowl as a senior.
However, he appeared in only 3 games before he redshirted his true freshman season.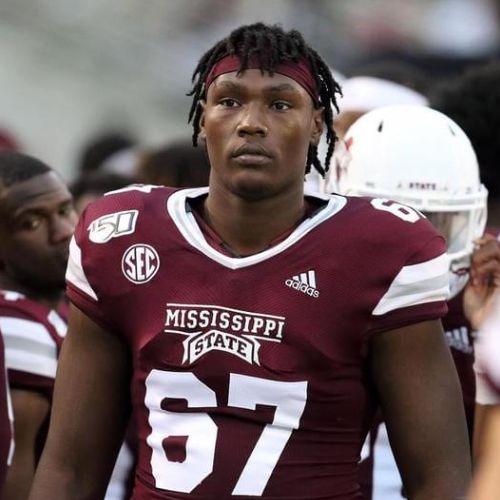 Similarly, Cross made 10 starts throughout the season and was later selected to the Southeastern Conference All-Freshman team. Likewise, the player was a preseason second-team All-SEC selection.
He was also one of the top offensive tackle prospects for the 2022 NFL Draft when he began his redshirt sophomore season. After the season, he announced his intent to enter the 2022 NFL Draft.
Read More: Michael Oher, A Former NFL Player and Mississippi Alum| Net Worth, Family, and Relationship
Scouting Report
Coming from Mississippi State, Charles Cross is a reliable left tackle. He is firm and a highly technical player. He developed significantly as a player during college and will probably continue growing and improving as a tackle in the NFL.
According to his scouting report, the player will be a great addition to a team in need of a left tackle and is a solid second-round talent.
Similarly, the player is also a superb offensive lineman with excellent technique and a strong frame. He has a lot of lean mass, and his frame is proportionate to his position.
Charles can quickly recover position when attacked by defensive line pass rush moves and is light on his feet. Additionally, Cross has the agility to ride his opponents out of the pocket and the body control to establish a solid anchor.
The player maintains his pace while blocking runs and has the strength of a bulldozer. He faced off against some of the best defensive linemen throughout his SEC career, and he improved year after year.
Charles Cross Signed With Seahawks | NFL Draft & Journey
A five-star prospect at Mississippi State, Charles became the first-round, ninth-overall pick of one-time Super Bowl winner Seattle Seahawks at the 2022 NFL draft.
Cross became the first Mississippi State Bulldog to be called in the Top 10 since running back Michael Haddix in 1983 when the Seahawks selected him with the No. 9 overall pick in the 2022 NFL Draft.
The team's general manager John Schneider referred to Cross as "a pillar at left tackle."
The Seahawks acquired Cross using their trade that sent Russell Wilson and a right to a fourth-round pick while acquiring two first-round picks, two second-round picks, and a fifth-round pick.
The trade also let them add Drew Lock (QB), Shelby Harris (DL), and Noah Fant (TE) to the team.
Seahawks OT Charles Cross signs four-year, $21.384 million rookie contract, per @RapSheet https://t.co/eFHJg5s209 pic.twitter.com/Zxz7znZ6M3

— Around The NFL (@AroundTheNFL) June 1, 2022
On June 2, 2022, Charles Cross penned a four-year rookie contract with the Seahawks, acting as his own agent.
He made his NFL debut for Seattle Seahawks in a 17-16 victory against Denver Broncos in Week 1 on September 12, 2022.
You May Like: Preston Smith: NFL Salary, Wife, Contract & More
Short Note On Accolades:
The player is the sixth Bulldog selected among the top-10 picks in the first round and the No. 15 Bulldog overall.
Likewise, he is one of the six Bulldogs chosen by the Seahawks in team history, joining Seahawks legend K.J. Wright on that list.
Similarly, he also lived up to that reputation with the Bulldogs, earning first-team All-SEC honors and All-America honors from ESPN and The Sporting News last season.
Charles Cross | Age, Height, and Body Measurements
Born in the year 2000, the NFL player Cross is 22 years old.
His zodiac sign is Scorpio, while as per the Chinese calendar, he was born in the Dragon year.
With a towering height of 6 feet 5 inches (1.95 m), Charles has great physical composure and weighs 141 kg (311 lbs).
His arm spans 34.5 inches (0.88 m) with a hand span of 10.75 inches (0.27 m).
Likewise, Charles uses his great knee bend to maximize his own leverage once his hands are grasped and to maintain his stalled position.
The player can recover from any errors thanks to his above-average speed and length, gliding back and putting pressure on his defender once more.
Also Read: Quintez Cephus Bio | NFL, Girlfriend, Net Worth & Sexual Assault
Charles Cross | Nickname
The player was known as "Sweet Feet" while playing basketball for Mississippi State because of his agility and footwork. Schneider and Carroll claim the nickname to have come from his basketball experience.
Cross claimed that he enjoys the nickname given to him by one of the school's athletic trainers. "It's pretty cool," said Cross. "I find it to be pretty cool."
Charles' swift and smooth footwork enabled him to outrun pass rushers of all sizes and speeds.
The player wowed in the 40-yard dash and other individual drills at the NFL Combine, showcasing his impressive footwork for the world to see.
Charles Cross | Dating, Girlfriend & Hobbies
The Seahawk's offensive tackle leaves no chance to flash out every moment on the playing ground. But on the contrary, he keeps quiet when it comes to his relationship talks.
So far, as of November 2023, Charles Cross has no official records of dating anyone or rumors of having a girlfriend. His Instagram profile is all about his career and family.
View this post on Instagram
Regarding his relationship status, fans have their claim on two poles.
Some claim that the rising NFL star could be dating secretly, while some tag him single- probably focusing on his career now.
What Does He Do Off The Field?
Despite the busy training and game schedules, Cross finds a way to relieve himself off the ground.
And one of those hobbies includes basketball. Charles played small forward and power forward at Laurel High in his home state of Mississippi, where the Tornadoes won back-to-back Class 5A State Championships between 2016 and 2017.
Alongside concentrating on launching his NFL career, he is learning how to play the piano- thanks to YouTube for tutorials.
Cross spoke about his new hobby at the Seahawks' press conference. "I've just been working on that occasionally, too," said the player, who has been trying to learn how to play the piano for the past year.
He is into hiking, fishing, and listening to music as well.
Social Media
View this post on Instagram
Charles Cross | Net Worth, Contract & Salary
Charles Cross has a $400K net worth as of November 2023. And the majority of the credit goes to his NFL career.
On June 1, 2022, the Mississippi State University alumnus agreed to a four-year deal worth $21.384 million to play for the Seahawks until the 2025-26 season. The rookie contract has all its amount guaranteed, with a fifth-year option.
Cross has an average annual salary of $5.345 million and a total signing bonus of $12.73 million.
His base salary for the 2022 season is $705,000, with a bonus of $3.18 million for signing each year.
Charles Cross' contract will now count against the Seahawks' salary cap, with a $4.452 million cap hit. Carlos Dunlap's official release results in a $5.1 million increase in cap space for Seattle in a single day.
Find the player's current contract details below:
2022 Salary Cap Charge: $3,887,932 (1.79% of cap)
2022 Cash Payout: $13,436,728 (5.37% of spending)
2022 Cash to Cap Ratio: 3.46
Contract Value: $21,383,626 ($5,345,907 APY)
Contract Ranking: 23/122 at LT
For the 2023-24 season, the player's salary would go up to $1.676 million, accompanied by $3.1 million as a signing bonus.
Frequently Asked Questions (FAQS)
Who is Charles Cross agent?
Charles Cross is his own agent. That's correct! Cross officially signed his rookie contract on June 2 on his own behalf. The player became the highest-drafted player in league history without agent representation on draft night, among other things.
Who are the offensive linemen in the NFL that Charles looks after?
Charles has eyes on many players he'd like to borrow ideas from. However, if Charles had to name a few, it would be Trent Williams, Tyron Smith, and Elton Jenkins.
What is Charles Cross jersey number?
Charles wears jersey number No. 67 for the Seattle Seahawks.