Christian Coleman is a track and field sprinter from America. He competes in the 80-meter, 100-meter dash, and 200-meter dash.
Currently, the professional athlete is a world champion in a 100-meter dash. In addition, Coleman represents the United States in multiple track and field running competitions.
Besides that, he represented the University Of Tennessee for the NCCA Track and Field Championship. Hence, he was a very skilled runner from the early stages of his life.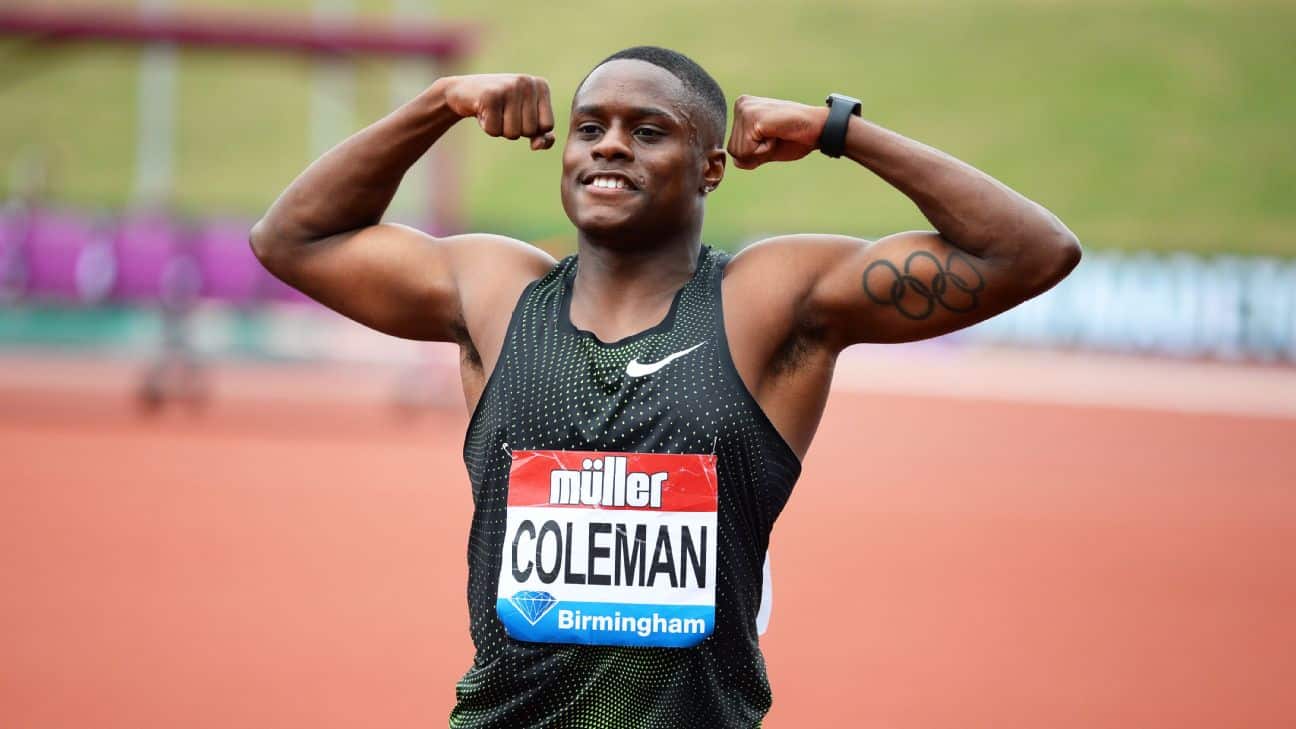 Furthermore, his family comes from a sporting background. As a result, he was exposed to sports at a very young age.
The sprinter grew up competing with his cousins and sisters. Over time, Christian became a better runner and is one of the most hardworking athletes.
Aside from that, he is a three-time gold medalist. He won his first gold medal in 2018 at the IAAF World Indoor Championships.
After that, he won his second and third gold medals at the World Athletics Championships.
Before getting into details about the athlete's life and career, here are some quick facts about him.
Quick Facts about Christian Coleman
| | |
| --- | --- |
| Full Name | Christian Coleman |
| Birth Date | March 6, 1996 |
| Birth Place | Atlanta, Georgia, United States |
| Nick Name | None |
| Religion | Christian |
| Nationality | American |
| Ethnicity | African American |
| Education | University of Tennessee |
| Horoscope | Pisces |
| Father's Name | Seth Coleman |
| Mother's Name | Dr. Daphne Coleman |
| Siblings | Two: Camryn Coleman & Cailyn Coleman |
| Age | 27 Years Old |
| Height | 5 feet 9 inches (1.75m) |
| Weight | 159 lbs (72 kg) |
| Hair Color | Black |
| Eye Color | Black |
| Build | Athletic |
| Sports | Track and Field |
| Team | Nike |
| Profession | Professional Sprinter |
| Active Years | 2016 – Present |
| Marital Status | Unmarried |
| Wife | None |
| Kids | None |
| Net Worth | $35 million |
| Social Media | Instagram, Twitter |
| Last Update | March, 2023 |
Christian Coleman | Early Life, Family, And Education
Christian Coleman was born in Atlanta, Georgia, the United States. His parents are Seth Coleman and Dr. Daphne Coleman.
Furthermore, his father is a relations manager for the Atlanta public school, while his mother is an instructional coach in the same school.
Besides that, the athlete has two siblings named Camryn and Cailyn. Christian's parents played a very supporting role that built his confidence.
It led him to participate in multiple individual events. Then, following his enthusiasm, his journey to becoming the world's fastest man started.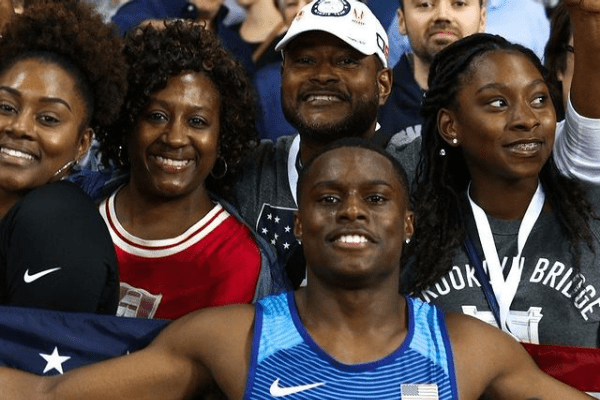 The gold medalist attended Our Lady of Mercy Catholic High School. He was part of the school's track team.
Subsequently, the sprinter participated and won 100 and 200 meters dash. He also took part and had victories in the long jump.
After his high school graduation, the athlete attended the University of Tennessee. He majored in Sports Management and graduated with honors.
Like his exceptional achievements in high school, the track runner had an excellent career at Tennessee.
Christian Coleman | Age, Height, And Weight
The US sprinter is 27 Years Old as of March 6, 2023. As an athlete, Coleman takes excellent care of his health and diet.
Hence, he leads a very active and fit life. In addition, the athlete is exceptionally hardworking and very career-focused.
Furthermore, he is 5 feet 9 inches tall and weighs 159 lb, i.e., 72 kg. Such a body isn't easy to come as Coleman devotes himself to extreme training and diet to follow.
Indeed, he is with smoothies in the morning and after workouts and always focuses on the whole food.
All in all, Coleman is strong, and he can even attain 455 deep squats with good acceleration.
Christian Coleman | Track And Field Career
High School
The three-time gold medalist started his training from an early age. His father was an active instructor and role model in his life.
Furthermore, he went to Our Lady of Mercy Catholic High School. He was a part of the Bobcats' track team. Besides, Christian won multiple events as a high schooler.
The runner was the All-USA for his performance in New Balance Outdoor Nationals. He was also a finalist in the 100-meter and 200-meter races.
Besides being an outstanding sprinter, Coleman also played in the high school football team.
He was a defensive back and wide receiver position for the team. Hence, he received a huge amount of praise and stardom for his athleticism.
Not to mention, the gold medalist has an award named after him. Mercy Track named the award 'The Christian Coleman Championship Award.'
Furthermore, Coleman also received the Fred R. Langley Athletic Scholarship and joined the University of Tenessee.
College Career
In Tennessee, the former Mercy track athlete continued to be lethal at Track and Field Championships.
Furthermore, he participated in multiple events such as SouthEstern Conference Indoor Track and Field Championships.
He was also in the National Track and Field Indoor Championships, NCCA Division l Outdoor Track and Field Championships, and many more.
Moreover, the champion sprinter won most of those events. Coleman got selected for the 2016 Olympic team in both the 100 and 200 meters dash.
Correspondingly, he had huge success throughout his time in Tennesse and won multiple gold medals in different events.
Besides that, the American athlete had a phenomenal year in 2017 as he achieved multiple awards and titles.
Likewise, he is the first winner of the annual Track and Field award, The Bowerman.
He received the award for his outstanding performance in numerous Track and Field Championships.
Learn more about Tennessee Volunteers' Shooting guard: <<Jaden Springer Bio: Early Life, College, Girlfriend & Net Worth >>
Christian Coleman |
Professional Career
Initial Career
With an impressive sophomore season at Tennessee, Christian got selected for the 2016 Olympic Trials.
He was chosen for the 100 and 200 meters dash. Moreover, the athlete completed the 100-meter semi-finals in under ten seconds.
Comparatively, he was a bit slow in the finals and finished in the sixth position. After that, Coleman was selected for the USA 4×100 meter relay team the same year.
He served as the second leg for Team USA after qualifying for the 4×100 race. However, he did not join them for the finals.
In 2017, he won both the 100 and 200-meter at NCCA Outdoor Championships. The impressive win led Coleman to sign a contract with Nike.
Coleman also beat the all-time fastest Usain Bolt at the 2017 World Championships.
As a result, the former Volunteer won a silver medal in the 100-meter race. Similarly, he competed in the 4×100 meter relay to win another silver medal.
Although he worked very hard, the runner failed to secure a gold medal at the championship.
Gold Medal Wins
In the 2018 indoor season, he broke a previously held 20-year old record. After recording a 6.37 second at the IAAF World Indoor Championships, he won his first gold.
The sprinter's time record is the fastest recorded indoor performance at sea level. However, he faced many difficulties and disappointments in the outdoor season.
The gold medalist injured his hamstring, which restricted him from giving his best. After losing two games, he decided to discontinue and allow his injuries to heal.
After proper recovery, he won his first Diamond League trophy after a recording of 9.79 sec on the clock.
To prepare himself for the 2019 outdoor season, the athlete skipped the indoor season. He won two 100-meters races in Oslo, Norway.
He also won the 100-meter race at the Prefontaine Classic. Furthermore, Coleman took part in a 200-meter race and finished in second place.
Following his win at the men's 100m at the World Championships in Doha, he became the sixth-fastest man and third-fastest American in history with the personal best time of 9.76 seconds.
Current Career And Suspension
The track runner competed in the 2020 indoor season, intending to break his previous record.
However, after a few events, he was suspended for missing his drug tests in 2019. As a result, he appealed the decision to the Court of Arbitration for Sports.
Don't Forget To Check Out Olympic Gold Medalist: <<Peggy Fleming Bio: Olympics, Net Worth, Trophy & Husband >>
Christian Coleman | Injury
Back in July 2018, Coleman suffered a hamstring injury at the start of the outdoor season training. Apparently, the injury devastated him both physically and mentally.
Following it, Christian had to miss out on the Diamond League meetings in Oslo, Stockholm, Paris. However, he made his way back for the game in Rabat.
"It was pretty tough mentally; it was something I've never had to deal with. I'll continue to get better."
-Christian Coleman
Missed Drug Test And Two-Year Ban
In 2019, Christian missed three drug tests. He also failed to provide his whereabouts details on multiple occasions.
As a result, the United States Anti-Doping Agency temporarily banned him from competing. The sprinter appealed the decision immediately.
Although the decision was supposed to be private, it leaked before the World Championships.
After the temporary ban was lifted, Coleman completed the World Championships. It wasn't much longer before the agency announced the much-anticipated suspension and ban.
The gold medalist competed for a brief time before being officially suspended on June 17, 2020.
Initially, there were no details regarding the time limit for the suspension. After that, on October 27, the Tokyo Olympics banned him until May 13, 2022.
Following the news, the former Tennessee Volunteer appealed the ban to the Court of Arbitration for Sports.
The Court denied the appeal as he failed to provide his whereabouts and missed calls from the drug testers. For now, he waits for the suspension to end.
You Might Be Interested In Gold Medalist Ski Racer: <<Lindsey Vonn Bio: Career, Family, Olympics & Net Worth >>
Christian Coleman | Personal life, Girlfriend & Kids
Christian is widely recognized as one of the best track and field sprinters. And when you are famous and talented, everyone wants to know whether you have a significant other.
As of now, the Olympian is not dating anyone. Coleman is single and focused on building his career.
Previously he was in a relationship with University of Georgia track athlete Micaiah Ransby. However, the duo got separated after dating for some time.
Besides that, Coleman is very private regarding his personal life. Hence, there is very little information available regarding his dating life. As he is single, he does not have any kids.
If there is any exciting information regarding his love life, we will surely update you guys about it here.
Christian Coleman | Net Worth And Salary
The sprinter has built an impressive wealth amount through endorsements and his track and field career.
Although Coleman's Exact net worth Is Unkown, it is Estimated to be over $62 million.
On top of that, the athlete earns a decent amount through endorsements and sponsorships. A top-rated sports apparel company, Nike, sponsors him.
The athlete leads a comfortable and luxurious life. Furthermore, he owns a beautiful house and has multiple cars.
Also, check out: TOP 95 SHELLY-ANN FRASER-PRYCE QUOTES >>
Social Media Presence:
The professional runner is quite active on social media platforms. He has a verified Instagram account with over 168k followers.
Moreover, he usually shares his career highlights from different races. Furthermore, he likes posting his workout routines.
The athlete is fitness-oriented and has several pictures of him training and running. Besides that, he also has photos alongside the legendary Olympics sprinter, Usain Bolt.
Furthermore, he is on Twitter, with over 27.2k followers. He joined in 2011 and has over four thousand tweets.
Coleman often shares sports-affiliated news and events. He also promotes the Nike brand through his tweets.
Visit Christian Coleman – ESPN to know new updates about him.
Some FAQs:
What did Christian Coleman do?
On December 9, 2019, Coleman missed three doping tests. Initially, he claimed that the anti-doping officials didn't make an effort to find him.
However, those claims quickly fell short after he failed to provide his whereabouts. As a result, he was suspended and not allowed to compete in the 2020 outdoor season.
Even though the sprinter appealed the decision, he could not provide sufficient evidence. He is currently facing a two-year ban for his missed drug test.
Did Christian Coleman set a world record?
Yes, in 2020, the athlete set a new world record in the 60m final race by finishing it in 6.34 seconds. It is the fastest time ever set by any other athlete in that category.
Where did Christian Coleman go to college?
Following his graduation from Our Lady of Mercy Catholic High School, Christian attended the University of Tennessee. He had an outstanding career with the Tennessee Volunteers.
He won several awards and honors for his speed and skills. The athlete also played collegiate football for the Volunteers. As a result, he got a lot of recognition from the media and fans.
The runner won two silver medals and a gold medal while attending college. During his sophomore year, he got selected for the 2016 Olympic team.
Did Christian Coleman's performance improve because of Tim Hall's training?
Under the guidance of coach Tim Hall, the runner's time improved a lot.
What is Christian Coleman's block start?
Christian Coleman is one of the fastest starters in the world today. His strength is his amazing super fast block starts.
What is Christian Coleman's 40-yard dash time?
Christian Coleman's 40-yard dash time is 4.12 seconds.
What is Christian Coleman's top speed?
Christian Coleman's top speed is 9.76 s /100m = 36.89 km/h (22.92 mph).
What did Noah Lyles say about Christian Coleman?
Noah Lyles said that Christian Coleman should be a little more responsible after being provisionally suspended for breaking whereabouts rule.