An embodiment of knowing what you want, and doing just that, is exactly what Cindy Brunson is.
She is popularly known for being a sports anchor and reporter in ESPN's flagship program, SportsCenter.
Currently, she is working as a part of the Pac-12 Networks' broadcast team.
Brunson is a firm believer in 'Perception becomes a reality.' And it's safe to say that she always gets it right.
She carries herself with grace and elegance and yet, manages to look bold while doing so.
She is also well known for her supportive nature and strong opinions. And it's no surprise that she does not hesitate to speak her mind.
Brunson is no stranger to letting people know what she believes in. And that is often seen in her many social media posts.
Cindy Brunson: Early Life and Education
Born on 10th June 1975 in Tacoma, Washington, Brunson enrolled in Curtis Senior High School in University Place, Washington.
After seeing American newscaster Robin Roberts on ESPN, Brunson became aware of her interest in sports broadcasting. She was 12 at the time.
But a young Brunson would experience prejudice for being a girl interested in sports.
While her Father and his friends would watch football games in the living room on Sundays, Brunson was appointed as the 'beverage girl.' She found it 'lame.'
So, as a young girl, she did what she could to make her space in that living room. She grabbed an encyclopedia and memorized the referee's signals.
And the following Sunday, she went to the living room and said, 'That was not a hold! I can't believe the ref threw that flag'.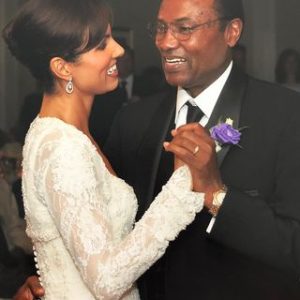 After that, Brunson and her Father became regular attendees of the home Seahawks, Sonics, and Mariners games.
And Brunson went on to pursue her dream career; she enrolled at Washington State University.
Brunson graduated with a Bachelor's Degree in Arts and Broadcast Communication. She credits her college for putting her in a 'position to succeed.'
She says her time at WSU helped her 'television broadcast dreams become a reality.'
Check out: Top 19 Jack LaLanne Quotes
Quick Facts:
| | |
| --- | --- |
| Full Name | Cindy Brunson |
| Birth Date | June 10, 1975 |
| Birth Place | Tacoma, Washington, U.S. A |
| Nick Name | Not available |
| Religion | Not available |
| Nationality | American |
| Ethnicity | Biracial |
| Education | Washington State University |
| Horoscope | Gemini |
| Father's Name | Not Available |
| Mother's Name | Not Available |
| Siblings | Not Available |
| Age | 47 Years Old |
| Height | 5'9″ (1.78 m) |
| Weight | Not Available |
| Shoe Size | Not Available |
| Hair Color | Brunette |
| Eye Color | Brown |
| Body Measurement | Not Available |
| Build | Slim |
| Married | Yes |
| Spouse | Steve Berthiaume |
| Children | None |
| Profession | Anchor/Reporter |
| Net Worth | $2 million (2018) |
| Broadcasting Affiliations | Pac-12 (Current), ESPN (Former) |
| Social Media | Instagram |
| Shoes | Not Available |
| Last Update | March, 2023 |
Cindy Brunson: Career
Early Career
By 23, Cindy had already made her career debut with KATU in Portland, Oregon. There, she worked as a weekend sports and news anchor/reporter.
At KATU, she covered the Portland Trail Blazers (National Basketball Association), the University of Oregon, and the Oregon State's football team.
Before working for KATU, she worked as a weather anchor and news reporter at KHQ-6 in Spokane, Washington.
ESPN
After working with KATU for a year, Cindy got signed full-time by ESPN as an ESPNEWS anchor. She worked there for the next 12 years as a SportsCenter anchor.
Her most notable works in ESPNEWS were as a host for Hot Take and an analyst for College Basketball Live.
Brunson officially departed from ESPN on December 29, 2012. Her final sports broadcast was alongside Bram Weinstein.
Memorable Sports Moments
Brunson has been a part of some of the most incredible moments in sports.
In one of the interviews with CougFanCom, Brunson admitted that Tiger Woods' weekend car accident was one of the most surreal things she covered.
Brunson was also the anchor when ESPNEWS covered the Florida Marlins rookie Aníbal Sánchez's no-hitter.
She was there when Barry Bonds tied and surpassed Hank Aaron for most all-time in Major League history after hitting his 755th and 756th career home runs.
Cindy claims it was a night she 'will never forget.'
Career Setbacks and Challenges
Despite getting the big break with ESPN, many hurdles would follow Brunson as a female sportscaster.
The prejudice she experienced at the tender age of 12 would follow her even in her adult life. Brunson learned about the viewers' ignorance and fickleness early in her career.
The day after she anchored the show for the first time, she received many misogynistic messages from viewers.
Three of them told her to 'go back to the kitchen.' The rest only commented on her appearance.
With the advice from Stuart Scott, who played back the racist messages he had gotten, Brunson decided to perceive them as motivators.
She kept the first 'get back in the kitchen' message as a reminder to work as hard as possible. Her diligence paid off.
Brunson became one of ESPN SportsCenter sportscasters' most familiar faces.
Arizona Diamondbacks and Pac-12
In April 2013, Brunson joined Fox Sports Arizona's broadcast team. She served as their Live pregame and postgame host and reporter.
Now, she is working there as a play-by-play commentator. Since May 2013, Brunson has also worked as an analyst for Phoenix Mercury.
She is also the commentator for Pac-12 Networks since 2014.
Cindy has also served as a College Football and Men's College Basketball Sideline reporter. Furthermore, she is also the play-by-play announcer for Women's College Basketball.
In November 2019, Brunson was hired by the Texas Tech Athletic Department to enhance the Lady Raider's television coverage.
Cindy Brunson: Personal Life and Marriage
Cindy Brunson married her longtime boyfriend, Steve Berthiaume, in June 2009. Like his wife, Steve is also an American television sportscaster.
He has been serving as a play-by-play broadcast announcer for the Arizona Diamondbacks. He is also a former anchor and sportscaster for ESPN and SportsNet New York.
Cindy Brunson: Husband
Steve Berthiaume's career background is very similar to that of Cindy. He ran the cross-country track and worked as an announcer for Massachusetts's basketball team.
Berthiaume covered the University of Connecticut men's and women's basketball and their involvement in the NCCA tournament during his work at WTIC-HV in Hartford, Connecticut.
After that, he worked at the now-defunct CNCCI network and moved to ESPN in February 2000. He started at ESPNEWS and later worked as an anchor for SportsCenter.
In February 2001, Brunson co-anchored her first SportsCenter broadcast alongside Berthiaume.
In 2006, Steve left ESPN to become the chief sportscaster for the new SNY network. But he returned to ESPN SportsCenter on March 28, 2007, to work closer to Cindy.
Later, Brunson did the same for Steve in 2013; when the baseball broadcast team hired Steve for FOX Sports Arizona, Brunson joined the Arizona Diamondbacks' broadcast team.
Berthiaume has served as a play-by-play broadcaster for the broadcast team since 2012. Since then, the two of them have been working in the same broadcasting network.
Cindy Brunson: Inspiring Women Sportscasters
Cindy Brunson has proven to be a trailblazer throughout her career, paving women's way in sports broadcasting.
Prejudices against women in a field dominated by male personalities and voices come as no surprise.
So opinions such as 'women cannot understand sports,' and female sportscasters are 'just another pretty face' have been very prominent.
And this meant that Brunson had to work harder than her male colleagues. She could not afford to make the mistakes that the men were allowed to.
So, she had to overcome all those prejudices to establish her credibility in sports broadcasting. And somehow, Brunson managed to make it look effortless.
Brunson is a figure of inspiration for many sportswomen and fellow anchors and newscasters.
She reached the height in sportscasting for women that seemed unachievable when she started her journey. And she doesn't seem to be stopping anytime soon.
But Brunson insists that as a woman in sportscasting, she has no choice but to be good at what she does.
Her work requires a lot of preparation and homework. And she cannot give anybody an excuse to tell her to 'get back into the kitchen.'
She has set an example for upcoming female sportscasters with grace and attitude.
Her advice for other women in sportscasting – 'learn everything you can about sports you don't know.'
Cindy Brunson: Salary and Net Worth
Brunson was estimated to have a net worth of around $2 million in [current year]. However, her current salary and net worth are not disclosed.
Cindy Brunson: Age, Height, and Nationality
At the time of writing, Cindy is 47 years of age. She was born to a black Father and a white mother in Tacoma, Washington. Brunson is a Gemini star sign.
Cindy Brunson: Children
Cindy and Steve do not have any children as of now. However, they own a rescue dog – Jon Show- named after the popular TV show – Game of Thrones.
Cindy is particularly fond of her dog. He is also the star of her Instagram posts.
Cindy Brunson: Personal Interests
After being inspired by Al Gore's documentary, "An Inconvenient Truth," Brunson decided to be a Climate Reality Leader.
So, she joined the Climate Reality Leadership Corps held in Pittsburgh in October 2017. Since then, she has been associated with the Climate Reality Project.
Since May 2013, Brunson has been a part of The Association for Women in Sports Media. She is also a member of the National Association of Black Journalists.
Besides these, Brunson is an alumna of the Murrow College of Communications at WSU.
Cindy is also notorious for her love for coffee. In an interview with Fox Sports Arizona, her husband claimed she drinks around two pots of coffee daily.
Brunson is also an avid fan of the Seattle Seahawks and Seattle Mariners.
Cindy Brunson: Social Media
Instagram: @cindybrunsonaz
Twitter: @CindyBrunsonAZ
Some FAQs
Who is Cindy Married to?
She is married to her long-time boyfriend, Steve Berthiaume.
Which College did Cindy attend?
Cindy joined Washington State University to complete her Higher degree.