Conchita Martinez is that one single name on the tennis court that won't age at any time. As a tennis' fan, you won't be any less familiar with the name as she has imprinted one of the greatest games on display.
As she commenced the games in the late 80s, she devoted nearly two decades in the court representing her homeland, Spain.
Altogether, Martinez has implanted herself as the first Spanish player to win the women's singles title at Wimbledon.
She has also collected three Olympic medals during her tenure and is a five-time winner of the Fed Cup.
After her retirement, Martinez found her way back to the sport as a captain for the Spanish Fed Cup team and the Spanish Davis Cup team.
Following it, she starred as the coach for players, which she does to date. Not to mention, Martinez has described her bonding with the sport as simple; "Love at first sight."
If you would love to know more about the professional tennis player, then take a glimpse at her quick facts below.
Quick Facts
| | |
| --- | --- |
| Full Name | Inmaculada Concepción "Conchita" Martínez Bernat |
| Date of Birth | April 16, 1972 |
| Birth Place | Monzón, Huesca, Spain |
| Nick Name | Senorita Topspin |
| Religion | Christianity |
| Nationality | Spanish |
| Ethnicity | White |
| Zodiac Sign | Aries |
| Age | 51 Years Old |
| Height | 5 feet 6 inches (1.7 meters) |
| Weight | 59 kg (130 pounds) |
| Hair Color | Black |
| Eye Color | Light Brown |
| Build | Athletic |
| Father's Name | Cecilio |
| Mother's Name | Conchita |
| Siblings | Two older brothers, Fernando and Roberto |
| Education | Unknown |
| Marital Status | Married |
| Wife | Gigi Fernandez (Ex-girlfriend) |
| Kids | None |
| Profession | Tennis player |
| Plays | Right-handed (one-handed backhand) |
| Professional since | February 1988 |
| Retirement | April 15, 2006 |
| Net Worth | $20 million |
| Social Media | Instagram, Twitter |
| Merch | The Book of Conchita Martinez |
| Last Update | June, 2023 |
Conchita Martínez | Early Life and Family
Martinez (fully named Inmaculada Concepción "Conchita" Martínez Bernat) was born on 16 April 1972, under Aries' sun sign.
Born in Monzón, Huesca, Spain, her father, Cecilio, is a retired accountant. Likewise, her mother, Conchita, is a housewife.
Furthermore, Martinez is the youngest of three siblings and has two older brothers, Fernando and Roberto.
Introduction to Tennis
Additionally, she fell in love with tennis at the young age of nine. As Martinez recalls, she used to play for hours alone, hitting a wall while imagining herself playing one point after another.
Thus, alongside her passion, Martinez started to bloom right at twelve.
Martinez moved to Barcelona for further training, and three years later, she was off to Switzerland for more refinement.
Read about Taylor Fritz Bio: Tennis, Coach, Son, Net Worth >>
Conchita Martínez | Professional Career
In 1988, at the age of 16, Martinez started professionally as a tennis player. The summer of that year, Martinez claimed Sofia, her only WTA singles title.
Moving forward, she was in the fourth round at the French Open.
Breakthrough
Martinez had early success in her career, which marked her breakthrough point when she won over world number three Gabriela Sabatini.
The 17 years old bagged the finals of a $200,000 WTA event held in Tampa.
Following it, she took the victory in two Tier V tournaments (Wellington, Phoenix). Overall, she had started the year in the world ranking of 39; however, she ended in World No.7.
Similarly, in the next years, she won six titles.
Her first Olympic medal came in Barcelona, where she had partnered Arantxa Sánchez Vicario for women's doubles at the French Open.
Wimbledon Singles Title
Before winning the Wimbledon singles title, Martinez could only make it to its semifinals and lost to Steffi Graf.
However, later in the November tournament, she won over Graf for the first and the last time.
She also took over the Italian Open and became the first Spaniard to win the tournament.
In 1994, Martinez won the Wimbledon singles title for the first time, and that too, over the woman she had always dreamed of playing against.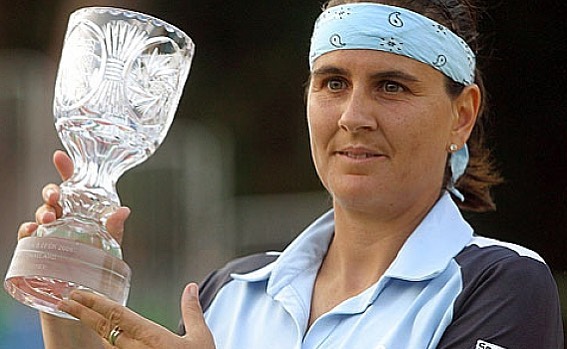 She had previously defeated Rene Simpson, Nana Smith, Nathalie Tauziat, Kristine Kunce, and Lindsay Davenport.
Finally, she faced the nine-time Wimbledon champion Martina Navratilova, where she turned the tables over.
Altogether, she became the first Spanish woman to win the title, and that same year, she also hired her new coach, Carlos Kirmayr.
Following it, she was also the only player to win the Italian Open for four consecutive years.
Lengthy Career in a Shortened Story
Martinez has achieved numerous feats throughout her career and has kept loads of cherished memories in the court.
But, moving on, she made it till the quarterfinals or finals of the Australian Open and the French Open.
Apparently, until 2004, Martinez was doing just well, and she earned her second Olympics medal in Athens, Greece. Likewise, she won a singles title in 2005 in five years at Pattaya, Thailand.
Altogether, she hung her racquet in 2006 after 18 years of devotion to the field. At that time, she had almost been playing tennis for most of her life, and in total, she had won 33 singles and 13 doubles titles.
Additionally, she had more than 700 singles victories and had collected five championship Fed Cup teams (1991, 1993-95, 1998).
"It's not an easy decision because tennis has been my life. But I've taken this decision, not with my heart. I think I have to be happy because from now on I will be
able to dedicate my time to other things."
-Conchita Martinez
Learn more about Sania Mirza Bio: Husband, Son, Tennis, Awards >>
Commentator, Captain, and Coach
After her retirement in April 2006, Martinez commenced working as the Eurosport sports commentator in Spain.
During her tenure, she had covered the French Open and commented on various television stations in Spain.
She worked for some television stations: Canal + during Wimbledon, Marca TV, and Direct TV Sports for Latin American viewers.
A few years behind the microphone and showing the public her gameplay vision, Martinez became Spain's Fed Cup team captain.
In 2013, after Arantxa Sanchez Vicario resigned from the post, Martinez was selected for it, where she spent two years. Later, in 2017, she was called for the captain position in the Davis Cup team.
Moreover, she replaced Gala Leon and starred in the position. In addition to that, she has been one of the notable coaches in the industry.
Some of the players she has coached are number one globally, Karolina Pliskova, and two-time Grand Slam winner, fellow Spaniard Garbine Muguruza.
Hall of Fame
Indeed, Martinez is about to gain her fruits from the seeds she had shown in the field for ages.
During Australian Open 2020, they announced that the Tennis Hall of Fame as Class of 2020 also includes Goran Ivanišević and Conchita Martinez.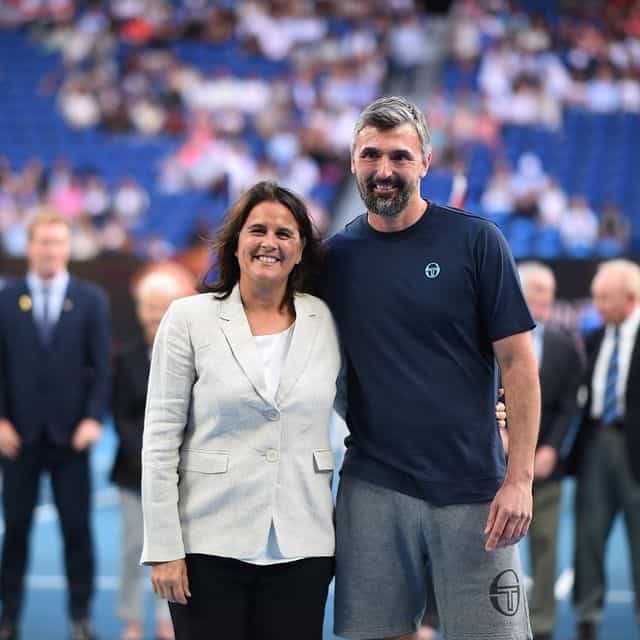 However, the Hall of Fame was postponed to July of 2021 due to the global pandemic in 2020. Nevertheless, with stellar success during her career, Martinez gained her ultimate honor.
Did Conchita Martinez play in the Tokyo 2020 Olympics?
No, the tennis Hall of Famer did not play at the Tokyo 2020 Olympics as she retired in 2006.
Nevertheless, she was in Japan at the Olympics coaching Garbiñe Muguruza, competing in the singles and doubles category.
Shortly after her induction, the three-time Olympic medalist got on a plane to Japan. Even though she did not bring gold home as a player, Martinez hoped she could win the gold medal for Spain through Garbiñe.
The Tokyo 2020 is Muguruza's second consecutive Olympic appearance as she represented Spain in the 2016 Rio Olympics. However, she did not manage to win any medals for her country back then.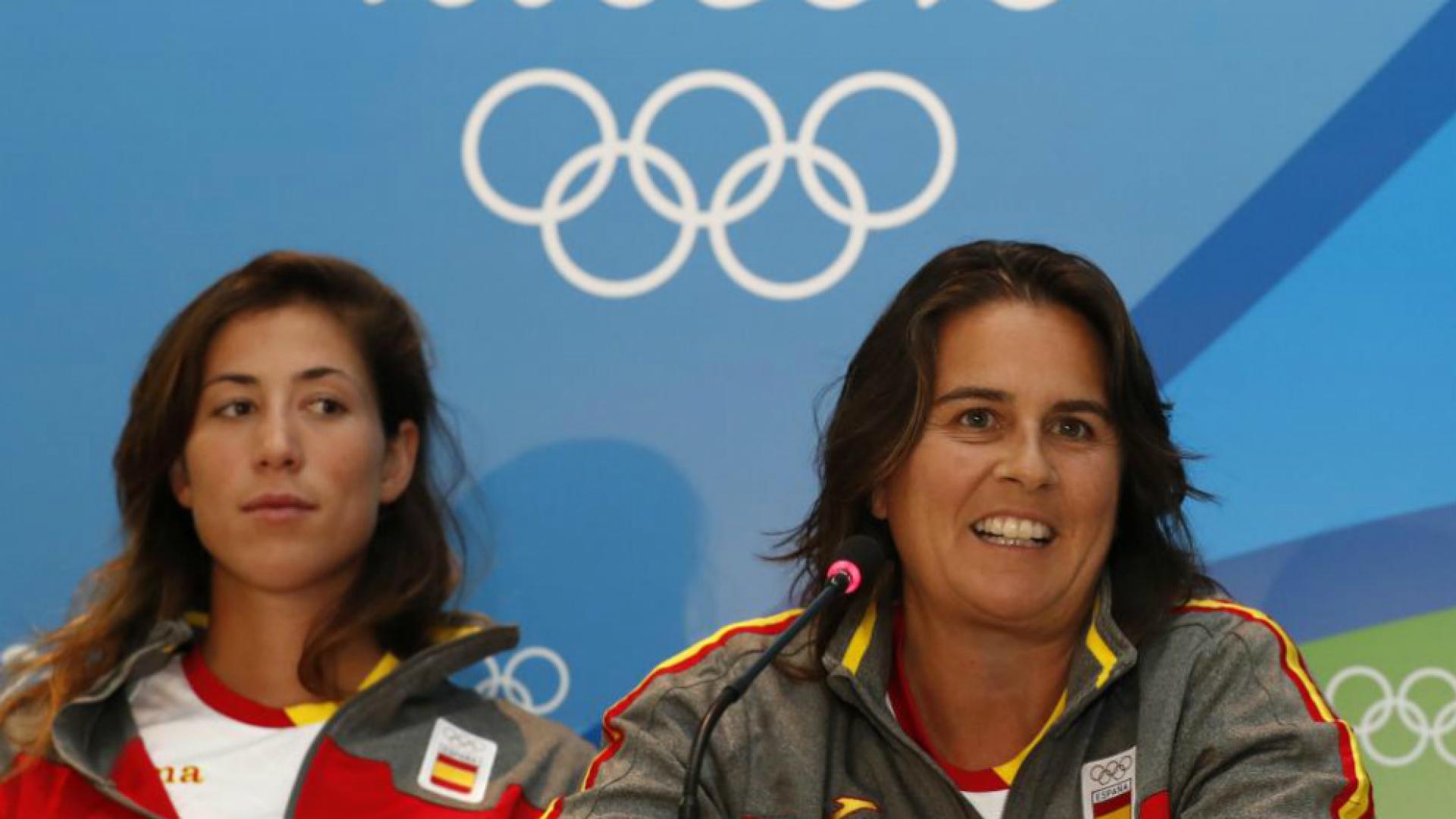 Moreover, she did not advance to the final in singles or doubles. However, under Conchita's coaching, Muguruza defeated Russian player Veronika Kudermetova in her first Tokyo 2020 singles.
Likewise, she was victorious in the doubles, where she was paired with Carla Suárez Navarro and defeated Belgium.
Now Martinez's athlete faces Chinese tennis player Wang Qiang in the singles category and Swiss tennis players in the doubles category.
Hence, Conchita had huge responsibilities at the Tokyo 2020 Olympics, even if she's not playing.
Conchita Martinez | Playing Style and Achievements
To date, Martinez has been rocking the industry with her refined gameplay. But, altogether, Martinez explains that her success in her journey was the patience and the rhythm she maintained during the game.
As we all know, she is a right-handed baseline player who plays single-handedly.
She needed to have a strong backhand and grip for it. The special technique is heavy topspin on her forehand and slower topspin and slice on her backhand.
Most importantly, Martinez has continued change in her game's pace, spin, depth, or angle. Often, she stars as the irritating opponent.
Speaking of her statistics, Martinez has a single career record of 739–297 (71.3%) with the highest world ranking of No. 2.
Likewise, her doubles career record accounts for the 414–232 (64.1%), with the highest world ranking of No. 7.
Some of her achievements to date are listed below.
1987 Mediterranean Games in Latakia; Singles (Gold medal)
1990 Paris [Indoors], Scottsdale and Indianapolis (winner)
1992 Olympic in Barcelona; Doubles (Silver medal)
1994 Wimbledon singles title (first Spanish to gain the title)
1996 Olympics in Atlanta; Doubles (Bronze medal)
Five-time winner of the Fed Cup (1991, 1993, 1994, 1995 & 1998)
2004 Olympics in Athens; Doubles (Silver medal)
Injury
As an athlete, Martinez has faced injuries on professional grounds, which have eventually forced her to pull out.
However, Martinez hasn't faced some major injuries to keep her out or hamper her to its extent.
Some of the simple injuries she faced were the wrist and ankle injuries, which got better with a few weeks of rest. To wrap things up, both her injuries were in early 2000.
Conchita Martinez | Controversy
Back in the days when Conchita Martinez became the captain for Davis Cup and Fed Cup team, things seemed perfectly well. However, over time, controversial decisions surrounded her.
The Spanish tennis federation showcased their opinion to bring Martinez down as a captain. To elaborate, they had asked for the change in leadership, which bought rage inside Martinez.
She was lucky to have top Spanish players like Rafael Nadal, Garbine Muguruza, Feliciano Lopez, and Carla Suarez Navarro to have by her side, showing disappointment.
Conchita Martinez | Net Worth, Sponsors, and House
The Spanish tennis player has earned great fortune and fame through her long tennis career.
Currently, Conchita Martinez has a net worth of $20 million. Unfortunately, the salary amount of the tennis player is unavailable at the moment, but we expect it to be in millions.
Also, her apparel sponsor was Ellesse Int'l, with whom she failed to claim a $550,000 bonus in 1999.
Furthermore, Kelme sponsored her as she sported a green racquet with the Kelme "paw" logo.
Martinez also has two residences: Barcelona, Spain, and the other in San Diego, California, US.
You might be interested in Rafael Nadal Quotes to motivate you!
Conchita Martinez | Personal Life
At present, Martinez isn't committed to anyone, and thus, she does not have a spouse for now. However, in her past, she was romantically involved with Gigi Fernandez.
Yes, the duo were dating back then; however, they broke up later and have moved on with their lives.
Unfortunately, they haven't yet disclosed the reasons for their breakup.
According to the source, their love story brewed as a fellow tennis player when working together. Thus, after a few talks and all, they started dating gradually.
Who is Martinez's ex-girlfriend, Gigi Fernandez?
Gigi Fernandez (born on February 22, 1964) is a former professional tennis player. Born in Puerto Rico, she is the first Puerto-Rican to be inducted into the International Tennis Hall of Fame.
As for her family background, she is the daughter of Tuto Fernandez Pla and Beatriz Ferrer Calderon. Apart from her tennis, she holds a Bachelor of Arts in Psychology from the University of South Florida.
Besides, her master's degree is from the Crummer School of Business of Rollins's College in Business Administration. Fernandez has earned 7 Grand Slam doubles titles and two Olympic gold medals.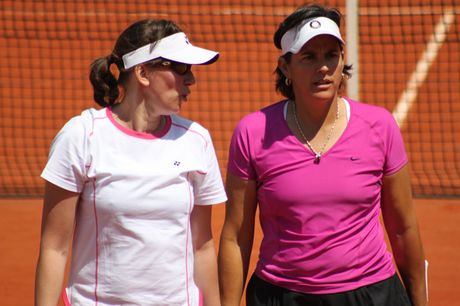 Moreover, she is an entrepreneur who has a company named Baby Goes Pro under her name.
She is the Director of Adult Tennis at Chelsea Piers, Connecticut, and summer Director at The Long Ridge Tennis Club.
Equally important, she is now married to former LPGA and WWE executive Jane Geddes and shares a twin, Karson Xavier and Madison Jane.
Conchita Martinez | Social Media Presence
Instagram: 13.1k Followers
Twitter: 43.8k Followers
Additional Facts on Conchita Martinez
Favorite actors: Harrison Ford and Antonio Banderas
Hobbies: horseback riding, playing golf, soccer, shopping, beach volleyball in San Diego, and skiing
Vehicles owned: Honda Shadow 750 motorcycle and a Harley-Davidson Heritage Springer 1300
Pets: Two cocker spaniel dogs, Tremi and Yuca
Another dog named Luna
Wine Collection: Red wine Bordeaux, Spanish Vega Sicilia, and Rioja
Languages: English and German
Conchita Martinez | FAQs
Who does Conchita Martinez coach now?
As of 2023, Conchita Martinez started coaching Garbiñe Muguruza full-time.
How much is Conchita Martinez's prize money?
Conchita Martinez has the prize money of $11,527,977.
Is Conchita Martinez gay?
Many people have been wondering if Martinez is gay. However, she is openly a lesbian.
How many Grand Slams did Conchita Martinez win?
Martinez has won 1 Grand Slams to date. She won the title in 1994 and became the first Spanish woman to win Wimbledon. To get the Grand Slam title, she beat the nine-time champion, Martina Navratilova.