Dave Krieg, aka "Mudbone," is an American former football athlete of the NFL. Even after being undrafted during the 1980 NFL Draft, he has shown exceptional talent as a quarterback throughout his career.
Moreover, Krieg's exceptional skills have earned him the Pro Bowl ticket three times and induction in the Seattle Seahawks Ring of Honor.
As a professional athlete, he has represented various famous NFL teams like- Seattle Seahawks, Kansas City Chiefs, Detriot Lions, Arizona Cardinals, Chicago Bears, and Tennesse Oilers.
Furthermore, let's get to know more about the famous former quarterback Mudbone. But, first, let's look into some of Krieg's quick facts.
Dave Krieg | Quick Facts
Full Name
David Michael Krieg
Birth Date
October 20th, 1958
Age
65 Years Old
Birth Place
Iola, Wisconsin
Nickname
Mudbone
Religion
Not Available
Nationality
American
Education
D.C. Everest School, Milton College
Horoscope
Libra
Father's Name
Myron Krieg
Mother's Name
JoAnn Krieg
Siblings
Two
Height
6'1" (1.85 m)
Weight
193 lbs (88 kgs)
Build
Athletic
Shoe Size
Not Available
Eye Color
Grey
Hair Color
Light Brown
Marital Status
Not Disclosed
Spouse
Not Disclosed
Children
Not Disclosed
Profession
Former Football Player
Draft
1980
Number
17
Position
Quarterback
Former Teams
Seattle Seahawks
Kansas City Chiefs
Detriot Lions
Arizona Cardinals
Chicago Bears
Tennesse Oilers
Net Worth
$10 million
Awards and Achievements
3x Pro Bowl
Seattle Seahawks Ring of Honor
NFL completion percentage leader- 1991
Social Media
Twitter, Instagram
Merch
DAVE KRIEG 1988 Snyder's Card
Last Update
November, 2023
Dave Krieg | Early Life, Family & Education
Renowned American quarterback Dave Krieg was born on October 20th, 1958, in Iola, Wisconsin, to his parents.
Dave's father, Myron, was a dairy farmer in his hometown, Wisconsin. Apart from this, not much information is available regarding his family.
According to Dave's birthdate, he falls under the sun sign of Libra. Libras are mostly known for their non-confrontational, social, and diplomatic traits.
Age, Height, and Body Measurements
Dave will turn 64 years old in October 2022. Krieg possesses an athletic build and sands at the height of 6'1" (1.85 m) and weighs around 193 lbs (88 kgs).
Likewise, Krieg has grey-colored eyes and brown-colored hair.
Education
Moving on to Kreig's educational background, he was born and raised in Wisconsin, where Dave attended D.C Everest School located in Schofield, Wisconsin, for high school.
Similarly, Dave attended a private college located in Milton, Wisconsin, called Milton College.
Moreover, Dave represented his college's National Association of Intercollegiate Athletics team called the Wildcats, the seventh-string quarterback. He got the opportunity to play throughout the fourth game during his freshman year.
Thus, during the game, Krieg finished four passes, from which three were for touchdowns. After that particular game, Dave continued to play adequately as the official start during the rest of his collegiate career.
Furthermore, Krieg and fellow teammates who also became professional athletes are the only two NFL athletes who attended Milton College.
Dave Krieg | Career and Profession
Throughout Dave's professional career, he played for nineteen seasons, which included 213 games altogether. His pass completion rate is 58.5% for 199 interceptions, 261 touchdowns, and 38,147 passing yards. His overall rating stands at 81.5.
Likewise, Krieg's regular-season record in win-loss is 98-77. Apart from regular seasons, Dave has also played in twelve postseason games, where he completed his passes with 51.1 percent for 1,895 passing yards, ten interceptions, 11 touchdowns, and a 70.86 rating.
Seattle Seahawks
Moreover, Dave remained undrafted in 1980 and tried out for the NFL team Seattle Seahawks where he made it as a third-string quarterback. During the 1980 season, Krieg played only once while taking only a few snaps with two incompletions.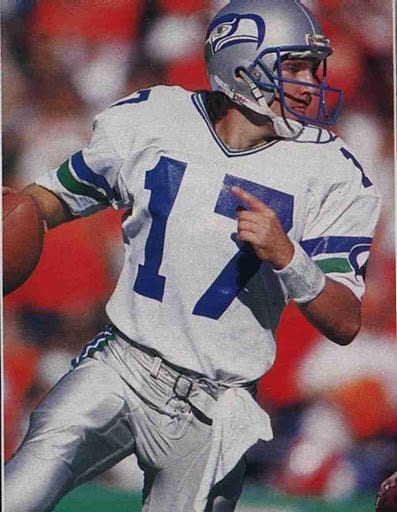 The 1980 season's final was the ninth straight loss for the Seahawks with a 4–12 score. In addition, the Seattle Seahawks lost in all the eight home games that they played during that season.
Furthermore, by the midst of the NFL 1981 season, Dave passed Sam Adkins on the depth chart and became the team's second-string quarterback.
After Jim Zorn had to stay on the sideline during the end of the season, Dave replaced Jim during the last three games and led the team towards two of the six wins.
Likewise, during his first NFL games as an official start of the team, Dave recorded a 57-yard game-winning completion towards Steve Largent while playing against the New York Jets on December 6th, 1981.
Dave began the 1982 NFL season as the Seahawks' starting quarterback and played until he acquired a thumb injury and had to stay on the sideline for several weeks. Jim reclaimed his previous role as a starting quarter, but he was very inconsistent with his game.
Later, Coach Mike McCormack assigned Kreig back to his position from the sideline, and the Seattle Seahawks eventually won over the Denver Broncos.
Seahawks Starting Quarterback
Moreover, Dave returned to the sideline during the 1983 campaign and remained there until head coach Chuck Knox delegated him to the Seattle Seahawks' new starting quarterback.
After the Seahawks made it to the playoffs for the first time in eight seasons they played, Dave led the team impressively and reached the wild card round of the playoffs while assisting his team retreat Steve DeBerg and the Broncos.
Furthermore, during the American Football Conference Championship Game, the L.A. Raiders overwhelmed Dave and the Seahawks' offense.
As a result, Coach Knox replaced Krieg with Zorn, but the team eventually lost to the Raiders and advanced on to win the Super Bowl XVIII.
Pro Bowl 1985
During the 1985 season, Dave recorded a throw for 3,671 yards and 32 touchdowns while leading his team towards a 12-4 score and another wild card playoff entrance. Because of Krieg's impressive performance, his NFL peers elected him to his career-first Pro Bowl.
Moreover, Dave's uniform play backed the Seahawks to eliminate the dominating Super Bowl champions, the Raiders, during a wild card game. Likewise, he also played well the following week.
However, the Miami Dolphins defeated the Seahawks and went further in the competition.
Furthermore, during the 1986 NFL season, Kreig's play was initially fair, and he led the team towards a 5-3 score. However, during midseason, the Coach assigned Dave to the bench and replaced him with Gale Gilbert because of his inconsistent play.
#HappyBirthday Dave Krieg. pic.twitter.com/rtWwXX88H6

— Seattle Seahawks (@Seahawks) October 20, 2013
Eventually, his tactic failed, and the Seahawks recorded a four-game losing streak giving Dave one more chance to show his skills. Like his name "Mudbone," Kreig recorded a five-game winning streak and finished the season which exceeded his passer rating.
Because of Krieg's exceptional skill play, he won the AFC Player of the Month honors.
Domata Peko- Bio, Net Worth, Wife, Contract & Stats >>
After Midseason Slump
After a brief midseason slump, Dave played more consistently during the 1987 NFL season. He threw his 108th touchdown in the first game and set a team record as a starter in less than four years.
Moreover, due to increased competition for the starting position, Dave's consistency increased further during the 1988 NFL season. Unfortunately, he had to miss seven games due to a separated shoulder.
Later, Dave's outstanding performance led the Seahawks towards the first AFC West Division Championship. The Seattle Seahawks secured the Division title with a 9–7 score against the Raiders during the regular-season finale.
Furthermore, Dave's impressive skills during the regular season earned him his second Pro Bowl appearance.
Likewise, In 1989, Dave competed in NBC's Superstars competition, which consisted of a series of physical challenges given to the athletes from various sports against one another. Dave won the competition, becoming the third overall athlete behind Herschel Walker and Willie Gault.
After beating athletes like Carl Lewis, Evander Holyfield, Randall Cunningham, and Gault Walker, Krieg won the rowing and basketball events.
Struggles with Leadership
During the 1989 NFL season, Dave struggled to lead the team due to a series of injuries sustained by the offense team. He had to rely on John L. Williams after Steve Largent decided to retire that season.
The Seahawks registered a 7–9 record that season and Dave earned another round at the Pro Bowl and helped lead the AFC towards victory.
Moreover, Dave struggled more during the 1990 NFL season as Largent's retirement led the offensive line and running game to decline. Likewise, his play ranged from worse to excellent during that season.
Last season with the Seahawks
During the 1991 NFL season, Dave broke his thumb in the season opener, leading him to miss six regular-season games. Unfortunately, the Seahawks ended the season with a 7–9 record, leading Coach Knox to resign.
Dave became a free agent later that season and his last season with the Seattle Seahawks was the 1991 NFL season.
Kansas City Chiefs
After representing Seattle Seahawks for almost 11 years, Dave signed with the Kansas City Cheifs, Seahawk's division rivals. Krieg became the starting quarterback for the team throughout the 1992 NFL season.
Moreover, he led the team towards a 10–6 record, including two victories against his last team Seattle Seahawks. During the offseason, Joe Montana became the starting quarterback of the Chiefs.
Likewise, Dave and Joe led the team towards an 11–5 record and AFC West Championship.
Detroit Lions
Furthermore, for the 1994 NFL season, Dave signed with the Detroit Lions and backed up Scott Mitchell. After Mitchell sustained an injury during the midseason, Dave came off the bench and played exceptionally well.
Likewise, Dave's leadership led the Lions towards a wild card playoff berth and a 5-2 regular-season finish.
Moreover, even after Dave's stats consisted of the fewest passes intercepted and the highest passer rating, the Chiefs decided to have Mitchell as the starting quarterback. Thus, Dave became a free agent.
Jahleel Addae: Contract, Net Worth, Stats, Vikings & Parents>>
Arizona Cardinals / Chicago Bears
Due to Kreig's exceptional performance during the 1994 NFL season, the Arizona Cardinals rewarded Dave by signing him as their starting quarterback for the 1995 NFL season. However, because of the poor offensive line, Dave had an inconsistent year once again.
The Cardinals recorded a 4-12 record that season, leading Krieg and Coach Buddy Ryan to lose their jobs.
Moreover, for the 1996 NFL season, the Chicago Bears signed Dave to back up Erik Kramer. After Kramer sustained an injury, Dave came off the bench and helped the Bears record a 6–6 finish.
Tennessee Oilers
After representing the Chicago Bears, Dave signed with the Tennessee Oilers and finished his career as a professional athlete with the Oilers. During the NFL seasons 1997 and 1998, Dave rarely played as coach Jeff Fisher stopped him from joining.
However, during the 1998 NFL season opener, McNair had to leave the game with a bruised elbow, and Dave came off the bench to join the team. Although McNair recovered from his injury, the team let Dave finish.
McNair stated-
"Dave was in the zone, He was doing an exceptional job moving the in the field. It's a matter of doing what is right for the team. And at that time, what was right was letting Dave stay in."
Krieg appeared in two other games and retired from his professional career as a football athlete.
Dave Krieg | After Retirement
After retiring as a professional football athlete, Dave is now a real estate investor in Phoenix, Arizona, and a motivational speaker.
Moreover, in 2004 the Seattle Seahawks inducted him into the Seattle Seahawks Ring of Honor.
Likewise, in 2007, Kreig and Brian Noble, former Green Bay Packer linebacker, became the part-owners of the AF2's Green Bay Blizzard.
What is Dave Krieg's Net Worth?
Dave has been playing in the NFL for many years and has undoubtedly made a name for himself as a quarterback.
Moreover, a player's minimum salary in the National Football League ranges from $610 thousand to $30 million.
Although not much information regarding Dave Krieg's career earnings is known, looking back at his career and profession after retirement, we can state that-
The presumable net worth of Dave Krieg falls around $10 million.
Who is Dave Krieg's Wife?
Dave Krieg is known for keeping a lot of his personal life a secret. To this day, not much information has been revealed by Dave regarding his relationship.
Thus, it is unsure if the former football athlete is currently single, in a relationship, or married.
Dave Krieg | Social Media Presence
Krieg's social media presence is absent. However, his fans still post about the retired football quarterback.
We have provided you with Dave's hashtags on various social media platforms-
Twitter– #davekrieg
Instagram- #davekrieg
Common Queries about Dave Krieg
Is Dave Krieg in the Hall of Fame? What is his career statistic like?
No, Dave Krieg is not in the Hall of Fame. Currently, he maintains a career statistic of 38,147 passing yards, 261–199 TD-INT, and a passer rating of 81.5.
What quarterback has the most fumbles?
Dave Krieg had the most fumbles. However, it is now taken over by Brett Favre and Warren Moon. Although, Dave falls in number three with most fumbles.
What do Dave Krieg and Derrick Thomas have in common?
We are all well aware of the NFL legend Derreck Thomas that unexpectedly passed away 17 years ago. He made the best of his career with his seven-sack game against the Seattle Seahawks in 1990.