Dean Jackson Wade, known by his name Dean Wade is an American professional basketball player. He is currently playing in the National Basketball Association (NBA) with the Cleveland Cavaliers.
Recently, the young player has been gaining his coach's attention for his growing confidence on the court. We will cover this issue down below.
Likewise, Wade signed a two-way contract with the Cleveland Cavaliers after going undrafted in 2019. He then spent time with the Canton Charge of the NBA G League, a Canton, Ohio team.
During his high school days, Wade was a First-team Parade All-American selection and the Mr. Kansas Basketball winner, both in 2015.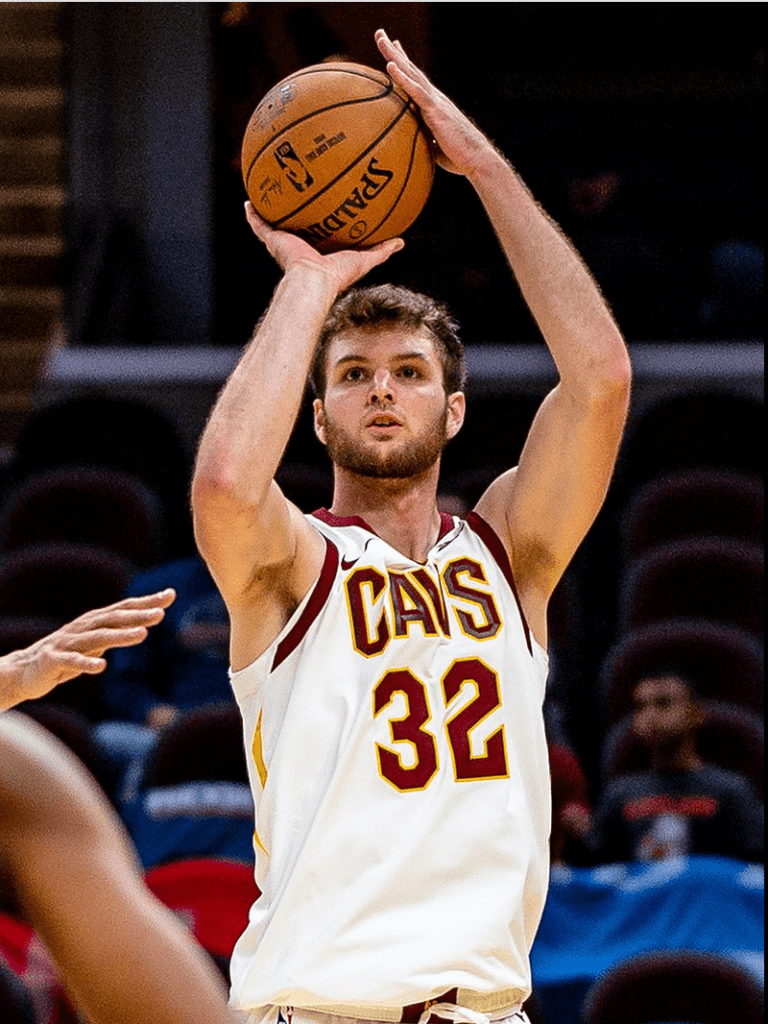 On January 3, 2020, Wade made his return to the NBA, and on June 30, 2020, he signed a standard multi-year deal with the Cavaliers.
At only 24 years of age, it will be interesting to see the minutes he is given on the court and how he uses them.
We will try to find more about the athlete through this biography and look at how his basketball career has progressed to this point. Let us start with some quicks facts.
Quick Facts
| | |
| --- | --- |
| Full Name | Dean Jackson Wade |
| Birth Date | November 20, 1996 |
| Birth Place | Wichita, Kansas, United States |
| Nationality | American (Ethnicity: White) |
| Education | Kansas State University, Manhattan, Kansas, United States (Bachelor's degree in social science) |
| Horoscope | Scorpio |
| Father's Name | Jay Wade |
| Mother's Name | Trish Wade |
| Siblings | Teresa Wade |
| Age | 26 years old |
| Height | 6'9″ (2.06 m) |
| Weight | 103 kg (228 lb) |
| Position | Power Forward |
| Number | 32 |
| Draft | 2019 (Undrafted) |
| Profession | Professional basketball player |
| Debut | 2019 |
| Net Worth | $1.5 million |
| Married | No |
| Girlfriend | Kayla Goth |
| Children | None |
| Salary | $1,517,981 in 2020-21 |
| Social Media | Twitter (13.4k followers), Instagram (19k followers) |
| Merch | Cleveland Cavaliers Jersey, Cleveland Cavaliers Hoodie |
| Last Update | December, 2022 |
Early Life, Family, and Education
Dean Wade was born Dean Jackson Wade on November 20, 1996, in Wichita, Kansas, United States. He is currently 26 years old, while his zodiac sign is Scorpio.
His father's name is Jay Wade, and his mother's name is Trish Wade. Wade also has an older sister named Teresa.
Dean's sister Teresa has been an all-state volleyball player at St. John. Moreover, she was the 2010 Class 1A State Division I MVP.
Not to mention his mother is the volleyball and track coach at St. John High School in St. John, Kansas, where she has won the state championships thrice in the years 2008, 2010, and 2011.
Furthermore, Trish has been the Kansas Volleyball Coach of the Year thrice.
Jay Wade, Dean's father, had briefly played for the Kansas State football team in 1985. He was an AP honorable mention All-American selection and the first team All-Gateway Conference selection in 1988.
At the Great American Shootout in Dallas, Wade played an integral role for the Mid-Kansas AAU team under Coach Layne Frick, helping them to the title game, in which he scored 30 points.
In May 2019, Wade graduated from Kansas State University with a bachelor's degree in social science.
Dean Wade: Height and Weight
Dean has yet to get regular minutes with the Cavaliers, but he's making a mark nonetheless. Not to mention, Wade is 6 feet 9 inches or 2.06 m (2006 cm) tall and weighs around 228 lb or 103 kg.
Sadly there is not much information when it comes to his other measurements.
Likewise, Wade can be an intimidating 'Power Forward' if he takes the chances the Cleveland Cavaliers provide him with wisely and confidently.
Also, Wade's hair color is light brown, and his eyes are bluish-green in color.
Lamar Patterson Bio: Basketball, NBL, ESPN & Stats >>
Dean Wade: Career Stats & Highlights
At his high school, St. John High School in St. John, Kansas, Wade played four years of varsity basketball, receiving All-State honors for several seasons and winning three state championships.
Along with twenty-nine other players in his class, he was a Parade All-American selection as a senior.
Similarly, he was also the chosen Mr. Kansas Basketball, as selected by the Kansas Basketball Coaches Association (KBCA).
College Highlights
At Kansas State University, at the conclusion of his freshman season, Wade was a Big 12 All-Newcomer Team selection.
Furthermore, he went on to average 9.3 points, 4.5 boards, and 1.8 assists a game in his sophomore year.
Afterward, Wade was a First-team All-Big 12 selection after his breakout junior season.
He then followed it up by averaging 12.9 points and a team-high 6.2 rebounds as a senior and earned another First-team All-Big 12 placement.
Unfortunately, his season was cut short at the hands of a foot injury.
Cavaliers coach J.B Bickerstaff impressed with Dean's confidence
From his high school days, Wade has been destined for greater things. At the moment, the young player impresses the Cavalier coach with his growing confidence on the court.
Wade's recent surge in the court has taken everyone off guard in a good way.
"He has that confidence, but he plays both ends of the floor," said Bickerstaff.
"I think his defense is underrated as an individual defender, as a team defender, and then he does a good job on the boards as well. He brings versatility."
Following the praise from his teammates and coach, Wade explained that he is getting more calm with experience. Does this mean we have yet to see the full potential of Dean on the court?
Whatever the future brings, everyone at the Cavaliers is happy with what he's bringing out there.
"He's come in and made a big impact, and I'm just happy to see because he works really hard. Dean Wade's a fun part of this team. We all support each other and love to see others have success."
NBA Highlights
Unfortunately, no team was ready to take a chance with Wade in the 2019 NBA draft, and he went undrafted.
Similarly, Wade then signed a two-way contract with the Cleveland Cavaliers the same year and then went on to make his debut in November.
He recorded three points, two rebounds, and a steal in three games.
Wade was then sent to spend some time with Cleveland Cavaliers, minor league associate Canton Charge.
He then made his return to the NBA on January 3, 2020, signing a standard multi-year deal with the Cavaliers on June 30, 2020.
Also, recently in March 2022, Cavaliers forward Dean Wade initially only had just two points in Cleveland's 104-96 win over the Toronto Raptors.
However, in the fourth quarter, he scored a lone bucket by throwing down a one-handed slam, putting Birch on a poster in the process. This particular dunk did stand out for him this season as he had averaged 5.2 points in 47 games.
Troy Brown Jr. Bio: Basketball Career, Family, NBA & Net Worth >>
Awards & Highlights
The young basketball player has achieved many titles and awards in his career. Despite just spending six years, he has gracefully played and won and has been an asset to his team.
Below are some of the many titles and awards he has won.
First-Team Parade All-American 2015
Mr. Kansas Basketball 2015
All-Big 12 First Team (league coaches) – 2018, 2019
All-Big 12 First Team (AP) – 2019
Also, All-Big 12 Second Team (AP) – 2018
2018 & 2019 – U.S. Basketball Writers Association All-District VI First Team
Made into the National Association of Basketball Coaches [NABC] All-District 8 First Team in 2019
John R. Wooden Award Candidate (preseason) – 2019
Citizen Naismith Trophy Watch List (preseason) in 2019 A.D.
Received NABC Player of the Year Watch List (preseason) – 2019
Received the Lute Olson National Player of the Year Watch List (preseason) – 2019
Got the Karl Malone Power Forward of the Year Candidate (preseason) – 2019
NBC Sports Preseason All-American (Fourth Team)
Made the list of the Preseason Big 12 Player of the Year (league coaches) – 2019
Preseason All-Big 12 (league coaches) – 2019
U.S. Virgin Islands Paradise Jam MVP – 2019
Big 12 All-Newcomer Team (league coaches) – 2016
Received the Citizen Naismith National Player of the Week (1/22/18)
Got the Phillips 66 (Big 12 Player of the Week & Big 12 Newcomer of the Week)
Rolando Blackman Most Valuable Player Award (2018, 2019)
2018, 2019 Tex Winter Top Offensive Player Award
2017, 2018 Mitch Richmond Mr. Basketball Award
2016 Dean Harris Team Newcomer of the Year Award
Spring 2019 Big 12 Commissioner's Honor Roll
Relationships, Wife, and Children
Dean Wade has been together with 25-year-old Kayla Goth for four years now. The couple is extremely cute together, and Dean calls Kayla the most loving and caring person in his life.
For those unknown, Kayla Goth, Dean Wade's fiance is also a former basketball player. She has an Instagram account with over 507 followers.
Moreover, Goth is also on Twitter, where 1k followers follow her.
The two also have a dog together. It will be worth knowing what the future holds for these two young people in love.
Dean Wade: Net Worth & Contract
Only recently, in June 2020, Wade signed a standard multi-year deal with the Cleveland Cavaliers.
This contract will pay him about $1.5 million in the 2020-21 season, followed by $1.7 million and $1.9 million in the successive seasons.
Furthermore, Wade has signed some endorsement deals, including one with the sports drink company Bodyarmor.
Moreover, as his value and stardom grow, Wade will score more lucrative endorsement deals as well.
As of 2022, although the figures are not too accurate, he has an estimated net worth of $1.5 million.
Jack Salt Bio: Early Life, Net Worth & Girlfriend >>
Social Media Presence
Wade posts pictures of his moments on the court, during his training sessions, with his beautiful girlfriend, or with his family and friends.
This Kansas-native is not too active on social media, posting once or twice a month.
Currently, he is available on Twitter, where 13.4 thousand people follow him, and on Instagram, where he has 19 thousand followers. He was available on Facebook too, but the profile is no longer activated.
Check out Dean Wade's basketball jersey. Click to follow!
FAQs
Is Dean Wade single?
No, Dean Wade is not single. He is in a relationship with Kayla Goth, and they have been together for almost four years now.
How much is Dean Wade's Net Worth in 2021?
As for 2021, Dean Wade's net worth is $1.5 million dollars. The NBA player has earned this amazing sum of money throughout his career as a professional basketball player.
Which High school did Dean Wade attend?
Dean Wade has attended St. John High School, which is located in Kansas City, United States. During his school years, he played and participated in basketball matches.
What is Dean Wade's jersey number? What are his box score and G-League and season statistics like?
Dean Wade's jersey number is 32. Well, he maintains a box score of an average of 5.3 points, 2.9 rebounds, and 1.0 assists for the 2021-22 season.
As for his G-League statistic, he maintains a total of thirty goals as he has saved 29 of them. His field goal per game is 4.9, while the field goal attempt per game is 10.9.
Likewise, he maintains a three-point field goal of 1.8 and a two-point field goal of 3.1.
Is Dean Wade injured?
Starting from March 14, Dean Wade has missed a total of seven games due to a meniscus in his right knee. Fortunately, he underwent successful surgery at Cleveland Clinic Sports Health and his status has been healthy and stable.