Dean Jackson Wade is an American professional basketball player who plays for the Cleveland Cavaliers of the National Basketball Association (NBA) as a small forward/power forward.
Wade started his NBA journey after the Cavaliers signed him as an undrafted free agent in the 2019 NBA draft.
He spent most of his rookie season with the Cavaliers' G League affiliate, the Canton Charge.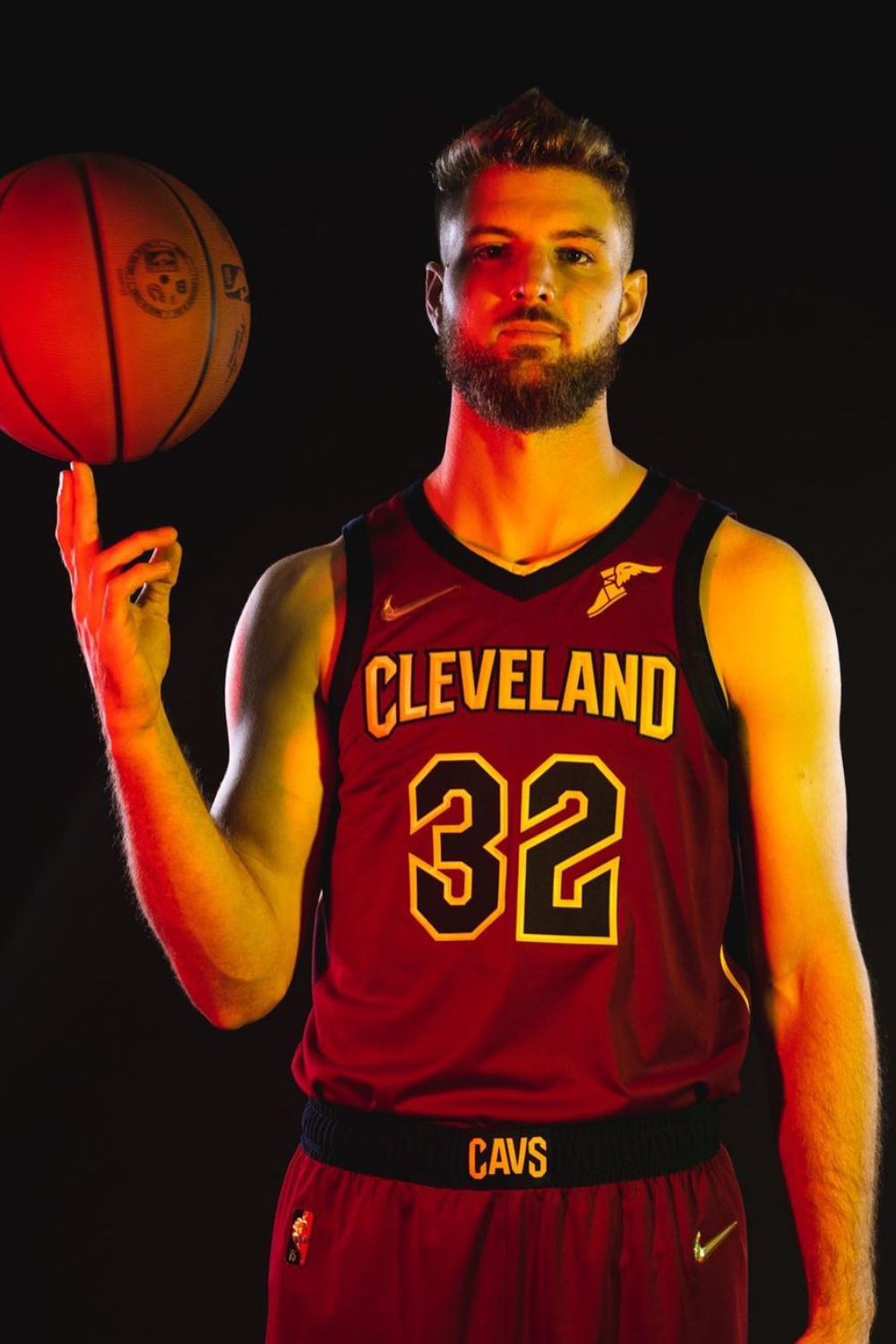 On January 3, 2020, Wade made his return to the NBA, and on June 30, 2020, he signed a standard multi-year deal with the Cavaliers.
The young player has been gaining his coach's attention for his growing confidence on the court and is expected to be given more playing minutes.
It will be interesting to see how he proves that he is worthy of every assigned minute on the court.
During high school, Wade was a First-team Parade All-American selection and the Mr. Kansas Basketball winner in 2015.
We will try to inform you more about the athlete through this article and look at how his basketball career has progressed up until now. Let us start with some quick facts.
Quick Facts
| | |
| --- | --- |
| Full Name | Dean Jackson Wade |
| Birth Date | November 20, 1996 |
| Birth Place | Wichita, Kansas, United States |
| Nationality | American (Ethnicity: White) |
| Education | Kansas State University, Manhattan, Kansas, United States (Bachelor's degree in social science) |
| Horoscope | Scorpio |
| Father's Name | Jay Wade |
| Mother's Name | Trish Wade |
| Siblings | Teresa Wade |
| Age | 27 years old |
| Height | 6'9″/2.06 m/206 cm |
| Weight | 103 kg/228 lb. |
| Position | Power Forward/ Small Forward |
| Number | 32 |
| Draft | 2019 (Undrafted) |
| Profession | Professional basketball player |
| Debut | 2019 |
| Net Worth | $1.5 million |
| Salary | $1.9 million |
| Married | Yes (08-20-2022) |
| Girlfriend | Kayla Wade (nee. Goth) |
| Children | None |
| Social Media | Twitter, Instagram |
| Merch | Rookie Card |
| Last Update | November 2023 |
Early Life, Family, And Education
Dean Wade was born Dean Jackson Wade to his parents, Jay Wade and Trish Wade, on November 20, 1996, in Wichita, Kansas, United States.
He is currently 27 years old, and his zodiac sign is Scorpio.
Wade comes from an athletic family; his father played football with the K-State football team in 1985, and his mother played volleyball and basketball during her high school and college years.
Besides, Jay was an AP honorable mention All-American selection and the first-team All-Gateway Conference selection in 1988.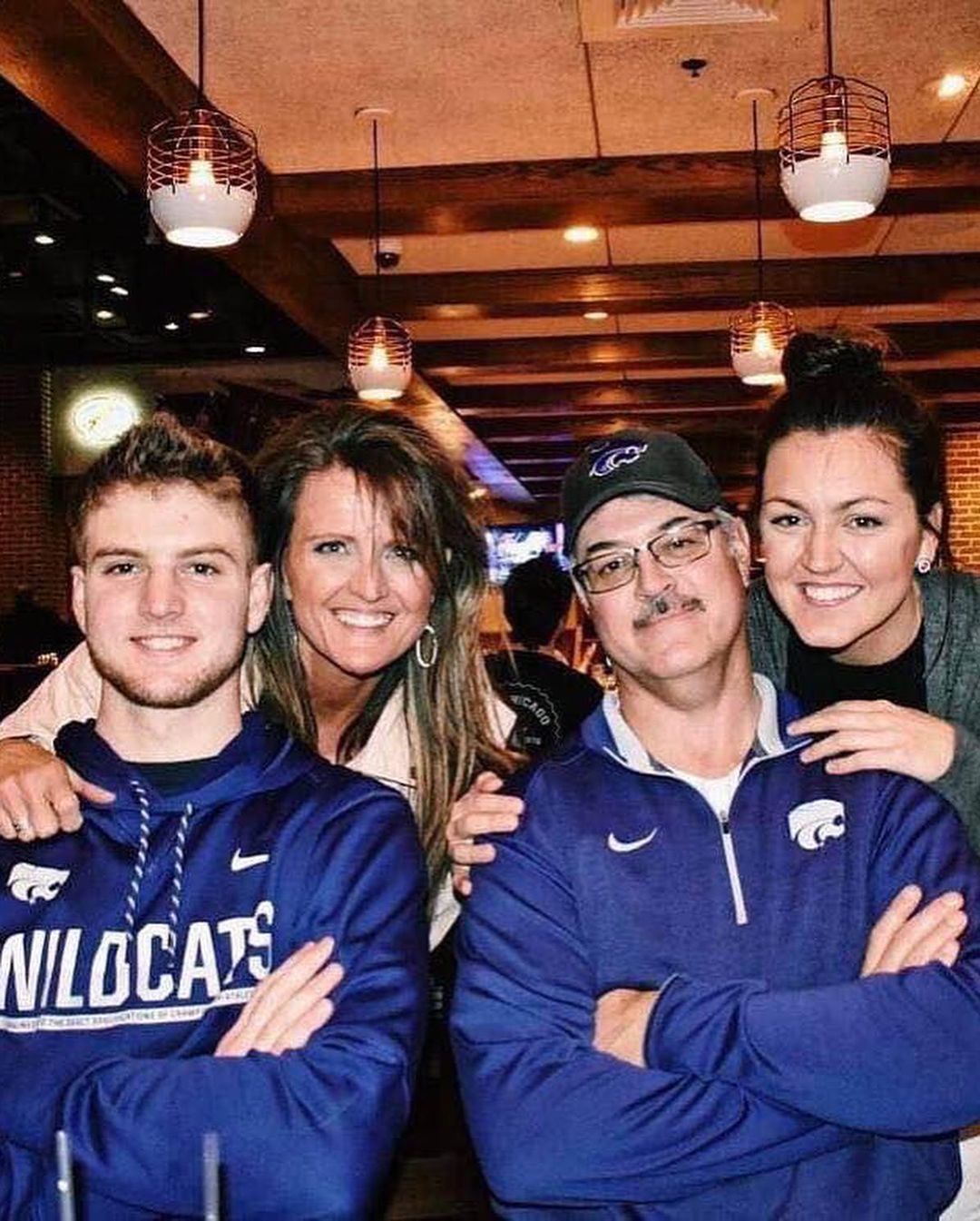 Not to mention, his mother is the volleyball and track coach at St. John High School in St. John, Kansas, where she has won the state championships thrice in the years 2008, 2010, and 2011.
Trish has been the Kansas Volleyball Coach of the Year three times.
Wade also has an older sister named Teresa. Teresa, being a standout volleyball player, was named an All-State volleyball player twice and earned the 2010 Class 1A State Division I MVP honors.
At the Great American Shootout in Dallas, the NBA player played an integral role for the Mid-Kansas AAU team under Coach Layne Frick.
He helped them advance to the title game, in which he scored 30 points.
In May 2019, Wade graduated from Kansas State University with a bachelor's degree in social science.
Height And Weight
The small forward is 6 feet 9 inches (2.06 meters) tall and weighs around 103 kg (228 pounds).
Wade possesses an athletic body and maintains his physique, following strict diet plans and workout regimes.
Regarding his physical attributes, Wade has light brown hair and bluish-green eyes.
Career Stats & Highlights
Dean enrolled at St. John High School and played four years of varsity basketball, receiving All-State honors for several seasons and winning three state championships.
In his senior year, he, along with twenty-nine other players in his class, was named Parade All-American.
Similarly, he was selected as Mr. Kansas Basketball by the Kansas Basketball Coaches Association (KBCA).
College Highlights
Playing for the Kansas State Wildcats, he was named to the Big-12 All-newcomer Team after his freshman season.
He recorded an average of 9.3 points, 4.5 boards, and 1.8 assists per game in his sophomore year. In his breakout junior season, he was named to the first-team All-Big 12.
He logged an average of 12.9 points and a team-high 6.2 rebounds as a senior and earned his place in the first-team All-Big 12, despite missing out on games due to a foot injury.
NBA Highlights
Unfortunately, no teams were ready to take a chance with Wade in the 2019 NBA draft, and he went undrafted.
However, the Cleveland Cavaliers signed him on a two-way contract and made his debut for the team on November 18, 2019.
Before heading to the Cavaliers' G League affiliate, the Canton Charge, Wade played 12 games and averaged 1.7 points and 1.6 rebounds in six minutes per game.
Wade spent most of his rookie season playing for the G League team; he started 29 of 30 games. For the Canton Charge, he averaged 14.2 points, 7.6 rebounds, 2.3 assists, and 1.4 blocks in 31.1 minutes per game.
He then made his return to the NBA on January 3, 2020, signing a standard multi-year deal with the Cavaliers on June 30, 2020.
After Lauri Markkanen was ruled out due to COVID-19 health and safety protocols, Wade became the starter at the small forward position.
He recorded his career-high 40 points in a 104-89 loss to the Golden State Warriors.
In March 2022, Cavaliers forward Dean Wade initially only had just two points in Cleveland's 104-96 win over the Toronto Raptors.
However, in the fourth quarter, he scored a lone bucket by throwing down a one-handed slam, putting Birch on a poster in the process.
On March 28, 2022, after undergoing surgery on a torn meniscus in his right knee, he was ruled out for the remainder of the season.
On June 22, 2022, the Cavaliers exercised a $1.93 million option for 2022-23, and on September 27, 2022, he signed a 3-year/$18.5 million veteran contract extension.
Awards & Achievements
The young basketball player has achieved many titles and awards. He has gracefully played and won and has been an asset to his team.
Below are some of the many titles and awards he has won.
First-Team Parade All-American 2015
Mr. Kansas Basketball 2015
All-Big 12 First Team (league coaches) – 2018, 2019
All-Big 12 First Team (AP) – 2019
Also, All-Big 12 Second Team (AP) – 2018
2018 & 2019 – U.S. Basketball Writers Association All-District VI First Team
Made into the National Association of Basketball Coaches [NABC] All-District 8 First Team in 2019
John R. Wooden Award Candidate (preseason) – 2019
Citizen Naismith Trophy Watch List (preseason) in 2019 A.D.
Received NABC Player of the Year Watch List (preseason) – 2019
Received the Lute Olson National Player of the Year Watch List (preseason) – 2019
Got the Karl Malone Power Forward of the Year Candidate (preseason) – 2019
NBC Sports Preseason All-American (Fourth Team)
Made the list of the Preseason Big 12 Player of the Year (league coaches) – 2019
Preseason All-Big 12 (league coaches) – 2019
U.S. Virgin Islands Paradise Jam MVP – 2019
Big 12 All-Newcomer Team (league coaches) – 2016
Received the Citizen Naismith National Player of the Week (1/22/18)
Got the Phillips 66 (Big 12 Player of the Week & Big 12 Newcomer of the Week)
Rolando Blackman Most Valuable Player Award (2018, 2019)
2018, 2019 Tex Winter Top Offensive Player Award
2017, 2018 Mitch Richmond Mr. Basketball Award
2016 Dean Harris Team Newcomer of the Year Award
Spring 2019 Big 12 Commissioner's Honor Roll
Cavaliers Coach J.B Bickerstaff Impressed With Dean's Confidence
From his high school days, Wade has been destined for greater things. The young player impresses the Cavalier coach with his growing confidence on the court.
Wade's recent surge in the court has taken everyone off guard in a good way.
"He has that confidence, but he plays both ends of the floor," said Bickerstaff.
The head coach further added, "I think his defense is underrated as an individual defender, as a team defender, and then he does a good job on the boards as well. He brings versatility.
He's come in and made a big impact, and I'm just happy to see because he works really hard. Dean Wade's a fun part of this team. We all support each other and love to see others have success."
Following the praise from his teammates and coach, Wade explained that he is getting more calm with experience. Does this mean we have yet to see the full potential of Dean on the court?
Whatever the future brings, everyone at the Cavaliers is happy with what he's bringing out there.
Relationships, Wife, And Children
Dean Wade has been together with Kayla Goth since 2016. The couple looks extremely cute together. Dean refers to Kayla as the most loving and caring person in his life.
The pair shared the vows at Liquid Art Winery And Estate in the presence of their family and friends on August 20, 2022.
For those unknown, Dean Wade's wife, Kayla Goth, played basketball for her college team.
The two also have a dog together. It will be worth knowing what the future holds for these two young people in love.
Net Worth & Contract
In June 2020, Wade signed a standard multi-year deal after his initial two-way contract with the Cavaliers.
In the 2021-22 season, he bagged a sum of $1.5 million, followed by $1.7 million in the 2021-22 season and $1.9 million in the 2022-23 season.
The small forward has signed some endorsement deals, including one with the sports drink company BodyArmor.
Moreover, as his experience and stardom grow, Wade will attract more lucrative endorsement deals.
As of 2023, he has an estimated net worth of around $1.5 million.
Social Media Presence
Wade posts pictures of him playing on the court, during his training sessions, with his beautiful girlfriend, or with his family and friends.
This Kansas native is not too active on social media, posting once or twice a month.
The power forward is available on Instagram under the handle @deanwade32 and Twitter @deanwade3232. He was available on Facebook, but the profile is no longer activated.
Instagram: 28.9k followers
Twitter: 19.5k followers
Popularity
Since joining the NBA in 2019, Dean is continuously gaining fans and is expected to grow his fandom in the following years.
The above graph gives information about the popularity of Dean Wade based on Google searches in the United States over a year.
Frequently Asked Questions
Is Dean Wade single?
No, Dean Wade is not single. He is married to Kayla Goth.
How much is Dean Wade's net worth?
Dean Wade's net worth is $1.5 million. The NBA player has earned this amazing sum of money from his professional basketball career.
Which high school did Dean Wade attend?
Dean Wade attended St. John High School, which is located in Kansas City, United States. During his school years, he played basketball for his high school team.
What is Dean Wade's jersey number? What are his box score and G-League and season statistics like?
Dean Wade's jersey number is 32. He maintains a box score of an average of 5.2 points, 3.2 rebounds, and 1.0 assists in his career so far. Likewise, he maintains a three-pointer percentage of 36.4% and a field throw percentage of 44.1%. As for his G-League statistic, he recorded an average of 14.2 points, 2.4 assists, and 7.5 total rebounds per game. He maintained a field goal percentage of 46.1% and free throws percentage of 84.7%.
Is Dean Wade injured?
Dean Wade is currently not injured. However, he missed 5 weeks after a left shoulder injury in December 2022. Previously, he has missed a total of seven games due to his right knee injury.