Gordie Howe aka Mr. Hockey is one of the greatest hockey players in history. He had an impressive career for nearly two decades and played almost 32 seasons.
Even after his retirement, Gordie made numerous records compared to any athlete in history. His goals, assists, points, no. of games, and game-winning goals have been praised till now.
Remarkably, Howe has appeared in 29 All-Star games. In addition, he was in the top 5 in NHL, scoring for an unbelievable 20 consecutive years.
The legendary hockey players from Bobby Orr to the great Wayne Gretzky consider Howe their idol.
Howe is an all-time incredible hockey player. Gordie's extraordinary puck handling, skillful wrist shots, and legendary toughness earned him the nickname "Mr. Hockey."
We all remember Gordie Howe for his vicious elbows and polite humility and for the 2,421 games he played. The article will discuss his career succession, achievements, awards, personal life, and net worth.
Quick Facts
But before we dig deep into our article, let us glance at quick facts.
Full Name
Gordon Howe
Nick Name
Mr. Hockey, Mr. Elbows
Birth Date
March 32, 1928
Demise Date
June 10, 2016
Birth Place
Floral, Saskatchewan, Canada
Demise Place
Sylvania, Ohio, US
Religion
Unknown
Nationality
Canadian
Ethnicity
White
Father's Name
Albert Howe
Mother's Name
Katherine Schultz
Brother
Vic Howe
High School
Southfield-Lathrup High School
University
Unknown
Sexual Orientation
Straight
Chinese Zodiac
Dragon
Horoscope
Aries
Height
6 feet 1 inch (1.83)
Weight
93 kg (205 lb)
Age
83 years old at the time of death
Build
Athletic
Eye Color
Dark Brown
Hair Color
Dark Brown
Profession
Ice Hockey Player
Position
Right Wing
Affiliations

Detroit Red Wings
Houston Aeros
New England Whalers & Hartford Whalers

Played For

National Hockey League (NHL)
World Hockey Association (WHL)

Trophies
Stanley Cup (4 times), Hart Trophies (6 times), Art Ross Trophy (6 times)
Honored Titles
100 Greatest NHL Player, Hockey Hall of Fame, Canada's Walk of Fame, Officer of the Order of Canada, Canada's Sports Hall of Fame, and many more
Active Career
1944-1985
National Team
Canada
Wife
Colleen Joffa (Died in 2009)
Children
Martin, Mark, Cathy, and Murray
Salary
Unknown
Net Worth
$10 Million
Status
Deceased
Merch
Gordie Howe Player Replica, Mr. Hockey Autobiography, Stat Plaque
Last Update
June, 2023
Gordie Howe: Early Life
Born in Floral, Saskatchewan, Canada, on March 31, 1928, Gordie is one of the nine children of Albert and Katherine Howe.
Floral was a tiny village, and the beginning of Howe was so modest and pastoral. The family was trying to survive the great depression.
Gordie used to stuff newspapers and magazines into his socks as shin pads. Then, finally, his mother saved up money for months to buy him the first pair of skates.
With some neighborhood friends, Gordie would play tennis ball outdoors. And when the ball would freeze due to cold temperature, they used to go to the neighbor's oven. Later, Howe's family moved from Floral to Saskatoon.
Gordie was passionate about hockey from the age of eight-nine. Then at sixteen, he left his hometown to pursue his dream of becoming a professional hockey player.
How did Howe Start playing Hockey?
Howe was an academically poor student, failing the third grade twice. But the quiet kid was a heck of a hockey player. He started as a goalie, moved to defense, and then settled in at forward.
Though he was big and awkward, he could score. At 15, Howe attended the Ranger's tryout camp in Winnipeg, but it didn't work out.
Here's a short bio about Connor Clifton: NHL Career, Family, Girlfriend & Net Worth. Read it out!
The following year, Red Wings scout discovered him and sent him to the team's training camp, in Ontario. Two seasons later, at the age of 18, Howe played in the NHL.
Exterior Feature of Howe
Howe had a thick neck, sloping shoulders, and firm wrist. Taking about his personality, the 6 foot 1 inch tall was also challenging and aggressive.
He was 205 pounds, making him one of the heavier players in the league. He used to throw his weight around in the game and never backed away from a fight.
Gordie Howe: Professional Career
In 1944, Howe was put on the Detroit Red Wings negotiating list. He played one season for Omaha in 1945 and officially joined the Red Wings in 1946.
Howe earned the Hart Memorial Trophy as the most valuable player in a brief span of his career and the Art Ross Trophy as a top point scorer.
About Howe's Professional Career
In the early 1950s, Howe was unstoppable and helped his team Detroit dominate in every match. Sid Abel and Ted Lindsay accompanied him as part of the Production Line.
Horrific Accident
Howe's life and career were almost cut short during mid-1950 when he had a violent collision with Maple Leaf's captain Ted Kennedy during a playoff game.
For a few hours, everyone believed something worse had happened already. Howe was covered in blood gushing from his head, and his mother was called. An operation was done to relieve the pressure on his brain.
Gordie had fractured his skull and was out for the rest of the playoffs, but he did make a remarkable recovery.
Howe was 21 years old during that horrific incident. Doctors thought the bleeding might kill him, but he won the scoring title the following season.
Retirement
After the 1970-1971 season, management forced Gordie to retire because of his chronic wrist problem. But after one and a half years, he returned to the hockey world again.
After retirement, he went to work in Detroit's front office. During that time, Gordie's sons Mark and Mart Howe used to play for the Houston Aeros under the new World Hockey Association (WHA).
Gordie also went skating with his son and joined Houston Aeros in 1973-1974.
Mark and Marty were promising hockey players in junior hockey. The Houston Aeros allowed Gordie to play together with his sons on the same team and same line.
Howe scored 100 points in that first season and led the Aeros to back-to-back WHA titles. After finishing four seasons with the Aeros, he moved to WHA's New England Whalers.
Howe had an NHL career record of 1,850 points and 801 goals at his retirement.
Later, Gordie became director of player development for the Whalers and chairman of the board for a marketing company. Howe was also appointed to the Order of Canada.
The Return of Howe
In 1980, Gordie Howe returned to Detroit for his 23rd All-Star Game. He was 51 years old and planning to retire at the end of the season.
The athlete was introduced last for the Prince of Wales Conference. While representing the Hartford Whalers, Howe skated onto the ice in his white All-Star jersey, the only grey-haired player.
He represented hockey with great distinction for five decades with a no. 9 jersey. The fans erupted as they had seen many times before.
All the fans roared as the athlete meekly waved, looked to the ice, and skated to the bench, not knowing how to deal with it.
When Howe waved to the fans in the stadium and started skating to the bench, there were roars of praise in the stadium. Howe's fans and admirers were unstoppable for cheering him.
The cheers kept coming as though they would never stop. They were on their feet, and the standing ovation never and throughout the game.
Read to learn about the NHL superstar Sidney Crosby!
Awards and Achievements
Gordie is the only player to have competed in the NHL in five different decades (1940 to 1980). He helped the Red Wings to win a four-time Stanley Cup champion.
He won six Hart Trophies (Valuable Player) and six Art Ross Trophies (Leading Score). In 2008, The NHL Lifetime was inaugurated for Gordie.
Howe was also an honorable inaugural recipient of the 2008 NHL Lifetime.
Howe's nickname "Mr. Hockey" and her wife, Colleen, as "Mrs. Hockey" are registered trademarks.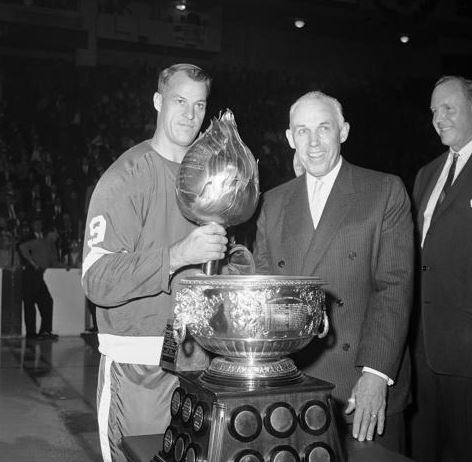 In April 2007, he was honored with a new 12-foot tall and about 4500-pound bronze statue in Joe Louis Arena containing his stats and history.
Gordie was a 23X All-Star and won 6 MVPs. He is also remembered for the 975 goals and 1383 assists in the regular season and the longevity of five decades in his pro career.
In his career, Howe had played 33-seasons and 2,421 games. He had scored 1,071 goals (801 in the NHL) and 1,518 assists (1,049 in the NHL ).
In 1972, Gordie was inducted into the Hockey Hall of Fame, and in 2008 he was honored with the first NHL lifetime achievement awards.
The autobiography of Gordie Howe, Mr. Hockey: My Story, was published in 2014.
Playing Style of Howe
Howe is one of the legendary NHL players of all time. Apart from his forbidding temperature, Howe's athletic and savvy playing style also contributed to his longevity.
The famous "Gordie Howe hat trick," a goal, an assist, and a fight in a single game, is named after his trick.
His movements were economical, anticipating when and where the play would intersect with his effortless progress around the ice.
Howe never wasted energy if he didn't need to, significantly after cutting down on the number of fights he'd participated in early in his career.
Even if the average time of the game is 25 minutes, Howe often played for 45 minutes.
When he returned to the bench with his exhausted opponents, Gordie was always the first to recover and raise his head, ready for the next round.
Gordie Howe: Wife and Children
After dating for four years, Gordie married Colleen Joffa on April 15, 1953. The two met at the bowling alley, and Colleen was 17 years old at that time.
Gordie and Colleen were together from 1953 until she died in 2009. The couple was blessed with 3 sons Martin, Mark, Murray, and one daughter Cathy.
Howe and his wife, Collen, used to take their kids on singing tours across Canada in the summer months. It was a happy family time for Howe's, and they would stop at every department store from coast to coast while singing.
It was an additional source of cash for the star at that time.
Gordie Howe: Net Worth
Gordie accumulated an estimated net worth of $10 million while playing for Detroit Red Wings and Hartford Whalers in the NHL and the Houston Aeros and New England Whalers in the WHL.
He was one of the most influential professional hockey players in history, and his name is on the list of wealthiest athletes.
When Howe was in the prime of his career, his salary averaged between $25,000 and $30,000.
The Canadian player had generated a load of cash through prize money and his vast sponsorship deals. He also earned a great deal of money from his endorsement contracts.
The End of Mr. Hockey/Mr. Elbow
The legendary player passed away on June 10, 2016, at 88. No official cause of death was reported.
According to some online reports, Howe was living with dementia, and he also suffered from a major stroke in October 2014.
Howe left the world peacefully, beautifully, and with no regrets. His five decades career with 2,421 games made him remembered forever in hockey history.
Howe lived with his daughter, Cathy, during his last time in Lubbock, Texas. And, he spent the last days of his life with his son Murray in Ohio, Texas, who is a doctor specializing in radiology.
Brady Skjei – Career, Family, NHL, Education & Net Worth
Frequently Asked Question (FAQs)
What is Gordie Howe meant to Detroit Red Wings?
Howe is practically synonymous with Detroit Red Wings. He was with the team from 1946 to 1971 and helped the team win Stanley Cups four times. In the history of Wings Detroit, Howe is their longest-tenured hockey player.
What is Gordie Howe's Hat Trick?
The NHL adopted Howe's hat trick for a hockey player who set both goals and assists in the same game. Gordie himself had accomplished the hat trick twice during his 26-year NHL career.