NFL has had many veteran athletes throughout its history. One of the veteran players that we will be providing insights on is Jamar Taylor.
Jamar is an American professional football athlete of the National Football League (NFL).
Throughout his career, Taylor has represented various famous teams like Miami Dolphins, Cleveland Browns, Arizona Cardinals, Denver Broncos, Seattle Seahawks, Atlanta Falcons, and San Francisco 49ers.
Before his professional career took off, Taylor played for Boise State University, which paved his way towards the 2013 NFL Draft.
Furthermore, let's get to know more about the NFL veteran cornerback closely. Before getting in, here are some of Jamar Taylor's quick facts.
Quick Facts:
Full Name
Jamar Andrew Taylor
Birth Date
September 29th, 1990
Age
32 Years Old
Birth Place
San Diego, California
Nickname
Not Available
Religion
Not Available
Nationality
American
Education
Helix High School, Boise State University
Horoscope
Libra
Father's Name
Not Disclosed
Mother's Name
Not Disclosed
Siblings
Torreon Taylor
Height
5'11" (1.80 m)
Weight
87 kgs (192 lbs)
Build
Athletic
Shoe Size
Not Available
Eye Color
Black
Hair Color
Dark Brown
Marital Status
Married
Spouse
Mackenzie Taylor
Children
Darnelle Taylor
Profession
Professional Football Player
Draft
2012
Current Team
San Francisco 49ers (in 2020)
Position
Cornerback
Former Teams
Miami Dolphins
Cleveland Browns
Arizona Cardinals
Denver Broncos
Seattle Seahawks
Atlanta Falcons
Net Worth
$2 million
Awards and Achievements
First-team All-MWC- 2012
Social Media
Instagram, Facebook
NFL Merch
Trading Card, Autograph, Mini Helmet, Funko Pop
Last Update
June, 2023
Jamar Taylor | Early Life, Family & Education
NFL Cornerback athlete, Jamar Taylor, was born on September 29th, 1990, in San Diego, California. Taylor has not revealed any details regarding his parents.
According to Taylor's social media accounts, he has a younger sibling named Torreon Taylor, who attended the same college as Jamar.
Moreover, Taylor's birthdate falls under the sun sign of Libra. Libra men are mostly known for their diplomatic, idealistic, and social nature.
Education
As for Taylor's educational background, he went to a charter high school called the Helix High School in La Mesa, California.
During Jamar's high school years, he represented his school football team called the Helix Highlanders.
Moreover, Jamar attended a public research university called Boise State University, located in Boise, Idaho.
During his college, Taylor represented his college football team, the Boise State Broncos.
Throughout his college career from 2008-2012, Jamar recorded 132 tackles, four sacks, and seven interceptions.
Likewise, during Taylor's senior year in college, he was part of the All-Mountain West Conference (MWC) first-team selection.
Jamar Taylor | Career and Profession
NFL Combine
Moving on to Jamar's professional career, he got an invitation to participate in the NFL combine, where Taylor completed all of the positional drills and required combine.
Likewise, he participated in Boise State's pro day on March 21st, 2013, where he only performed positional drills.
Thus, after the pre-draft process, the NFL draft specialists and scouts predicted Jamar to be the first or second-round pick.
Moreover, Sports Illustrated ranked Taylor as the fourth-best cornerback recruit in the draft.
Likewise, DraftScout.com ranked him as the fifth-best cornerback, and Mike Mayock, the NFL analyst, ranked Jamar as the sixth-best cornerback.
You might also like: <<Josh Rosen Bio: Early Life, Career, Net Worth, Stats & Girlfriend >>
Miami Dolphins
Moreover, after Jamar's impressive performance during the draft process, the Miami Dolphins selected him during the second round as the 53rd overall in the 2013 NFL Draft.
The Dolphins acquired Jamar as a pick during a trade after the team sent Vontae Davis to the Indianapolis Colts.
Similarly, Taylor was part of the three defensive back athletes selected by the Dolphins during the 2013 NFL Draft, with Don Jones and Will Davis.
Season Debut
Jamar signed a four-year contract worth $3.62 million with a guaranteed $2 million with the Miami Dolphins on June 13th, 2013.
He competed for the second cornerback position with Richard Marshall, Nolan Carroll, and Will Davis during the Dolphin's training camp.
However, he failed to achieve the position, and head coach Joe Philbin named Jamar the sixth cornerback to start the regular season, behind Nolan Carroll, Brent Grimes, R. J. Stanford, Dimitri Patterson, and Will Davis.
Furthermore, Jamar made his professional debut in a regular season on September 30th, 2013, and made one tackle while playing against the New Orleans Saints, where the Dolphins lost the match with a 17-38 score.
Likewise, Taylor participated in nine games during his rookie year, recording three total tackles.
Check out Patrick Mahomes: Net Worth, Contract, Girlfriend & Parents >>
Third Cornerback
Moreover, in the 2014 season, Jamar competed for the third cornerback position with Walt Aikens, Will Davis, Kevin Fogg, Steven Clarke, and Jalil Brown.
This time, he successfully got the place and started the season behind Cortland Finnegan and Brent Grimes.
Furthermore, Jamar got the chance to make his career's first start on November 13th, 2014, as Cortland Finnegan sustained an ankle injury before the game.
Thus, Taylor completed the game with a season-high seven solo tackles and a victory against the Buffalo Bills.
Likewise, in the next game, Taylor earned six solo tackles while playing against the Denver Broncos.
Unfortunately, Jamar suffered a dislocated shoulder during the match and had to stay on the sideline for the next three games.
Moreover, the Dolphins placed Jamar on the injured reserve on December 23rd, 2014. In total, Taylor finished the 2014 season with three starts and 30 solo tackles in twelve games.
Last season with the Dolphins
Furthermore, Taylor attended the Dolphins training camp for the 2015 season and competed with Brice McCain, Will Davis, Zack Bowman, and Bobby McCain for the second cornerback position.
It was vacant due to the retirement of Cortland Finnegan.
After the training season, Jamar started the regular season behind Brice McCain, Zack Bowman, and Brent Grimes on the depth outline.
Moreover, during the Miami Dolphins' season-opener victory against the Washington Redskins, Jamar scored a season-high nine combined tackles and earned his career's first pass deflection.
Due to Brice McCain's knee injury, Taylor received his first start of the season on October 25th, 2015.
Likewise, he finished the game with a 44-26 victory against the Houston Texans and recorded a pass deflection with seven combined tackles. Similarly, Jamar started during weeks 7-12.
During the active roster, interim head coach, Dam Campbell, replaced Jamar with Tony Lippett.
Taylor played in twelve games with eight tackles, a fumble recovery, and four pass deflections and started in six games for the 2015 season.
Cleveland Browns
The Miami Dolphins traded Jamar to the Cleveland Browns on April 3oth, 2016, along with the seventh-round pick of the 2016 NFL Draft in exchange for Cleveland's seventh-round pick of the same draft.
Debut with the Browns
Moreover, Jamar entered Cleveland Brown's training camp fighting for the second starting cornerback position with Justin Gilbert, Tramon Williams, Pierre Desir, K'Waun Williams, and Briean Boddy-Calhoun.
Brown's head coach Hue Jackson, named Jamar as one of the starting cornerbacks to start the regular season beside Joe Haden.
Furthermore, Jamar made his debut representing the Browns in a season opener game against the Philadelphia Eagles.
The Browns lost the game with a 10-29 score, where Taylor recorded a defensive pass and a solo tackle.
Also, he registered his career's first inception against Ryan Tannehill, Miami Dolphins quarterback.
Likewise, in the next game, Jamar recorded a deflection pass, an interception from Kirk Cousins, and seven combined tackles, his season-high stat.
Similarly, in Week 16, Taylor earned three deflection passes, an interception from Philip Rivers, and five combined tackles.
This stat earned Cleveland Browns their first victory of the season, where they defeated the San Diego Chargers with a 20-17 score.
Throughout Taylor's first eleven games, he earned multiple career highs, eight defensive passes, and three interceptions.
He ended his debut season while representing the Browns with career-highs of 13 pass deflections, three interceptions, and 57 combined tackles.
Contract Extension
Thus, his exceptional performances earned him a three-year contract extension worth $16.5 million with a guaranteed $5.5 million and a $3 million signing bonus.
Furthermore, the Cleveland Browns named Jamar their starting cornerback to start the 2017 regular season, besides Jason McCourty.
Taylor set his career-high of nine combined tackles while playing against the Baltimore Ravens.
Likewise, while playing against the Chicago Bears, he recorded his career's first sack on December 24th, 2017.
Jamar ended the 2017 season by participating in all 16 games while starting in 15 games. He recorded his career-high 62 tackles and ten pass deflections.
Arizona Cardinals
On May 18th, 2018, the Cleveland Browns traded Jamar to the Arizona Cardinals. The Cleveland Browns settled him on the trade block after acquiring free-agent cornerbacks E. J. Gaines and T. J. Carrie.
Moreover, Jamar became the sixth Browns athlete to be traded by John Dorsey, the Browns' new manager.
While representing the Cardinals, Taylor participated in 10 games and started in three games. The Cardinals released him on November 19th, 2018.
Aaron Rodgers: Net Worth, Girlfriend, Stats & Contract >>
Denver Broncos
Furthermore, upon Taylor's release from the Cardinals, the Denver Broncos signed Jamar on December 4th, 2018, after Chris Harris Jr. acquired a leg injury.
Jamar joined Tramaine Brock, Bradley Roby, Brendan Langley, and Isaac Yiadom as the team's official cornerbacks.
Seattle Seahawks
Moreover, Jamar was signed by the Seattle Seahawks on May 9th, 2019. Soon the Seahawks established a 53-Man roster where Taylor was released.
However, the Seahawks soon called Taylor back to render depth to the position group due to a series of injuries during the season opener.
The Seahawks released Taylor on November 20th, 2019, to make a room in the 53-man roster. This decision gave Ugo Amadi, a rookie athlete, to take over the role.
Atlanta Falcons
After playing for the Seattle Seahawks, Jamar was signed by the Atlanta Falcons on December 10th, 2019, after placing cornerback Desmond Trufant and wide receiver Calvin Ridley on the injured list.
San Francisco 49ers
Furthermore, Jamar joined the San Francisco 49ers on July 6th, 2020. However, he didn't make it to the final cut, and the 49ers called him again to the practice squad on October 2nd, 2020.
Soon, Jamar advanced to the active roster on October 3rd, 2020, for a Philadelphia Eagles game. While representing the 49ers, Taylor recorded his career- first full sack facing Carson Wentz.
Moreover, while playing against the New England Patriots, Jamar intercepted two passes which was the first time since 2016.
Unfortunately, while playing against the Los Angeles Rams during week 11, Jamar sustained a torn ACL, which caused him to miss the rest of the season.
The 49ers placed Taylor on the injured list on December 1st, 2020.
Reportedly, Jamar will make a full recovery and return on the grounds for the 2021 season.
Nate Burleson: Wife, Stats, Salary, Vikings, CBS & NFL>>
How Much is Jamar Taylor Worth?
NFL Cornerback athlete, Jamar Taylor, has had a pretty successful career since his draft. Looking back, he signed a four-year contract worth $3.62 million with a guaranteed amount of $2 million with the Miami Dolphins.
Likewise, Jamar signed a three-year contract extension worth $16.5 million with a guaranteed $5.5 million and a $3 million signing bonus.
The details regarding his contract with other teams are not available, but we can assume that it falls between $2 million- $5 million.
Thus, the presumable net worth of Jamar Taylor falls around $2 million.
You can find the latest news, game log, scouting report, transaction, and performance highs of Jamar Taylor on the SportsForecaster website.
Who is Jamar Taylor's Wife? Personal life and Wife
Taylor is married to his college sweetheart Mackenzie Taylor. The Taylor couple got married on June 26th, 2017.
According to Mackenzie's social media, she graduated with a degree in video production and journalism. She also has a youtube channel with around 17k followers.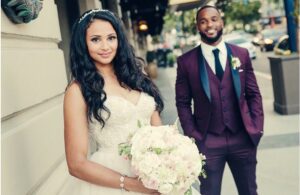 Additionally, Mrs.Taylor co-illustrated a children's book called Nosey Nelly: Visits the Zoo written by Susan Reynolds. Moreover, Mr. and Mrs. Taylor have a beautiful baby girl named Darnelle Taylor.
Interesting Facts about Jamar Taylor
Apart from football, Jamar was also a track and field athlete at his college Boise State. In 2012, he recorded a personal best of 10.72 seconds in the 100 meters.
Taylor is a keen photographer and has an Instagram account dedicated to his skills. His collection includes several portrait shots of his wife and nature photography. His photography account handle is thevision_21.
Social Media Presence:
Instagram: 9336 followers
Twitter: 290 followers
Some FAQs:
How old is Jamar Taylor?
Jamar Taylor is 32 years old as of 2023.
How tall is Jamar Taylor?
Jamar Taylor stands 5 feet 11 inches (1.80 m) tall and weighs 87 kgs (192 lbs).
Is Jamar Taylor a free agent?
Yes, Jamar Taylor became a free agent in March of 2021.
When was Jamar Taylor drafted? What is his college statistic like?
Jamar Taylor was originally drafted by the professional football team Miami Dolphins in the second round (54th overall) of the 2013 NFL Draft.
Well, Jamar Taylor has maintained a college career statistic of 49 goals, 132 total tackles, seven interceptions, and three forced fumbles.
Is Jamar Taylor injured?
Jamar Taylor suffered a torn ACL in a game against the San Francisco 49ers vs. Los Angeles Rams in week 11, missing the remainder of the 2020 season.