James Harden's Son is almost non-existent. Harden is an American professional basketball player for the Philadelphia 76ers. He is considered one of the greatest scorers and shooting guards in NBA history.
Harden hit the headlines for having a son secretly with a woman whose identity remains unknown.
Here, we have collected all the information on the rumors spread about James Harden's son.
As you might have already noticed, little is known about the child, as it was officially not announced.
So, how did the talk about James Harden having a son start? Keep reading to get precise information about what happened and how it began.
What Started The Rumor About James Harden's Son?
The stories about James Harden's son started circulating on the internet for the first time in 2019.
It all started when Sportsgossip.com posted an exclusive article about James having a baby.
The site received a tip that James had a baby. However, the end did not mention anything specific, including who the mother of the child was.
Later, it was rumored that Ashlee Monroe was Jame's baby's mother.
Ashlee, who is one of the lady friends of James, was also pregnant around the same time. She was also spotted in many of James' games during her pregnancy days.
As a result, many believed that Ashlee's baby was James Harden's son.
However, Ashlee came out harsh and strongly bashed all the rumors. She denied all the assumptions flying across the internet regarding her baby's father.
She asked people not to waste time trying to piece together a story.
The issue got sidelined gradually as James never made any official announcement about the child.
What Started The Rumor All Again?
When the world had almost forgotten about James Harden's son, the theories about him having a son returned. And this time, with more substantial evidence.
In 2021, the stories started again after an artist posted a video of a painting featuring James with a small boy.
The artist we are talking about is @king_kanvis.
Talking about the description of the painting, it had a baby sitting on James' lap as James looked down upon the baby.
The painting invited lots of theories because of the following reasons.
Firstly, many believed the child to be James' baby because if the child was not his son, why would anyone paint such a picture of them?
Also, if the child is not his son, then who is the child?
View this post on Instagram
Secondly, the artist who uploaded the video on Instagram quickly deleted it.
The urgency with which the artist deleted the video has made everyone wonder about the truth.
The common rationale is that the video would not have been deleted with such urgency if James had not been hiding anything.
Even after that, James Harden did not comment anything on that issue.
Well, the tip and the video created quite a buzz about James having a son, but James never made it official, and it remained a theory.
James Harden
James Harden was born James Edward Harden Jr. on August 26, 1989, to parents James Harden Sr. (father) and Moja Willis (mother).
The basketball player is 34 years old as of 2023.
He has played for major teams in the NBA, such as Oklahoma City Thunder, Houston Rockets, and Brooklyn Nets.
The three-time NBA scoring champion, James Harden, was named the NBA's Most Valuable Player in 2018. He is one of the top players in the league.
NBA awarded James with NBA All-Rookie Second Team in 2010. The American player was also the NBA's assistant leader in 2017.
He was named to eight consecutive NBA All-Star teams and earned All-NBA Team honors seven times, including six first-team selections.
He is a two-time United States national team member, securing two gold medals at the 2012 Summer Olympics and the 2014 FIBA World Cup.
James has a height of 1.96 meters, weighs about 220 lb, and wears a 14 (US) shoe size.
You can find James Harden on social media, including Facebook, Twitter, and Instagram. The NBA star has millions of followers on every platform.
Thus, it is safe to say that James has an immense social media presence.
Instagram (@jharden13): 11.6 Million followers
Twitter (JHarden13): 7.7 Million followers
Facebook (@James Harden): 4.1 Million followers
Recent Updates
On February 11, 2023, James reported having wrong feelings about the Nets. When the 76ers beat the Nets, there was no doubt the Big three plan failed, "It wasn't right from the start."
He was traded his way out of Brooklyn to Philadelphia; later, Kyrie Irving and Kevin Durant followed him out the Barclays Center door.
James Harden found out that a big fan of his, a 20-year-old Michigan State student, was paralyzed from the chest down in the tragic shooting on the university's campus in early February 2023.
Harden had to do something when he heard about Hao's situation; he sent a few members to visit him. He even sent some sneakers, a game-worn pair, donated to Hao's GoFundMe, and called FaceTimed him to offer him some encouraging words.
Other than this, moving on to his career, he could be returning to the Rockets, which is 'A very real possibility."
Harden could become a free agent again this offseason, and his market is expected to extend beyond the 76ers to the Houston Rockets.
Net Worth
James Harden lives a luxurious life as he has made a fortune with his extraordinary career records.
The NBA player James Harden has a net worth of $165 million as of 2023.
The former Brooklyn Nets player had the highest salary in the 2021-22 season. According to Forbes, he stood at number 12 as the World's highest-paid athlete in 2022.
He had an equity stake in Bodyarmor and scored a sizable playout when Coca-Cola bought the brand in the fall of 2021.
Not just that, James also invested $15 million in July 2019 for a small stake in the Houston Dynamo of MLS.
Harden was made one of the faces of Adidas in its NBA campaign after signing him in 2015 to a 13-year deal worth as much as $200 million.
He also has an exotic car collection, including Range Rover Autobiography, Rolls Royce Wraith, Bently Bentayega, etc.
Girlfriends
James Harden has been rumored to have dated many famous ladies.
Harden has been linked with Jessyka Janshel, who has been featured in different magazines and music videos.
Born on 5th July 1991, she was raised in Texas. She attended Chavez High School and then James Madison Senior Hugh in 2009.
Jessyka attended Prairie View A&M University but did not complete her degree due to a modeling stint.
She is available on Instagram with 577k followers. Her net worth has been estimated at around $300k.
Similarly, Gail Tiffany Golden is one of the rumored girlfriends of James Harden. However, no one has particularly seen the two together.
They also do not follow each other on social media. However, Golden was seen at the Toyota Center on multiple occasions. Her videos showed close-ups and zoomed-in boomerangs of then-Rockets star James Harden.
Except for her good look, she is also brilliant. According to her LinkedIn profile, she graduated with BBA in Computer Information Systems from Texas State University.
Since 2015, she's been working for LADWP as a cybersecurity compliance consultant.
Likewise, the player has dated Brittany Renner, Ashanti, Lesanik, Tahiry Jose, Sarah Bellew, Kyra Chaos, Trina Malaysia Pargo, Khloe Kardashian, and Katrina Laverne Taylor (a.k.a Tina) in the past.
Popularity Graph
James Harden caught people's attention after one of the sources released news of the birth of his son.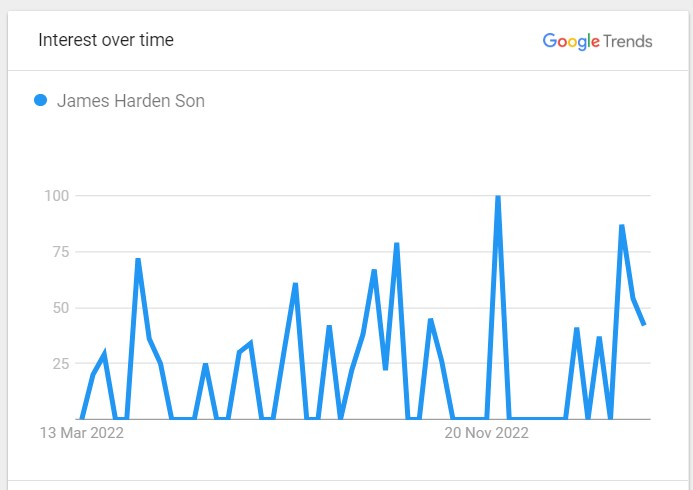 The popularity graph shows the wavelength from the last twelve months. While the son of James Harden remains a mystery, people are interested to know about him.
Frequently Asked Questions (FAQS)
Who is the mother of James Harden's son?
At present, James has not made any official statement on the existence of his son. The information about the lady who gave birth to the boy who appeared in the painting is also unknown. However, many are sure of James having a son. We'll update you after we get some more information.
Is James Harden married?
James Harden is not a married man. However, he has been in many relationships.
Does James Harden have a Ph.D.?
No. James does not have a Ph.D. Despite some sources claiming that he has, it's the other James Harden who has a Ph.D.