Jarren Duran, an American professional baseball center fielder, plays for the MLB team Boston Red Sox after they picked him in the 2018 MLB Draft.
The Corona, California-born made his major league debut in 2021 after playing three seasons with the minor leagues' Class A, High-A, and Double-A affiliate teams.
But rather than MLB records, Duran faced critics due to incompetent gameplay- misplaying the ball, missing fly balls, and even arguing with the fans. It even saw him a demotion to minor league's Triple-A team Worcester in the 2022 season.
However, everything seems to be on the way for composure for Duran.
Regarding his attitude, the player opened up about his mental toll & his struggles while admitting his deficient gameplay. In late 2022, the Red Sox recalled him for the major league and activated him in the 2022-23 roster.
Want to know more about basketball player Jarren Duran including his family, relationship, salary & career? Let's get through the article without further ado.
Jarren Duran | Quick Facts
Full Name
Jarren William Duran
Birth Date
September 5, 1996
Birth Place
Corona, California
Age
26 Years Old
Religion
Christianity
Nationality
American
Ethnicity
Not known
Father
Octavio Duran
Mother
Dena Duran
Education

High School: Cypress High School
University: California State University

Zodiac
Virgo
Chinese Zodiac
Rat
Height
6 feet 2 inches (1.88 m)
Weight
96 kg (212 lbs)
Build
Athletic
Eye color
Dark Brown
Hair Color
Dark Brown
Profession
Baseball player
Playing Position
Centerfielder
Active years
2018 – present
Batting average
.221
Home runs
5
Runs batted in
25
Marital Status
Not married
Girlfriend
Kylie Granno
Current Team
Boston Red Sox
Net Worth
$300K- $500k
Salary
$303,000
Social Media
Twitter
Merch
Trading Card
Last Update
June, 2023
Jarren Duran | Early Life & Family
Born on September 5, 1996, in Corona, California, Jarren William Duran is the son of Octavio Duran and Dena Duran. His father works for PepsiCo as a manager.
Further insights about his mother's profession or siblings are not out.
Even though the baseball outfielder prefers to keep his family out of the media talks, he can't resist mentioning them in interviews. They were his biggest supporters before & throughout his MLB journey.
The player says he owes a lot to his dad, who shaped his baseball interest & early career. Jaren's mother was his caregiver.
High School & Collegiate Career
After attending Cypress High School in Cypress, California, Jarren Duran enrolled at California State University, Long Beach.
There he played with the Long Beach State Dirtbags for three seasons, appearing in 169 games. Duran recorded 123 runs scored with three home runs on 195 hits (26 double hits & 10 triple hits).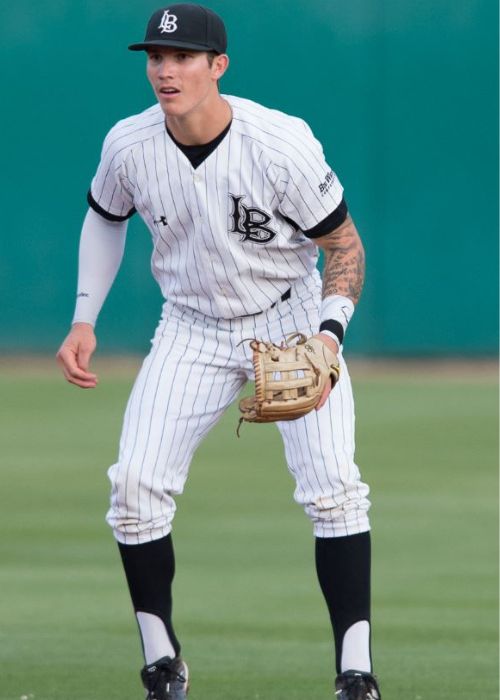 Moreover, he played summer college baseball for the Wareham Gatemen of the Cape Cod Baseball League in 2017.
The Boston Red Sox selected Jarren in the seventh round of the 2018 Major League Baseball Draft.
The top picks in the draft were Casey Mize, Joey Bart, Alec Bohm, and Kyler Murray (who later went to play NFL with the Cardinals), among others.
Jarren Duran | Minor Leagues Before MLB Debut
From 2018 to 2021, Duran played in the minor leagues of the Red Sox. He started the 2018 season with Lowell Spinners and Greenville Drive.
By the 2019 season, Jarren Duran was playing for Salem Red Sox (High-A affiliate) before promotion to Double-A Portland Sea Dogs. That season saw him .303 with five home runs and 38 RBIs in 132 games.
His accolade included Red Sox' minor league baserunner of the Year and High-A (Class A-Advanced) player of the year by Baseball America.
Jarren Duran's Major League Debut With Red Sox
After starting the 2021 season with Triple-A Worcester Red Sox, Duran got into the MLB roster of Boston Red Sox on July 16, 2021.
On July 17, he made his debut against the Yankees, joining the rosters Kiké Hernández, Alex Verdugo & Rafael Devers in batting. The Red Sox pitchers were Nathan Eovaldi, Josh Taylor & Hirokazu Sawamura.
Moreover, he got his first-ever home run against Toronto Blue Jays on Ross Stripling's pitch.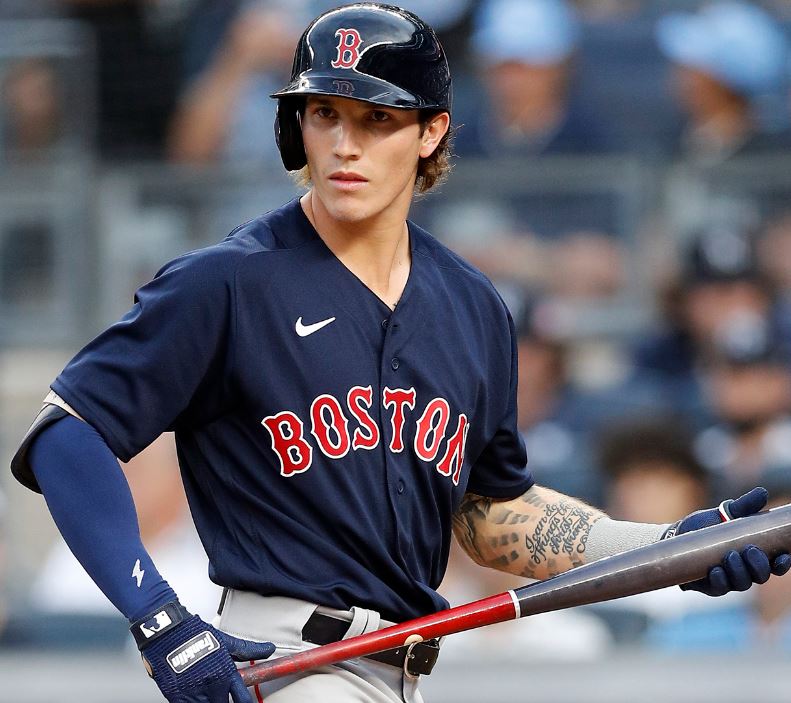 However, on August 6, 2021, Jarren Duran was placed on the injured list & later on the COVID-19-related injured list in September.
In the 2021-22 season, he played 33 games with Red Sox, hitting.215 with two home runs and 10 RBIs.
Also, the second baseman briefly played in the Triple-A affiliate Worcester that season, with a batting average of .258 with 16 home runs and 36 RBIs in 60 games.
2022 MLB Season
Jarren Duran played for both: MLB's Red Sox and its minor league affiliate Worcester in the 2022-23 season.
He made 3 home runs and 17 RBIs, with a .221 batting average from 58 major league games. And with the Triple-A Worcester, the player recorded batting .283 with ten home runs and 38 RBIs in 68 games.
Optioned To Minor League Before Re-Call At Boston Red Sox
With not so great 2022 MLB season, the managerial officials of the Boston Red Sox optioned him to minor league's Worcester Red Sox on August 27, 2022.
It was to clear the roster spot for Trevor Story, who came back after a lengthy injury hiatus.
Through September & October, Jarren was recalled but then optioned to the Red Sox's Triple-A team.
On January 3, 2023, the Boston Red Sox activated him as their second baseman in the 2023-24 roster. A few include Matt Barnes, Wilyer Abreu, Reese McGuire, Triston Casas, and Christian Arroyo.
Jarren Duran | International Career
In the 2021-22 season, he led Criollos de Caguas (of the Puerto Rican Winter League) to the Caribbean World Series title.
Moreover, Duran became a roster in the United States national baseball team in May 2021 for the Olympic qualifiers.
But after the team's entry Tokyo 2020 Summer Olympics, Jarren was left off the Olympic roster due to the chance of getting called up by the Red Sox.
Feud With Fans
Jarren had a fairly interesting seventh inning in their 13-5 loss to the Kansas City Royals on August 8, 2022.
The bottom of the seventh inning saw Nate Eaton of the Royals hit a simple fly ball toward the center field to start Jarren's nightmare inning. The player stared as the ball he lost in the sun landed inches from his glove for a triple.
In the next at-bat, Kyle Isbel hit a fastball out to the warning track, putting Jarren to the test again. The 25-year-old tried a leaping grab at the wall, but the ball bounced off the end of his glove and turned into another triple.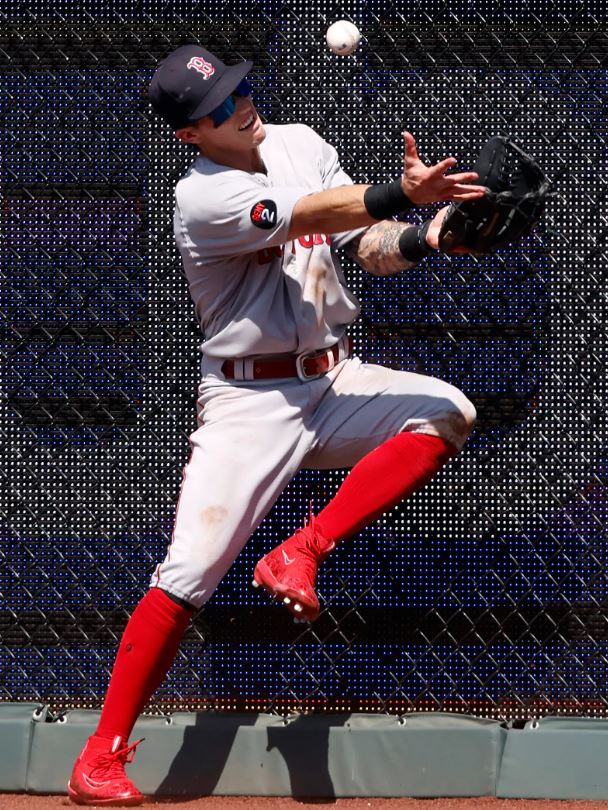 Immediately after the unsuccessful attempt, Jarren turned around and spoke to a group of fans seated behind the center-field wall.
The player needed to be restrained by teammate Alex Verdugo after making a spectacular diving grab in the subsequent at-bat while mingling with the jeering fans.
Jarren later claimed he did so because the fans threw small bottle caps at him. So, the player simply urged them to stop tossing stuff. One of the ushers then intervened and ordered them to stop.
Jarren Duran | Age, Height & Body Measurements
Duran, born in 1996, is 26 years old. A Virgo by birth, he was born in the Rat year according to the Chinese zodiac calendar.
The MLB star seems keen on tattoos & has a lot of inkings on his body- necks & arms specifically. For instance, his left arm bears tattoos honoring his aunt Donnetta Iman and grandmother Beatriz Iman.
A robust physiqued, Jarren Duran has a height of 6 feet 2 inches (1.88 m) and weighs 96 kg (212 lbs). The baseball player throws right-handed and bats with left.
Jarren Duran | Does He Have A Wife Or Dating?
The American baseball player has never had a wife & is not married yet. Jarren is in a relationship with his athlete girlfriend, Kylie Granno.
In July 2021, his girlfriend Kylie shared an Instagram story that featured her hugging the MLB star. She congratulated Jarren Duran after the Red Sox called him for his major league debut.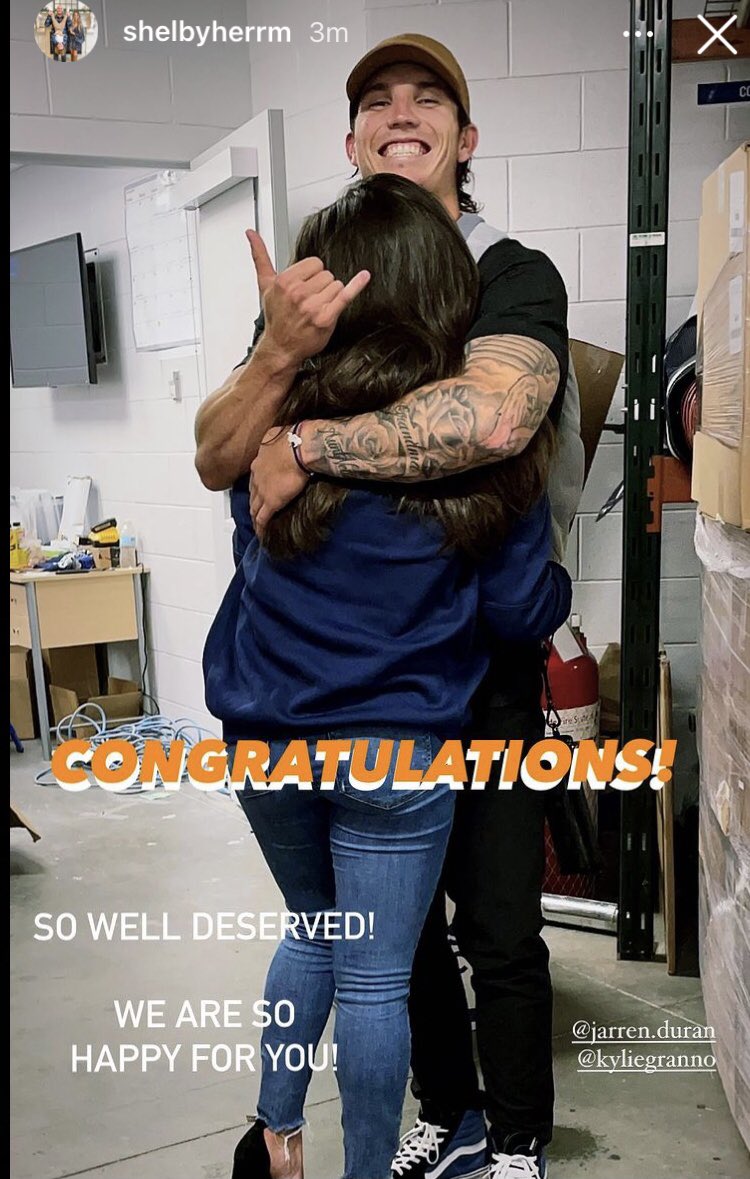 The two have been dating for a while. However, the couple is yet to confirm further details of their relationship.
Duran's lover Kylie, born in Roseville, California, attended Roseville High School. For her college, she enrolled at Saint Mary's College of California to pursue a Bachelor of Business Administration in Marketing.
She is a college soccer player- who plays for SMC Women's Soccer team at Division 1 college soccer at St. Mary's College.
Moreover, Kylie Granno is named Barstool athlete. She is active on Instagram with the IG handle @kyliegranno.
Jarren Duran | Net Worth, Contract & Salary
As of June, 2023, Jarren William Duran has a net worth of $300K-$500K. After the 2018 MLB Draft, his baseball career became his primary income source.
Duran signed with Boston Red Sox in mid-2018 but played in minor leagues for three years until 2021.
The MLB player then made his major league debut with the Red Sox, earning him a base salary of $187,087 for the 2021-22 season. His salary for the 2022-23 season was $303,834, totaling $680,721 in career earnings.
The player has not signed any brand endorsements as of now.
Frequently Asked Questions
Did Jarren always want to become a baseball player?
No, becoming a baseball player was not something Jarren dreamt of as a child. Instead, he was interested in another line of work, U.S. Navy SEAL.
The player initially wanted to go to the Navy but chose baseball as his profession later.
What number is Jarren Duran?
The baseball player Jarren Duran wears jersey number #40 with the Boston Red Sox.