Often referred to as a man with a golden heart and known for his enthusiasm, Jasper Cillessen is a Dutch professional footballer.
He plays goalkeeper for the Spanish La Liga club Valencia and the Netherlands national team.
Firstly, he commenced his career in 2010 with his professional debut in NEC's youth team, followed by playing with Ajax for €3 million and Barcelona for an initial €13 million.
Similarly, Jasper has featured at both junior and senior levels in the international field, making his first debut in 2013.
In the meantime, he was the country's first-choice goalkeeper as they finished third at the 2014 FIFA World Cup.
Quick Facts:
Full Name
Jacobus Antonius Peter Cillessen
Date of Birth
April 22, 1989
Birth Place
Nijmegen, Netherlands
Nick Name
N/A
Religion
Christianity
Nationality
Dutch
Ethnicity
White
Zodiac Sign
Taurus
Age
33 years old
Height
1.85 m (6 ft 1 in)
Weight
83 kg (182.98 lb)
Hair Color
Light Brown
Eye Color
Grey
Build
Athletic
Father's Name
Ton Cillessen
Mother's Name
Nellie Cillessen
Siblings
A brother, Thomas Cillessen
Education
Unknown
Marital Status
Unmarried
Girlfriend
Joan Koolster
Jersey number
13
Profession
Football player
Position
Goalkeeper
Affiliations
NEC (2010-2011)
Ajax (2011-2016)
Barcelona (2016-2019)
Valencia (2019-present)
Active Years
2010-Present
Net Worth
$1.19 million
Social Media
Instagram, Twitter
Merch
Cards
Last Update

April, 2023
Jasper Cillessen | Early life & Physical Attributes
Cillessen was born on April 22, 1989, under the Taurus star sign to his parents, Ton Cillessen and Nellie Cillessen.
He grew up alongside his brother Thomas Cillessen in a small town named Nijmegen in the Netherlands.
However, details on his educational history and family background are all unknown.
Age, Height & Weight
Jasper Cillessen is 33 years old as of 2023. Cillessen is a skinny, athletic type with a square face with fair complexion.
He stands at 1.85 m (6 ft 1 in) while weighing 83 kg (182.98 lb). Besides, he is a rather sweet type with his light brown hair and grey eyes.
Also read: <<Lindsey Horan Bio: Soccer Career, Family & Net Worth>>
Jasper Cillessen | Club Career
NEC
Unlike other athletes, Jasper also had an early start. Firstly, he commenced his club career through the youth team of the local club De Treffers.
Right after it, in 2001, he was scouted to the NEC/FC Oss youth academy, with whom he signed in professionally in 2008 and started playing in reserve.
Similarly, in 2010, he dealt a two-year contract with the NEC.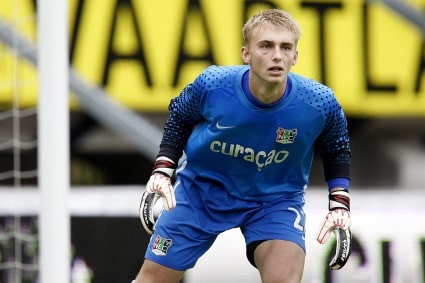 Following it in 2010, he had his senior debut on August 28 as their first-choice goalkeeper Gábor Babos was sidelined due to an injury.
Hence, for his debut game, he faced the SC Heerenveen, which ended in a 2-2 draw as he got voted for the man of the match.
Likewise, Jasper got his goalkeeper place permanently even after Babis returned.
Therefore, he had another two-year contract expansion with NEC, which was due to end in 2014.
During his early season of 2010-11, he bagged the Gelderland footballer of the year award.
Ajax
At the same time, on August 27, 2011, NEC signed an agreement with Ajax to transfer Cillessen to the Amsterdam club for an estimated €3 million.
In addition, Jasper dealt with Ajax for a five-year contract due in 2016.
Following it, he made his debut for the club on September 21, 2011, against the VV Noordwijk in the second round of the KNVB Cup.
Besides, the match came in as a 3-1 victory where he had appeared in the full game firmly, only slipping once in the 66th minute while facing Sijbren Bartleman.
Likewise, Cillessen made his league debut for the club on October 23, 2011, in a 2011–12 Eredivisie match.
During the game, they faced the arch-rivals Feyenoord, wherein in the 66th minute, after goalkeeper Kenneth Vermeer was shown a red card, substitute Gregory van der Wiel took his place.
In the match, Cillssen contributed to the match's draw end (1-1). Behind it, in the 2013 pre-season, Cillessen maintained his pace and had a breakthrough as he made his first sustained run of appearances for Ajax in the Eredivisie.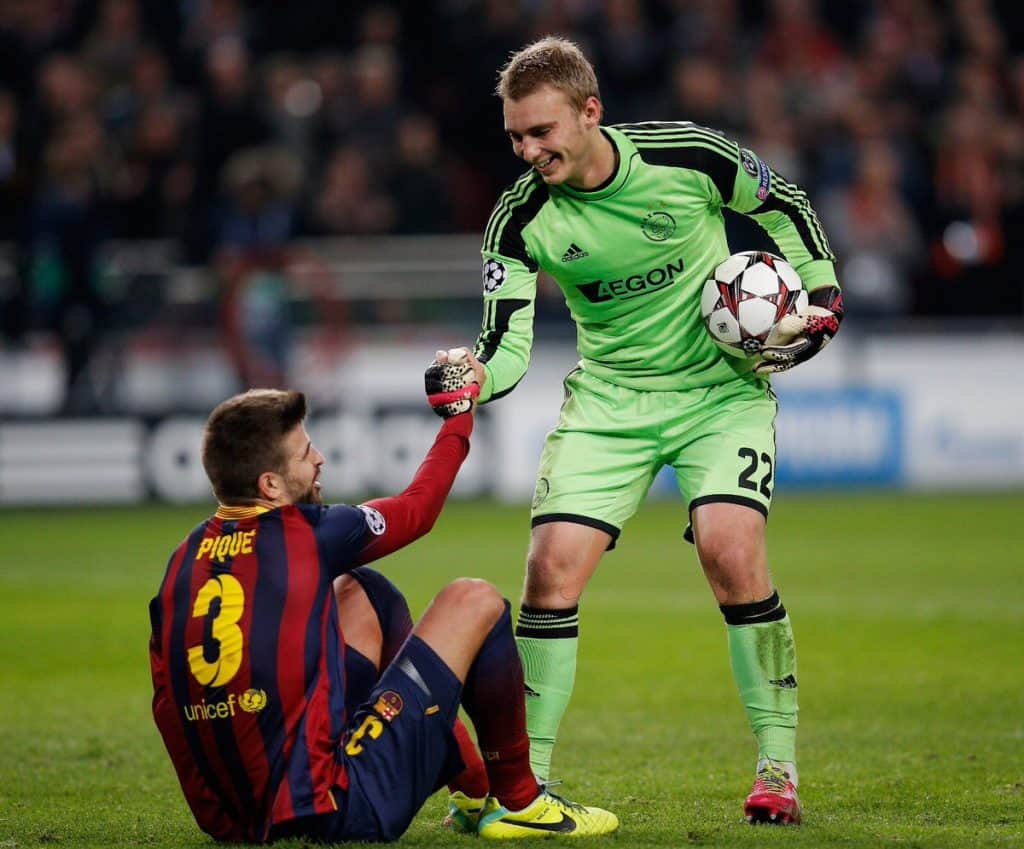 Barcelona
After Ajax, Cillessen dealt with Barcelona on August 25 for a five-year contract.
To illustrate, the contract was worth an initial €13 million transfer fee plus another €2 million in add-ons, and he was to replace the outgoing Claudio Bravo.
With three training seasons, he debuted against the Alavés in a La Liga match, where he successfully blocked five attempts of goals but ended in a 1-2 loss.
Later, Cillessen stood as one of the main features in the Copa del Rey for the 2016–17 and 2017–18 seasons, where he started 17 games out of 18 games for the team.
Barcelona won both the Copa del Rey match, making the club four-time consecutive winners since 2014–15.
Additionally, Jasper maintained his foremost career penalty after 20 attempts in a 6–1 home win over Sevilla in the Copa del Rey on January 30, 2019.
The exact match helped Barcelona to advance to the semi-finals of the competition 6–3 on aggregate.
Furthermore, in the Copa del Rey final, Barcelona faced Valencia; however, it had a surprising loss as Kevin Gameiro and Rodrigo scored in a 2-1 win for Valencia.
You might also want to read: <<Lieke Martens Bio: Football, FC Barcelona, Family & Awards>>
Barcelona Review
Jasper Cillessen was a backup goalkeeper for Barcelona, but he was still considered a pretty special one. His pass to Philippe Coutinho is regarded as a remarkable one.
Jasper, first an outfielder, switched to a goalkeeper even though goalkeepers usually rise later than their outfield counterparts.
He had an international career going on parallelly, but he still took the risk without any hesitation. As an athlete, he legitimately deserves respect and gratitude.
Valencia
In the bargain, as the gameplay ended, Cillessen signed a four-year contract with Valencia for a fee of €35 million on June 25, 2019.
On the same day, former Valencia number one Neto was transferred for €26 million to become the backup goalie.
In addition, it was an awkward day for Jasper as Real Sociedad gave him a guard of honor in their first game.
However, the honor was given for the final game he had lost with Barcelona.
His first debut for the club was against Real Sociedad in La Liga on August 17, 2019, starting with a 1–1 home draw.
Jasper Cillessen | International Career
Amateur
His top international game came in October 2010 against Ukraine. For the match, he was called up by the national team coach, Cor Pot, to play in the Netherlands' national under-21 team for the 2011 UEFA European Under-21 Championship qualification play-offs.
Senior
Moving on with his senior years, he was first selected for the 2010–11 season's pre-selection for the senior Netherlands squad's friendly matches against Uruguay and Brazil.
Later, manager Bert van Marwijk selected him for the Netherlands' friendly trip to South America.
Following it was May 7, 2012, when Bert van Marwijk was chosen as one of nine uncapped players for the preliminary squad.
Thus, he was named in the provisional list of 36 players for the UEFA Euro 2012 tournament.
Alongside all these, his first cap came on June 7, 2013, for the Netherlands national team under manager Louis van Gaal.
Finally, after several call-ups, he featured in the game where he played the first half in a friendly encounter against Indonesia in a 3–0 away win for the Dutch.
Eventually, they kept a clean sheet during their friendly encounter in Asia.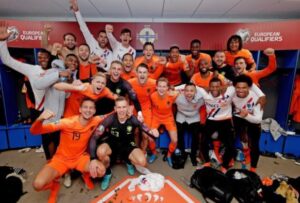 Further ahead, he was selected for the 2014 Fifa World Cup, where he appeared in the number 1 jersey for the team's opening match, a 5–1 victory against Spain in Salvador.
Throughout the game, he started almost everyone and stood in third place; however, for the quarter-final against Costa Rica, he was replaced by Louis van Gaal.
He was substituted for Tim Krul in the penalty shootout, and the Dutch won.
Don't forget to check out: <<Sterling Sharpe Bio: Career, Family, Injury & Net Worth>>
Jasper Cillessen | Honors and Awards
Ajax
Club
Eredivisie: 2011–12, 2012–13 & 2013–14
Johan Cruyff Shield: 2013
Barcelona Club
La Liga: 2017–18 & 2018–19
Copa del Rey: 2016–17 & 2017–18
Supercopa de España: 2018
International Career
Netherlands
FIFA World Cup third place: 2014
UEFA Nations League runners-up: 2018–19
Individual
Gelderland Footballer of the Year: 2011
Gillette Player of the Year: 2014
AFC Ajax Player of the Year: 2015 & 2016
Jasper Cillessen | Stats
You might be interested in reading: <<Shannon Sharpe Bio: Early Life, College, NFL & Controversies>>
FIFA 20
Jasper Cillessen featured in FIFA 20 with the club Valencia in Spain under jersey numbers 1 and 13.
Overall, his skill moves got a 1-star rating, while his footing got a 3-star rating alongside a medium player work rate. Altogether, he closed FIFA 20 with an overall rating of 82.
FIFA 21
For FIFA 21, he preferred most of his kicks through the right leg gaining 3-star for it.
Therefore, for his goalkeeper positioning, he was marked 80 and had handling and kicking rates of 81 and 78, respectively.
Jasper Cillessen | Injuries
As an athlete, Jasper Cillessen has faced several injuries to date. Initially, he underwent a ton of bruises back on February 3, 2014, and was out of the games for eleven days.
During it, he missed two games. Not long after it, he had a groin strain back on July 31, 2013, during which he missed a game in those four days of absenteeism.
The next year, Jasper had a back injury on October 10, 2015, as he was out for nine days and missed a game.
In 2016, Jasper faced three muscle, ankle, and nasal bone injuries while he missed 37 days in total. During their tenure, he had missed six games in total.
In 2017 passed away without any injuries; in 2018, Jasper had a bruised rib and a leg injury. Hence, he was out of the field for eighteen days and missed two games on the way.
Following it, Jasper missed nine games in 2019 due to his hip injury, torn muscle, and calf injury.
Furthermore, he again missed nine games in 2020 due to his injury in muscle and calf.
As for his recent injury, he struggled with a knee injury on March 24, 2021, and missed 33 days. During then, he missed five games.
Jasper Cillessen | Net Worth
Jasper Cillessen currently plays for the club Valencia with a monthly salary of $576,403 and an annual of $6,916,837. Altogether, Jasper enjoys a whopping net worth of $1.19 million.
Besides his athletic career, he earns revenue through a brand endorsement for Nike and ERA. Additionally, he owns various luxurious cars such as Mercedes E200, Audi, Range Rover, etc.
You may want to read about Andres Guardado's Bio: Career, Net Worth, Awards & Love Life>>>
Social Media Presence:
Jasper Cillessen is quite active on social media. You can follow him on his social handles via these links:
You might be interested in buying Jasper Cillessen's gloves; click the link to follow!
Some FAQs:
Did Jasper Cillessen always think of being a goalkeeper?
Jasper first started as a striker and eventually moved on to be an outfielder and a goalkeeper. He had never thought of being a goalkeeper; hence, the goalie's post came out of nowhere.
Why did Jasper Cillessen leave Barcelona?
Jasper Cillessen left Barcelona for Valencia in a $35M deal. He made a move as he wanted to have more playing time.
He was the backup goalkeeper for Barcelona, who appeared in 32 games for the team, 24 as the regular goalkeeper.
What does Jasper Cillessen's career statistic like?
To date, Jasper Cillessen has played 279 games and averages 24.682 minutes per game. Well, he has 293 goals conceded and 107 clean sheets.
Is Jasper Cillessen single?
As of 2023, Valencia's goalkeeper is reportedly dating a beautiful lady named Joan Koolster. As per the sources, she is a physical education teacher, and the duo shares a private happy life.
Does Jasper Cillessen smoke cigarettes or weed?
According to sources, Jasper Cillessen doesn't smoke cigarettes or weed.
What is Jasper Cillessen's market value?
According to the Transfermarkt website, Jasper Cillessen's current market value is €4.00m.
What matches has Jasper Cillessen played in the Spanish La Liga 2021 season?
As of writing Jasper Cillessen has played 15 matches in the Spanish La Liga 2021/2022 season.
Why was Jasper Cillessen furious with Frank de Boer?
Well, back in 2020, Frank de Boer decided to drop Jasper Cillessen right a few days ahead of Euro 2020. Though Jasper had already made it to Holland's final 26-man squad, he tested positive for the novel coronavirus not long before.
Hence, AZ's Marco Bizot replaced his position. As he was told to stay home, Jasper stated how that decision made him feel 'powerless, angry, and terrible.'