Jerami Grant is a prominent American professional basketball player for the National Basketball Association's Detroit Pistons (NBA). He was a Syracuse Orange basketball player in college.
Grant attended DeMatha (MD) and Syracuse before being drafted as the 39th pick by the Philadelphia 76ers in 2014.
During his NBA career, he has spent six seasons with the Philadelphia 76ers, the Oklahoma City Thunder, and the Denver Nuggets.
Grant had a breakout year in the 2020–21 NBA season, finishing as a finalist for the Most Improved Player award while averaging a career-high in points per game.
The article here discusses everything there's about Jerami Grant. But before getting into details, let's glance at quick facts about him.
Quick Facts
| | |
| --- | --- |
| Full Name | Houston Jerami Grant |
| Known as | Jerami Grant |
| Nickname | Not Available |
| Birth Date | March 12, 1994 |
| Birth Place | Portland, Oregon |
| Residence | N/A |
| Religion | Christian |
| Nationality | American |
| Ethnicity | Black |
| Education | DeMatha Catholic High School, Syracuse University |
| Zodiac Sign | Pisces |
| Father's Name | Harvey Grant |
| Mother's Name | Beverly Grant |
| Siblings | 3 (Jerian, Jerai and Jaelin Grant) |
| Age | 29 years old |
| Height | 6 feet 8 inches (203 cm) |
| Weight | 95 (210 lb) |
| Eye Color | Brown |
| Hair Color | Black |
| Body type | Athletic |
| Profession | Basketball Player |
| Marital Status | Not Married |
| Girlfriend | Not Available |
| Children | None |
| Beginning of Professional Career | 2014 – present |
| Teams | Philadelphia 76ers, Oklahoma City Thunder, Denver Nuggets, Detroit Pistons |
| Achievements | Gold at FIBA Americas U18 Championship, Gold at 2020 Tokyo Olympics |
| Endorsements | Adidas |
| Net Worth | $9 million |
| NBA Draft Pick | Round 2 / Pick: 39th overall / 2014 |
| Position | Small forward / Power forward |
| League | NBA |
| Merch | White Name Plate |
| Social Media Presence | Instagram, Twitter |
| Last Update | March, 2023 |
Jerami Grant: Amateur Days
Jerami Grant attended DeMatha Catholic High School in Hyattsville, Maryland, where he averaged 12.5 points in 23 games as a senior in 2011–12.
Grant, a four-star recruit according to ESPN.com, was ranked as the No. 11 power forward and the No. 37 player in the country in 2012.
He averaged 12.1 points, 6.8 rebounds, and 1.4 assists in 31.4 minutes per game for Syracuse in 2013–14 while shooting 49.6 percent from the field.
Moreover, he also scored double figures in 24 of 32 games played and had three games with 19 points. The athlete was also named an All-ACC Honorable Mention in 2014.
Grant declared for the NBA draft in April 2014, preceding his final two years of college eligibility. He begins as a guard but can also play as a small forward due to his defensive abilities.
Don't miss out; Nikola Vucevic Bio: NBA, Career & Net Worth
Jerami Grant: Professional Career
Grant was selected by the Philadelphia 76ers with the 39th overall pick in the 2014 NBA draft on June 26, 2014, and joined the team for the 2014 NBA Summer League.
On September 29, 2014, he agreed to the 76ers on a four-year contract with two years guaranteed.
He had four points and eight blocks in a defeat to the New York Knicks on January 21, 2015.
The eight blocks were the most by a 76er in a game since Samuel Dalembert had nine in 2007 and the most by a rookie 76er since Shawn Bradley had nine on January 17, 1994.
He rejoined the 76ers for the 2015 NBA Summer League in July 2015.
In a loss to the Toronto Raptors on November 11, 2015, he recorded his first double-double with 12 points and ten rebounds.
Oklahomo City Thunder
Jerami Grant was traded to the Oklahoma City Thunder on November 1, 2016, in exchange for Ersan Lyasova and a protected draft pick.
The following day, he made his Thunder debut in an 85–83 victory over the Los Angeles Clippers, recording two rebounds, six points, and two blocks in 18 minutes off the bench.
He had a season-high 15 points in a 110–108 loss to the Atlanta Hawks on December 19, 2016. In a 128–100 defeat to the Chicago Bulls on February 1, 2017, he tied his season-high with 15 points.
Grant re-signed with the Thunder on July 7, 2018. In a 154–147 double-overtime defeat to the San Antonio Spurs on January 10, 2019, he set a career-high with 25 points and 12 rebounds.
The player scored 27 points in a 116–107 loss to the Miami Heat on March 18. On April 10, he scored 28 points against the Bucks in a 127–116 victory.
Denver Nuggets
Grant was traded to the Denver Nuggets on July 8, 2019, for a 2020 first-round pick.
The athlete scored a career-high 29 points in a 115–98 win over the Detroit Pistons on February 25, 2020.
Grant outscored Paul George 14 to 10 in a Game 7 win over the favored Clippers on September 15, 2020, despite playing 9 minutes less.
However, Grant struggled against LeBron James and Anthony Davis in the Western Conference Finals, as the Nuggets were defeated in five games by the Los Angeles Lakers.
Grant led the Nuggets to a Game 3 victory with 26 points. During the playoffs, he averaged 11.6 points and 3.3 rebounds.
Agreeing to a Three-year Contract
Grant agreed to terms with the Detroit Pistons on a three-year, $60 million contract on November 22, 2020, following a sign-and-trade with the Denver Nuggets.
In exchange for cash considerations, Detroit received the draft rights to 2015 second-round pick Nikola Radievi.
The player scored a career-high 43 points in a 105–102 loss to the Chicago Bulls on February 17, 2021.
Also, read about; Chris Bosh's Bio: NBA, Retirement & Net Worth
Jerami Grant's Future on Hold
The Detroit Pistons did not trade Jerami Grant at the trade deadline days despite much speculation. What does this imply?
Detroit has effectively postponed making a final decision on Grant's future with the team.
Jerami Grant, a forward for the Detroit Pistons, was rumored to leave the city.
With so many NBA teams looking for help to make a playoff push, the price for Grant was expected to skyrocket, and it was simply a matter of which offer Detroit chose.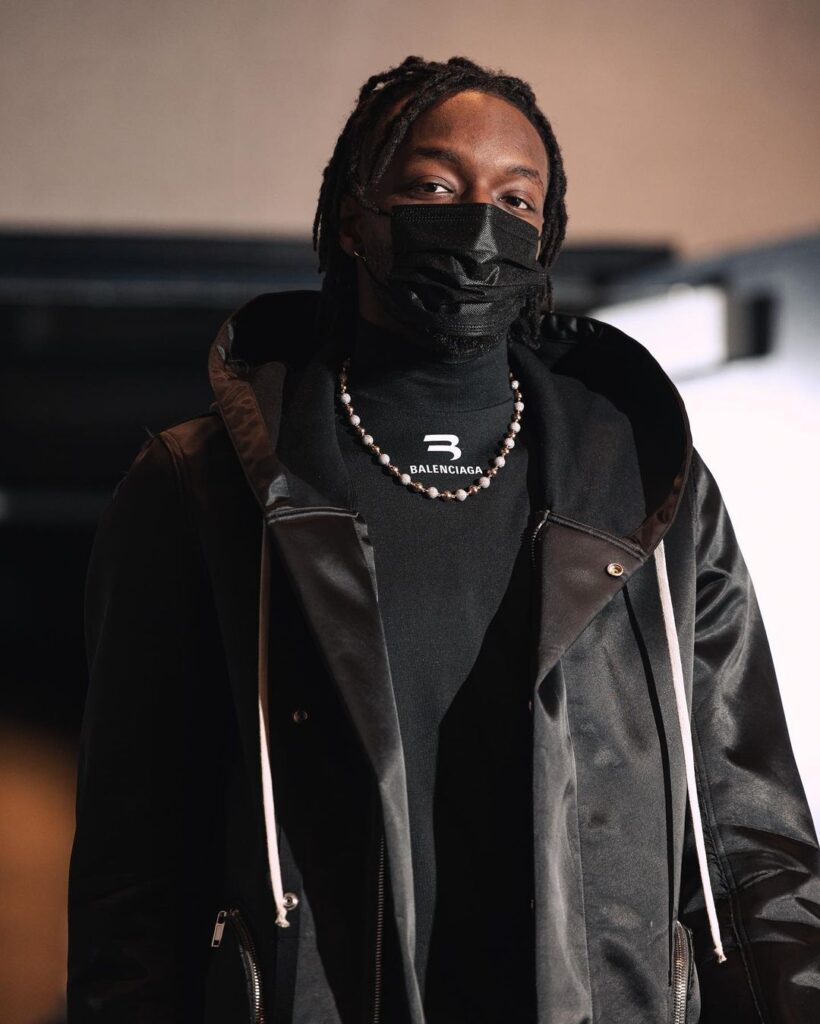 Grant, on the other hand, is still with Detroit. That turns out to be the case with the Pistons and Grant.
The fact that the Pistons did not trade Jerami Grant does not guarantee that he will be a long-term team member.
Detroit is essentially kicking the can when making a final decision on Grant. His status will be one of the off-major season's storylines.
Involvement in Olympics
Grant was named to the United States Olympic basketball team for the 2020 Summer Olympics in Tokyo on June 28, 2021.
He is the first Piston since Tayshaun Prince in 2008 to win an Olympic medal.
Michigan natives JaVale McGee and Draymond Green, and Khris Middleton, who spent the rookie season with the Pistons, also won gold for Team USA.
Grant was not a key team member like Kevin Durant or Jayson Tatum was. He appeared in every match except for the game against France.
Grant participated in intense practices with many of the NBA's top players. As many NBA players do, they are not simply working out in Los Angeles with LeBron and a few friends. Real practices, with real enthusiasm.
Jerami Grant: Personal Life
Jerami was born on March 12, 1994, in Portland, Oregon, USA.
His grandparents are of African descent and arrived in the United States in the 1990s. As a result, the basketball player is of African-American descent and holds U.S. citizenship.
In addition, Jerami's Father, Harvey, was a power forward/small forward in the National Basketball Association for 11 years.
Before that, Harvey was a collegiate basketball player at Clemson and Oklahoma and was the 12th overall pick in the 1988 NBA draft.
From the 1980s to the 1990s, he also played for the Portland Trail Blazers, Washington Wizards, and Philadelphia 76ers.
Jerami's parents, Harvey and Beverly Grant have lived in Georgia for many years.
He also has three brothers named Jerai, Jerian, and Jaelin. He also has a stepsister, Mikayla, who is the result of his Father's affair with Karen Mitchell.
Family Legacy
It's also in his blood to play in the NBA. Jerian Grant, his brother, is a point guard for the Washington Wizards.
And his uncle Horace Grant (Harvey's twin brother) won four championships, including three with the Chicago Bulls during Michael Jordan's first three-peat in 1991-93.
His other two brothers both attended college. Jerai attended Clemson, and Jaelin attended Independence Community College.
When Charles Barkley asked Jerami where he ranked himself in his family hierarchy on "Inside The NBA," he responded with a grin.
Girlfriend
Jerami Grant lives a low-key existence while keeping his personal life away from the paparazzi.
Grant is now concentrating on his upcoming NBA games for the Detroit Pistons. As a result, he does not appear to be looking for a partner. He might be single in 2022.
There have been rumors that the former Philadelphia 76ers' power forward is gay.
Some local media tabloids wrote about his sexuality, which drew attention to the story. Nonetheless, he denied that he was a homosexual.
Jerami Grant: Net Worth
The six feet eight inches power forward is estimated to have a net worth of $9 million in 2022, according to idolnetworth.com.
His salary, media ventures, investments, and endorsements account for most of his net worth. His new contract with the Pistons will add to his net worth.
Grant signed a three-year, $60,007,500 contract with the Detroit Pistons, with $60,007,500 guaranteed and an annual average salary of $20,002,500, according to Spotrac.
Endorsements
Grant recently signed a multi-million dollar endorsement deal with Adidas.
The player was chosen to represent Team USA in the 2021 Tokyo Summer Olympics, which resulted in a multi-year endorsement deal 2021.
Grant is also heavily supported by his NBA team and various other media ventures.
Contract
Grant is in the second year of a three-year, $60 million contract he signed as an undrafted free agent. He is eligible to sign a four-year contract extension worth up to $112 million this summer.
The American power forward will be 28 years old on March 12. He is not a young pup, but he is also not an old dog. He will likely have another two or three good seasons with the Pistons.
Grant is the type of player who can help the Pistons move up the standings in the coming years. He was instrumental in the Denver Nuggets' run to the Western Conference finals in 2020.
Social Media Presence
Jerami Grant is active on various social media platforms. As an athlete, he is aware of the importance of social media.
The basketball player utilizes his social media accounts to connect with fans and followers by lending them updates about his life.
You can follow him there; below are the links to his social media accounts;
Instagram– 182k followers
Twitter– 51.6k followers
FAQs
How much is Jerami Grant averaging?
Grant has averaged 19.1 points, 4.5 rebounds, 2.5 assists, one steal, and one block in 29 games this season.
He's shooting 40.4 percent overall — down from 17.3 percent last season to 15.5 percent this season and 33.1 percent from 33.1 percent (5.3 attempts per game).
How long is Jerami Grant out?
Grant has been sidelined since December 16, when he underwent surgery to repair the UCL in his thumb. Although there is no timetable for Grant's return, the roster change allows him to begin on-court work.
According to Chris Mannix of Sports Illustrated, the Pistons initially stated that he would be re-evaluated six weeks after surgery.
Did the Pistons trade Jerami Grant?
According to reports, the Pistons have traded Josh Jackson and Trey Lyles to the Kings for center Marvin Bagley III. Jerami Grant remains a Piston player.
Is Jerami Grant a good defender?
He is a great wing defender who can guard the opposing team's best scorer almost every night, regardless of position.
On the other hand, his size and skill set would be ideal for the match-ups.