Joe Dumars, a former American professional player, is the head of the basketball operation of the National Basketball Association.
Dumars started his professional career in 1985. He spent fourteen years of his life playing basketball and got retired in 1999. Similarly, he was born in Shreveport, Louisiana.
Before starting his international career, Dumars also played some football games in his early life. Later he developed an interest in basketball because of his brother and father.
Moreover, he played for only one team in his whole international career. During his career, Dumars also won many awards as a player.
On the other hand, he likes to play from the shooting guard position. His jersey number is four. In 2006, Dumars was also nominated as a Basketball Hall of Fame player.
Before going into deep about this former professional player, let's quickly see some interesting facts.
Quick Facts
| | |
| --- | --- |
| Full Name | Joe Dumars III |
| Known As | Joe Dumars |
| Birth Date | 24 May 1963 |
| Age | 60 years old |
| Place of Birth | Shreveport, Louisiana |
| Country | United States |
| Profession | Basketball Player |
| Horoscope | Gemini |
| Nationality | American |
| Father's Name | Joe Dumars Jr |
| Mother's Name | Ophelia Dumars |
| Siblings | David Dumars, Ronald Dumars, Daniel Dumars, Martha Dumars, Paul Dumars, Mark Dumars |
| High School | Natchitoches Central High School |
| College | McNeese State University |
| Height | 6 ft 3 in (approx 1.91 m) |
| Weight | 88 kg (approx 195 lbs) |
| Body Type | Athlete |
| Position | Shooting Guard, Point Guard |
| Draft | 1985 |
| Marital Status | Married |
| Spouse | Debbie Dumars |
| Children Name | Jordan Dumars, Aren Dumars |
| Net Worth | $10 Million |
| Salary | $20 Million |
| Active Years | 14 Years |
| Social Media | Not Available |
| Merch | Card |
| Last Update | November 2023 |
Joe Dumars | Early Life, Family & Education
The basketball executive, Joe Dumars, was born in Shreveport, Louisiana, the United States, to Joe Dumars Jr and Ophelia Dumars.
Dumars was born with six siblings in his family. David Dumars, Ronald Dumars, Daniel Dumars, Martha Dumars, Paul Dumars, and Mark Dumars are name of his siblings.
His mother, Ophelia, was a custodian at Northwestern State University. Likewise, his father, Joe, worked as a truck driver.
While growing up with his brothers, all brothers, including Dumars, were interested in football. They used to play from a defensive position in Natchitoches Central High School.
As time passed on, Dumars started to develop an interest in basketball. His father also helped by building a hoop in the backyard. Joe spends most of the time in the backyard playing basketball.
Besides that, Dumars completed his high school at Natchitoches Central High School. Later he graduated from McNeese State University.
The professional American basketball player, MarShon Brooks currently plays for the Guangdong Southern Tigers of the Chinese Basketball Association (CBA). Click to find out about his networth and salary!
Career
College Career
The former professional player, Joe Dumars, started playing in college in 1981. As a senior player, he averaged a score of 25.8 points per game.
Moreover, he finished college, becoming the 11th leading scorer in NCAA history. In 1985 he left his college and started his international career.
International Career
The Detroit Pistons drafted Dumars in the 18th overall round pick. He started playing with Piston in 1985.
The most surprising thing about his career was that he played for only one team from start to end. He played from the guard position in his entire career, as mentioned above.
In the 1989 and 1990 finals, he won two champions as a player. In addition, Dumars was later voted MVP of the tournament. 27.3 points was his average score during the tournament in the 1989 final.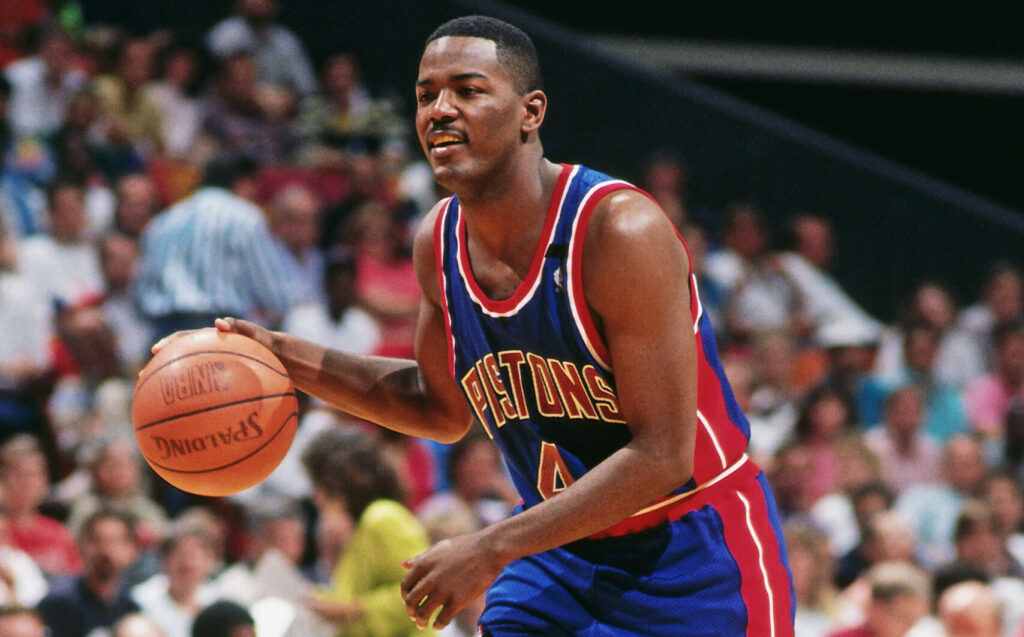 He played under the guidance of coach Chuck Daly. Dumars was also known as the best defender in the NBA.
But unfortunately, during the finals in 1990, his father passed away. However, the exact information regarding his father's death has not been published.
On the other hand, Dumars has also won many awards. He was also the player to win the NBA Sportsmanship Award of the year.
Besides that, he also played for his US national team in the 1994 FIBA World Championship. Dumars also won the gold medal during the national tournament.
To sum up, Dumars had 16,401 points, 2,203 rebounds, and 4,612 assists in his whole career.
Post Career (Executive)
After announcing his retirement as a player, Dumars became the president of the Detroit Pistons in 2001. In 2002-03, he was nominated as the Executive of the Year.
Moreover, Dumars also led his team to win the 2004 NBA championship. Soon after some time, he became the first African American executive to lead the NBA championship.
His team Pistons made it to the Eastern Conference Finals for the six straight consecutive years.
On April 14, 2014, Dumars announced to get resigned from the post of the executive. However, he remained an advisor to his team. He spent 14 years as the President of his team.
The former executive led his team to many championship finals. On June 21, 2019, Dumars was named the special advisor of the Sacramento Kings.
Besides that, Dumars is also known as chief strategy officer and interim executive vice president of basketball operations.
Business Interests
Dumars was also the CEO and President of Detroit Technologies, founded in 1996 and ran for approximately ten years.
After serving for ten years, he decided to sell his automotive supply company. He focused more on basketball as president of the basketball operations.
In addition, Dumars is also the founder and owner of the Joe Dumars Fieldhouse. It was an indoor sport and entertainment facility located in Shelby Township.
But sadly, the Shelby Township got permanently closed in August 2020 due to the rise in the COVID-19 pandemic.
Now he runs the Independent Sports & Entertainment as the president of its basketball division. Dumars started to run his sports in August 2017.
Highlights and Awards
As a Player
2x NBA champion (1989, 1990)
NBA Finals MVP (1989)
6x NBA All-Star (1990-1993, 1995, 1997)
NBA All-Rookie First Team (1986)
All-NBA Second Team (1993)
2x All-NBA Third Team (1990, 1991)
4x NBA All-Defensive First Team (1989-1993)
NBA All-Defensive Second Team (1991)
NBA Sportsmanship Award (1996)
Southland Player of the Year (1985)
As an Executive
NBA champion (2004)
NBA Executive of the Year (2003)
The popular overseas player from America, Brian Roberts, has a net worth somewhere between $1 million to $5 million. Learn more
Joe Dumars | Age, Height & Weight
Joe Dumars is a welcoming person who enjoys birthday events with his family and friends. Currently, he is 60 years old.
Like other players, Dumars also stands tall at 6 ft 3 in (approx 1.91 m).
Besides that, he is also a player who likes to eat time and again. Now his body weighs around 88 kg (approx 195 lbs).
Net Worth & Property
The former basketball player Joe Dumars is also listed as the richest player. After serving on a basketball team and in business, he has earned money of million dollars.
Currently, Joe has a net worth of about $10 Million. The former player lives a luxurious life with his family. Before, when he was playing for the Pistons, he also had a $20 million salary.
On the other hand, Dumars also leases a penthouse at Legacy Beverly Hills. The penthouse has a couple of bedrooms and bathrooms with a private balcony.
According to the listing records, he charges $10k to $12k a month for a penthouse.
Know about Steve Blake's personal and professional life. What is the athlete doing after retirement, and what is his net worth? Click here to learn more!
Joe Dumars | Relationships
The popular player never had flings or serious relations in his early life. In 1989, Joe Dumars got married to his wife Debbie Dumars. The Dumars exchanged vows in front of their close friends and family only.
According to some reports, it was found that the couple dated for some years before getting married. The couple is gifted with a son and a daughter.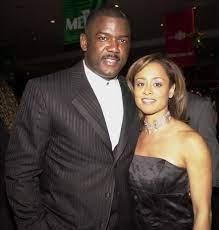 On February 25, 1991, the couple gave birth to their son Jordan Dumars. After two years, in 1993, the second child Aren Dumars was born.
His son Jordan Dumar is also a professional basketball player by profession, whereas Aren Dumars is studying the law. Besides this, other information is still undercover.
FAQs
Was Joe Dumars informed about the death of his father?
Joe Dumars Jr was the name of Joe Dumars's father. However, her mother, Ophelia Dumars, told his wife Debbie Dumars not to tell him anything about his father's demise because, at the time of his father's death, Joe Dumars was playing in NBA Finals in 1990.
What shoes did Joe Dumars use to wear during his tournament?
Joe Dumars is one of the players who has spent fourteen years playing with the same team Detroit Pistons.
During his career, he was named the Adidas guy. He used to wear the expensive shoe Adidas Torsion Artillery in his games.
Is Joe Dumars a Hall of Fame player?
Yes, Joe Dumars is known as the Hall of Fame player. He has won many awards as a player playing for the Detroit Pistons during his career.
In addition, he was nominated for The Naismith Memorial Basketball Hall of Fame.