Joel Embiid is a Cameroonian professional basketball player playing for the Philadelphia 76ers of the National Basketball Association (NBA). His mother, Christine Embiid, is the pillar of his life's progress and success.
Although Joel's mother, Christine wanted him to have a different career path, she couldn't help but support his NBA dream later. Initially, he started with the hopes of playing volleyball in Europe.
However, at 14, he started playing basketball, and the rest is history. Joel is a five-time NBA All-Star, a four-time member of the All-NBA Team, and a three-time member of the All-Defensive Team.
Joel is among the rising names in the Men's basketball world. He is also famous for his nickname, "The Process." Embiid was picked third overall by the 76ers in the 2014 NBA Draft.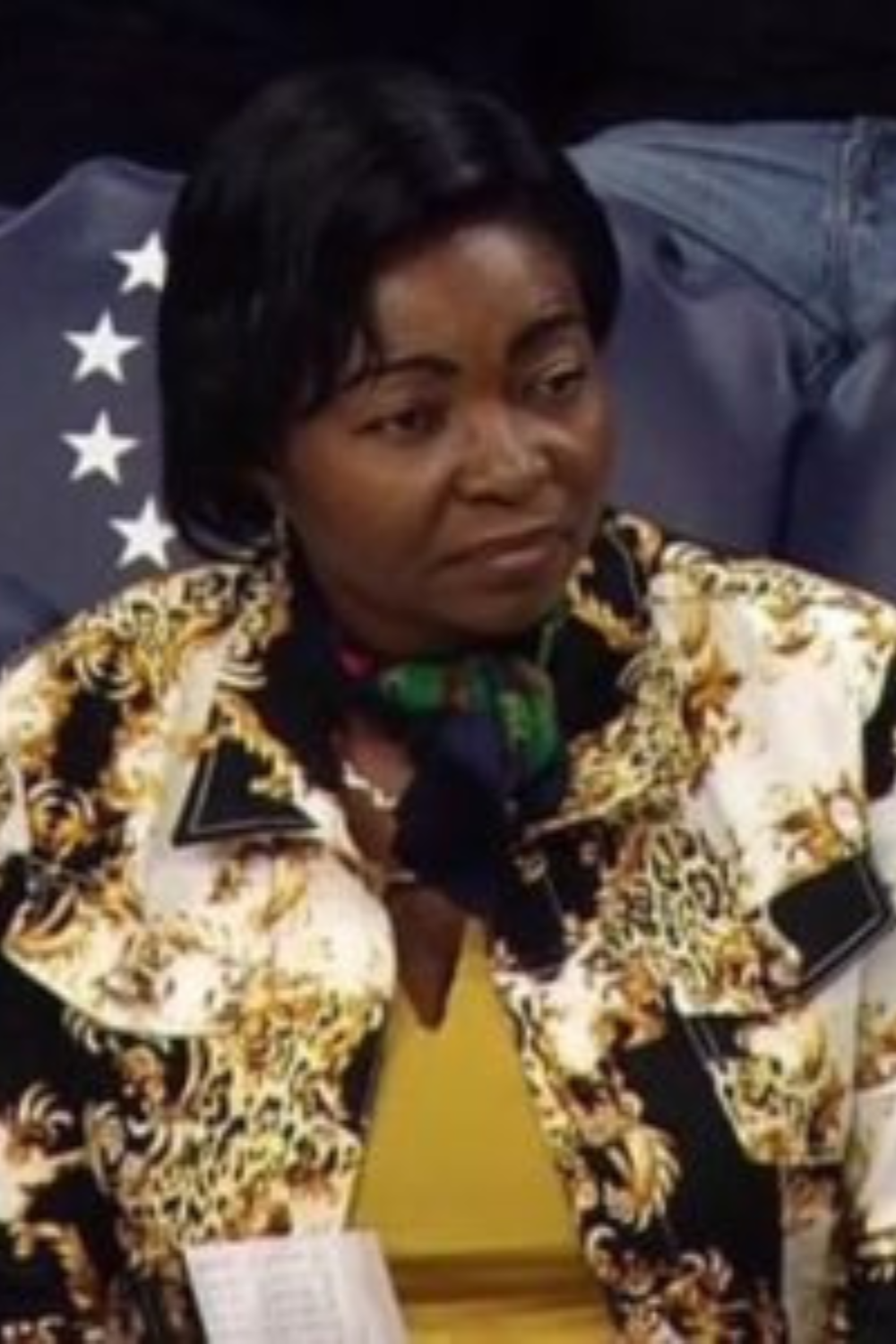 His team, the Philadelphia 76ers, ended their eight-straight win streak after losing 116-111 to the Washington Wizards on December 28, 2022.
Behind his success story, Embiid's mother, Christine, is one of the driving forces. Her constant support and unconditioned love made him the person he is today.
In this article, we are going through detailed information about Joel Embiid's mother, Christine Embiid.
But before that, let's know briefly about her through quick facts.
Joel Embiid Mother | Quick Facts
| | |
| --- | --- |
| Full Name | Christine Embiid |
| Nick Name | Christine |
| Birth Place | Yaoundé, Cameroon |
| Religion | Christian |
| Gender | Female |
| Sexual Orientation | Straight |
| Height | N/A |
| Nationality | American |
| Ethnicity | African-American |
| Hair Colour | Black |
| Eye Colour | Dark Brown |
| Skin Colour | Dark |
| Marital Status | Married |
| Husband | Thomas Embiid |
| Kids | Joel Embiid, Muriel Embiid, and Arthur Embiid |
| Profession | Celebrity Mother, Social Activist |
| Foundation Owned by Christine | Arthur Embiid and Angels Foundation |
| Grandchild | Arthur Elijah de Paula Embiid |
| Joel Embiid Merch | Funko Pop, Trading Card |
| Last Update | March, 2023 |
Joel Embiid Mother | Early Life & Family
Christine Embiid is from Cameroon, Africa, and belongs to the black ethnic group with Central-African roots. She has three children from her husband, Thomas Embiid.
Joel Embiid is the eldest, while her two other children are daughter Muriel Embiid and son Arthur Embiid.
Unfortunately, Christine lost her younger son Arthur Embiid in a car crash on 16 October 2014. Arthur was only 13 at that time.
For a mother, nothing is more painful than her children going far away and never returning. It was a massive loss for the family, and the family is still not over that incident.
Christine had a pretty decent economic background. They were not very rich but had everything they needed. Christine's husband, Thomas Embiid, was a military officer in Cameroon.
Thomas also used to play handball as a recreational sport. Thus, his son, Joel, was little interested in sports since his early days.
Initially, Joel's mother wanted him to become a doctor. Although his son always dreamt of becoming an NBA player. So, she couldn't help herself but support her son's dream and gave her approval to pursue his passion.
She was kind but strict when it came to her children's education. Christine was in charge of their homework and made sure to complete their school tasks.
Christine Embiid | Younger Son Arthur Embiid Death
Christine's younger son Arthur Embiid died in a car crash on 16 October 2014. Arthur was a kid who always gave off positive energy and was fun to be around.
When Joel got invited to Luc Mbah, a Moute's basketball camp, he didn't appear in the center. Instead, he stayed at home and played with Arthur all day.
Christine Embiid's mother was on vacation, so two brothers took that opportunity to chill and play video games all day.
Going to the NBA or college in the States wasn't even a dream for Joel. All he wanted was to be with Arthur at home and play.
Embiid once said in an interview that afternoon with Arthur is the best moment he can remember than many of the other most significant basketball moments he had achieved.
Joel Embiid's Struggle After His Brother's Death
He hadn't seen Arthur for three years when he was about to get drafted in 2014. But Arthur was following Joel's journey from far away and was so proud of his big brother.
Before the draft, Joel got foot surgery. Arthur flew out to the East Coast to see Joel, but due to some reason, they couldn't see each other. Arthur was only thirteen and had all the time to come back to see Joel.
They talked on the phone about how Arthur would return to America to see Joel play league. But at that, nobody had imagined Joel would never see Arthur again.
After four months, Joel got a phone call from a family that Arthur got involved in a car accident while returning from school.
Just like that youngest member of the family was gone. The whole family went through colossal shock and has been dealing with this horrific incident till now.
Joel Embiid | Childhood Story
Joel has a funny personality and an excellent social media presence. Born and raised in Cameroon, young Joel was not a basketball lover. Instead, he was a volleyball enthusiast.
In 2009, he switched to basketball from volleyball. However, it was not difficult for him to switch to basketball as Joel had trained his hands to direct the ball, and he had an excellent height.
He soon started playing seriously after the NBA Hall of Famer Hakeem Olajuwon believed the sport would significantly impact Joel's life and had a career waiting for him ahead.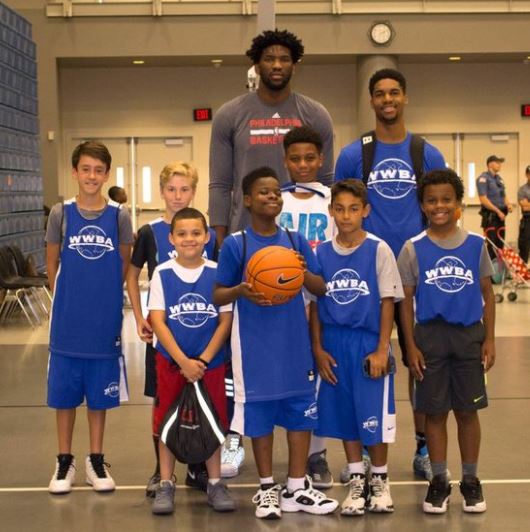 Joel was discovered at a basketball court by Cameroonian NBA player Mbah a Moute, who mentored him. Thus, to start his career as a professional player, he moved to the USA at 16.
While in the States, he played basketball at Montverde Academy and later at Rock School. The four-time NBA All-Star then attended the University of Kansas in 2013 before being drafted in 2014.
The Philadelphia 76ers picked him as the third overall player in the 2014 NBA Draft. But some unfortunate events happened right before his draft.
He lost his only brother in the accident and got foot and knee injuries.
Joel's loyalty to his late brother becoming a well-known basketball player and making the late brother proud encouraged him in those tough times.
Joel's Rise To Fame Story
Since Joel took a step ahead to become a successful basketball player, his parents, especially Joel's mother, dreamt of seeing him in the NBA.
He made his official debut in the 76ers' season opener against Oklahoma City Thunder on 26 October 2016. Joel recorded 20 points, seven rebounds, and two blocks in a 103-97 loss in his first professional game.
On 11 January 2017, Joel grabbed a then-career-high 14 rebounds in a 98-97 win over the New York Knicks.
Later, he was named to World Team for 2017 Rising Star Challenge and Eastern Conference Rookie of the Month
Joel became the established player in the 76ers and became the next face of the NBA after LeBron James. He is an unquestioned leader of the Sixers.
Joel Embiid And His Love For The Philadelphia 76ers
Joel is a great basketball player but also a remarkable human being. His team, Sixers, response towards him is always supportive. Not only by the team but the applause and praise he gets from fans are also excellent.
For a long time, Embiid has meant a lot to the 76ers. But, even Joel's goal is to remain for one team Sixers, his entire career, like the late Kobe Bryant, who stayed for his team Lakers, throughout his career.
He has this unconditional love for the Sixers that is hard to explain. He wants to give his best in every game in return for that love and fame.
Christine Embiid | Net Worth
Joel Embiid's mother's profession is unknown, but her son Joel is a millionaire. Joel earns quite a good amount of money which helps them to live a luxurious lifestyle.
In 2017, he signed a five-year/$147,710,050 contract with the Philadelphia 76er, including $147,710,050 guaranteed and an annual average salary of $29,542,010.
Embiid earns a base salary of $33,616,770 while carrying a cap hit of $33,616,770 and a dead cap value of $33,616,770. He has an estimated net worth of $35 million in 2023.
All the money he agreed on in his contract is not only for him and not just about getting rich. The 76ers center has something else planned.
A specific part of his net worth goes to his parents' foundation in Cameroon.
Let's face the fact Cameroon as a country is not that great when it comes to prosperity and development. So Joel Embiid's donation to his parent's foundation helps to eradicate poverty and help all those vulnerable people in his native land.
Christine Embiid | Popularity
Christine is renowned as the celebrity mother of Joel Embiid. She also runs Arthur Embiid and Angels Foundation, which looks after poor children in Cameroon.
The graph shows her search trend for 12 months.
Frequently Asked Questions (FAQS)
What languages do Joel Embiid and his parents speak?
Joel Embiid's family speaks a regional language called Basaa. They speak English and French as well.
How many grandchildren does Christine's mother have?
Christine Embiid is a proud grandmother of Arthur Elijah de Paula Embiid. Christian's son Joel and his girlfriend Anne De Paula welcomed their first son in September 2020.