Julie Haener is a renowned American Journalist working at KTVU-TV as an evening news anchor. The blonde beauty has been with KTVU-TV since early 1997. The University of Washington graduate, Julie, with a degree in Broadcast Journalism, launched her career in 1990 in Yakima, Washington.
She is married to her husband, Ryan Haener, who works in the Health Care Industry.
Likewise, the two lovebirds met as a weeknight anchor and health reporter at KJEO–TV.
Not only her status but her income has also seen a steady rise. As of 2023, Julie makes around $525k from her yearly paycheck.
However, Julie's income and profession are not the only things of a hot topic. Everything from her marriage to her husband has been in the interest of many.
So, without any further ado, let's dive into the life of this gorgeous American Journalist. But first, some facts!
Quick Facts
Name
Julie Haener
Date of Birth
August 11, 1967
Age
56 Years Old
Hobbies
Playing tennis, horseback riding, and walking
Citizenship
American
Residence
Diablo, California
Father
Richard Joseph Haener
Mother
Sandra Lee Haener
Siblings
Sisters Tracey Haener & Kathleen Haener & brother Eric Haener.
Profession
Anchor, Journalist
Religion
Christianity
Marital Status
Married
Husband/Spouse
Ryan Haener (m.1995)
Children
Jake and Kyle
Divorced
Not Yet
Gay/Lesbian
Straight
Salary
$525,000(Approx.)
Ethnicity
Caucasian
Children/Kids
Two Sons (Jake and Kyle)
Height
1.7 m (5 Feet 7 inches)
Weight
149.9 lbs (68 Kgs)
Education
University of Washington
Net worth
$1 million-$5 million
Social Media
Facebook
Instagram
Twitter
Merch
Journalist Notepad
Last Update
November, 2023
Early Life
Julie Haener, a famous Journalist, studied at the University of Washington. She graduated with a degree in Broadcast Journalism.
In 1997, she joined the KTVU/FOX and started working as a co-anchor in the news team. Besides, Haener does live reporting from the Bay Area daily.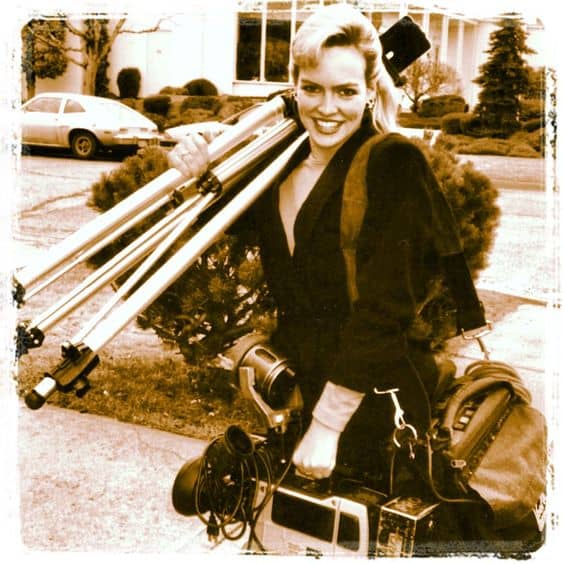 Before working as a news anchor, Julie worked as a reporter and anchor at KJEO-TV.
Then, in 1990, she kick-started her at KNDO-TV, located in Yakima, Washington.
At KNDO–TV, she worked as an anchor, reporter, editor, photographer, and writer.
Education
As for her early education, Julie attended Bellarmine Highschool in Tacoma. She graduated from high school in 1985.
In addition, Julie belongs to the class of 1989 at the University of Washington. She acquired her degree in Broadcast Journalism from the same college.
You would also like to read about Kristina Pink: Husband, Reporter, Fox Sports & Net Worth >>
Julie Haener | Family & Siblings
It is no secret that Julie has established herself as a stellar Journalist. She was born to her father, Richard Joseph Haener, and her mother, Sandra Lee Haener.
And from the looks of it, Haener seems to be close with her family. She often posts her family photos on her social media account.
Aside from her parents, Julie also closely bonds with her siblings. She spent her childhood with her two siblings.
Yes, Julie Haener has two sisters named Tracey Haener and Kathleen Haener and a brother named Eric Haener.
Anything other than their names is unknown as of now. But we will update you on this matter as soon as we get some new information.
Julie Haener | Marriage and Husband
It is no secret that some people are nose-deep into other people's lives. The same is the case with Julie. As a result, many of her fans and admirers have been eager to know more about her personal life.
Well, to start, Haener is a married woman. She is married to her husband, Ryan Haener.
Likewise, the two lovebirds met as a weeknight anchor and health reporter at KJEO-TV. They have been dating ever since.
After years of dating, Julie and Ryan tied the knot on March 12, 1995. The couple spent their honeymoon vacation in Hawaii.
Furthermore, both cherish their married life with endless love and support for one another.
Also, the two will celebrate their 28th wedding anniversary this year.
Mother of Two Wonderful Children
Julie and her husband could not ask for a better life. The two have two sons together named Jake Haener and Kyle Haener.
Unfortunately, there isn't any additional information on them at the moment.
Despite her busy schedule, Haener has given her children a lot of time and attention.
Jake and Kyle are known to be huge fans of sports. Jake has even shared his football interest and aspires to play professionally.
Furthermore, he is also a quarterback for Fresno State Bulldogs. In addition, Jake played for the University of Washington.
He left the team after losing a camp bottle. Unfortunately, it led to his missed opportunity to start a job with Jacob Eason.
You would also like to read about Melanie Collins Bio: Reporter, Net Worth & Husband >>
Julie Haener | Illness and Surgery
In 2015, Julie was off duty from her anchor desk at KTVU. Julie was hospitalized following her small intestine surgery.
In addition, she took plenty of days off to recover from the setbacks from the surgery.
4th day in hospital and feeling better after emergency surgery on small intestine. Thanks sweet nurses, Jen & JoAnna! pic.twitter.com/9etc3xpds6

— Julie Haener (@KTVUJulieHaener) August 30, 2015
Julie Haener | Career
Julie is an incredible woman who has inspired many with her work ethic. So, what motivated or inspired her in the first place?
Her inspiration to aspiring as a Journalist was ignited by a friend who also worked as a sports newscaster. Her friend invited her mother to watch him on the evening news.
Similarly, it made an impression on Julie to indulge herself in the work line. After graduation, she was in desperate need of a job.
Shortly after, Julie landed a job in Yakima, Washington. During her time in the station, she worked free for three months and lived in a tiny apartment.
Young Heaner also wrote, shot, and edited her own stories as a reporter. Furthermore, she worked 12 hours daily at the station before joining Fresno, California.
During her live television broadcast, she read a story about a construction project in Yakima.
The teleprompter read "city shops," but She accidentally said, "Sh**ty shops."
The news director at the studio was not happy with it. Ultimately, Haener had her suspension for two days without getting paid.
KJEO-TV
Julie was 23 years of age when she joined KJEO-TV in Fresno. In addition, during her honeymoon, she was offered a job offer on KIRO-TV in Seattle.
Haener believed the opportunity was a dream come true. Furthermore, she worked as a morning anchor on weekdays at 3 am daily.
Julie Haener Channel 2 News
Haener won an award in her news segment at KTVU Channel 2 in Oakland, California, thanks to her outstanding journalism and anchoring skills. Julie joined the news team at KTVU/FOX in 1997.
In 1997 Julie left KIRO-TV two after her husband got promoted and relocated to the Bay.
Then she goes on to work as a freelance reporter with KTVU. In addition, the station offers her a full-time just after a few months.
Furthermore, Julie got her promotion as an anchor at the weekend in 1998.
Moreover, in 2000 she co-anchored with Dennis Richmond at KTVU Channel 2.
Julie has received numerous awards for her tenure at KTVU, which includes 7 Emmy Awards.
She is a renowned figure at the station with Heather Holmes, Alyana Gomez, and Pam Cook.
Julie Haener | Height & Weight
There is no information regarding her measurement. However, it is known that she has a slim body type.
She stands at 1.7 m tall and weighs 149.9 lbs, which makes her slim and perfectly healthy.
Julie Haener | Net Worth & Salary
One of the things that many have been curious about Julie is her net worth. According to sources, her net worth is from $1 million to $5 million.
But the exact amount is still unknown as of now. Unfortunately, her assets, including her houses, cars, and other properties, are also missing.
Also, the news anchor at KTVU usually earns around $56,558 to $96,184 per year. However, it can vary according to the level of seniority.
In 2015, Haener topped the FOX–owned station. As a result, she received $525,000 per annum.
Hence, we can assume that Julie earns ample money to live a comfortable life.
Social Media Presence |
Julie Haener
Like other news anchors and media personalities, Julie is active on all social media platforms.
Facebook– 34K followers
Instagram– 8.28K followers
Twitter- 6.8K followers
Popularity |
Julie Haener
The reporter is pretty popular in the U.S. as she has been in Sportscasting for a long.
The above graph shows the total google search volume in her name within the States in the last three months.
Frequently Asked Questions About Julie Haener
Is Julie Haener single?
No, Julie is not single. She is married to Ryan Haener. She shared wedding vows with Ryan in 1995. The couple even has two children and currently resides in Diablo, California.
How much does Julie Haener make?
She makes around $525,000 per year at the KTVU station.
Where does Julie Haener live?
She resides with her husband and two children in Diablo, California.
What happened to Julie Haener at KTVU?
She stepped down from her anchor desk due to her small intestine surgery in 2015.
You would also like to read about Lynn Greenfield's Bio- Birthday, Net Worth & Daughter >>