Jürgen Klinsmann is a retired football player and current professional football manager from Germany. He is among the few people who have been successful on both fronts of his career.
Klinsmann is still active and working at 56 despite having retired from football long ago. His love for football made him want to stay connected with it despite retiring in one way or the other.
Not only the most prominent clubs in Europe, but he also played for his country's national team and was a part of the German football team for a long time.
Before looking into his life in detail, let us look at this table of quick facts about Jürgen Klinsmann.
Quick Facts:
| | |
| --- | --- |
| Full Name | Jürgen Klinsmann |
| Birth Date | July 30, 1964 |
| Birth Place | Göppingen, West Germany |
| Known as | baker's son from Bonang |
| Religion | Unknown |
| Nationality | German |
| Ethnicity | Unknown |
| Education | Certified Baker and Helicopter Pilot |
| Horoscope | Leo |
| Father's Name | Siegfried Klinsmann |
| Mother's Name | Martha Klinsmann |
| Siblings | 3 Brothers |
| Age | 58 Years Old |
| Height | 5 feet 11 inches (1.81m) |
| Weight | 80 kgs |
| Build | Athletic |
| Body Measurements | Unknown |
| Hair Color | Light Brown |
| Eye color | Dark Brown |
| Profession | Footballer. Football Manager |
| Active Years | 1972 – 2003, 2004 – present |
| Marital Status | Married |
| Spouse | Debbie Chin |
| Children | Two: Jonathan Klinsmann and Laila Klinsmann |
| Net Worth | $16 million |
| Social Media | Facebook, Instagram, and Twitter |
| Last Update | June, 2023 |
Where is Jürgen Klinsmann from? Early Life, Upbringing, and Football
Klinsmann was born in Göppingen, West Germany, to parents Siegfried Klinsmann and Martha Klinsmann. His father owned and ran a bakery shop in Stuttgart, where the family of six moved when Jürgen was about 14.
Jürgen played football from as young as he can remember. When he was eight years old, young Klinsmann started playing in a non-professional club called TB Gingen, where he was a top goal scorer even at his young age.
Likewise, he moved to a club called SC Geislingen when he was about ten years old. The German Association Football Club named Stuttgarter Kickers signed a contract with Jürgen Klinsmann when he was 16.
Despite being an excellent footballer, his parents wanted him to become a baker, just like his father. Hence they made Jürgen complete an apprenticeship in baking in 1982.
How old is Jürgen Klinsmann? Age, Height & Weight
Jürgen Klinsmann was born in 1964, making him 57 years old. Moreover, he was born on July 30, which makes his birth sign Leo.
Besides, Jürgen stands at 5 feet 11 inches (1.81m) and weighs 80 kg, proportionate to his height. His other notable body facts include his light brown hair and pair of dark brown eyes.
Amateur Years
Jürgen Klinsmann successfully became one of the team's most essential and popular parts and scored 19 goals in his time until 1984.
After his successful time at the Stuttgarter Kickers, he moved on to the first division VfB Stuttgart. He proved his talents again, scoring 15 goals in his first season with the club and becoming the team's top scorer.
In the following seasons, he scored 16 goals and even reached the finals of the DFB – Pokal. In the 1987-88 season, he scored the legendary overhead kick goal against Bayern Munich and became the top scorer in Bundesliga for the year.
Watch the Spellbinding goal that bewildered the whole world.
Owing to his football career great year, Jürgen Klinsmann was named the German Footballer of the Year in 1988.
Jürgen Klinsmann moved to the Italian club Inter Milan after reaching the 1988-89 UFEA Cup finals with Stuggart. The German signed a three-year deal with the team.
Professional Career and Big Clubs
Jürgen Klinsmann ended his first season in Inter Milan with 13 goals despite the team being defense-oriented. Despite being a foreign player, he gained immense popularity and a fan following in Italy.
The fact that he could speak Italian and be extremely good-looking in his younger days might have contributed to this popularity other than his incredible skills with the sport.
In ye 1990-91 season, Klinsmann won the UFEA championship with Inter Milan and kept up his record with 14 goals in the season, and his contract was extended until 1994.
However, due to a horrible game in the 1991-92 season for the club, he made it clear that he wasn't interested in staying in Inter Milan for the remaining time.
Moving on from Milan, Klinsmann moved to AS Monaco, proving his efficiency once more as he bought the team second place in the league in his first season.
In the 1993-94 season, Monaco reached the UFEA Champions League's semi-finals but lost to Milan. The season after that, Klinsmann didn't play for two months because of a torn ligament injury.
Journey to the National Team
He left the club with one year in the contract because Klinsmann was not satisfied with his teammates' behavior in the club.
Jürgen Klinsmann debuted in the Premier League with Tottenham Hotspur in the 1994-95 season. The English fans and media were very critical of him because he was a part of West Germany's team that won against England in the World Cup of 1990.
He immediately won over the fans when he scored a heading in his first match for Tottenham Hotspur.
The Guardian Journalist who had written an article called "Why I Hate Jürgen Klinsmann" wrote another one two months later called "Why I Love Jürgen Klinsmann." Klinsmann also won the 1995 Football Writer's Association Footballer of the Year.
His popularity did not stop there. Klinsmann won over England with extraordinary football talent combined with his looks and humor, and his shirt was a massive sellout.
Klinsmann is a Hotspur legend today, and his statue resides in the Madame Tussauds Wax Museum. Klinsmann shined in Hotspur, scoring about 21 goals in the 30 matches he played.
Latter parts of the Career
After Tottenham Hotspur, Klinsmann also spends a few years playing for Bayern Munich. He became the club's top scorer in both the seasons he played during the 1995-96 and 1996-97 seasons.
Bayern Munich won the UFEA League, and Klinsmann set a new goalscoring record of 15 goals in 12 matches ( which broke in 2011). Klinsmann also became a champion in the Bundesliga as Bayern Munich won that championship during his time there.
He returned to Tottenham Hotspur for the 1997-98 season and again saved the day for the team as his goals saved their team from relegation.
After retiring, Klinsmann moved to the United States. In 2003, he played for the Orange County Blue Star, an amateur team in the fourth-tier Premier Development team.
International Career of Klinsmann
In 1987, Jürgen Klinsmann played for West Germany for the first time as a part of his international career. Klinsmann participated in the 1988 Summer Olympics and helped West Germany win a Bronze Medal.
Klinsmann is also the first player to have scored in three different European Championships. Players like Vladimír Šmicer, Thierry Henry, Zlatan Ibrahimović, Nuno Gomes, and Cristiano Ronaldo have scored similarly.
He has played in World Cup and coached teams for the World Cup. He is still remembered for his extraordinary performance in multiple World Cups.
From Playing to Coaching
Jürgen Klinsmann returned to Germany from the US in 2004 to coach the national team. He was known for his aggressive approach and was criticized for ignoring defensive football.
Jürgen Klinsmann's team's performance in the 2006 World Cup silenced all of his critics. His team won three matches in a row and booked a place in Group A.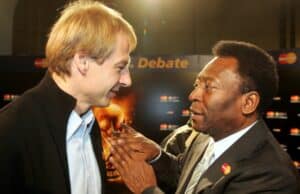 Despite coaching the team to excellence and receiving the prestigious Bundesverdienstkreuz meaning "The Order of Merit of the Federal Republic of Germany," he declined to renew his contract and opted out as the coach of the National Team of Germany.
Klinsmann returned to coaching as the coach for Bayern Munich in 2008. His time there was not widely appreciated and considered a tactical mistake.
Jürgen Klinsmann | Stats
GERMANY
World Cup
Year
Matches
Goals
1998
5
3
1994
5
5
WEST GERMANY
World Cup
Year
Matches
Goals
1998
5
3
1994
5
5
Jürgen Klinsmann Controversial l Coaching years
In his autobiography, the team captain of Bayern Munich, Phillip Lahm, wrote that Klinsmann's tenure was a "failure" and non-strategic.
In 2011, Klinsmann became the 35th head coach of the United States national team. Under his guidance, the national team won a friendly match against Italy, a four-time World Champions.
Klinsmann was also responsible for the historic win against rivals Mexico in 2012. He also helped the US secure a World Cup Qualification.
Similarly, Klinsmann faced criticism and controversy again when he selected five American-German players for the 2014 World Cup Squad.
This escalated further when he did not place the leading top scorer of the US, Landon Donovan, in the final list of the 2014 WC.
While Klinsmann described it as the most difficult decision of his coaching career, he fell more into controversy when his son ridiculed Donovan on Twitter. People wondered if the decision was based on personal differences.
Klinsmann also coached the US Team for the 2018 World Cup. Apart from that, he also became the manager for Hertha BSC. He resigned from the coach's position in just 10 weeks and remained as their manager.
Jürgen Klinsmann- Awards, Accolades, and Honors
Klinsmann won the 1994

Club Player of the Year Tottenham Hotspurs

1994

German Footballer of the Year

1988

West German Footballer of the Year
2006

German Football Manager of the Year

2013 CONCACAF Coach of the Year
2015 German Football Ambassador of the Year
Jürgen Klinsmann | Personal Life, Charity Work, and Net Worth
Klinsmann is married to former American model Debbie Chin, and they live in Huntington Beach, California. They have two kids together. A son, Jonathan Klinsmann, and daughter, Laila Klinsmann.
Similarly, his son Jonathan is a goalkeeper for the Under-20 National Team of the United States. Jürgen Klinsmann is a fluent German, English, French, and Italian speaker. He is a man of many talents and is also a certified commercial helicopter pilot.
Klinsmann is also affiliated with several charities that help children in need. He founded a children's charity foundation with his friends called Agapedia, which means Love for Children.
He has also donated to various charities as a successful player, coach, and manager. The former player, Jürgen Klinsmann, is a wealthy man with a net worth of about $16 million and an annual salary of approximately $2.5 million.
Social Media presence:
Instagram account: 58.3K followers
Facebook account: 532,879 followers
Twitter account: 856.6K followers
Some FAQs:
What does Jürgen Klinsmann do these days? Why did Klinsmann leave Hertha Berlin?
Klinsmann is a football club manager who used to defend Hertha BSC. However, he has his abrupt resignation after just ten weeks. Later, he stated that cultural differences and a power struggle were behind his quitting after just nine Bundesliga games.
Who replaced

Jürgen Klinsmann?
Bruce Arena was appointed as the United States national team head coach to replace Jürgen Klinsmann on November 22, 2016.
Why was Jurgen Klinsmann fired from the USA national team?
Jurgen Klinsmann was fired from the USA national team for different reasons. To be precise, he was fired due to Historic losses, pushing players out of their comfort zones, Putting media and fans to put more pressure on the national team, and demanding more from them.
Likewise, communication problems, tactical misfires, and losing the World Cup are reasons Jurgen Klinsmann was fired from the USA national team.
How many goals did Jürgen Klinsmann score?
Jürgen Klinsmann has played 514 matches and has scored 232 goals.
How to get a Jurgen Klinsmann Polo shirt?
You can buy Jurgen Klinsmann Polo Shirt from UKSOCCERSHOP.
How many goals did Jürgen Klinsmann score in Bundesliga.
Jürgen Klinsmann has played 221 Bundesliga games and has shot 110 goals there.
Where does Jürgen Klinsmann live in California?
Jürgen Klinsmann lives in Huntington Beach, California.
What was Jurgen Klinsmann's jersey number?
During his playing career, Jurgen Klinsmann wore jersey numbers 9 for VfB Stuttgart, 33 for Tottenham Hotspur, 18 for UC Sampdoria, 7 for AS Monaco, and 11 for Bayern Munich.
What did Jurgen Klinsmann say to Kobe Bryant?
Well, Jurgen stood to say about the things that athletes are overpaid. Athletes are often rewarded for past performance, and he took Kobe Bryant as an example.
"This always happens in America. For example, why does Kobe Bryant get a two-year contract extension for $50 million? Because of what he is going to do in the next two years for the Lakers? Of course not. Of course not. He gets it because of what he has done before. It makes no sense. Why do you pay for what has already happened?"
-Jurgen Klinsmann